New Drainable WRB Offers a Disruptive Upgrade for Wall Assemblies

Matt Power, Editor-In-Chief
4 min read
This self-stick, water-resistive barrier acts as a sort of Swiss army knife, solving building code, insulating, and resilience challenges.
One of the age-old problems with standard house wraps has been "perforation." You've gone to great trouble to cover the sheathing, tape the seams and create a complete barrier, then you add siding and drive hundreds of nail holes through the material.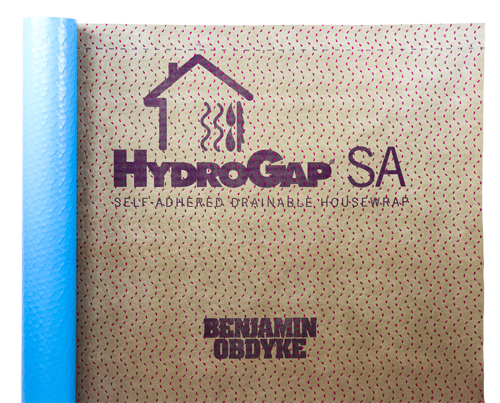 Designed to keep out bulk water, yet still allow water vapor to pass, HydroGap SA is a new self-adhesive water-resistive barrier from Benjamin Obdyke.
But it doesn't have to end this way. Benjamin Obdyke has developed a self-adhesive membrane called Hydrogap SA that negates that problem. The key, says Kaylen Handly, the company's technical and innovations manager, is an acrylic adhesive—an upgrade from the butyl adhesive used in other products.
"That acrylic has a lot of qualities that work really well for this application," he says. "Once you expose it to the air, you have about a day before it fully sets. And it seals completely around nails and fasteners."
After you press firmly, the membrane adheres to OSB, plywood and other substrates with a permanent bond. An inner reinforced scrim allows contractors to pull it tight, or bend it around corners without tearing.
But the performance features of this product are not accidental. The company spent five years developing HydroGap SA to respond to changes in home construction, including stricter energy codes, a wide variety of insulating methods and hard lessons from the past.
"Traditionally, and unfortunately, the building industry typically learns from its mistakes," Handly says. "So we looked at what happened with EIFS and other system failures back in the 2000s. What we found was that water from high moisture siding systems was being driven inward into wall cavities and getting trapped there," he says.
For "reservoir" sidings such as veneer stone and stucco, he says, that led to the creation of Home Slicker, a high capacity rainscreen. Then came the original HydroGap Drainable Housewrap, offering the next tier of water management. The patented 1mm drainage gap provides protection for exterior walls that are sided with fiber cement, wood, composite, and other standard materials. HydroGap SA the latest iteration, pairs the original drainage technology of HydroGap with adhesive technology to provide the first self-adhered drainable WRB.
Let's zoom in on some of HydroGap SA's problem-solving features:
Responding to Code Changes
A big change affecting residential construction features in the 2018 IRC. If you follow the prescriptive code and use the R-value table, it now requires continuous insulation (section N-1102.1.2). But this rigid "shell" of non-breathable foam can dramatically alter how a wall assembly manages water.
"You can imagine the problems this might create," Handly says, "trapping moisture behind it, inside wall cavities."
That's especially likely if foam seams are taped—a frequent practice.
The solution? "With HydroGap SA installed either under or over the foam," he says, "you can apply foam panels, and not tape the seams. This allows water vapor to escape the building, because the wrap (and the acrylic) is vapor permeable."
Opening Up Net Zero Alternatives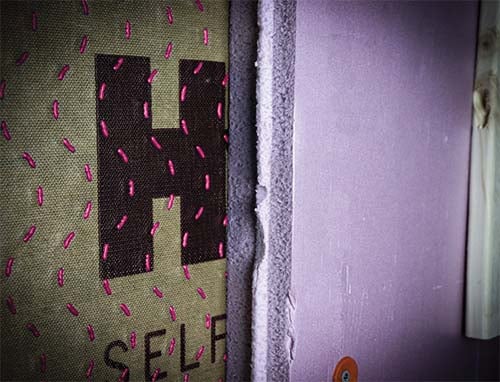 By creating a drainable, yet vapor permeable seal, the new WRB solves potential moisture problems created by new continuous insulation requirements.
One reason many builders choose insulating products such as spray foam (SPF) over other, loose-blown or batt materials is because it creates a nearly airtight shell, helping reduce air changes per hour dramatically. For net zero homes, the benchmark is something less than 3 ACH (at 50 pascals).
With HydroGap SA, however, a similar reduction in air infiltration can be achieved using virtually any cavity insulation. That means builders can still create a high-performance wall without SPF. They simply need to comply with required wall R-value using any combination of insulating materials: cellulose, fiberglass, mineral wool or any other approved product.
"There are a thousand materials we can use to build a wall assembly," Handly says, "and a million ways to combine them. It's important to open up new possibilities."

One silver lining of the pandemic, says Kaylen Handly at Benjamin Obdyke, is that the company has fine-tuned its instructional videos. He's shown here giving a smart, simple overview of working with HydroGap SA.
One key to a "perfect" installation of the WRB, however, may be the application of a companion product called HydroFlash LA, which seals around window and door openings. The company has easy video tutorials on how to apply it properly.
Adding Extreme Weather Resilience
Some of the early adopter projects using HydroGap SA have been waterfront properties in Delaware and Georgia. Handly notes, for example, that SIP builders have embraced the water-shedding wrap.
"Those are great systems," he says, "but it's really important to manage water in and out of those panels."
Of course, the drainage plane adds an essential feature to walls that are likely to experience wind-blown rain. There's also a surprising form of "wicking" with certain materials.
"When we're looking at coastal regions," Handly says, "we have a wind load that actually changes the pressure differential in the wall, so negative pressure on the back side of shakes or clapboard can actually draw liquid up toward the sheathing. That's one reason a WRB is so important."
With its reinforcing mesh, UV-resistant adhesive HydroGap SA has been tested to handle daily, extreme variations in temperature. This WRB seems well positioned to gain wider use in the market.
Apr 6, 2021 11:03:25 AM · 4 min read
---

Veteran journalist Matt Power has reported on innovation and sustainability in housing for nearly three decades. An award-winning writer, editor, and filmmaker, he has a long history of asking hard questions and adding depth and context as he unfolds complex issues.