Celestia Kitchen of 2100
The kitchen of the future supplies its own power and water, taps into site-grown veggies, and features recycled as well as salvaged materials.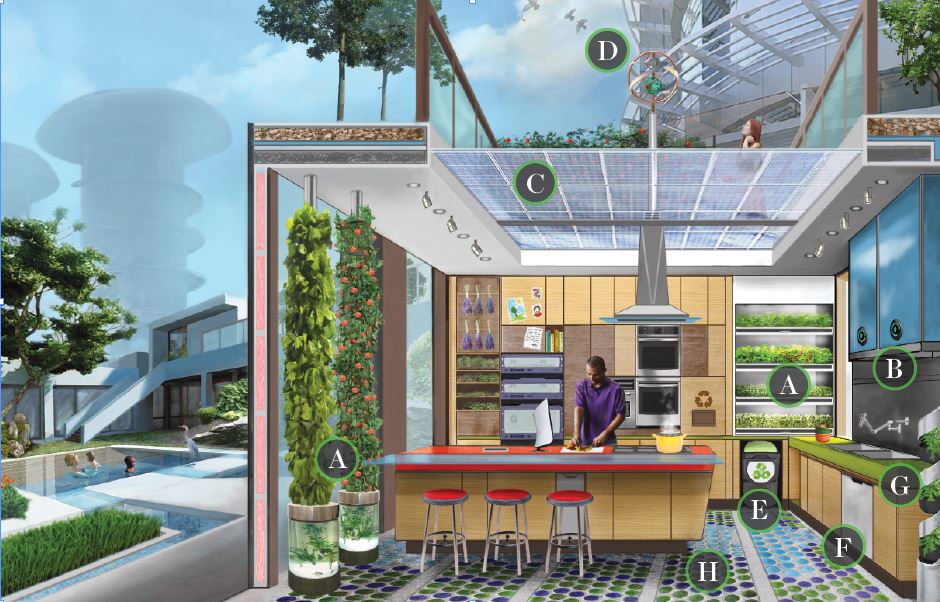 A: Food Is Abundant and Within Arm's Reach. Note the use of fish tanks to feed indoor plants, along with indoor growing stations powered by low energy LED lighting (running on stored solar power at night).
B: On-Demand Water. Collected rain supplies much of our drinking/dishwashing water. A small water storage tank with a digital meter contains potable, filtered water. Water-smart fixtures (Kohler Karbon served as our model) provide a durable, high-performance combination.
C: Translucent PV. Glass serves double duty, producing electricity as well as providing daylight.
D: Point-of-Use Power. Whenever possible, household devices power themselves. Note the addition of the tiny wind turbine above the vent fan.
E: Zero Waste. Scrap food is fed into an indoor composting station, recovered as a compost "tea" that can be added to roof gardens and hydroponic plants.
F: Super-Efficient Dishwasher. Stainless steel models (the Bosch 800 served as a template here) operate quietly, using very little water.
G: Recycled Countertops. Made from recycled materials, yet highly durable, countertops can be easily repaired or even resurfaced over the years (Caesarstone products provided modeling for these tops.).
H: Salvaged Materials. Flooring is made from discarded bottles. Bar stools consist of
used bicycle parts.