Top Tips for a Greener Kitchen
If you would like a kitchen that is more eco-friendly, check out these top tips.
By living a greener life, we help save the future. How should you get started creating an eco-friendly kitchen? One way is to take a closer look at your kitchen appliances. Which ones squeeze a lot of work out of a little electricity and/or water?
The easiest way to do that is to look for an ENERGY STAR label. Smaller appliances also may deserve a second look. An electric kettle for example, may be a better option than either boiling water on a cooktop or the microwave.
You can also look into a coffee maker, not just the device itself, but whether it allows for the user to adopt more frugal/less polluting behaviors. One with a reusable filter would be best. That way you can manually brew fresh coffee and use the grounds in the garden if you'd like.
Even Keurig-type units now work with reusable cartridges. And some Keurig style cups are actually compostable, but only if you have a commercial composter that accepts them. Another eco-friendly appliance is the rice cooker. This cooks rice in half the time of a standard stovetop.
A stainless steel bowl rice cooker would be better than one with teflon, as it has hazardous chemicals such as PTFE and PFOA.
Eco-Friendly Dishwashing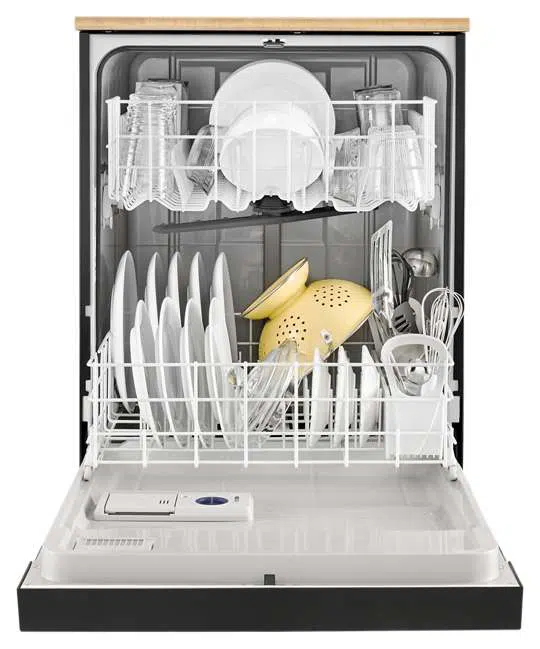 If you want an eco-friendly dishwasher, you should look into one that is energy-efficient and doesn't pre-rinse to save on water. Some of the top brands might have higher quality dishwasher, and also some of the latest energy and water saving features. For example, Whirlpool offers a unit with a one-hour wash cycle. This quick wash is a win-win for busy families. Look for units with durable stainless steel interiors, since it's easier to recycle, ultra-durable and stays clean with relatively little maintenance.
Eco-Friendly Shopping
Bring Bags
Your behavior matters. You can shift toward much greener living outside your home, by altering a few patterns. Instead of using paper or plastic bags at the store, why not bring your own bags?
Clean Green
Also, another way to have a greener kitchen is by using greener cleaning supplies. Instead of using the cleaners with all those harsh chemicals, maybe look into greener options such as baking soda, white vinegar, or lemon juice to clean your kitchen.
Eat Local
More than recyclable bags and good intentions, HOW you shop has a gigantic global impact. You've heard of the "thousand mile salad?" Try not to buy out of season foods, except as a treat. Look for products grown near where you live, or at least within a few hours of your home.
If you have a local farmer's market, make it part of your routine to shop there on the regular. Why not buy 30 lbs. of fresh local blueberries and freeze them for winter use, instead of buying corporate farmed blueberries this winter?
Skip the Picnic Throwaways
One last tip is to not use plastic utensils and use cups and bowls that are made out of recycled material. Ceramic and metal materials are also great for eco-friendly living.
Conclusion
One of the best ways to have a greener kitchen is to start thinking about how to have a greener eco-friendly life. By changing your routine a little, upgrading your appliances, and remembering where your food comes from, you can greatly lighten your ecological footprint.
---
Publisher's Note: This content is made possible by our Today's Homeowner Campaign Sponsors: Whirlpool, Vivint, myQ, Sonos and Jinko Solar . These companies take sustainability seriously, in both their products and their operations. Learn more about building and buying homes that are more affordable and less resource intensive.