Something for Everyone
Whether you're a building professional, DIYer, or aspiring homeowner, Green Builder Media wants your input and participation! Check out all of the ways we can engage together.
The last two years have been trying, but if there is any silver lining, it's that awareness about sustainability is surging. Demand for healthy, net-zero, intelligent, resilient homes has never been higher, and the ugly trifecta of labor challenges, material shortages, and soaring costs is forcing the industry to transform at breakneck speed.
Interest in high-performance building is at an all-time high, as evidenced by mushrooming interest in Green Builder Media's Housing 2.0 education program with industry luminary Sam Rashkin. The program offers comprehensive information and actionable guidance that enables building professionals to design and construct efficient, healthy, sustainable homes at a fraction of the cost. If you're interested in elevating the sustainability of your projects, register today for the next workshop series, which begins on February 17.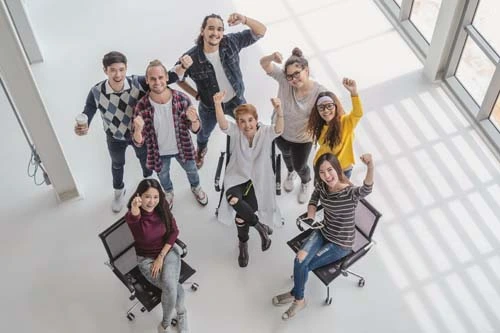 Another notable market shift that has occurred in the last two years is the increasing influence of millennials and older Gen Zs. With an inherent ethic of sustainability, this powerful audience segment is driving demand for net-zero, solar-powered, resilient, healthy homes.
If you're part of this audience segment and want to use your voice to influence decisions made by builders, developers, manufacturers, policymakers, and code officials, we invite you to join our Next Generation Influencer Group . This team of diverse rising star leaders are propelling the adoption of social justice, environmental protection, responsible governance, and sustainable finance best practices.
In the era of COVID, we've also seen a rise in do-it-yourself projects. Many of those projects have focused on expanding outdoor living areas. We're also seeing homeowners get uber-creative about putting every nook and cranny to work—making offices out of closets and Zoom rooms out of under-stairway crawl spaces.
For all of you DIYers, be sure to check out our newly released Remodeling Guide , featuring two real-life VISION House projects, with expert advice about how to solve for setbacks that have become standard for the industry.
Regardless of who you are or what you do, we want to hear from you! Please take our annual Readers' Choice survey, and as a token of our appreciation, we'll automatically enter you to win a $250 Amazon gift card. The results of our info-gathering prowess will be published in the March/April issue of Green Builder magazine .
If you're a manufacturer with a great green product, be sure to submit for the Hot 50 —our highly regarded annual list that features the most innovative, disruptive, and promising products of the year. Selections for 2022 will include a special top-tier distinction, the "Decarbonization Dozen," singling out submissions that significantly reduce the production of C02 in their manufacturing and/or operational processes.
Finally, we'd love for you to join us for our upcoming pre-Design & Construction Week programming on February 1-3, including our 2022 Forecast, Interactive Codes Roundtable, and ESG Essentials.
Thanks for your continued support of Green Builder Media! It's a colossal task to change the world, but together, we're rewriting our collective story.