Sleek, Modular Home "Transcends" Your Stress Levels

Michele Lerner, Associate Editor
5 min read
Peace of mind can be hard to attain these days, but design elements in Transcend Communities such as noise-reducing insulation can support your mental health.
Everyone experiences stress in their lives at some point, whether it's due to work, home life or the world around them. More than three-fourths of Americans (76%) said that their mental health, physical health, eating habits and interest in activities are negatively impacted by stress, according to the American Psychological Association's 2022 Stress in America report.
Taking steps to manage how you handle stress can include exercise, meditation and a balanced diet, but your home also has a big impact on your mental health. Research by neuroscientists shows that architectural and interior design choices can contribute to decreased stress and fatigue, better mental health and even increased creativity.
Transcend Communities, a collaboration between Green Builder Media and Dvele, a California-based prefab homebuilder, are sustainably built, all-electric, net zero, healthy, connected, and solar powered. A variety of attributes of the homes in Transcend Communities will contribute to the mental health of residents.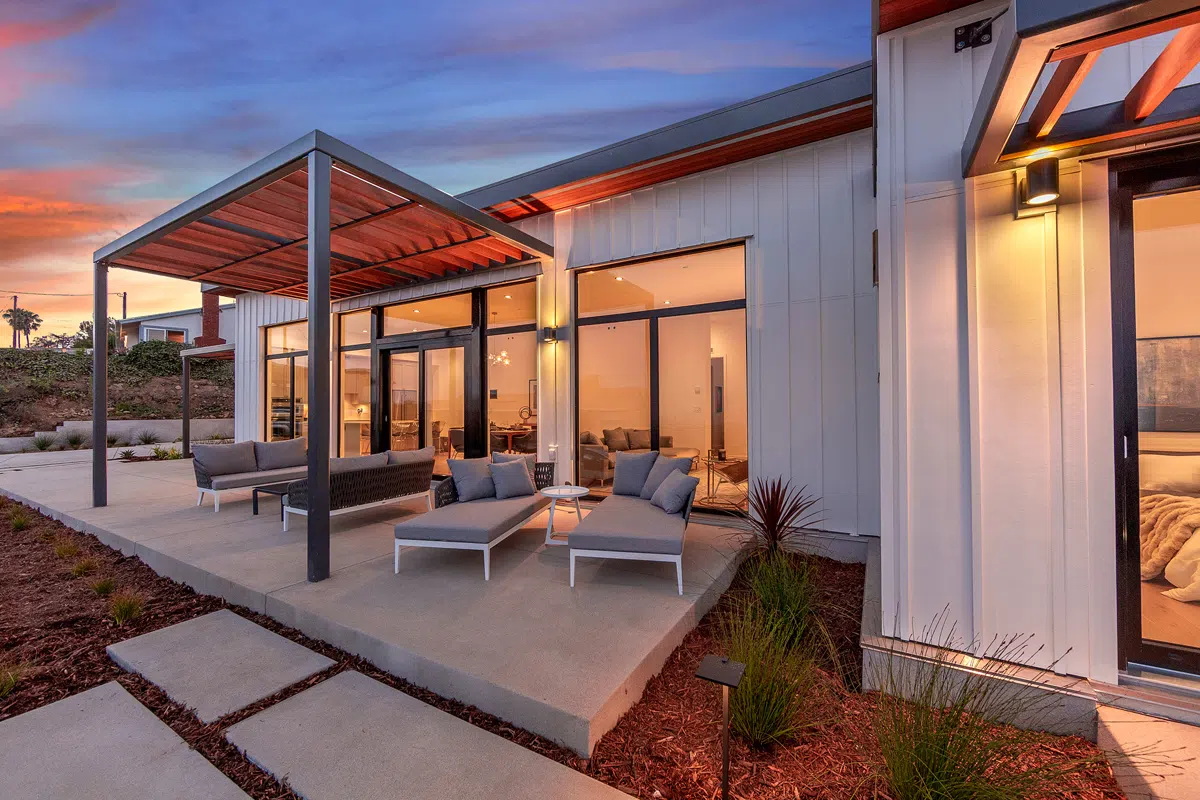 The first Transcend demonstration home, part of Green Builder Media's VISION House Series, will be installed in the San Juan Mountains near Lake City, Colorado. Numerous studies have identified a link between stress reduction and spending time in nature, including a 2020 study by Cornell University scientists that found that spending as little as 10 minutes in nature helped college students feel happier and experience less mental and physical stress.
"The setting of the first Transcend demonstration home is a tranquil, serene location, which can reduce stress for anyone," says Sara Gutterman, CEO of Green Builder Media. "It's in the least populated county in the lower 48 states, at a 9,000-foot elevation. You see all kinds of wildlife outside such as elk, deer and mountain lions."
The home will serve as a prototype model to test innovative products and design concepts to be featured in later communities, Gutterman says.
Transcend Communities, which will feature multiple homes in a carefully planned neighborhood with sustainability at their forefront, will be developed in a variety of locations. Each neighborhood will be walkable, with parks and community amenities easily accessible for a healthy lifestyle, along with transit options such as communal EVs, electric bikes, electric scooters and electric buses for less stressful commuting.
Biophilic Design for Natural Destressing
Numerous scientific studies, including 14 Patterns of Biophilic Design, a 2014 report by sustainability consulting firm Terrapin Bright Green, demonstrate the benefits of biophilic design, which brings natural materials into a home and strengthens indoor-outdoor connections. The studies found that when humans connect with nature, this can reduce stress, improve concentration and productivity, improve moods and even lower blood pressure.
"The window walls in Transcend connect the living areas with the nature outside," says Gutterman. "We also tried to create sleek, uncluttered spaces with an open, clean floor plan instead of a choppy layout for simpler living."
The walls of glass fully open for seamless indoor-outdoor living. The floor plan is designed to allow for as much natural light as possible.
The 1,500-square-foot Transcend demonstration home, which can be expanded with additional modules, has an efficient design without any wasted space, says Gutterman. The elements of a home that are particularly important to buyers, including the kitchen, bathrooms, living areas and storage, all contribute to a simplified lifestyle. For example, the kitchen includes a GROHE Blue Chilled & Sparkling 2.00 system that provides filtered still or sparkling water from the LIXIL water filtration system to avoid the need to buy bottles or cans of sparkling water.
Longevity and Low Maintenance
While sustainability starts with the choice of materials, an airtight home and energy efficient systems, another sustainability angle is the idea that these homes are built for longevity.
"We're building homes that will last and contribute to generational wealth instead of homes that will be tomorrow's slums or teardowns," says Gutterman. "Homeowners won't need to be stressed about maintenance tasks or a future remodel because the homes in Transcend Communities are designed for durability."
While that may not fix day-to-day stress, it can relieve the pressure of worrying about a future money pit, Gutterman says.
Transcend Homes are constructed with materials and design elements that make them resilient to the impacts of climate change such as extreme heat and cold, power outages and increasingly frequent storms and wildfires. They're also resilient to earthquakes. The self-powered homes, which are extremely energy efficient and include solar power with a battery back-up system, make it easier to thrive comfortably for longer during a power outage, too.
Healthier Home
The factory-built homes are built with as many natural and organic products as possible, vetted by Dvele and Green Builder Media, to reduce toxins in the home that contribute to health issues.
"The indoor air quality system automatically filters out stale or polluted air and brings in fresh filtered air," Gutterman says.
LIXIL water filtration systems throughout the house provide clean drinking water as well as water for showering and washing clothes. Smart sensors detect water leaks for conservation and to avoid repairs from water damage. In addition, water temperature preferences are automatically detected and saved so that no one has to run the water to wait for it to get hot.
"DalTile floor tiles in the bathrooms and outside the house have an anti-slip technology that makes them safer," Gutterman says. "The tiles and counters throughout the bathrooms and kitchen also have antimicrobial finishes to prevent the spread of germs and viruses."
Systems like these may not be instant stress relievers, but simplified home management can contribute to a general sense of calm.
For more direct relaxation benefits, the primary bathroom is designed with natural light and a spa-like ambiance.
Relaxed Living
Even the color palette of the homes in Transcend Communities is designed for tranquility, with cabinets, floors, surfaces and walls in neutral tones that allow each resident to add personality with their own artwork and furniture. Each home has a lighting system that operates on circadian rhythms, which mimics natural light cycles and provides sleep and psychological benefits.
"The high level of insulation in each house makes it extremely quiet, which can also contribute to better sleep and tranquility," says Gutterman.
The systems in the house, such as the water heater and the heating and air conditioning system, were chosen for their quiet operation as well as their energy efficiency.
"We've also installed a Sonos sound system that streamlines and simplifies the introduction of music indoors and outdoors, which research shows can contribute to managing moods and stress."
Maintenance tasks are all coordinated and automated as much as possible with the Dvele IQ system.
"Dvele IQ offers a simple user experience and learns occupant behavior," Gutterman says. "The idea is to make life easier and to take human error out of the equation. For example, Dvele IQ will proactively start your air filtration system if you're cooking, an activity that releases Volatile Organic Compounds (VOCs) into your air, and it will automatically adjust your thermostat when it learns your patterns to increase energy efficiency and enhance cost savings."
Whether by directly lifting your spirits with indoor-outdoor living or just creating a calm environment, the homes in Transcend Communities are designed to support a healthy lifestyle mentally and physically.
Feb 7, 2023 10:11:10 AM · 5 min read
---

Michele Lerner is an award-winning freelance writer, editor, and author who writes about real estate, personal finance, and business.