Should EV Chargers be Offered as Standard or Upgrade?

Sara Gutterman
2 min read
Exploding consumer interest, massive buy-in by auto makers, evolving codes, and unprecedented government funding is driving the electric vehicle market. What are the implications for builders?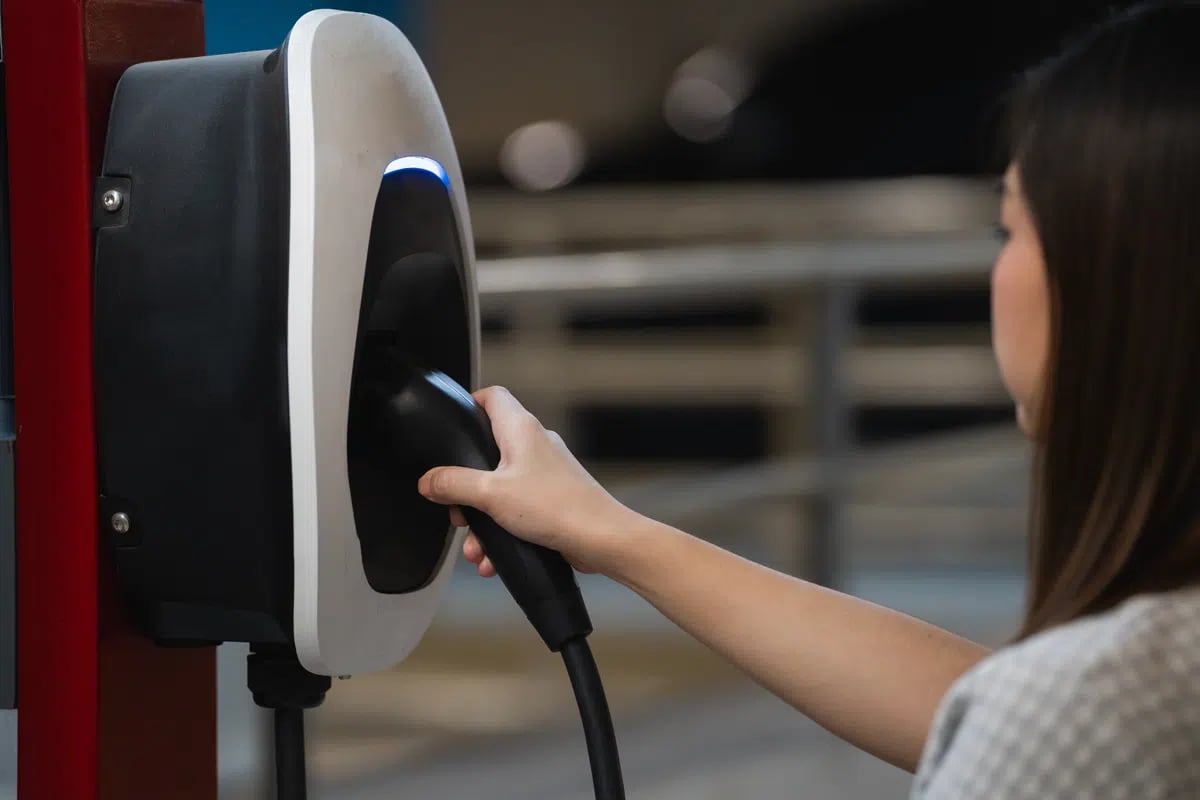 It is projected that 27 million EVs will be on U.S. roads by 2030, and 92 million by 2040. Correspondingly, the EV charging sector is expected to grow 10x in that same timeframe, with the number of electric vehicle charge points in the U.S. poised to increase from about 4 million today to approximately 35 million in 2030.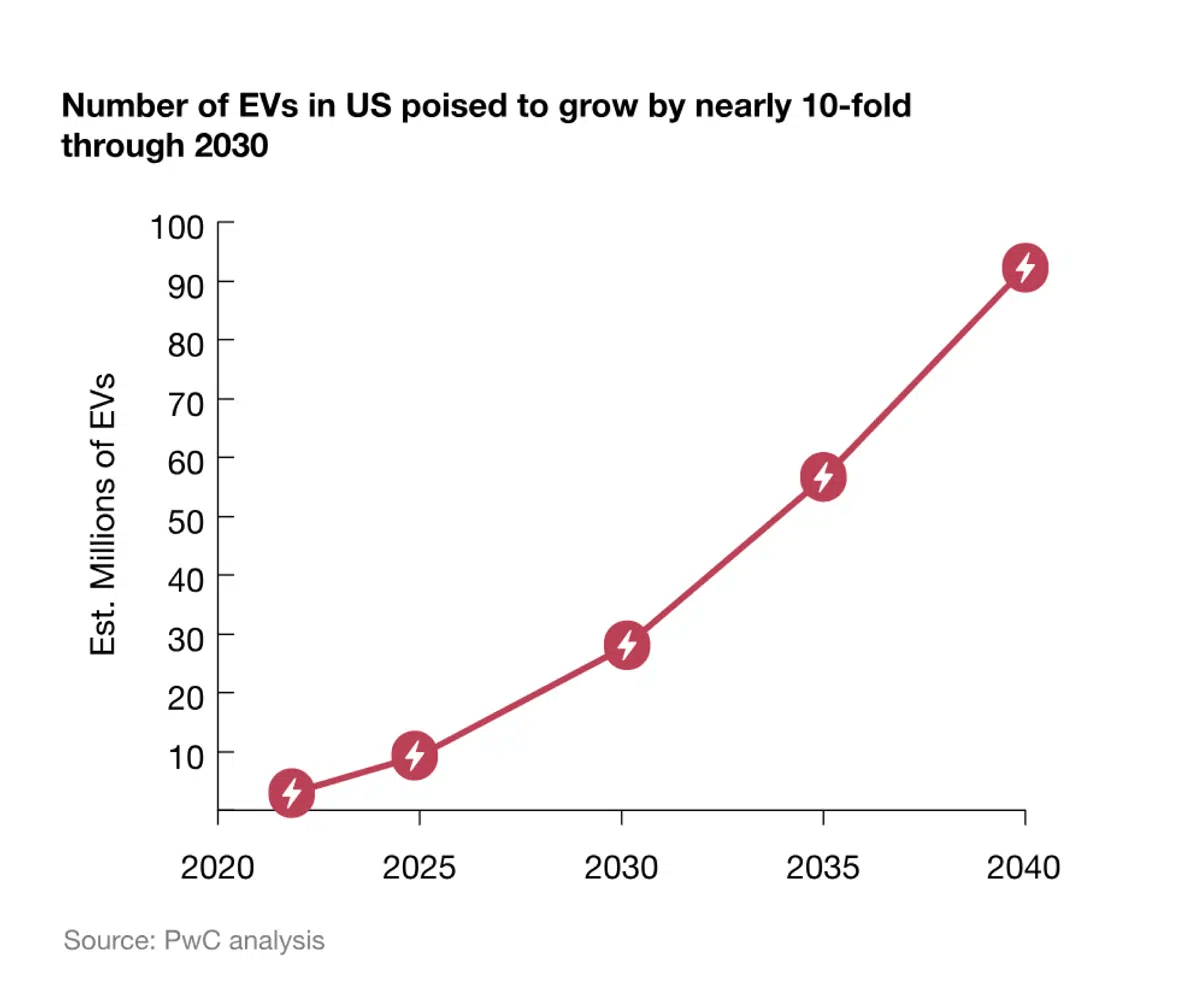 While the residential single-family home segment currently dominates the EV charging market and is expected to maintain at least 60 percent market share through 2040, the residential multi-family category is anticipated to capture 17 percent of the market share in that same timeframe.
Public charging infrastructure is also experiencing explosive growth. General Motors, BMW, Honda, Hyundai, Kia, Mercedes-Benz, and Stellantis recently announced a joint venture to install more than 30,000 electric vehicle charge points across North America.
The public charging stations, fully powered by renewable energy, will reportedly be available in both urban and highway locations in the summer of 2024.
Separately, Ford, GM, Rivian, and Mercedes-Benz just joined forces to support the expansion of the Tesla Supercharger Network, with over 12,000 Superchargers across North America.
EV Growth Drivers: Cash and Codes
This meteoric growth in electric vehicle charging is being fueled by a blend of private investment and government funding. The 2021 Infrastructure Investment and Jobs Act allocated $7.5 billion to support the buildout of a national public EV charging network, focused primarily along interstate highways.
The Inflation Reduction Act offers $7,500 in rebates for new EVs and $4,000 for used vehicles, and it also extends a 30 percent tax credit for EV chargers.
Evolving codes are also driving demand for EV chargers. While a provision that would have required homes to be "EV ready" was repealed from the 2021 building code, some states and municipalities are implementing a mandate to ensure that homes are either:
"EV Capable" with electric panel capacity, a dedicated branch circuit, and continuous raceway from the panel to the intended location of the charger.
"EV Ready", with a raceway with conduit that ends in a 240-volt outlet that can accommodate a Level 2 charger.
"EV Charger Installed", with a Level 2 charger fully installed.
Municipalities like Boulder, Colo., and Palo Alto, Calif., are now requiring that homes be EV Ready or EV Charger Installed.
The Numbers Are In
According to Green Builder Media's COGNITION Smart Data, some builders are prewiring for EV chargers even in areas that don't have codes requirements in order to meet mounting consumer demand.
A recent COGNITION survey shows that 95 percent of builders have seen an increase in demand for standard and bi-directional chargers in their market.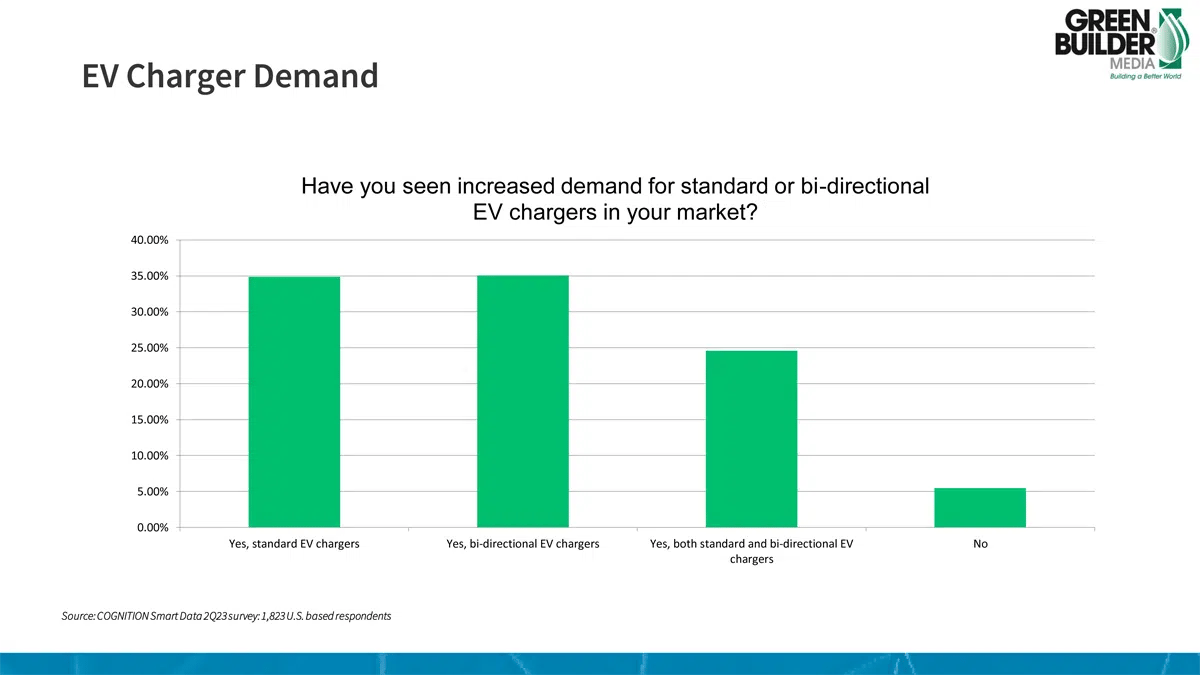 Given that 95% of EV drivers report that they want access to home charging, it makes sense for builders to, at the very least, offer EV-Capable homes that are prewired for Level 2 chargers, thereby future-proofing the homes and enhancing the value they're offering to homeowners.
---
This Housing 2.0 presentation is sponsored by: Jinko Solar, LP Building Solutions, Mitsubishi Electric , Panasonic, Schneider Electric and Sunnova.
Aug 3, 2023 12:40:20 PM · 2 min read
---

As cofounder and CEO of Green Builder Media, Sara is a visionary thought leader and passionate advocate for sustainability. A former venture capitalist, she has participated in the life cycle (from funding to exit) of over 20 companies, with an emphasis on combining sustainability and profitability. She lives in Lake City, Colo., with her husband, where she is an avid long-distance runner, snowboarder, and Crossfit trainer. She is also on the Board of Directors at Dvele, runs the Rural Segment for Energize Colorado, and is a former County Commissioner.