Ford's Electric F150—Faster Than a Raptor, Pollutes Less Than a Prius.

Matt Power, Editor-In-Chief
2 min read
Due to hit the streets (and job sites) in 2022, Ford's electrified F-150 Lightning pickup truck offers a step away from fossil fuels, into a sleek, powerful "Swiss Army Knife" for work and play.
You'd have to have sworn an oath of poverty not to want one of these trucks. And even then, you might break your vow.
The word is that Ford already has 20,000 orders in the can for the all-electric Lightning, and it hasn't even launched into production. That's because this vehicle does for the pickup truck what smartphones did for electronics. It's not simply an upgrade to a more powerful, cleaner drive system. It's a generator for power tools on the jobsite. It's a whole-house battery to power up your home during an ice storm. And that's just the obvious stuff.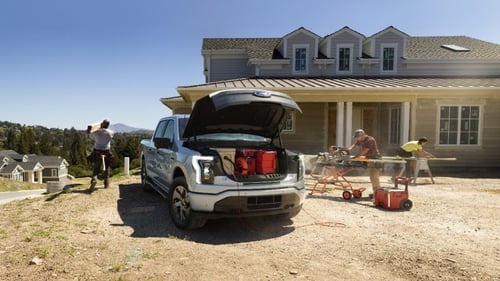 The new all-electric Ford F-150 Lightning has enough juice to run a jobsite when it's not being used for transport.
We're going to go a lot deeper into the economics and features of the F-150, as the launch date approaches. For now, we want to make sure you know that this disruptive piece of equipment is about to hit the scene. In the coming months, we'll look at real-world field tests, answer questions about performance and cost, and give you the information you need to feel comfortable about whether to buy now.
Can this truck hold up to the day-to-day demands of tough hauling often into difficult sites? Ford says yes. Here's what we know so far in terms of the specs:
"F-150 Lightning targets 563 horsepower, 775 lb.-ft. of near instantaneous torque4– more than any F-150 ever–and a 0-60 mph time in the mid-4-second range when equipped with an extended-range battery, based on typical industry methodology. F-150 Lightning targets a maximum 2,000 pounds of payload in the standard-range model with 18-inch wheels, and a maximum 10,000 pounds of available towing capacity on XLT and Lariat trucks with the extended-range battery and Max Trailer Tow Package. The low center of gravity brings even more confident handling whether traveling along rain-slicked roads or through sand."
My thought is that Ford wouldn't risk the stellar brand reputation of their F-150 pickup truck line on a product that's anything but a game changer. Before the first one rolls off the assembly next year, you'll know everything there is to know about this technology. Is it the dream truck it appears to be? Stay tuned.
FAQs
Q: Is there a specific version of the Ford Lightning for contractors?
A: Not exactly, but based on Ford's current literature, they seem to be targeting the mid-priced Lariat model as a jobsite workhorse. This model will likely cost about $59,000, according to Car and Driver, although Ford has not yet released official pricing, other than the $42,000 base model.
Q: What is the expected mileage range of the all-electric Ford F-150 Lighting.
A: With the Standard-Range battery system, Ford says the truck should cover 230 miles, although there's an Extended-Range battery option that boosts that mileage to about 300 miles.
May 26, 2021 9:47:58 AM · 2 min read
---

Veteran journalist Matt Power has reported on innovation and sustainability in housing for nearly three decades. An award-winning writer, editor, and filmmaker, he has a long history of asking hard questions and adding depth and context as he unfolds complex issues.