Quick Turnaround Prefab Homes Finally a Reality

Michele Lerner, Associate Editor
7 min read
Super-efficient, sustainable prefab homes can now be designed, built, and delivered by Dvele in six months.
Prefabricated homes have been around for decades—more than a century if you want to include Sears Kit Houses from the early 1900s. But for all the interest in prefab and modular housing as a solution to sustainable residential development, it's been a challenge to match the technology with delivery systems that can achieve the goal of building thousands of homes each year rather than a few hundred.
Green Builder Media partnered with California-based prefab builder Dvele to develop Transcend Communities, which feature net zero, all-electric homes with solar power and battery storage. Transcend Homes are designed to be self-powered, healthy, resilient, and connected with the DveleIQ smart home system.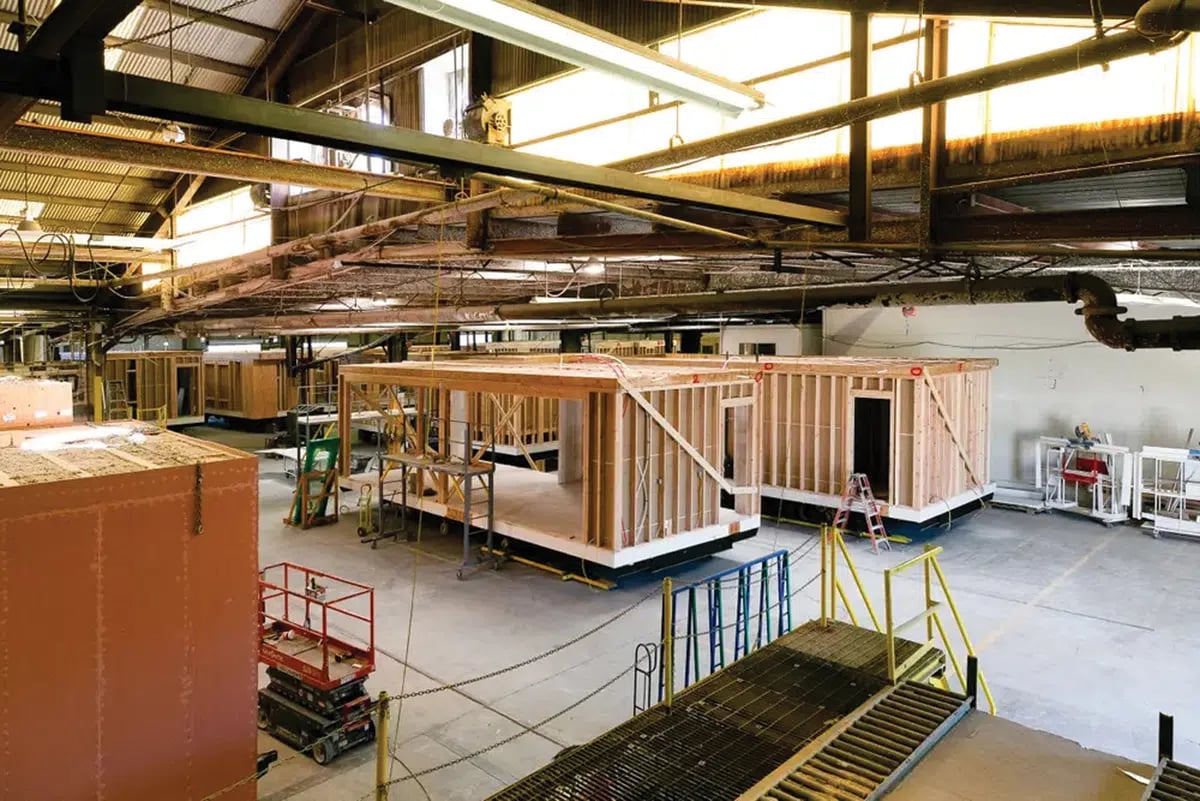 A Transcend Home is quick and easy to build—construction starts in a factory, and total completion takes about six months—and its resilience makes it possible to install on property almost anywhere. Credit: Dvele
"Step one for energy efficiency and human health is the optimized building envelope we've introduced with Transcend," says Brandon Weiss, co-founder and chief innovation officer of Dvele. "The prefabricated modules have been engineered to be 12 times more efficient in reducing air leakage. The materials and design also make the homes 10 times healthier than other homes because of the reduction of contaminants, along with better water and air quality."
Community of the Future
Transcend Homes can be manufactured, delivered and installed within six months. The prefab process reduces waste, provides quality control and is cost-effective, Weiss says. Green Builder Media and Dvele plan to build net zero carbon Transcend Communities that use renewable energy systems and demand-side energy management technology to serve as their own microgrids.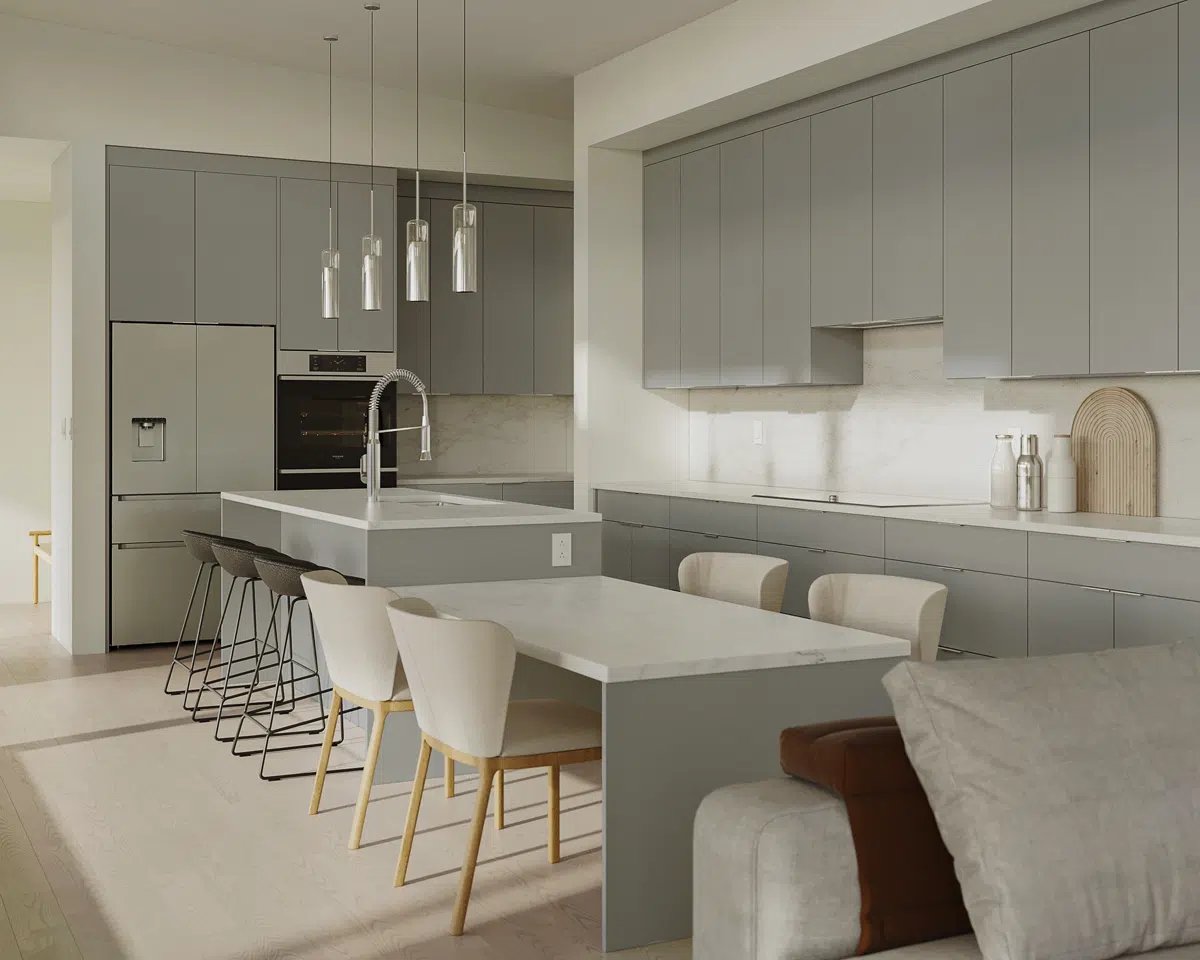 To reduce energy needs, Transcend Homes use heat pump air and water heating technology, high-performance lighting systems, and induction cooktops. Credit: Dvele
"Buyers can choose modules online to configure the layout of their home," says Weiss. "The goal is for the variety of configurations to add visual interest in a community."
Transcend Homes are designed to be net positive and generate a minimum of 20 percent to 30 percent more energy than they need.
"We want to add even more solar power and more battery storage on future homes," says Weiss. "The excess energy is available to charge a car and to provide power during outages, especially if the solar array is covered by snow."
The first demonstration Transcend Home will be in the San Juan mountains of Colorado. But, Transcend Communities can be built anywhere, since the homes are adaptable and resilient to any climate.
"We want to be an asset to the grid with excess power from the homes," says Weiss. "We can decrease demand at peak times with onsite shared energy storage and stabilize the frequency of peak loads. A shared microgrid means that people can get similar benefits from solar power even in homes that face north or are under a tree canopy."
Weiss hopes that water conservation and collection can be optimized to develop net-positive water communities, too.
"Electricity use for wastewater treatment is a big cost for cities," says Weiss. "It would be better to decentralize wastewater management. Also, there are systems that can filter rainwater to be drinkable through a community well system. There are regulatory issues around that, but we hope to pursue that option as Transcend Communities grow."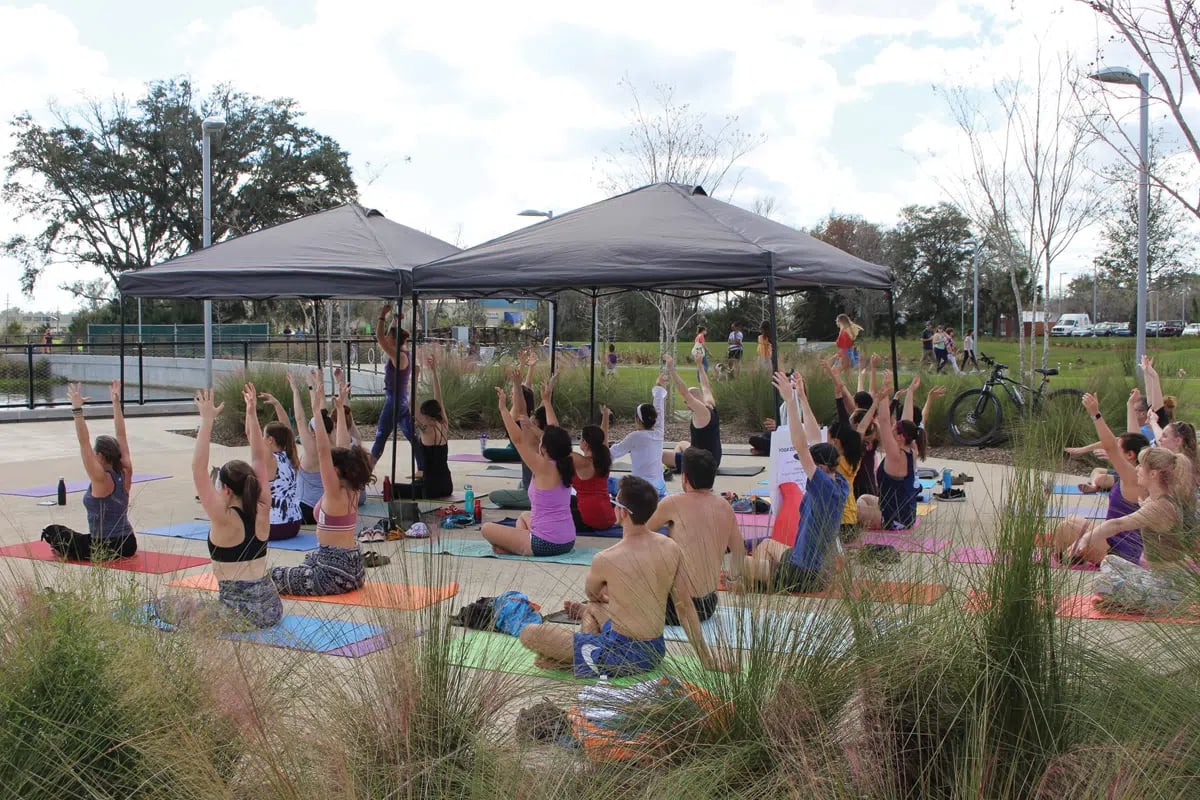 Transcend Communities include access to wellness centers and communal products such as yoga classes. These are part of developers' emphasis on creating a socially inviting, healthy lifestyle. Credit: Dvele
Transcend Communities are designed for a healthy lifestyle with walking trails, community gardens, wellness centers, coworking spaces, EV charging stations, and shared transportation options.
Adaptable Homes for Different Lifestyles
The modular Transcend Homes offer buyers numerous choices for their initial configuration and opportunities for future transformations.
"Buyers can add modules over time to the side or the back of the home," says Weiss. "Since the modules are built in our factory and aren't stick-built, they will seamlessly work with existing modules. The homeowners can add a crawl space or a foundation to expand their home's footprint."
The modules can be tied into the systems in the house, or they can be self-sufficient accessory dwelling units (ADUs) that are attached or detached, Weiss says.
"The modules are extremely resilient to climate impacts and storms," says Weiss. "They're resilient to wildfires. And, it wouldn't take much extra for us to achieve a higher level of hurricane resilience when we build communities in hurricane-prone areas."
The homes are constructed with light gauge steel and cladding, and sheathing materials that increase their ability to withstand extreme weather conditions.
High-Performance, Self-Powered Housing
Transcend Homes are considered self-powered because they use very little energy, are all-electric and can be operated off grid.
"We start with a conservation-first approach with the airtight building envelope and ultra-efficient systems to decrease demand. Then, we layer in the solar power and battery storage," says Weiss. "Every Transcend Home will have a 26-kilowatt battery storage system."
The Transcend Homes will use heat pump air and water heating and cooling technology, high-performance lighting systems, and induction cooktops to reduce the demand for energy.
Water conservation efforts are also important to the home's comfort and performance. "We have low-flow fixtures and water sensors to reduce water loss due to leaks," says Weiss. "We also optimize water distribution in the house—if you can get hot water quickly, there's less waste. We want people to be able to get in the shower and then turn it on to economize their water usage rather than turn on the water and let it run to warm up."
Depending on local regulations, Transcend Communities will include rain capture and greywater systems for gardens and other uses, Weiss notes.
Healthy Home Features
Building the modules for Transcend Homes in a factory contributes to the health of the homes since there's no exposure to mold-inducing moisture during the construction phase. In addition, the HVAC and duct systems are sealed while the house is in the factory, to reduce exposure to dust and particulate matter. The homes are built with healthy nontoxic materials and products to eliminate VOCs, formaldehyde, particulate matter, and mold.
The airtight Transcend Home is ideal for energy efficiency, Weiss notes. But for better indoor air quality, the homes must be ventilated. "Each house will have an energy recovery ventilation (ERV) system to remove air from the kitchen, bathrooms and laundry room to get rid of odors and moisture and to replace it with fresh air," he says. "The fresh air from outside will be preheated or precooled, and then filtered and distributed throughout the living areas of the house."
Optimized Health and Wellness
"The homes have a modern design aesthetic and an emphasis on connecting people to the outdoors," says Weiss. "We use glass doors that can be lifted or that slide away to maximize the use of outdoor living spaces and connect them to indoor spaces."
Meanwhile, the windows are designed and located to bring in as much natural daylight as possible and to visually connect the occupants to the outdoors, Weiss adds.
The self-powered, resilient Transcend Homes "provide a new path for building healthy, sustainable homes and neighborhoods," he says.
Home Security Central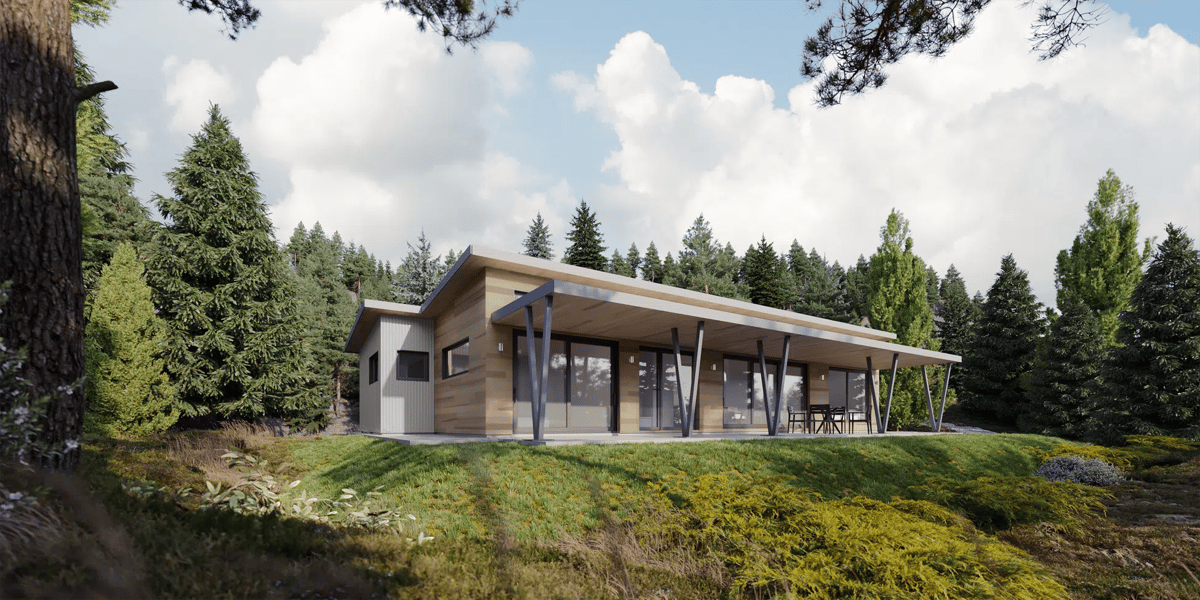 The DveleIQ system keeps homeowners apprised of air quality, energy efficiency, and home security matters. Credit: Dvele


Transcend Home's ERV system is connected to the DveleIQ smart home system, which monitors all features in the house for air quality and more.
"DveleIQ allows homeowners to take the thinking out of managing their indoor air quality and energy-efficient features," says Weiss. "For instance, if the homeowners have guests, the DveleIQ system can detect the need to change the airflow's cubic feet per minute (CFM) to increase fresh air [circulation]."Water filters are also used throughout the house for better water quality.
"The DveleIQ platform provides a responsive intelligent house by using a data-rich process to optimize the home features and educate the occupants," says Weiss. "For example, homeowners can look at the sensors to see what's happening in their home. Maybe the sensor picked up more particulate matter. The sensor then signals it's time to clean the house. The DveleIQ platform can also provide energy tips, such as reminding homeowners not to wash or dry their clothes during peak usage times."
Homeowners can add motion sensors, alarm systems, smart locks, and geofencing to the DveleIQ system to increase household security.
"DveleIQ integrates all the mechanical systems in the house, including the water heater, the HVAC, air quality sensors, leak detectors, and water management system, lights and speakers," says Weiss.
The goal is to provide comfort and simplicity for occupants in the Transcend Homes. The circadian lighting systems, which mimic the changing light from day to evening and in different seasons, are meant to enhance sleep, moods, productivity, and cognitive function. Better indoor air quality also provides sleep benefits, as do the quiet appliances and sound attenuation materials used in the house to keep noise levels low.
VISION House Transcend Features
Ground-source heat pump air and water heating technologies with radiant heating and cooling by Uponor and WaterFurnace
Energy and water-saving electric appliances by Samsung and Dacor, including an induction cooktop and heat pump dryer
Water-conserving plumbing fixtures by LIXIL-owned companies GROHE, American Standard and DXV
Uponor AquaPEX Plumbing and AquaSAFE Fire Sprinkler
Super-efficient windows and exterior doors by Arq-Espacio
High-performance insulation by ROCKWOOL
Whole-home indoor air quality system by Broan-NuTone
Solar photovoltaics, inverters, and batteries by JinkoSolar
Smart electrical system and EV charging station by Schneider Electric
Air and water barriers by PROSOCO
Sustainably manufactured antimicrobial and slip-resistant tile by Daltile
Beautiful and sustainable quartz countertops by Caesarstone
Innovative speakers and sound solutions by Sonos
Sustainably harvested engineered wood floors by CRAFT
High-design, sustainably manufactured doors by TruStile
Elegant natural furniture by Lee Industries
High-style cabinets by Norelco
Temperature and humidity mitigating drywall by USG
Jan 25, 2023 11:42:59 AM · 7 min read
---

Michele Lerner is an award-winning freelance writer, editor, and author who writes about real estate, personal finance, and business.