On the Ground Floor

Alan Naditz
7 min read
There's a lot of 'good Earth' in the all-natural Truchas Earthship.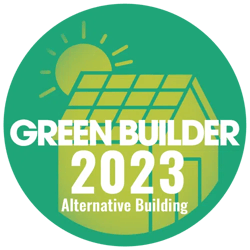 When he designs a home, Michael Reynolds, founder and "biotect" of Earthship Biotecture, addresses six "major issues of sustenance for humanity": comfortable shelter, electricity, water, containment and treatment of sewage, treatment of garbage, and food. Those items, he says, "must be addressed in each building in today's world if we are to escape the confines and problematic issues of infrastructure."
Which brings us to "The Truchas Earthship," a net zero, passive solar home in the Greater World Community, a sustainable development on 640 acres of natural habitat preserve in Tres Piedras, New Mexico.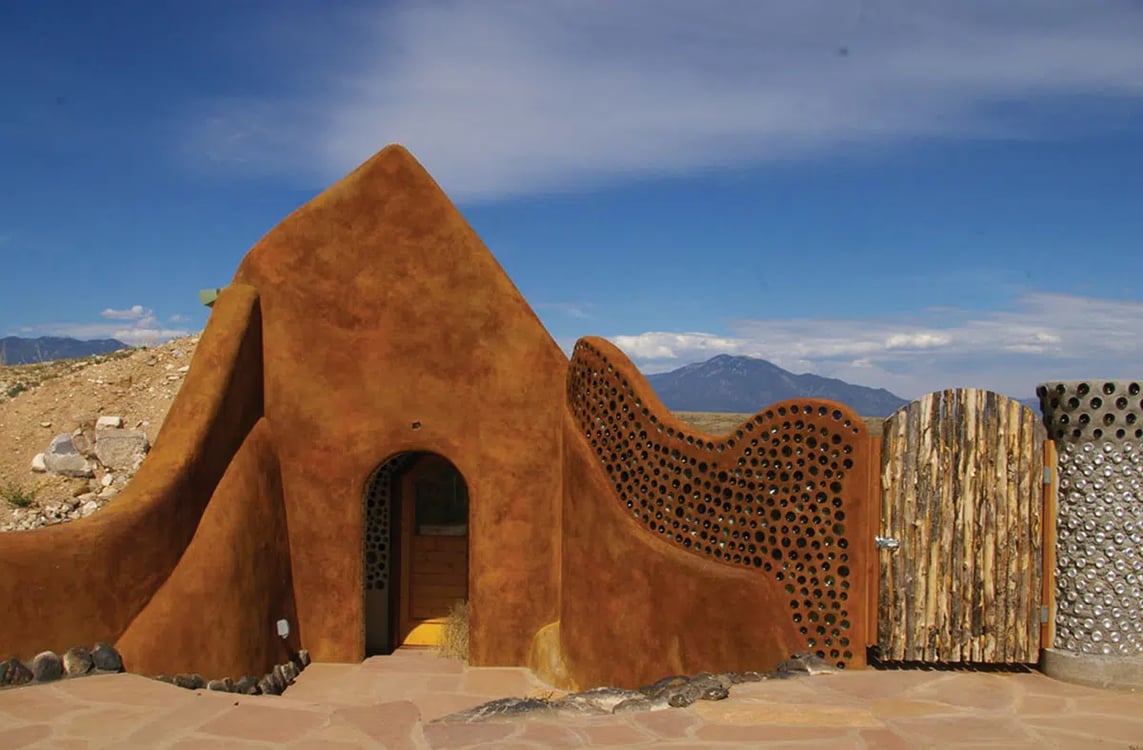 From the Judges: "Great material reuse and selection to make the project's environmental impact leaps and bounds below that of typical construction methods."
The Earthship incorporates natural and reclaimed materials in its construction: The main building blocks are recycled automobile tires that have been reclaimed through a partnership with the local landfill. Other repurposed products such as glass bottles, aluminum cans, plastic bottles and cardboard are used in the structure's walls, doorways and elsewhere. Locally sourced lumber and other building materials are utilized in the construction.
Project Stats
Name: Truchas Earthship, Tres Piedras, New Mexico
Builder: Earthship Biotecture
Architect/Designer: Michael Reynolds, Earthship Biotecture,
Photographer: Meredith Albury, Earthship Biotecture
It's par for the course. "I've responded, over a period of 50 years, to the problems of civilization on this planet," Reynolds says. "I've incorporated my own solutions, trying to make a building that would be appropriate and responsive to the modern day issues of climate change, overpopulation, and dwindling resources."
Sustainable—and Sensible—Earthship Construction
The Earthship's heating and cooling functions are provided through passive solar and natural ventilation strategies, without electric heat or the use of fossil fuels. Windows have floor to ceiling glazing; all of them face south.
The north, east, and west walls are surrounded by a dirt berm. Tire walls act as a large mass and hold the heat in when the sun shines on them. And, insulation prevents cool air from getting in and the warmth from escaping.
In winter, the sun enters through skylight glass and heats up the mass of the floors and walls. In the summer, with the sun high in the sky, the building stays cool with the constant temperature of the earth. Cooling is provided with natural ventilation through buried cooling tubes and operable vent boxes.
The cooling tube is a corrugated metal tube near the bottom of the wall and goes through the back berm of dirt. Cool air comes in through that tube. Hot air is pushed out of the skylights as the heat rises.
A 2.5 kilowatt solar array attached to the south facade of the structure provides electricity within the home. Effectively, the building has its own "renewable power plant" with photovoltaic panels, batteries, charge controller, and inverter, Reynolds notes.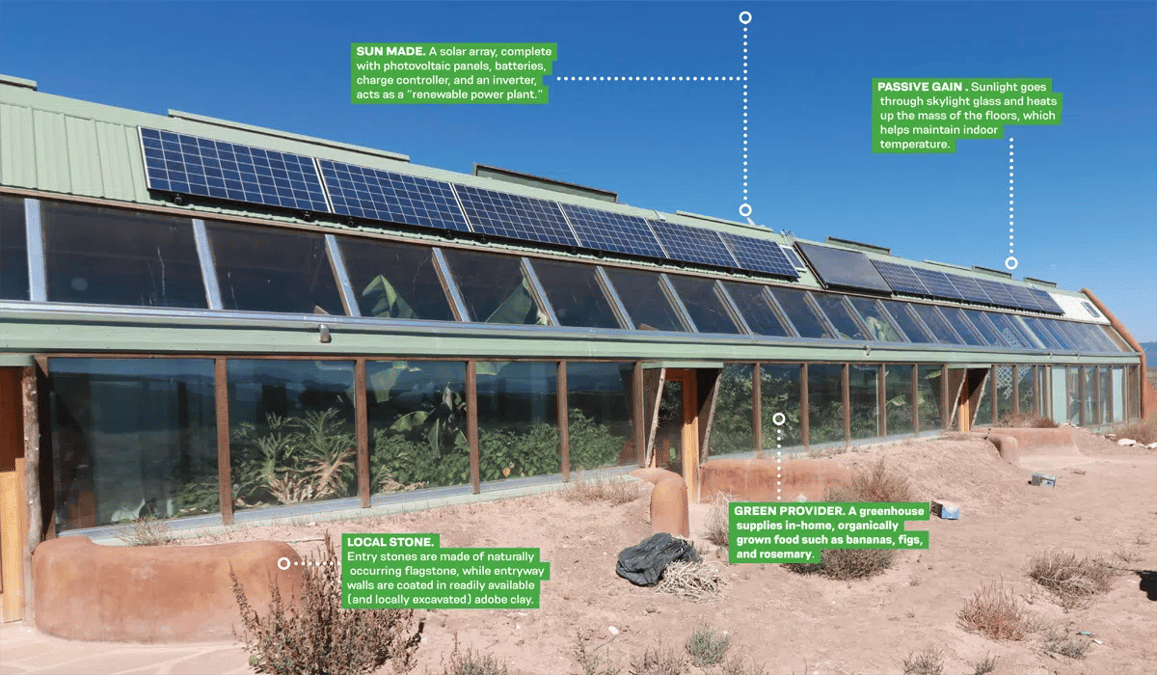 Earthship Water Management
All water for use within the structure is provided by a catchment system on the roof. The system is supported by inground, insulated cisterns that feed the water into the building via gravity, to be processed by an interior water management system manufactured by Earthship Biotecture.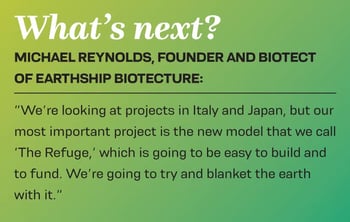 Graywater from showers, sinks, and washing machines flows to interior botanical cells.
Plants treat the water until it's clean enough to be collected in a well at the end of the planter and pumped, on demand, to the toilet tank for flushing.
The Earthship also features a 690-square-foot interior double greenhouse at the south side of the building for in-home, organic food production. An exterior septic system and leach field provide the final processing of blackwater to be utilized to feed and nourish exterior landscaping in the high desert climate.
In terms of being a green home, the Earthship is a pretty complete package. As a result, the home was named winner of Green Builder's 2023 Green Home of the Year (GHOTY) competition, in the Alternative Building category.
"[The project] addresses all space heating and cooling needs via passive solar with thermal mass design, and all plug loads with solar [photovoltaic] and batteries," says GHOTY judge Theresa Gilbride, a building energy efficiency researcher at Pacific Northwest National Laboratory in Richland, Was. "Also, the extensive use of recycled materials may mean lower upfront cost if labor is reasonable."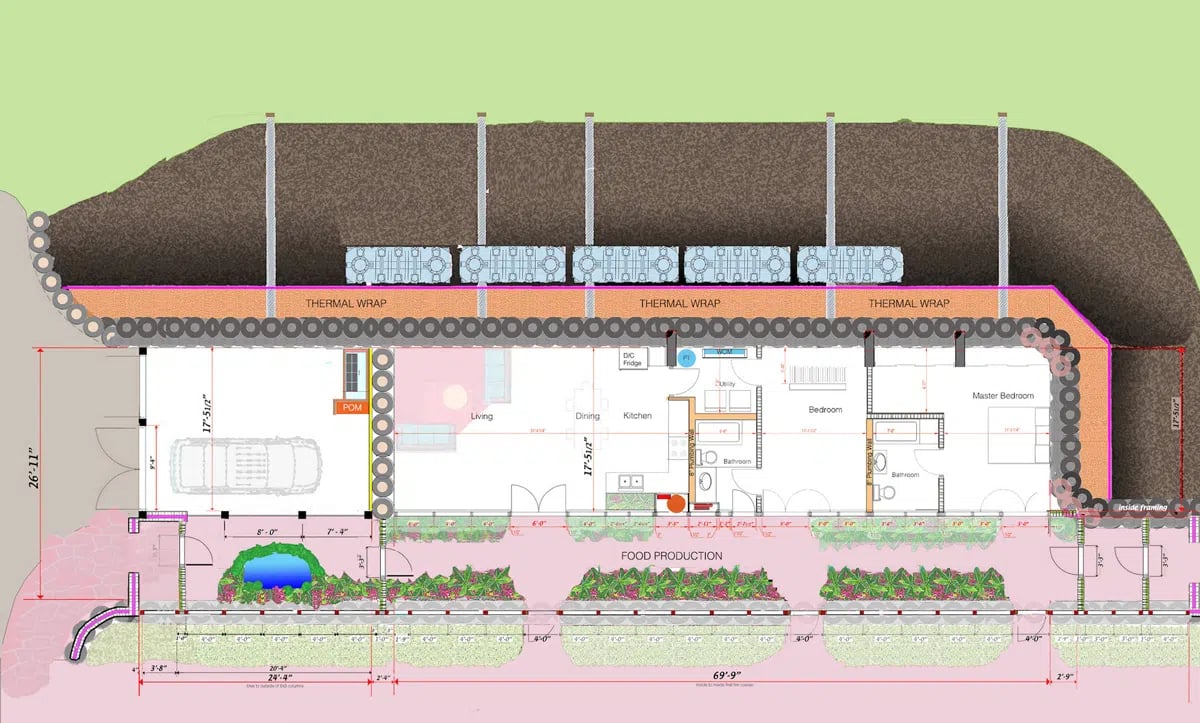 Key Components
Alternative Building Systems: Solar power system, thermal solar heating and cooling system, rainwater catchment system, on-site sewage treatment system, indoor food production system, and use of 45 percent recycled materials, including used automobile tires, aluminum cans, glass bottles, cardboard, and plastics.
Appliances: All standard, running off solar system
Building Envelope: Earth-rammed automobile tires forming thermal mass, insulated on the exterior with R-45 polystyrene and R-80 polystyrene in the roof
Caulks and Sealants: Dap Alex Plus
Electrical: Power Organizing Module – lithium iron batteries; Schneider Electric inverter, Schneider Electric Charge Controller; solar panels
Exterior Finishes: Standard adobe plaster
Flooring: Flagstone and tile
Furniture: Handpicked and refurbished second-hand furnishings and heirlooms
HVAC/Ducts: Natural convection via cooling tubes and skylights
Insulation: R-80 polystyrene in the roof and R-45 polystyrene surrounding the walls
Lighting: LED lights
Paints and Stains: Alize, a natural clay based paint that is made in-house.
Pavers: Flagstone
Plumbing/Plumbing Fixtures: Standard toilets and sinks
Renewable Energy Systems (solar, wind, etc.): Solar Roof: Precision Roofing Pro-panel Metal
Specialty Products: Stained glass achieved with colorful bottle bricks, made in-house; Interior, non-load bearing aluminum can walls encased in adobe plaster and cement plaster
Structural Components: Automobile tires used in a three-foot compression mass wall
Ventilation: Natural convection with Earth tubes and skylights
Water Filtration: Water Organizing Module – 50 micron filter, 500 mesh filter, 1,000 mesh filter; D/C aquatic pump; Doulton High Flow Ceramic Water Filter Amtrol water pressure tank
Water Heating: Solar hot water heater, with a Rinnai propane-demand backup water heater
Other: Food production in the greenhouse, including bananas, fig trees, and rosemary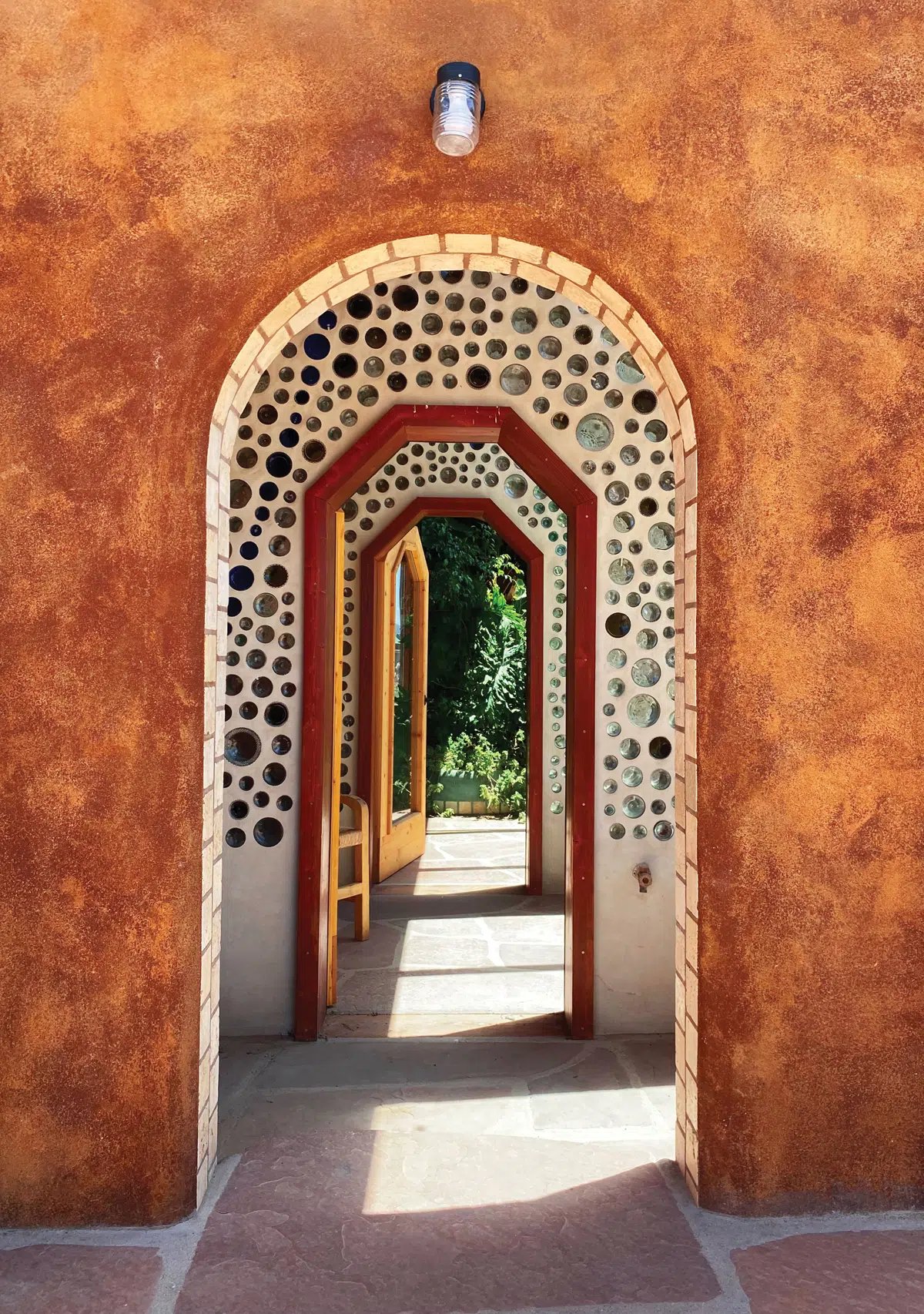 Wooden doorways and framing are made in-house by Earthship Biotecture crews.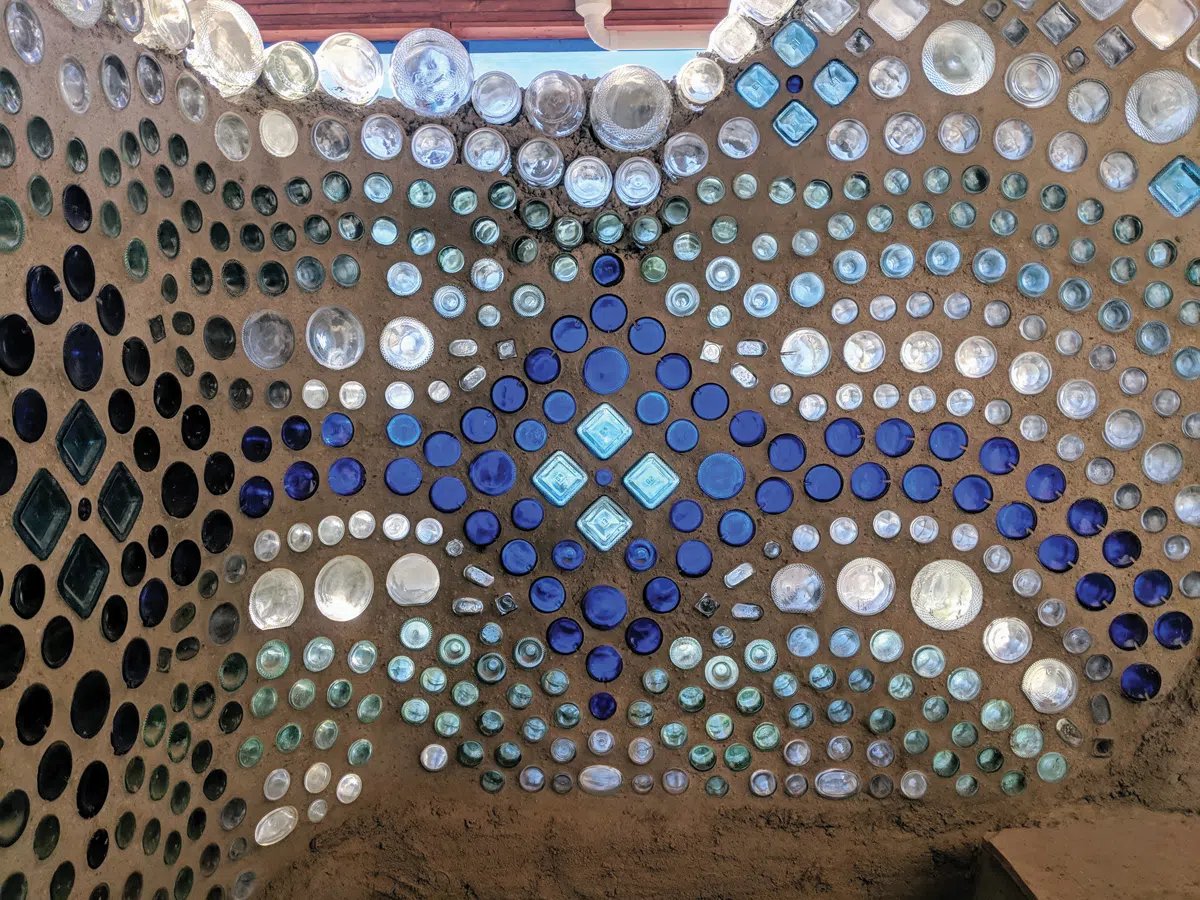 Walls within the home are made from reclaimed materials such as glass bottles, aluminum cans and rubber tires, which also act as natural—and effective—insulation.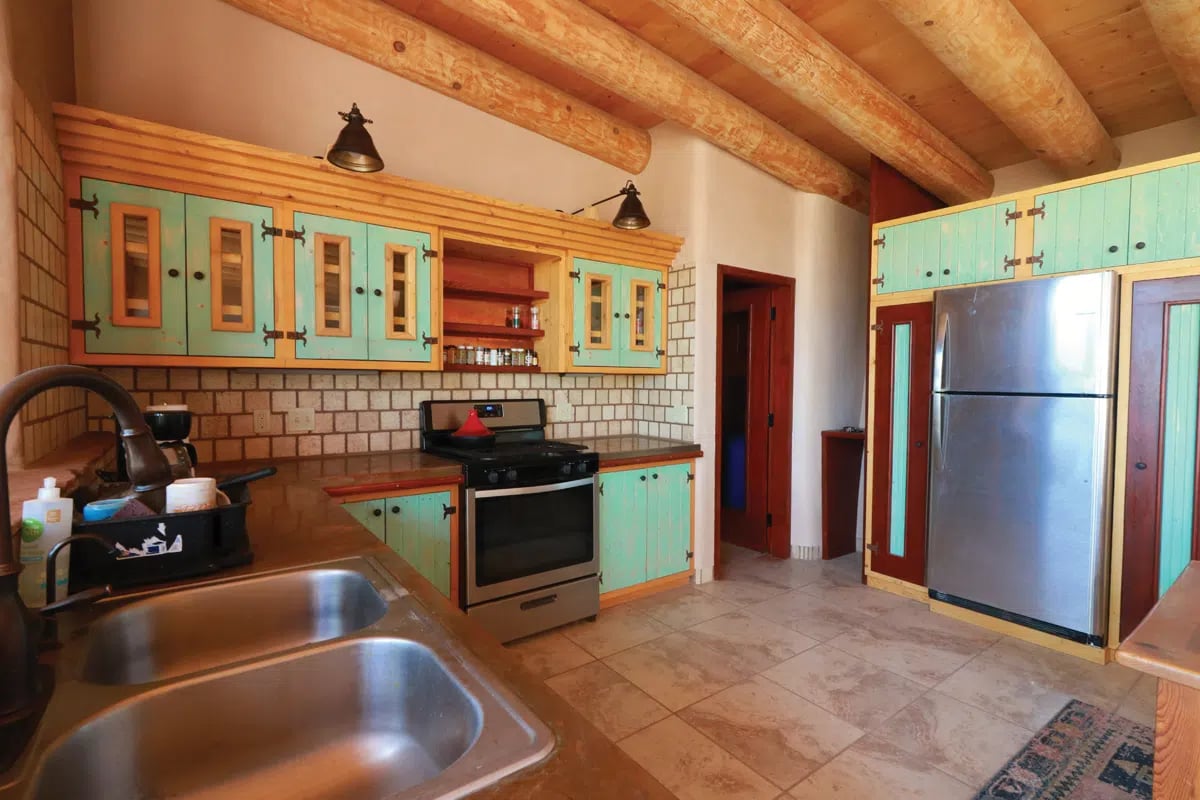 Appliances within the kitchen are entirely solar powered, wood cabinets are in-house made, and walls and flooring consist of naturally developed brick and tile.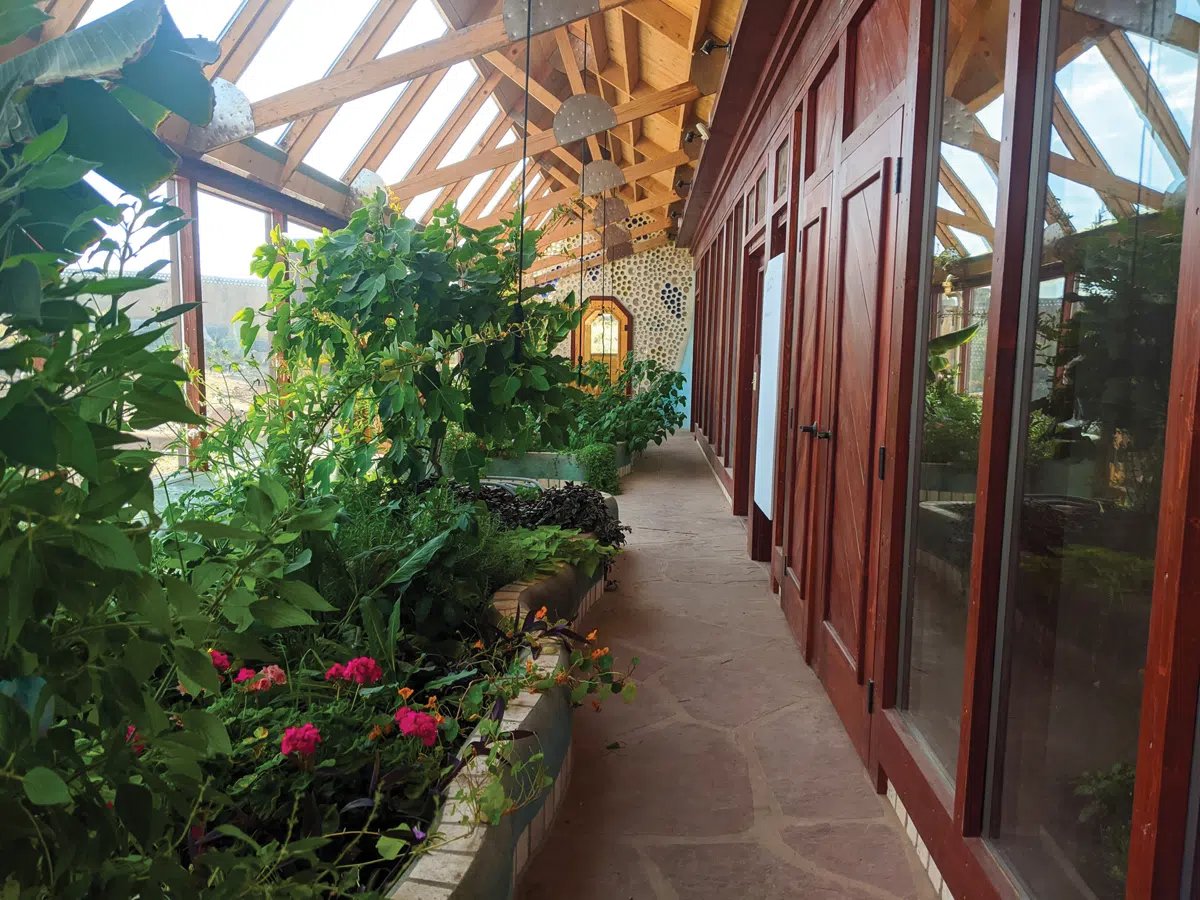 Plants throughout the Earthship provide food, filtered graywater for toilets, and cleaner indoor air. Credit: Meredith Albury/Earthship Biotecture
Green Home of the Year Awards: The Judges
Three judges made the important decisions in the 2023 Green Home of the Year program.
As we move from one major lifestyle challenge—an emergent pandemic—to another, with historic storms and record heat, builders have been continuously challenged to adapt. Green Builder's 2023 Green Home of the Year winners are well constructed, energy efficient and creatively designed. But our grand winner topped them all by emphasizing the local economy and the environment.
Our expert panel of judges evaluated projects in terms of overall sustainability, resilience, synergy with the environment, affordability, creativity and the depth of science employed.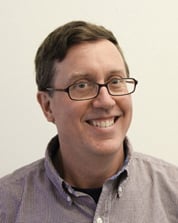 Mike Barcik is a technical principal at Southface Institute, a nonprofit which promotes sustainable homes, workplaces and communities through education, research, advocacy and technical assistance. He has been with the Atlanta-based organization since 1995. With Bachelor of Science and Master of Science degrees in mechanical engineering from Georgia Tech University, Barcik is the author of numerous technical resources and has developed and led thousands of trainings for RESNET, EEBA, BPI, LEED, U.S. Department of Energy (DOE), U.S. Environmental Protection Agency (EPA) and other programs. Since 1999, Mike has trained more than 1,500 individuals in RESNET's Home Energy Rating System (HERS) program. Mike lives with his much-smarter architect wife and two daughters in a 1920 Craftsman bungalow that they are lovingly restoring. Thanks to efficiency improvements and a 4-kilowatt photovoltaic array, the family has offset 90 percent of their electricity consumption and reduced natural gas usage by 67 percent.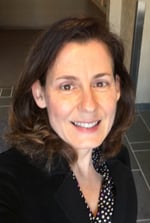 Theresa (Terri) Gilbride is a building energy-efficiency researcher with the Pacific Northwest National Laboratory in Richland, Washington, where she supports the U.S. Department of Energy (DOE) as a content manager for its Building America Solution Center and the DOE Zero Energy Ready Home (ZERH) program. Gilbride has authored or co-authored dozens of reports, articles, and case studies on residential energy efficiency and related topics. She has spoken and published on residential energy efficiency, disaster resistance, zero energy homes, and affordable and healthy homes. Gilbride served as the lead editor and author of the Building America best practice guides, a 17-volume series which includes climate-specific manuals for high-performance home builders in all U.S. climate zones, and retrofit guides on air sealing, insulation, and HVAC. She has also helped publish documents on building codes and emerging technologies, including window attachments, solid state lighting, and HVAC.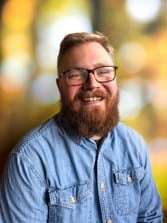 Nathan Kahre brings his experiences working for a home builder to Energylogic, an applied building science company based In Berthoud, Colo. As the innovation and Initiatives manager, Kahre works on internal and externally facing proJects to keep Energylogic at the forefront of innovation and excellence in the residential home building industry After graduating with a master's degree in building science from Appalachian State University, Kahre came to the Denver metro area to work for a high-performance production home builder. Time spent working for that builder has helped Kahre understand what is important to builders and what information they need to get their jobs done. He has presented on building science, renewable energy, and home builder quality assurance throughout the country including sessions at RESNET, EEBA, and IBS. Kahre is also active in the local community, volunteering on issues that are important to him, and doing his best to be on a mountain bike as much as possible.
May 18, 2023 12:46:09 PM · 7 min read
---

Alan Naditz is managing editor of Green Builder Magazine. He has covered numerous industries in his extensive career, including residential and commercial construction, small and corporate business, real estate and sustainability.