Sustainable Home Is a Repeat Performer

Alan Naditz
8 min read
Design experience was the key in meeting a second-time client's request for an even greener home.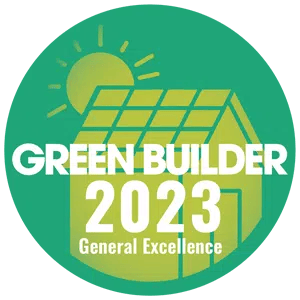 If once was good, twice will be great. That's the position Barley|Pfeiffer Architecture found itself in when a client from 2007 returned to the Austin-based firm, wanting it to create an even more sustainability-driven home.
"We had the unique honor of this being the second home to design for these former oil company executives turned environmental-activists clients," says Peter Pfeiffer, principal of Barley|Pfeiffer Architecture. "After experiencing the benefits of living in a Barley|Pfeiffer Architecture home when they were younger, they were inspired to live with an even smaller carbon footprint with this enhanced and improved version, located closer to shopping and medical services to minimize their required driving."
The clients, now an older couple, found a challenging "leftover" lot in a closer-in, built-out community in the suburbs of Austin, Pfeiffer notes. The property, with a south-facing hillside abutting a ravine, came with the bonus of having a building pad already prepared by previous owners.
And thus, the project nicknamed "Hillside Retreat" was born.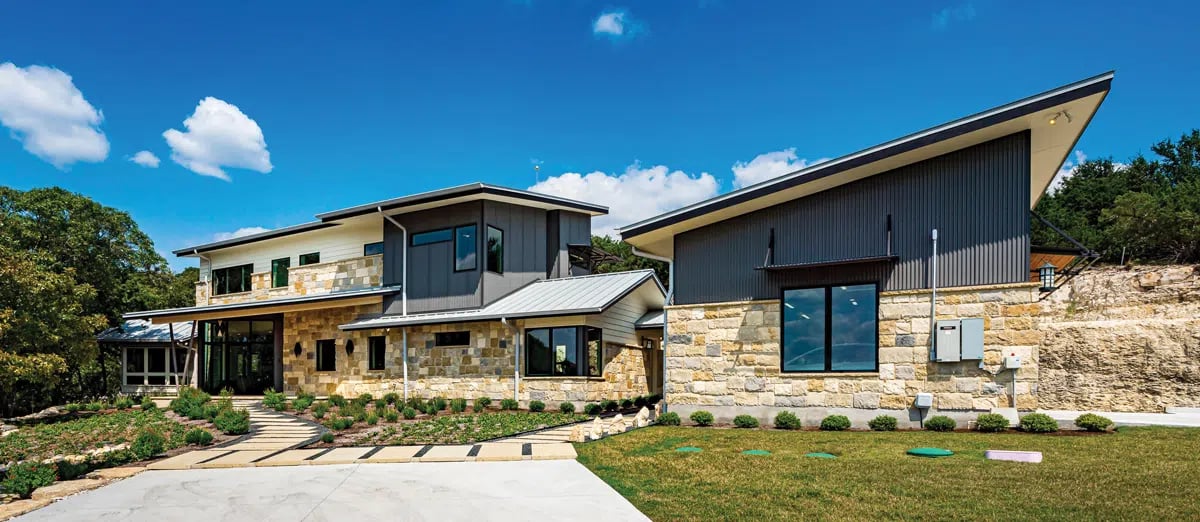 From the Judges: "Great job pairing climate specific architecture with an excellent understanding of building performance and quality construction techniques."
Green Design Strategies
According to Pfeiffer, the client's desire to nestle into the natural Texas landscape, while capitalizing on faraway views of the Hill Country, melded seamlessly with the goal of being environmentally responsible through utilizing "climate responsive" design and "high performance" building strategies.
Built into the home design from the very first concept sketches were passive solar cooling strategies in response to the hot Texas sun and to the site's cooling prevailing breezes.
"We then incorporated enhanced natural ventilation strategies inside the structure with the design and placement of a 'thermal siphoning' stair tower, balanced daylighting and window shading via extensive sun-angle calculations," Pfeiffer explains. "[There were also] elegant connections to the surrounding woods via a wonderful screened-in porch/semi-outdoor living room perched over the adjacent ravine."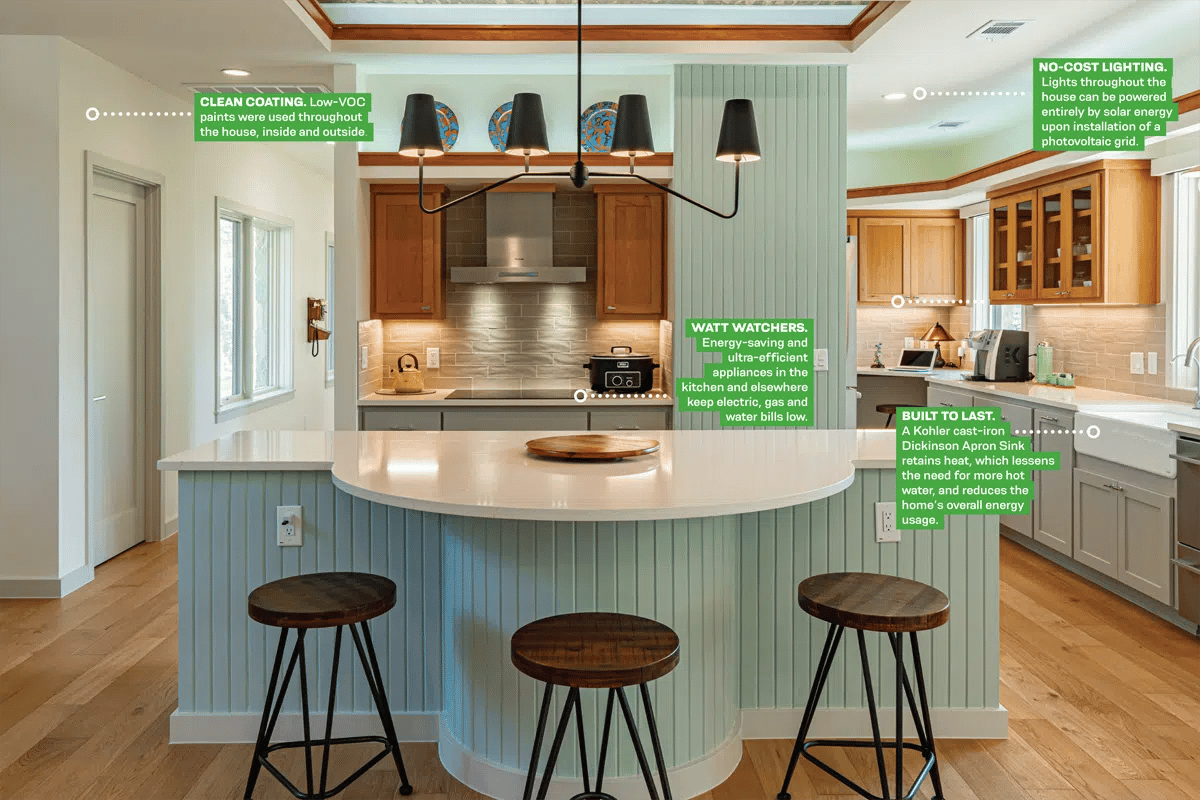 High Performance Building Strategies
The home's "shading umbrella roof" incorporates a floating ventilated radiant barrier system in conjunction with a humidity limiting/indoor-air-quality enhancing sealed attic.
Furthermore, the roof is designed, oriented, pitched, and pre-wired to accommodate future installation of an extensive photovoltaic solar array system—one large enough to make the home independent from the local utility grid, Pfeiffer notes.
Likewise, the roof, gutters, downspouts, and installed network of collection pipes were designed to facilitate a rainwater system large and sophisticated enough to allow disconnection from the city water system.
"This exemplifies how a climate responsive approach results in a home that exceeds the expectations of its owners, making for an extremely healthy indoor environment while reducing the long-term cost of ownership associated with maintenance, utilities, and climate control," Pfeiffer notes. And, in a nod to "mainstreaming" green building, the home's transitional exterior design is a complement to the existing neighborhood housing.
The Hillside Retreat—winner of Green Builder's 2023 Green Home of the Year competition in the General Homebuilding category—could complement the area for quite a while, according to GHOTY judge Nathan Kahre, who is innovation and initiatives manager at EnergyLogic, an applied building science company based in Berthoud, Colorado. "The flexible floorplan, along with future opportunities for solar and water collection will allow for long-term occupancy and use of the home by multiple generations," Kahre says.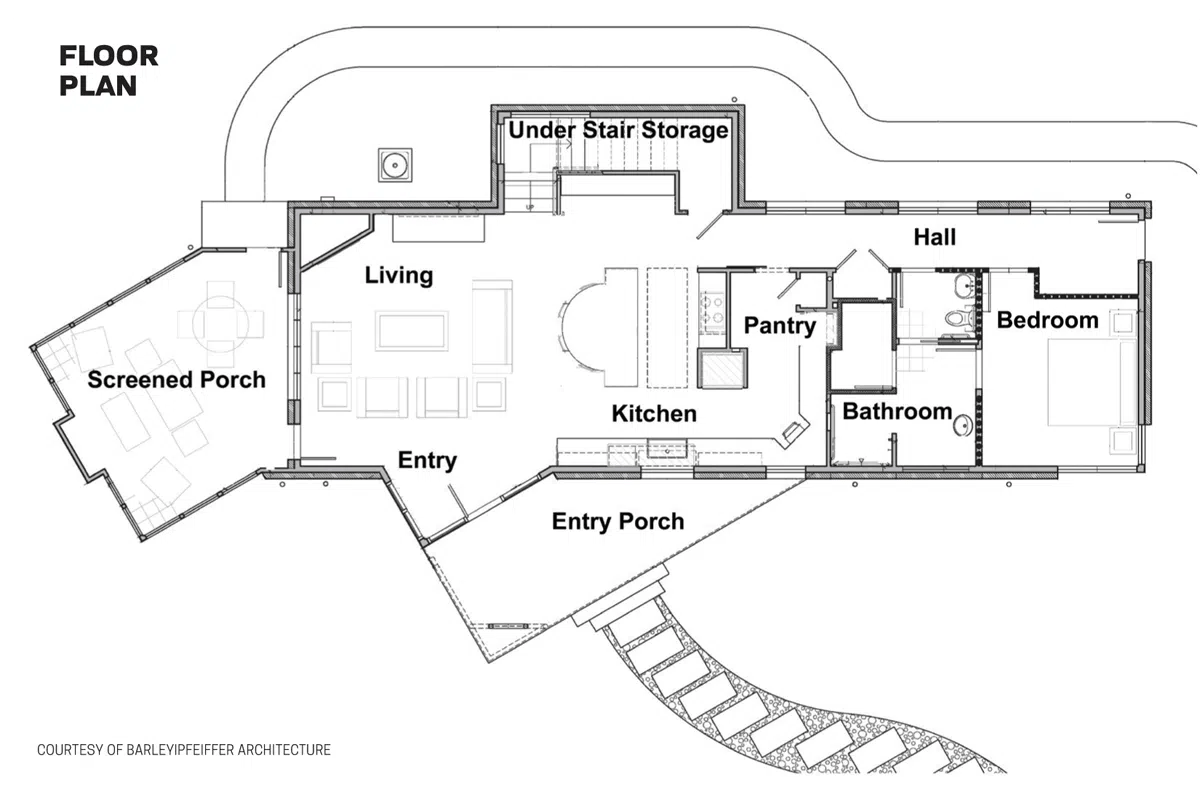 Key Components
Appliances:Fisher & Paykel (double dishwasher drawer); Bosch (30-inch wall oven, speed oven, warming drawer and induction cooktop); GE (28.5 cubic foot French door refrigerator);Kohler Dickinson under-mount kitchen sink; LG Signature (front load washer/dryer combination unit; 5.8 cubic foot mega capacity washer; 9.0 cubic foot mega capacity TurboSteam gas dryer); Robern (36-by-40 double door AiO medicine cabinet, 29-by-40 AiO double door medicine cabinet [2]; 24-by-40 AiO mirror [2]); pre-manufactured chimney style vent hood. Suggested: Thermador Masterpiece Series with Remote Location Blower Fan.
Building Envelope: Wall drainage plane products (building paper: 30# high grade ASTM D226 saturated felt paper; building wrap: DuPont Tyvek Commercial Wrap D ; rain screen: MortarNet with insect barrier by Mortar Net Solutions [or equal]; Sill seal at sole plate: Dow Sill-Seal continuous foam strips; sheet metal flashing: 26 gauge Galvalume sheet metal; door pans: plastic pan such as Jamsil Guard molded ABS plastic door sill pan flashing; rubber membrane flashing at windows and door: DuPont Flex Wrap at window sills, DuPont Straight Flash or Carlisle Coatings and Waterproofing CCW 705, 40 ml, 6-inch-wide strips at heads and jambs; at wall base and corners, ridges and valleys, roof bracket mounting plates: Carlisle Coatings and Waterproofing CCW 705, 40 ml self-adhering rubberized membrane
Cabinets, Shelves, Millwork: Robern medicine cabinets
Caulks and Sealants: Tremco Sealants and Waterproofing Vulkem 116
Countertops: Recommended Silestone
Doors and Hardware: Simpson Mastermark Series Viewsaver Thermal French with double pane clear glass
Furniture: Robern mirrors
HVAC/Ducts: Bryant
Insulation: Rigid insulation board (XPS Rigid Board at exterior walls around conditioned spaces and garage; Dow [or equivalent] Styrofoam residential sheathing); EPS Rigid Board at vaulted ceilings; Spray foam insulation: Icynene Pro-Seal polyurethane spray foam; Icynene Classic Plus polyurethane spray foam
Lighting: Texas Sun & Shade (motorized rolling shutters and motorized interior Lutron shades)
Paints and Stains: Cementitious siding, soffits, and ceilings (Sherwin Williams Loxon Masonry Primer and Coating [A24-300 Series] or Duration Exterior Latex Coating in Satin/Gloss finish); wood trim, ceilings, siding, etc. (Sherwin Williams Woodscapes semi-transparent water-borne polyurethane stain); stone veneer sealer: EcoProCote Agri-Soy Penetrating Clear Sealer in a satin finish); paint finish locations at interior (Gypsum board: Sherwin Williams Duration Home Interior Latex in matte finish or ProMar 200 in flat finish); Wood, water based (cabinets, millwork, doors and trim): (Sherwin Williams Premium Wall and Wood Interior Latex Primer; Emerald Urethane Trim Enamel); clear and stain finish location at interior (stained finish wood – Alkyd or oil based) (Sherwin Williams Wood Classics waterborne polyurethane varnish in satin finish); clear finish wood–acrylic: (Sherwin Williams Wood Classics waterborne polyurethane varnish in satin finish)
Plumbing/Plumbing Fixtures: Bathrooms (Aquia® IV One-Piece Toilet - 1.28 GPF and 0.8 GPF, elongated bowl (3); Kohler Ladena under-mount sinks (2) in master bath; Kohler Ladena or similar in other 2 bathrooms; Supreme® Pedestal Lavatory (1); Eurostyle Cosmopolitan size small bathroom faucets (5); Grohe Rapido® SmartBox and Grohe SmartControl® Dual Function trim; Grohe Rapido® SmartBox and Grohe SmartControl® Single Function trim; Power and Soul Cosmopolitan 190 (fixed)(2); Power and Soul Cosmopolitan 130 (hand held) (3); TOTO Enameled Cast Iron Bathtub; Eurostyle Cosmopolitan 4 Hole Bathtub Faucet with Handshower); Kitchen (Kohler Dickinson Apron Sink with Duostrainer; Ladylux3 RealSteel Pro Single-Handle Kitchen Faucet); laundry room (Kohler Park Falls Utility Sink with Duostrainer; Grohe Concetto model); garage (Grohe Concetto model; Elkay Lustertone Classic Stainless Steel Single Bowl Undermount Sink; Elkay Deluxe 3 1/2-inch Drain Type 304 stainless steel body, strainer basket rubber seal and tailpiece)
Renewable Energy Systems: Solar array planned for with roof design
Water Heating: Rinnai Sensai RU180i 180,000 BTU tankless hot water heating unit with sealed combustion and forced exhaust
Window Coverings: Phifer SeeVue stainless steel wire mesh insect screens, removable 18 gauge aluminum frames; exterior storm shutters: Rollac Shutter DuraComfort shutters with high-density foam insulation and metallic finish; motorized rollers shades at interior: Lutron Roller 100 roller shades, outside mount
Windows, Skylights, Patio Doors: Casement and fixed: Marvin Integrity Ultrex-wood series; slider window: Marvin Aluminum Clad Ultimate; Wall windows: Western Series 900
Other: MESA home security system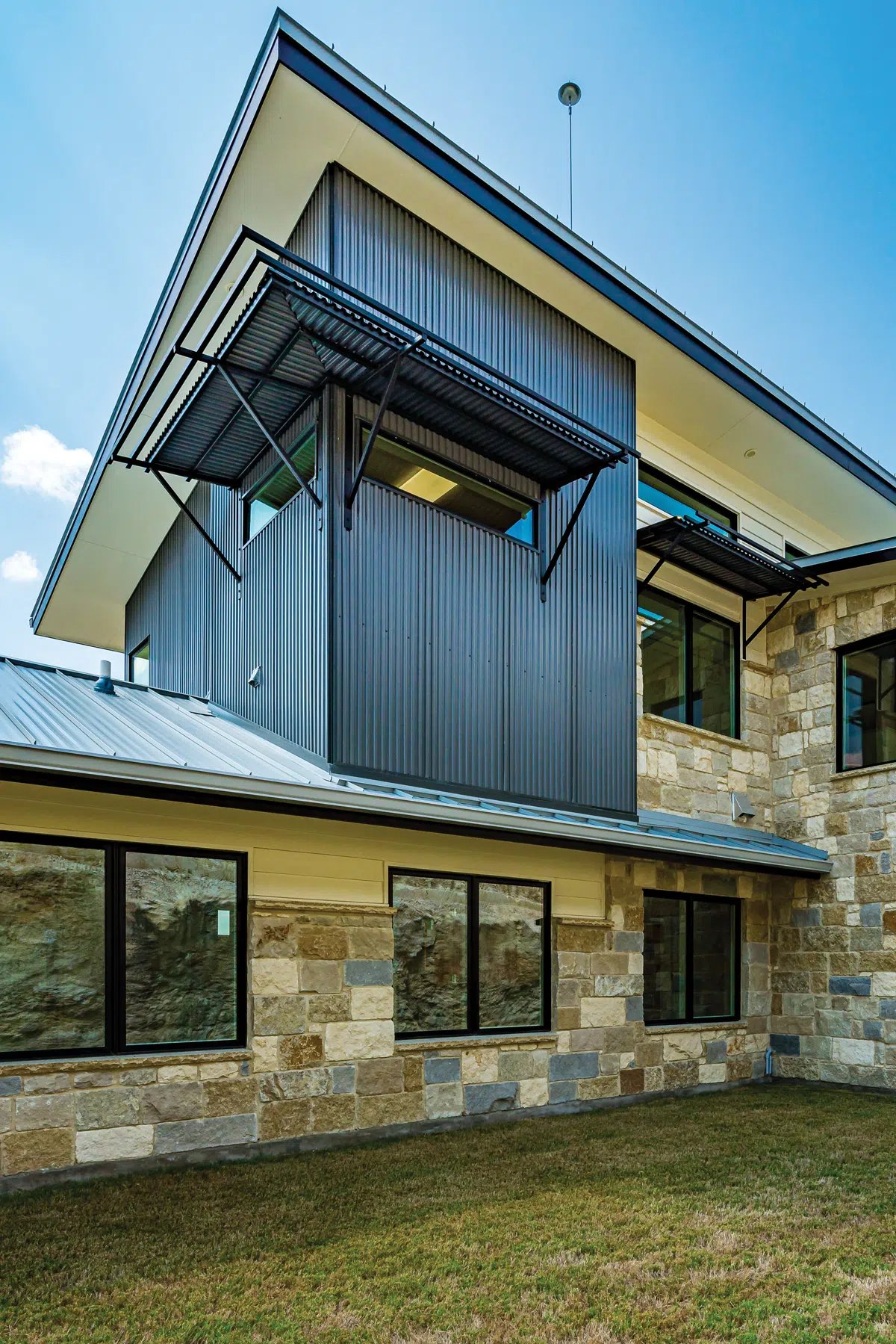 The Hillside Retreat's roof is oriented, pitched and pre-wired to accommodate a solar array system designed to make the home independent from the city's electrical grid.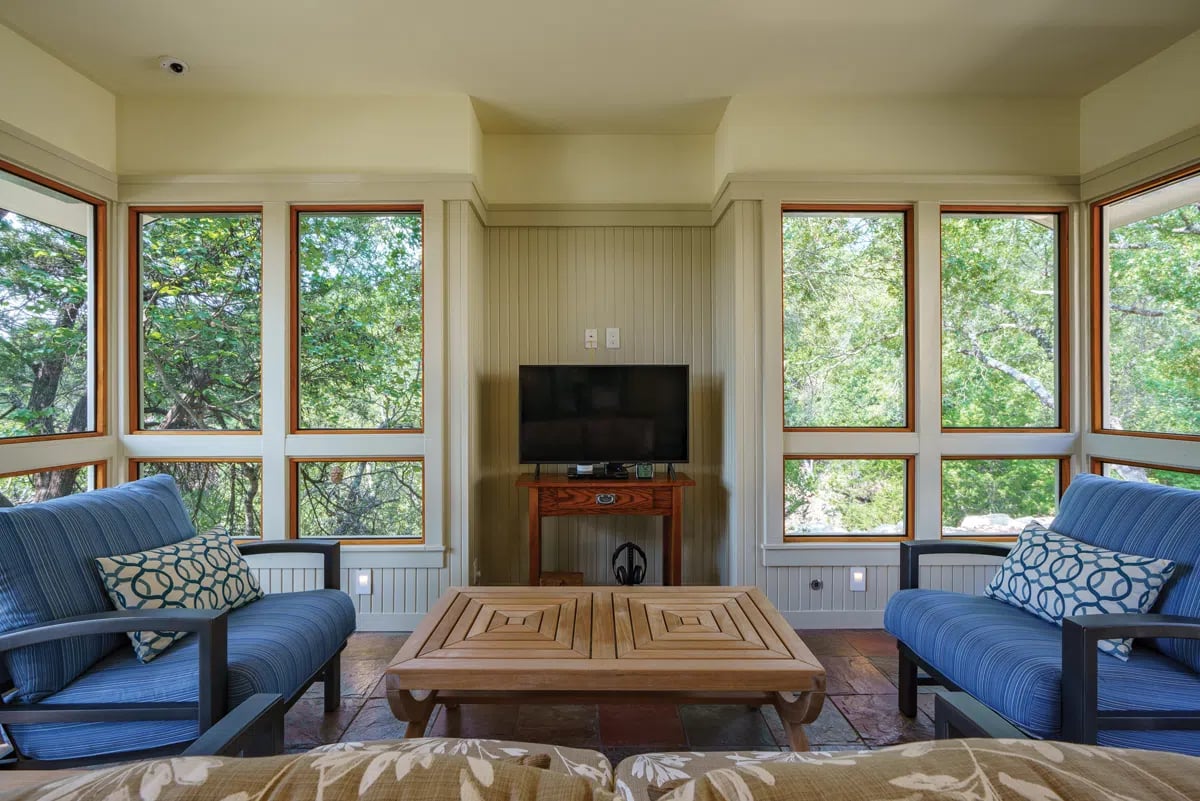 ENERGY STAR-rated Ultrex double-pane windows cut costs by more than 30 percent in cold climates, and reduce cooling costs by almost 40 percent in warm climates.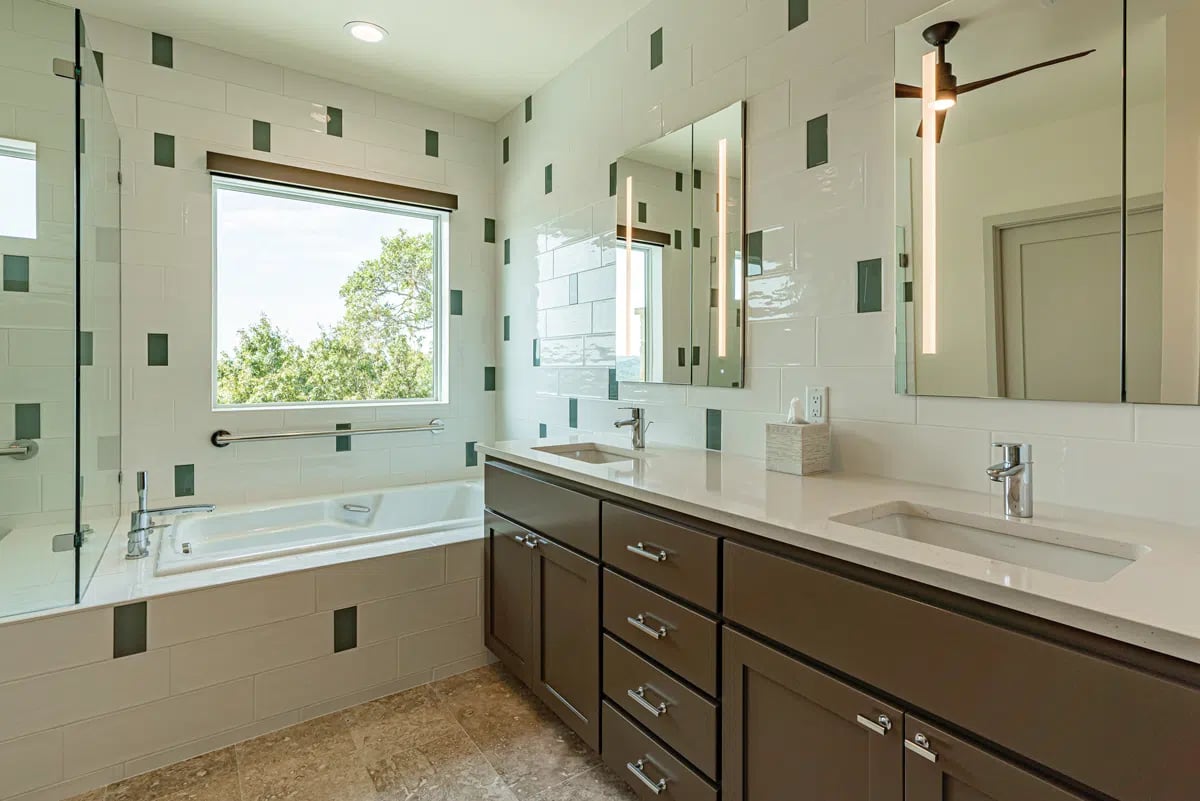 Natural lighting, drawers with environmentally friendly waterborne varnish, and water saving fixtures make the bathrooms a prime example of green thinking.
Green Home of the Year Awards: The Judges
Three judges made the important decisions in the 2023 Green Home of the Year program.
As we move from one major lifestyle challenge—an emergent pandemic—to another, with historic storms and record heat, builders have been continuously challenged to adapt. Green Builder's 2023 Green Home of the Year winners are well constructed, energy efficient and creatively designed. But our grand winner topped them all by emphasizing the local economy and the environment.
Our expert panel of judges evaluated projects in terms of overall sustainability, resilience, synergy with the environment, affordability, creativity and the depth of science employed.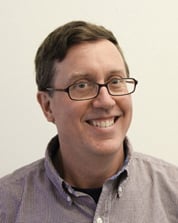 Mike Barcik is a technical principal at Southface Institute, a nonprofit which promotes sustainable homes, workplaces and communities through education, research, advocacy and technical assistance. He has been with the Atlanta-based organization since 1995. With Bachelor of Science and Master of Science degrees in mechanical engineering from Georgia Tech University, Barcik is the author of numerous technical resources and has developed and led thousands of trainings for RESNET, EEBA, BPI, LEED, U.S. Department of Energy (DOE), U.S. Environmental Protection Agency (EPA) and other programs. Since 1999, Mike has trained more than 1,500 individuals in RESNET's Home Energy Rating System (HERS) program. Mike lives with his much-smarter architect wife and two daughters in a 1920 Craftsman bungalow that they are lovingly restoring. Thanks to efficiency improvements and a 4-kilowatt photovoltaic array, the family has offset 90 percent of their electricity consumption and reduced natural gas usage by 67 percent.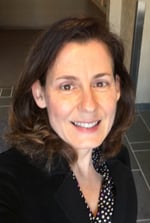 Theresa (Terri) Gilbride is a building energy-efficiency researcher with the Pacific Northwest National Laboratory in Richland, Washington, where she supports the U.S. Department of Energy (DOE) as a content manager for its Building America Solution Center and the DOE Zero Energy Ready Home (ZERH) program. Gilbride has authored or co-authored dozens of reports, articles, and case studies on residential energy efficiency and related topics. She has spoken and published on residential energy efficiency, disaster resistance, zero energy homes, and affordable and healthy homes. Gilbride served as the lead editor and author of the Building America best practice guides, a 17-volume series which includes climate-specific manuals for high-performance home builders in all U.S. climate zones, and retrofit guides on air sealing, insulation, and HVAC. She has also helped publish documents on building codes and emerging technologies, including window attachments, solid state lighting, and HVAC.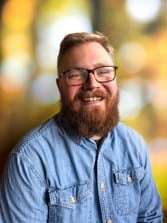 Nathan Kahre brings his experiences working for a home builder to Energylogic, an applied building science company based In Berthoud, Colo. As the innovation and Initiatives manager, Kahre works on internal and externally facing proJects to keep Energylogic at the forefront of innovation and excellence in the residential home building industry After graduating with a master's degree in building science from Appalachian State University, Kahre came to the Denver metro area to work for a high-performance production home builder. Time spent working for that builder has helped Kahre understand what is important to builders and what information they need to get their jobs done. He has presented on building science, renewable energy, and home builder quality assurance throughout the country including sessions at RESNET, EEBA, and IBS. Kahre is also active in the local community, volunteering on issues that are important to him, and doing his best to be on a mountain bike as much as possible.
May 5, 2023 11:28:15 AM · 8 min read
---

Alan Naditz is managing editor of Green Builder Magazine. He has covered numerous industries in his extensive career, including residential and commercial construction, small and corporate business, real estate and sustainability.