Zero Energy, Zero Water House

Alan Naditz
8 min read
A small environmental footprint makes this water- and energy-independent home a smart sign of things to come.
When a city averages 36 inches of rain per year, the word "drought" doesn't come to mind. That's the situation with Portland, Ore., where rainfall has remained consistent over the past five years, while most of the state's Central and Eastern regions are seeing record lows.
But, there's no harm in embracing the "what if?" philosophy—which is why residential construction and design firm Green Hammer enthusiastically accepted a request for a home that would be self-sufficient in its use of water and energy.
Through an integrated design-build process, Green Hammer designed and built such a dwelling in Portland's urban and trendy Richmond neighborhood. The two-bedroom, 1,757-square-foot home is "right-sized" for the owners: a young couple interested in minimizing their environmental footprint, according to Green Hammer co-design director Jonathan Lundstrom.
"The project's unique zero-energy, zero-water goals made it an excellent fit for Green Hammer," Lundstrom says. "The thoughtful intention of the owners to explore how to reduce the project's overall impact was inspiring."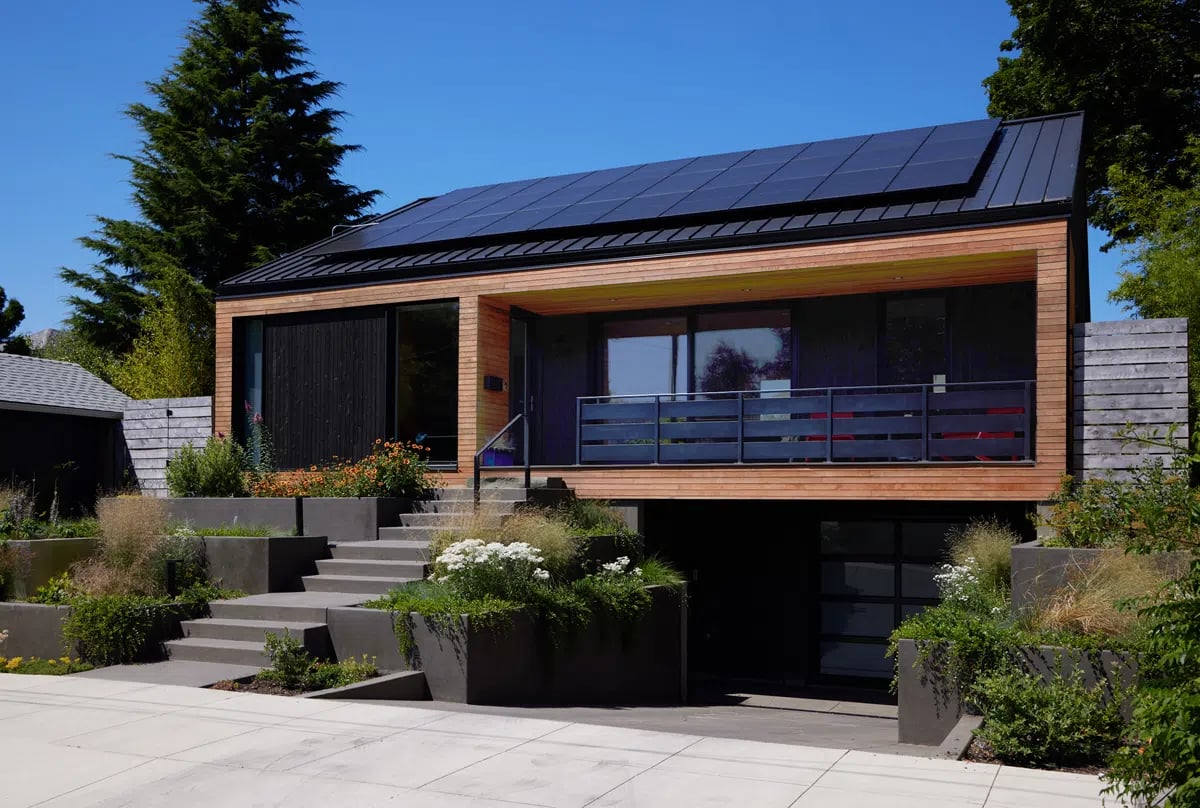 From the Judges: "A great example of a zero-water home in an urban setting."
The Landfill Is Off Limits
This home, nicknamed the "Richmond Residence," replaced the original 1908 one-story house, which was energy inefficient, contained toxic chemicals, and had little natural light and a rigid layout, Lundstrom notes. The owners decided to reduce material waste by carefully deconstructing the existing home, salvaging content for reuse, and limiting the dispersal of hazardous material in the air, water, and soil.
Project Stats
Name: Richmond Residence, Portland, Oregon
Builder: Green Hammer
Architect/Designer: Green Hammer
Developer: Melissa Medeiros, Landline Design
Photographer: George Barberis/George Barberis Photography
The house has earned a Safe + Sustainable Site Certification from environmental real estate nonprofit Earth Advantage. It's also received praise from the judges of the 2023 Green Builder Home of the Year (GHOTY) competition, in which the Richmond Residence won in the "Drought Ready" category.
"I appreciate the time and effort to successfully deconstruct an existing home," says GHOTY judge Nathan Kahre, who is innovation and initiatives manager at EnergyLogic, an applied building science company based in Berthoud, Colorado. "So much waste can be diverted from the landfill with thoughtful processes."
Building a Home the "Right" Way
Green Hammer took a "right-sized" approach to living space planning to ensure that it provides necessary functional areas and amenities without oversizing the home. This also allows the project to achieve the resiliency measures desired, Lundstrom notes.
The sustainable elements are numerous:
Cedar siding clads the residence with a community-oriented front porch and simple south-facing gable roof. Both are a modern interpretation of the neighborhood context.
Opening directly from the living room are two sliding doors leading to covered porches on both the front and back.
Thoughtful placement and triple-pane glass allow for natural lighting and cross ventilation, while meeting energy efficiency goals and fostering an indoor-outdoor connection to nature.
The all-electric home is designed to consume as little energy as possible, producing its own electricity from a 9.3 kilowatt solar array.
"Not only is the project pursuing zero net energy, but with ample storage of rainwater, it's also 'zero water,'" Lundstrom says. "The project will be almost entirely independent from the municipal water supply, reducing the strain on an increasingly concerning resource."
The home was designed with a 9,000-gallon cistern to satisfy 100 percent of its annual potable water needs through rainwater harvesting, on-site water filtration, low-flow fixtures, and right-sized plumbing design.
And, the landscape has a drought-tolerant design that significantly reduces the water needed for irrigation.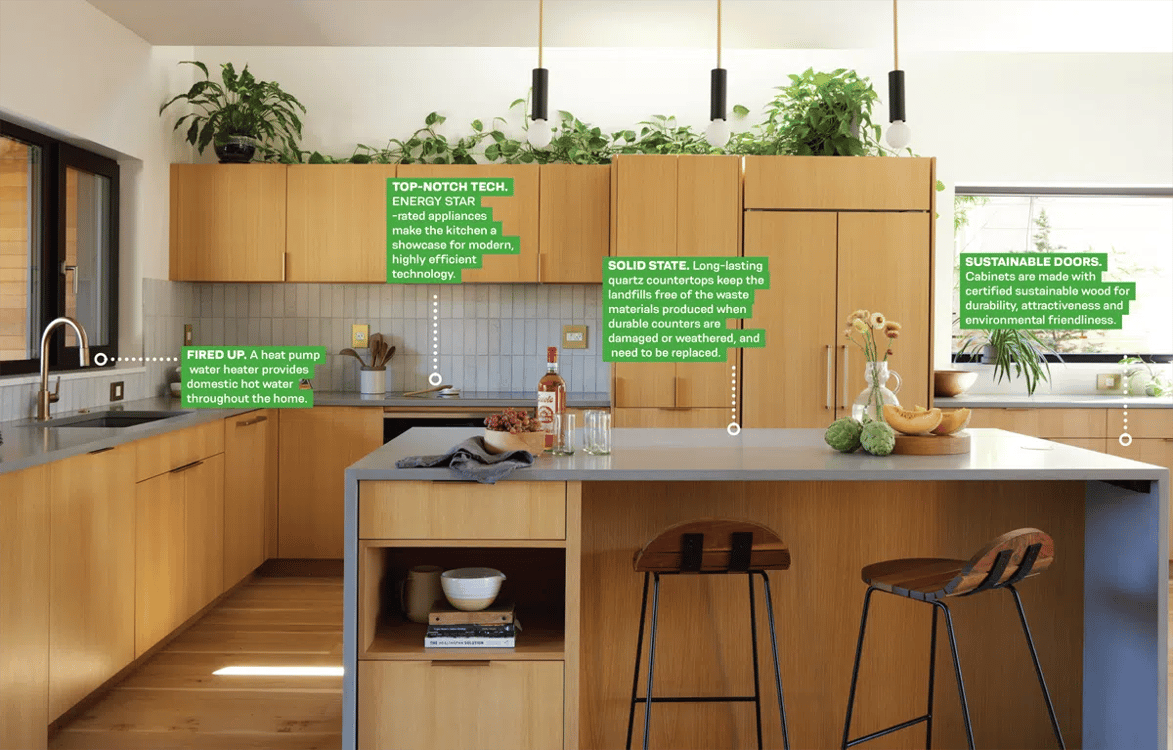 It's All About Air
The home received Earth Advantage Platinum + Zero Energy certification for its highly effective airtight enclosure, a super-insulated envelope, thermal-bridge-free construction, triple-pane windows, all ENERGY STAR appliances, LED light fixtures, Forest Stewardship Council (FSC) certified wood, and a high-efficiency mini-split heat pump.
An ultra-efficient heat recovery ventilation (HRV) system keeps the indoor air quality clean and healthy with enhanced filtration of incoming outside air. By removing fine particulates and contaminants such as smoke, the continuous ventilation contributes to the resiliency of the home during the Pacific Northwest wildfire season, Lundstrom notes.
Adding to the house's comfort and the low energy consumption is a heat pump water heater that uses CO2 as the natural refrigerant. The heat pump water heater powers an in-floor radiant system on the lower level, which provides domestic hot water for the home and a soaking tub in the backyard.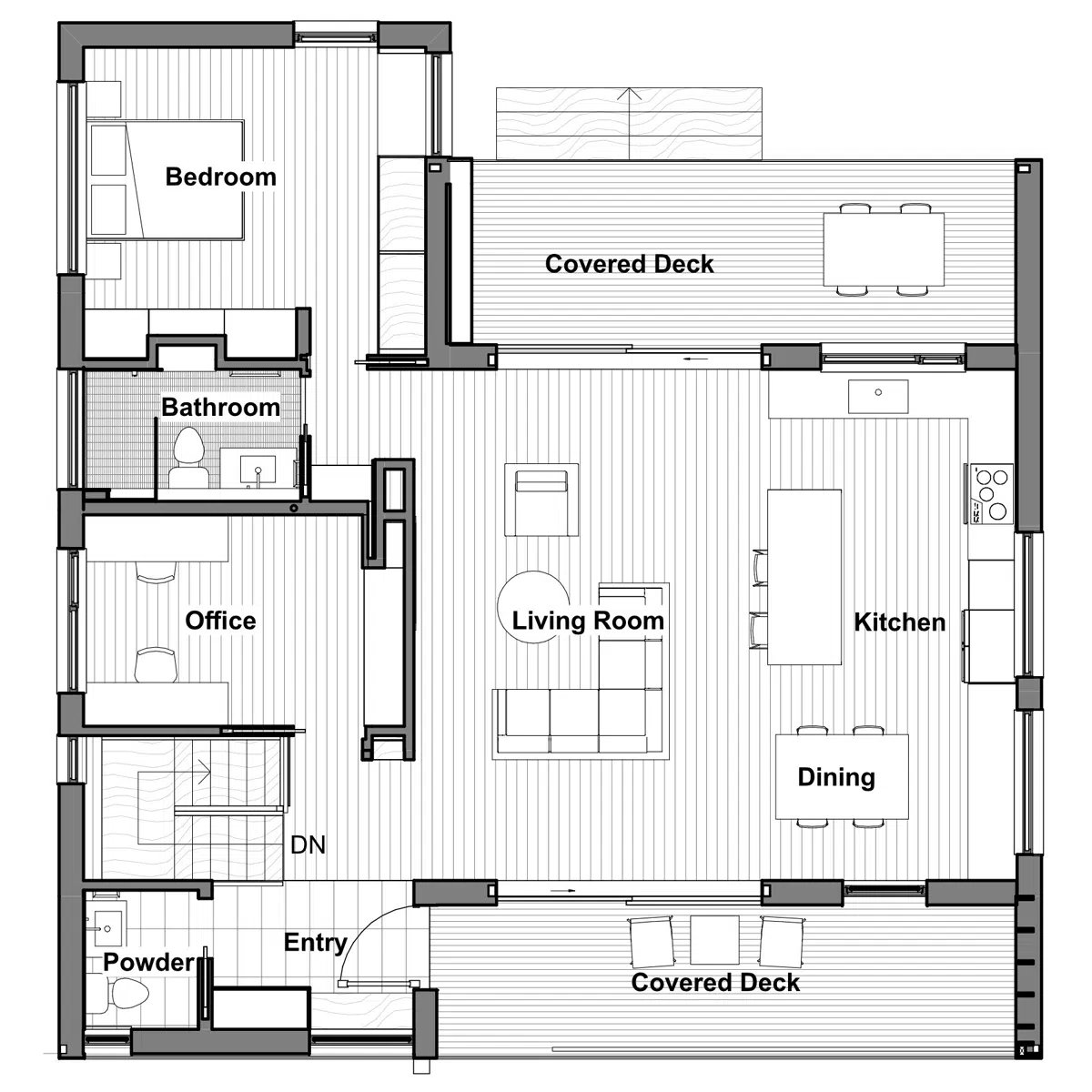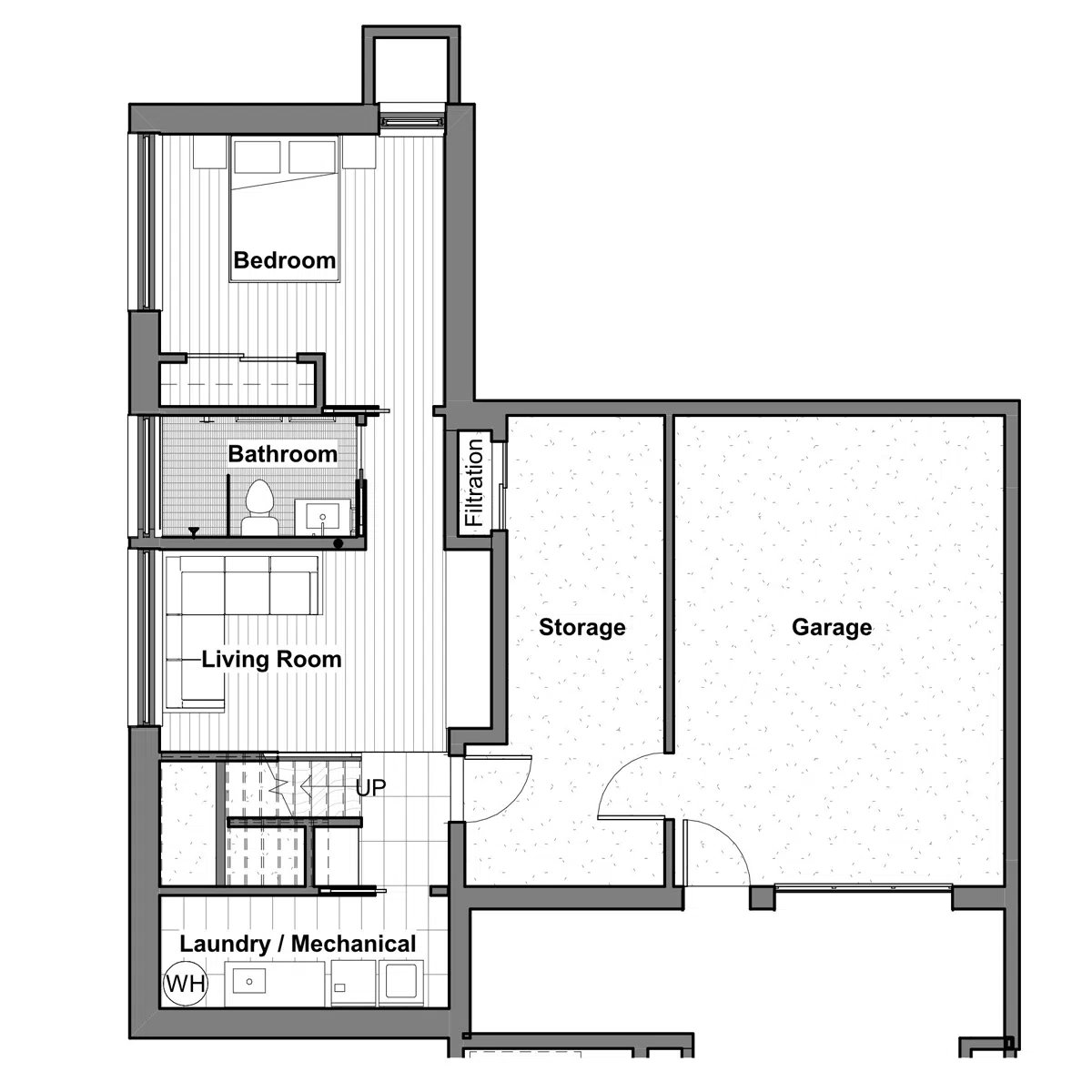 Key Components
Alternative Building Systems: Advanced Framing
Appliances: Hood vent (Vent-a-Hood); induction cooktop, oven and dishwasher (Miele); Microwave (Sharp); refrigerator (Sub-Zero, panel ready); washer and dryer (Miele)
Automotive: Tesla charger
Building Envelope: Siga air sealing products
Cabinets, Shelves, Millwork: Bathroom/kitchen cabinets: Custom, rift cut white oak; laundry room cabinets: IKEA (Veddinge) door and drawer front.
Caulks and Sealants: Hannoband expanding foam tape
Countertops: Bathroom and kitchen: PentalQuartz
Decks: CaliBamboo, composite BamDeck 4G
Doors and Hardware: Pocket door: Cavity Sliders; Bi-pass door: Emtek Bipass Door Hardware; Swing Door: Emtek, Stuttgart Lever with Square Rosette; Exterior door: Zola Door Hardware
Electrical: Ceiling Fan: Big Ass Fans, Haiku Indoor Ceiling Fan with Light
Exterior Finishes: Sustainable Northwest Wood (custom FSC cedar siding)
Fireplace: Ethanol Fireplace (EcoSmart, Flex 50SS)
Flooring: Zena Forest Products, FSC Oregon white oak (engineered)
Garage Doors: Pacific Overhead Doors (Apollo Insulated Aluminum)
HVAC/DUCTS: HRV D (Zehnder, ComfoAir 350); heating and cooling equipment (Fujitsu ducted heat pump [first floor]); Taco X-pump block (in-slab radiant heat [basement, main bath]); bath timer: Leviton, Decora; Make-Up Air Damper (MUA): Broan, Universal Auto Make-Up Air Damper; Make-Up Air Filtration (MERV 13 inline filter boxes); garage exhaust (Panasonic WhisperSense w/WhisperControl motion sensor); Floor Grille (Supply; Shoemaker, LDW—Linear Side Wall); Make-Up Air Grille: Shoemaker 1000S - Sill Supply Grille
Insulation: Greenfiber cellulose
Landscaping: Landscape lights: WAC Lighting, Ledge LED 12-volt Path Light; Dripline: Landscape Products, EZ-ID CD; Hydrawise software and controller: Hunter, Pro HC; PVC Pipe: solvent weld, pressure-rated; Slabs: Mutual Materials Hardscape, Architectural slabs
Lighting: Stair pendant: Cedar and Moss, Alto Rod; Living room mount: Cedar and Moss, Alto Compass; Dining room pendant: Cedar and Moss, Alto 6-inch Waterfall; Kitchen Island pendant: Cedar and Moss, Fjord Rod pendant; bathroom sconce: Cedar and Moss, Vista 2; primary bathroom sconce: Cedar and Moss, Timberline Sconce; Primary bedroom sconce: Cedar and Moss, Articulated Ridge Sconce; Outdoor Lights: Tech lighting, Pitch; Bathroom sconce: Cedar and Moss, Swift; Bedroom sconce: Cedar and Moss, Ridge Sconce; Interior and exterior LED: Lithonia Lighting, Wafer Integrated LED Recessed Kit; Undercabinet light: Aspect LED, Narrow Tape Light; Closet light: GE, LED Direct Wire Under Cabinet Light
Paints and Stains: Exterior stain: Timber Pro; Paint: Benjamin Moore, Aura
Plumbing/Plumbing Fixtures: Kitchen and laundry faucet: Brizo, Litze in Luxe Gold; Kitchen Sink: Blanco, Diamond Super Single Silgranit Sink; Bath faucets: Brizo, Litze Single Handle Wall Mount Lavatory; Bath sinks: Kohler, Verticyl Rectangular Undermount sink; Shower head: Brizo TempAssure Thermostatic Shower Only—Less Handles; Toilets: Toto Aquia IV 1G Elongated Bowl; Shower drains: QM Drain, Mist (Tile-In) Linear Drain; Laundry sink: Blanco Liven Laundry in Silgranit; Soaking tub: Zen Bathworks Ofuro Bathtub/Kyoto; Outdoor shower: Signature Hardware Stainless Steel Exposed Outdoor Shower
Rainwater Filtration System: Conservation Technology
Renewable Energy Systems (solar, wind, etc.): Silfab 9.6kw solar array; Generac battery and inverter
Roof: Taylor Metal Easy Lock Standing Seam Metal Roof
Specialty Products: Rainwater tanks: (3) 3,000-gallon concrete tanks by Willamette Graystone.
Structural Components: Framing: 2-by-8 FSC; Sheathing: FSC plywood; Roof: Trusses;
Floor: Trusses
Ventilation: Zehnder Q450 HRV
Water Heating: Gen4 SanCO2 Heat Pump;Tankless Backup Water Heater: Rheem, RTEX; Circulator: ACT D'MAND Builder Series 1 speed pump 100 model
Water Management: Conservation Technology
Windows, Patio Doors: Zola Windows and Doors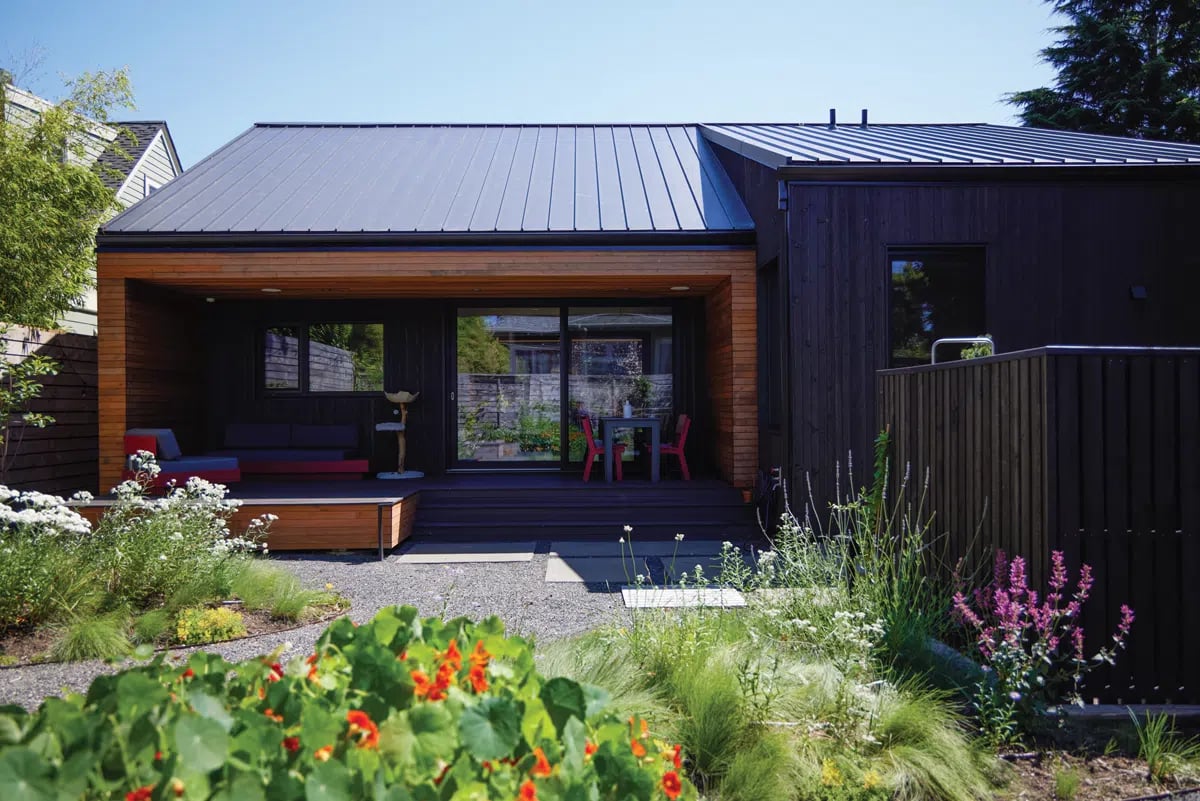 Landscaping around Richmond Residence is drought-resistant, meaning less water will be needed for irrigation.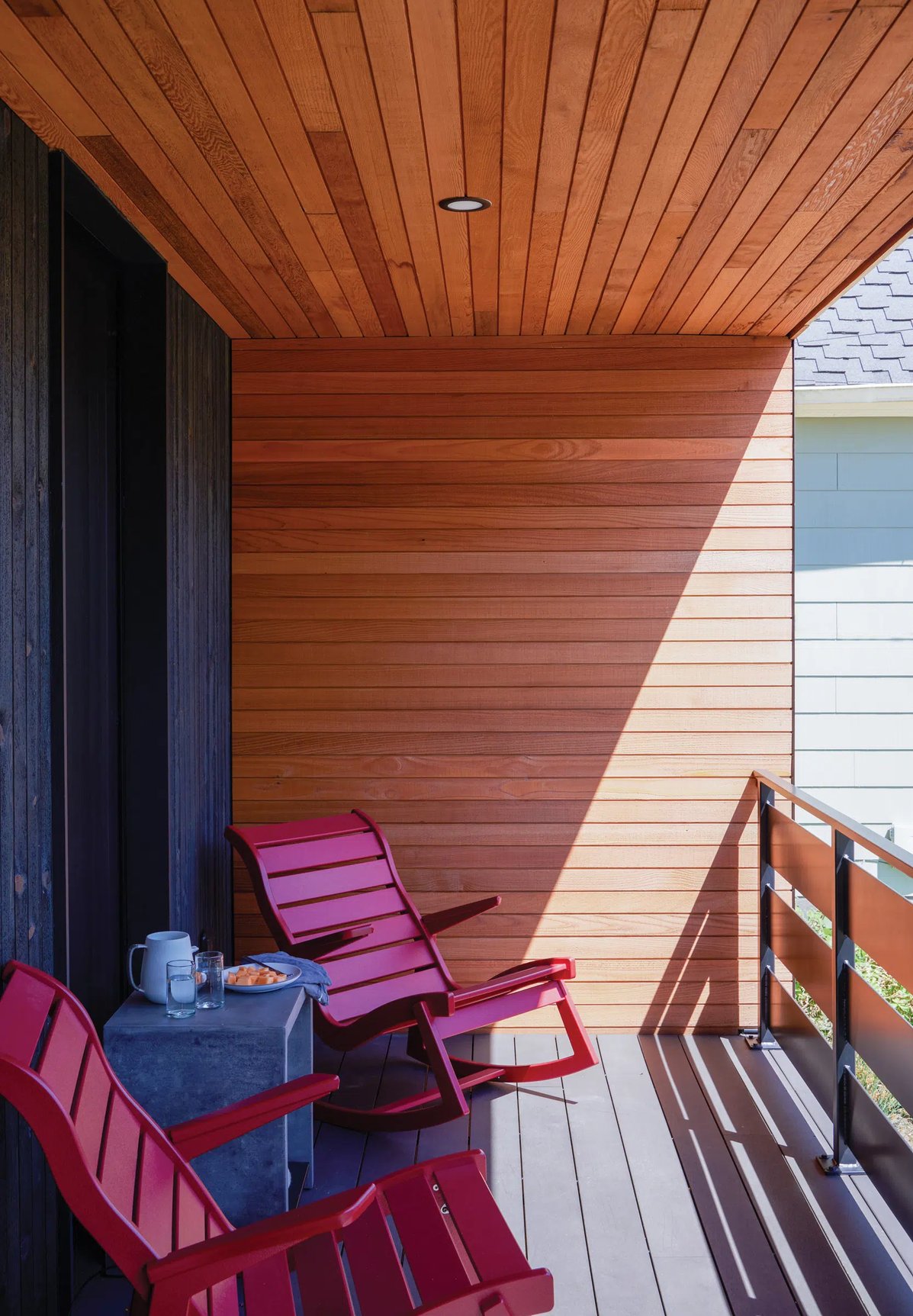 Wood siding used throughout the residence comes from Forest Stewardship Council (FSC)-certified trees, which are from responsibly managed forests.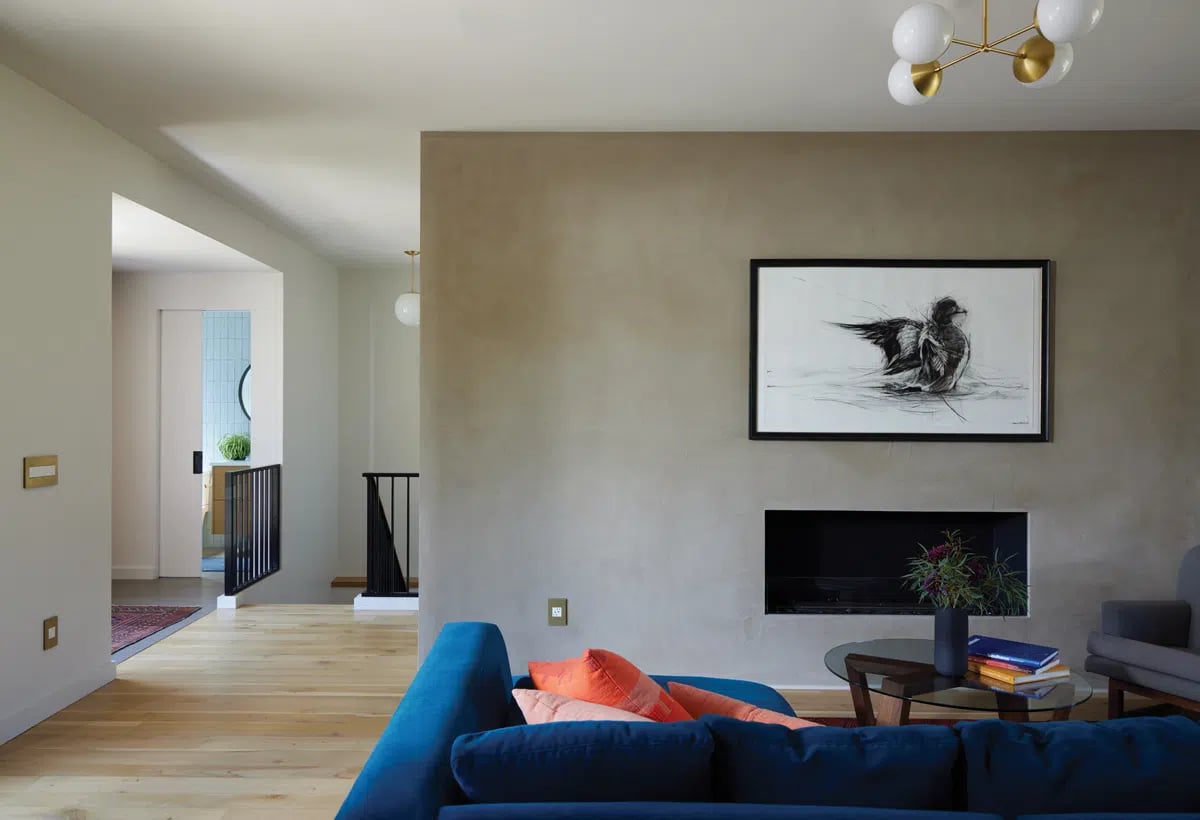 Walls are filled with Greenfiber cellulose insulation, which helps maintain desired temperature and reduce overall energy use.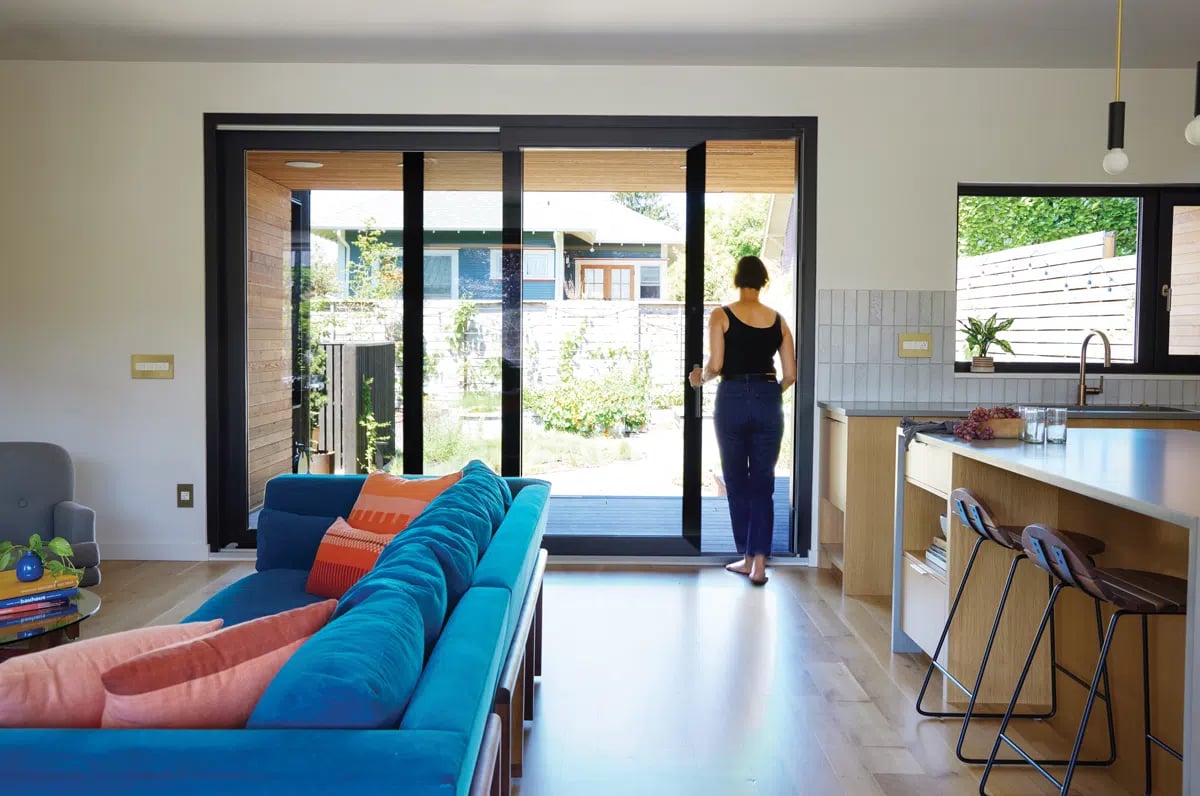 Triple-pane glass allows for natural lighting and cross ventilation, and helps the house meet its net zero energy goal.
Green Home of the Year Awards: The Judges
Three judges made the important decisions in the 2023 Green Home of the Year program.
As we move from one major lifestyle challenge—an emergent pandemic—to another, with historic storms and record heat, builders have been continuously challenged to adapt. Green Builder's 2023 Green Home of the Year winners are well constructed, energy efficient and creatively designed. But our grand winner topped them all by emphasizing the local economy and the environment.
Our expert panel of judges evaluated projects in terms of overall sustainability, resilience, synergy with the environment, affordability, creativity and the depth of science employed.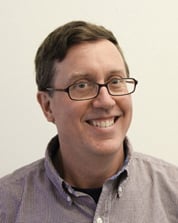 Mike Barcik is a technical principal at Southface Institute, a nonprofit which promotes sustainable homes, workplaces and communities through education, research, advocacy and technical assistance. He has been with the Atlanta-based organization since 1995. With Bachelor of Science and Master of Science degrees in mechanical engineering from Georgia Tech University, Barcik is the author of numerous technical resources and has developed and led thousands of trainings for RESNET, EEBA, BPI, LEED, U.S. Department of Energy (DOE), U.S. Environmental Protection Agency (EPA) and other programs. Since 1999, Mike has trained more than 1,500 individuals in RESNET's Home Energy Rating System (HERS) program. Mike lives with his much-smarter architect wife and two daughters in a 1920 Craftsman bungalow that they are lovingly restoring. Thanks to efficiency improvements and a 4-kilowatt photovoltaic array, the family has offset 90 percent of their electricity consumption and reduced natural gas usage by 67 percent.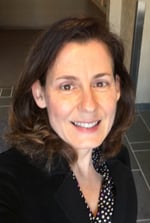 Theresa (Terri) Gilbride is a building energy-efficiency researcher with the Pacific Northwest National Laboratory in Richland, Washington, where she supports the U.S. Department of Energy (DOE) as a content manager for its Building America Solution Center and the DOE Zero Energy Ready Home (ZERH) program. Gilbride has authored or co-authored dozens of reports, articles, and case studies on residential energy efficiency and related topics. She has spoken and published on residential energy efficiency, disaster resistance, zero energy homes, and affordable and healthy homes. Gilbride served as the lead editor and author of the Building America best practice guides, a 17-volume series which includes climate-specific manuals for high-performance home builders in all U.S. climate zones, and retrofit guides on air sealing, insulation, and HVAC. She has also helped publish documents on building codes and emerging technologies, including window attachments, solid state lighting, and HVAC.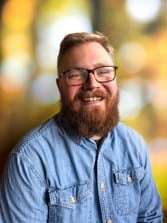 Nathan Kahre brings his experiences working for a home builder to Energylogic, an applied building science company based In Berthoud, Colo. As the innovation and Initiatives manager, Kahre works on internal and externally facing proJects to keep Energylogic at the forefront of innovation and excellence in the residential home building industry After graduating with a master's degree in building science from Appalachian State University, Kahre came to the Denver metro area to work for a high-performance production home builder. Time spent working for that builder has helped Kahre understand what is important to builders and what information they need to get their jobs done. He has presented on building science, renewable energy, and home builder quality assurance throughout the country including sessions at RESNET, EEBA, and IBS. Kahre is also active in the local community, volunteering on issues that are important to him, and doing his best to be on a mountain bike as much as possible.
Apr 26, 2023 2:11:52 PM · 8 min read
---

Alan Naditz is managing editor of Green Builder Magazine. He has covered numerous industries in his extensive career, including residential and commercial construction, small and corporate business, real estate and sustainability.