LG: Beat the Heat with Reliable and Efficient HVAC Systems

Samantha Carlin
2 min read
Sponsored Content
At the ReVISION House Austin, LG helps strategically control varying temperatures throughout the house.
When Tiana Cooper purchased her house in Austin, she knew significant changes were needed to increase the home's efficiency and comfort. "The utility bills were high. The HVAC was old. And, honestly, we didn't really know where to start," says Cooper.
Temperatures can easily exceed a blistering 100 degrees F in Austin. Any new HVAC system would have to stand up to the stress of high temperatures without straining the wallet. Cooper needed a powerfully efficient system for this specific location.
Terry Frisenda, executive sales manager at LG Electronics, explains, "We replaced two fossil fuel dependent systems that were 20+ years old with high-performance heat pumps that have zero-electric backup heat. They don't require an electrical circuit for the indoor unit because we're powering the indoor unit from the outdoor unit."
Multi-Zone System to the Rescue
LG's multi-zone units correct the oldest problem HVAC systems face in the United States: uneven heating and cooling in two-story homes, where, in the summer, the downstairs is freezing, and in the winter, the upstairs is a sauna. Frisenda notes this problem is "a result of having a single indoor unit trying to control two to three different spaces."
A multi-zone outdoor unit will allow Cooper to manage space and environments independently. "We do that by connecting multiple indoor units to a single outdoor unit," Frisenda acknowledges.
Customizable Spaces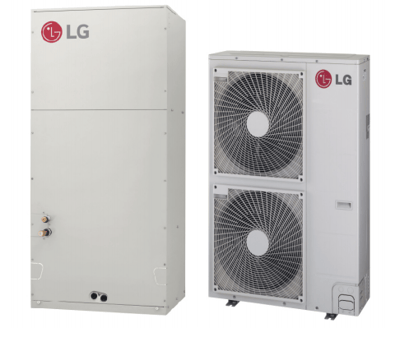 The LG LMU540HV ductless mini-split inverter is part of the ReVISION House Austin HVAC system.
Cooper's Austin house will showcase both ducted and ductless LG systems for precise heating and cooling control.
The first system consists of a multi-zone outdoor unit (54,000 BTU) connected to two indoor zones. Using existing ductwork, zone 1 (master suite, office, entry, flex space) will be controlled by a 36,000 BTU four-way vertical air handling unit (VAHU).
Zone 2 will utilize a ductless, wall-mounted ArtCool Mirror (9,000 BTU), specifically selected for a room designated for Cooper's dogs. This sleek unit will make sure to keep the pets comfortable while she is away from the home, which is particularly important on those sizzling Texas summer afternoons.
The second system uses a 42,000 BTU outdoor unit with LGRed (Reliable at extreme degrees) technology paired with a ducted VAHU. This robust system will control zone 3 (guest rooms, dining, kitchen, living area).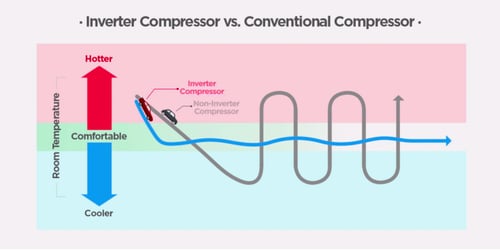 This graph demonstrates the comfort accuracy of inverter compressor technology.
Intelligence for Peace of Mind
Cooper is a lifestyle, food, and travel blogger. She is constantly traveling and exploring new destinations, so it was important to her that (even from around the globe) LG's ThinQ smart home technology allows her to control the temperature of her home from a smart device. Now she can protect her animals while away, without having to pay huge energy bills, because the system allows her to condition the specific spaces that the animals occupy.
Inverter Technology Benefits
LG's inverter compressor technology allows systems to have variable output levels. Unlike conventional air conditioner units that are either on or off, an inverter compressor modulates the speed to maintain comfort levels, minimize temperature swings and maximize system efficiency.
Additionally, inverter technology allows units to be measurably quieter and use less energy than conventional air conditioners. Inverter technology isn't exclusive to duct-free options; even homes, like Cooper's, with existing infrastructure, can benefit from inverter technology.
---

Samantha is able to express her passion for the environment -- both natural and built -- as the special projects manager at Green Builder Media. Prior to joining the Green Builder Media team, she worked as an order management specialist at C.A. Fortune, a consumer brands agency. She is a recent graduate of the Master in Environmental Management program at Western Colorado University with an emphasis on sustainable and resilient communities. Originally from the suburbs of Chicago, she is currently thriving in Gunnison, CO where she enjoys the surrounding geology, mountain biking, and skiing.