ReVISION House Austin: Before and After

Samantha Carlin
9 min read
ReVISION House Austin has an entirely new look and feel. From appliances to flooring, insulation to solar, central vac to pool pump, technicurian millennial homeowner Tiana Cooper has upgraded new digs with improved performance, health, resiliency, and connectivity.
Editor's Note: The ReVISION House Austin final grand reveal article appears in the January/February issue of Green Builder. See the house in all its glory (including a complete buyers' guide of products used in the house) by downloading a special pdf here , or through the digital version of the issue here.
In the hot Austin market during a time when homes were selling well over their asking prices and within hours of being listed, Tiana Cooper felt lucky when she snagged a home on two acres of land for a reasonable price. While the 30-something wanted a new house, she had to make a budget-driven decision to purchase a home built in 2003.
The home had some lovely design features, but the interiors were dated and mismatched, and she knew that it would need major upgrades. Wanting to enhance the functionality, sustainability, and aesthetics, Cooper reached out to Green Builder Media to access expert advice about building science, home performance, and health and wellness–thus, the ReVISION House Austin was conceived.
When providing Cooper with input about her home renovation, Green Builder Media relied on market intelligence harvested from COGNITION Smart Data to examine millennial homebuyer the trends, preferences, and purchase drivers, so that the ReVISION House Austin could showcase the upgrades that this audience segment cares about most.
While the project was always intended to be a learning process for Cooper, it certainly had some unexpected setbacks. From labor shortages to supply chain challenges to rookie mistakes (like trying to live in the house while it was being remodeled), Cooper experienced it all. But, it was worth the wait, she asserts, as evidenced by these before and after photos.
A Technicurean Dream: Signature Kitchen Suite Appliances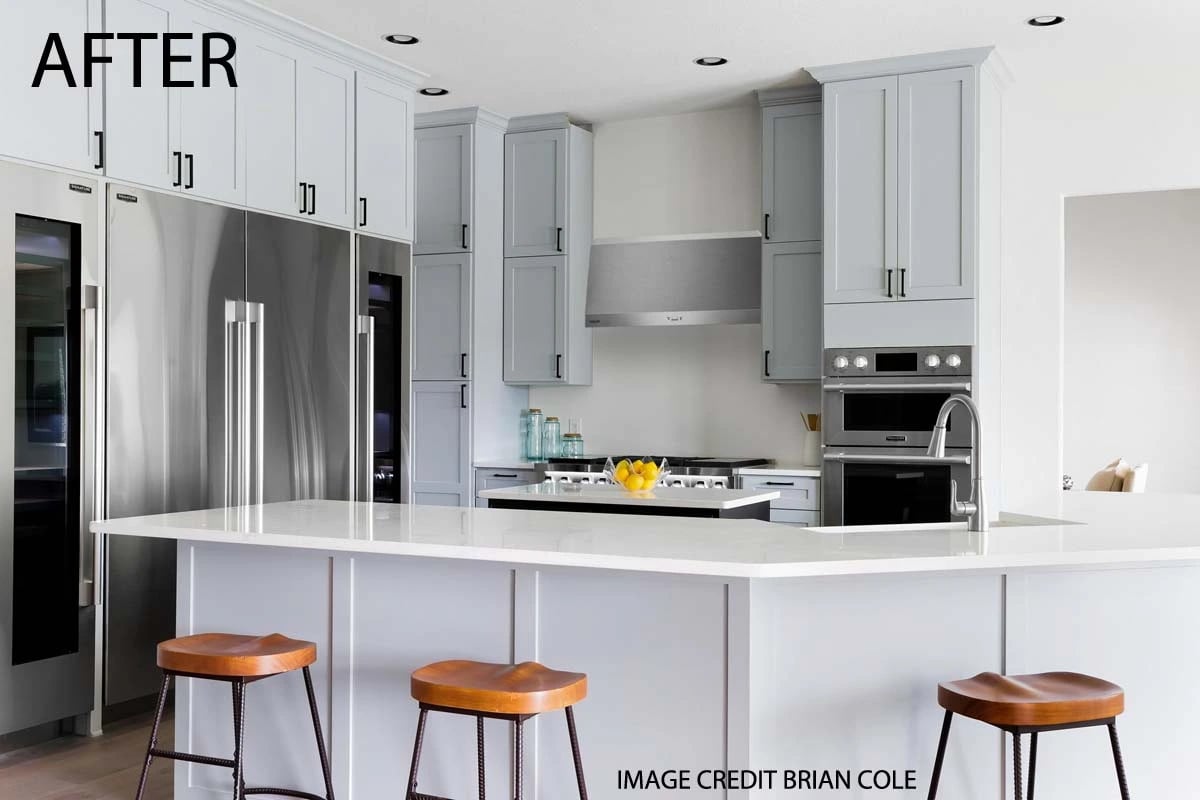 Cooper derives great joy from cooking and entertaining. She considers herself a "technicurian," someone who likes to use sophisticated technology and smart appliances to enhance her cooking experience.
Unfortunately, Cooper quickly realized the previous owners were not fond of cooking, as evidenced by a poorly designed and equipped kitchen. "Before we remodeled the kitchen, it didn't even have a vented range hood, and simply searing a chicken breast would smoke up the whole room," she laments. The old kitchen didn't measure up to her standards, and it certainly wasn't meant for her level of gourmet cooking. As an avid foodie, Cooper knew this kitchen needed a major upgrade.
Cooper selected Signature Kitchen Suite (SKS) appliances "because they are designed for individuals who are serious about cooking," she says. Cooper's appliances come with WiFi integration so that she can control them with the SKS App. Not only does the app allow for complete control and efficiency, but the technology also learns Cooper's patterns and preferences for a personalized experience.
The appliances that Cooper selected include wine fridge columns, fridges, freezer, range hood, dual-fuel range, dishwasher, combination wall oven, and microwave oven drawer. The range has induction, sous vide, steam and convection capabilities for increased efficiency, health and cooking possibilities.
SKS also addressed the problem of wasted produce with the design of its refrigerators including a wetter evaporator that holds humidity, enabling Cooper to keep her fresh vegetables longer. Her new range hood now allows her to keep her indoor air quality under control while cooking to her heart's desire.
Beauty and Durability: LX Hausys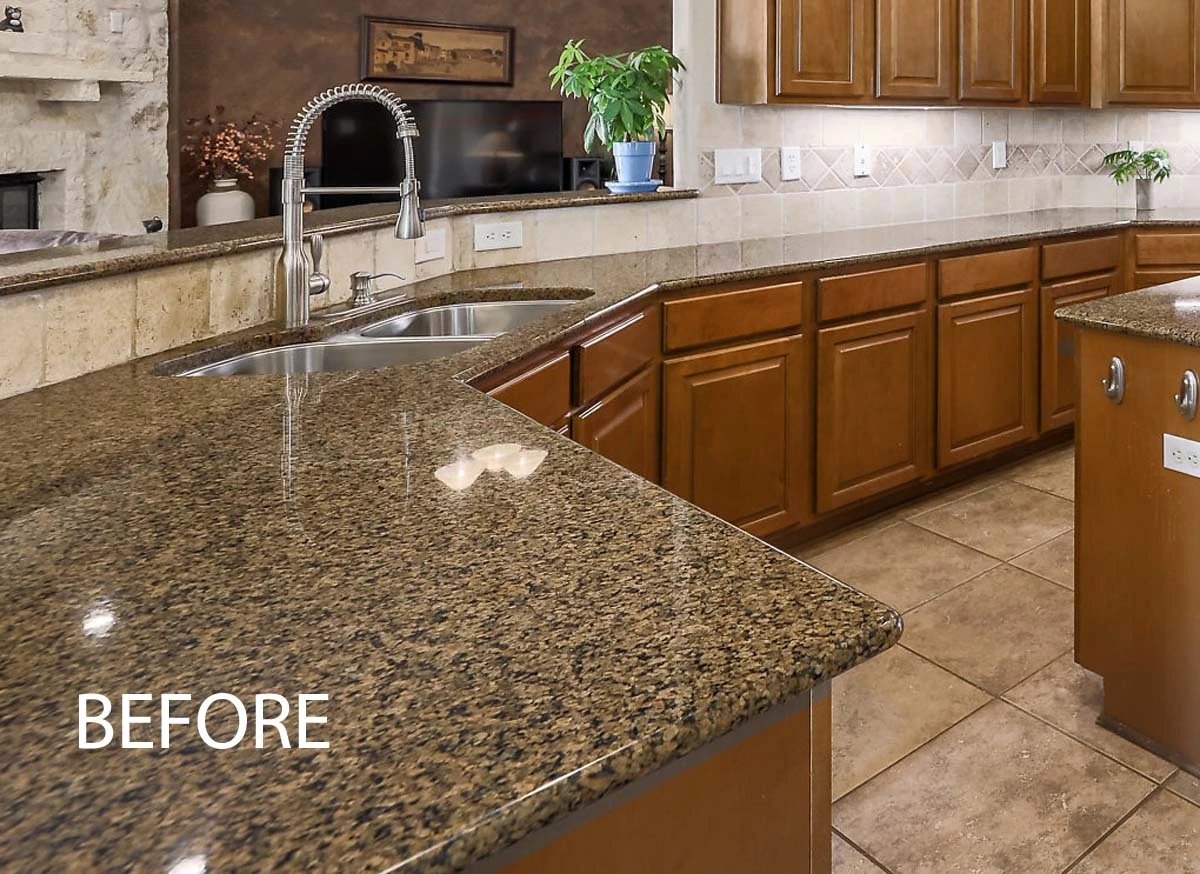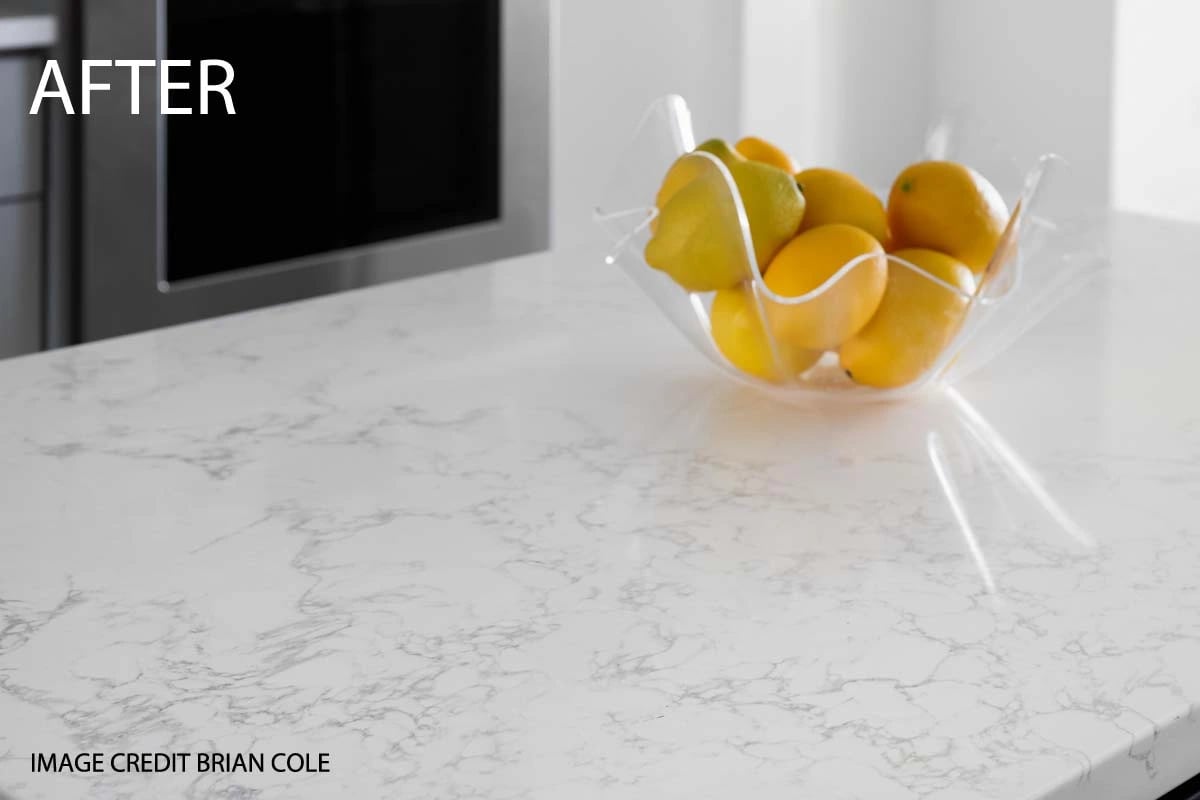 It was important to Cooper to select countertops that were beautiful, durable, and sustainable. She selected LX Hausys for surfaces in the kitchen, pantry, and master bath, with countertops and backsplashes made from a quartz-based manufactured product called Viatera.
The non-porous material is resistant to heat, stains and scratches, making it chef friendly and easy to clean. Not only is this extremely durable surface beautiful, it is also more sustainable than most quarried stone due to the eco-friendly manufacturing process.
"Having the light gray cabinets and the gray veining through the countertops looks really great together," Cooper boasts.
In the Laundry room, the counters are topped with LX Hausys' HIMACS. This material is a solid surface, showing no seams or breaks in the material. The 100% acrylic material is also ultra-durable and ready to be lived on.
Glamorous Dishwashing: Bocchi


Cooper wanted a cleaner, more contemporary look when it came to the sinks. She didn't like the split basin in the kitchen and wanted more functionality for her cooking endeavors. In the owners' bathroom, the sinks were built-in to the countertops and set a half-inch lower, which was both inconvenient and dated.
Cooper decided to upgrade her home with fireclay farmhouse sinks from Bocchi. She loved the sleek, clean designs of the Bocchi sinks as well as the company's strong corporate sustainability story.
"I love that I can fit a cutting board and strainer attachment in the Contempo 36 step rim kitchen sink," Cooper asserts. "It makes prepping food easier and cleaner." The large basin is more suitable for Cooper's cooking needs and the grate protects the sink from damage.
Cooper's black bathroom sinks make a bold statement, elegantly sitting atop a white countertop. They rise above the counter level, making them a focal point of the room.
Flooring for Life: Mohawk


Cooper wanted her floors to keep up with her active life and protect the house from damage while accomplishing a clean look. Cooper was displeased with the previous "seven different types of flooring" in the house when she moved in, which she claims were "mismatched, and all scratched up." She was ready for an easy-to-clean and life-proof flooring upgrade to better align with her lifestyle.
With her dogs, pool, and active social life, Mohawk flooring met her various needs with its UltraWood, Pergo Extreme, and EverStrand product lines. Each product prevents dirt build-up and stains with innovative technology. They are also completely waterproof, so Cooper won't have to worry about spills or forgetting a towel when going for a swim. The Ultrawood and Pergo Extreme are also scratch proof and dent proof which is perfect for the pets. Last, the EverStrand carpet in Cooper's bedrooms is made from recycled plastic bottles, keeping them out of landfills and oceans.
Perfect Conditioned Air: LG HVAC


Temperatures can easily exceed a blistering 100 degrees F in Austin. Any new HVAC system would have to stand up to the stress of high temperatures without straining the wallet. Cooper needed a powerfully efficient system for this specific location. Her old system was fossil-fuel dependent, nearing 20 years old and couldn't keep up with the rising temperatures.
Her new LG HVAC multi-zone system is all-electric, efficient, and powerful—just what she needed. The first system consists of a multi-zone outdoor unit (54,000 BTU) connected to two indoor zones. Using existing ductwork, zone 1 (master suite, office, entry, flex space) is controlled by a 36,000 BTU four-way vertical air handling unit (VAHU).
Zone 2 will heat and cool the pantry (with dog crates) with a ductless wall-mounted ArtCool Mirror (9,000 BTU). This sleek unit will make sure to keep the pets comfortable while she is away from home, which is particularly important on those sizzling Texas summer afternoons.
Zone 3 (guest rooms, dining, kitchen, living area) uses a 42,000 BTU outdoor unit with LGRed (Reliable at extreme degrees) technology paired with a ducted VAHU. Each component is equipped with inverter compressor technology. Unlike conventional air conditioner units that are either on or off, an inverter compressor modulates the speed to maintain comfort levels, minimize temperature swings and maximize system efficiency.
Insulating and Soundproofing Superstar: Greenfiber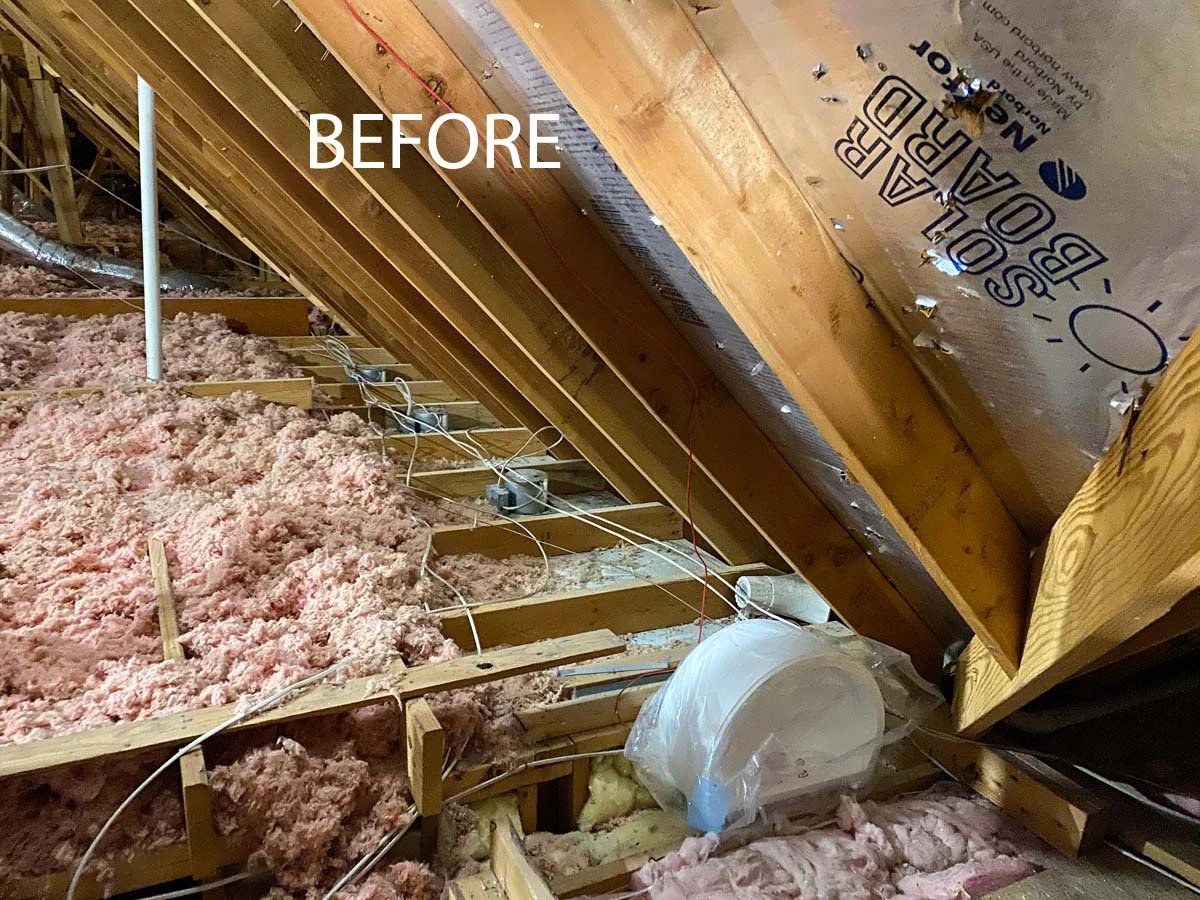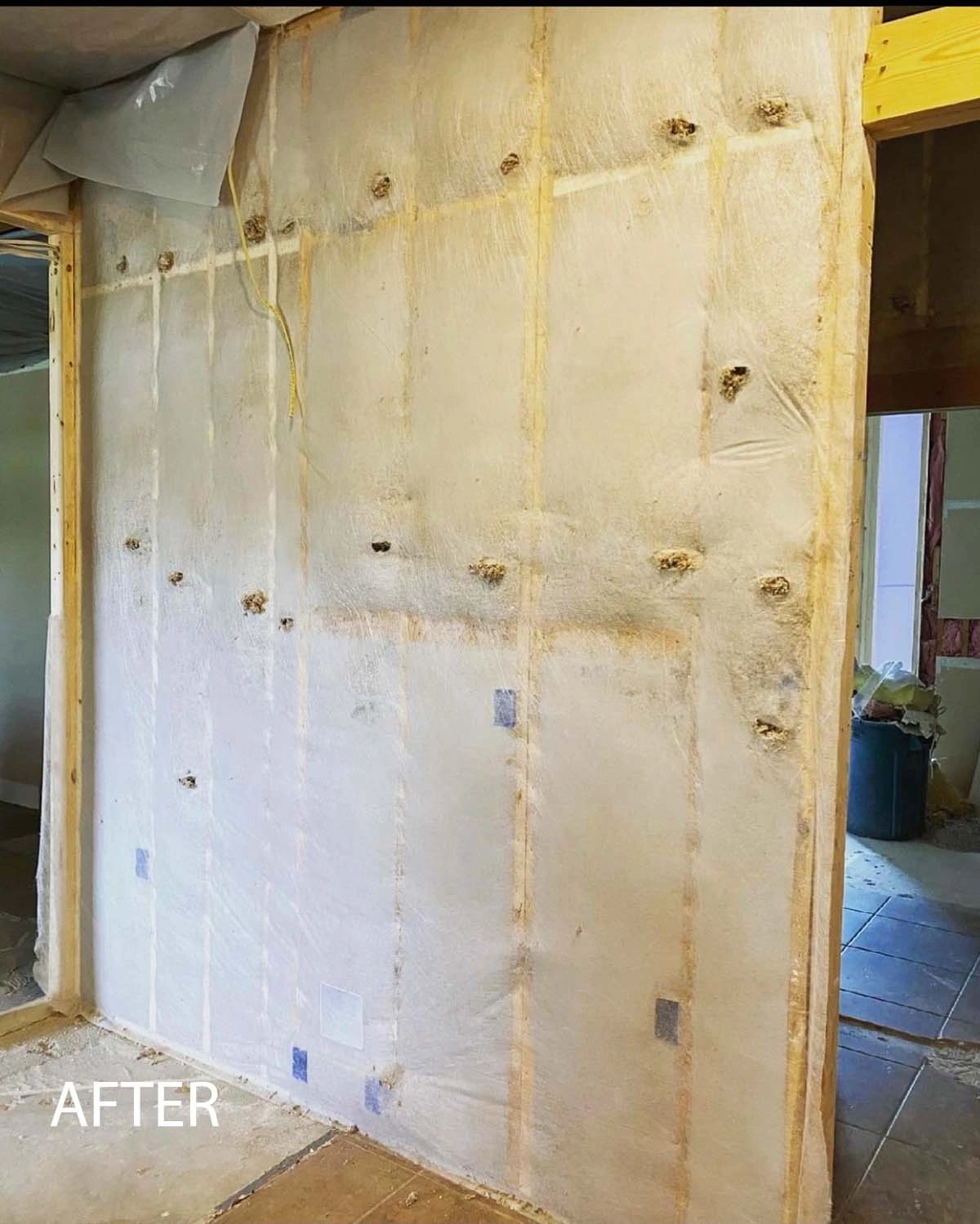 Shortly after moving in, Cooper knew she had to address energy performance issues. "The utility bills were high. The HVAC was old. And, honestly, I didn't really know where to start," she says. Green Builder Media helped her conduct an energy audit, which revealed that the insulation in the attic needed to be replaced: it had been displaced by air blowing through roof openings and animal infestation.
The ReVISION House Austin team specified SANCTUARY by Greenfiber insulation (R-38) in the attic and select interior walls to provide sound attenuation. "We added sound attenuating insulation to the pantry (which also has the dog crates) and the bedroom that Tiana uses for podcasting," says architect Chris Cernoch of Studio C² Architecture + Planning. The insulation boasts a Class 1/A fire rating, making it one of the safest insulation materials on the market and is also made with 85% recycled material.
Combating Allergens and Dirt: H-P Products

When Cooper and her dogs moved into their new home in 2020, it quickly filled up with dog hair. "I find clumps hidden in corners and behind furniture," Cooper says as she begrudgingly admits that lugging a vacuum out every day just isn't practical for her. Not to mention her indoor air quality and performance concerns about portable machines.
Enter the Chameleon central vac hose system from H-P Products. This system is top-of-the-line with built-in retractable hoses in each inlet so Cooper can easily suck up any messes, dirt or dog hair. "My central vac is just as convenient for small jobs as for big ones," Cooper says. "One hose covers 2,200 sq ft and delivers excellent suction."
The new central vac system collects debris and deposits it in a chamber in Cooper's garage. No need to frequently clean filters and empty the canister after use: Cooper only has to empty the garage-bound container once a year. Since all dust and debris is removed from the living area, re-circulated dust won't impact her air quality, keeping the home cleaner and healthier.
Power From Above: LG Solar

Before, Cooper was dependent on the unreliable Texas energy grid. She paid the price during the winter storm and below-freezing temperatures in February 2021 that rendered the grid useless, leaving millions without power. Rare storms aside, powering a large house and running the air conditioner throughout the hot Austin summers added up. Considering her $1000+ energy bill, Cooper had enough of this inefficient house.
Cooper chose to do an energy upgrade with LG's 350-watt NeON 2 solar modules to provide a reliable source of power for her home and electric vehicle (EV). Seeing the potential for long-term power outages in 2021, Cooper was determined to supply her own power from a sustainable source. The 35 new panels are high capacity and efficiency, while LG provides an impressive 25-year warranty. Now, Cooper's electric bill is a tenth of the price, at only $150 a month.
Pristine Pool: Hayward

As soon as she moved into the home, Cooper realized that her energy bills were sky high. She knew a major contributor was the old and inefficient equipment that her pool maintenance company kept urging her to replace. "The cleaner that's roaming on the bottom of my pool–the wheels had stopped working, and it just wasn't doing its job," Cooper complained.
Hayward brought an abundance of products to this pool makeover. The Tristar VS 900 Omni pump is a variable speed, meaning the unit slows down or speeds up depending on the current demand. Cooper's new Tristar pump is expected to reduce her energy consumption and cost by up to 90 percent.
The TigerShark robotic cleaner has intelligent microprocessor-based technology and an onboard pump to deliver strong vacuum power and energy-efficient operation. Hayward's AquaRite family of salt chlorine generators reduce the need for extra harsh chemicals, offering a sustainable way to clean pools and make the water feel softer. Similarly, HydraPure harnesses the power of ultraviolet and ozone to reduce the required amount of chlorine.
In addition to several functional upgrades, Hayward also supplied Cooper with its ColorLogic LED Pool Lights and OmniLogic smart control system with a mobile app. Cooper says she struggled to operate her old pool system and had to bombard the maintenance person with questions every week. But now, "having a connected pool with an app that I can use to set the timing for fountains, lights, and cleaning makes a huge difference in the pool performance."
Garage In Control: LiftMaster

Before LiftMaster's intervention, Cooper had ceiling-mounted systems that were loud and space consuming. She wanted to increase the ease of access and control with a connected option. As a single woman in a growing city, security was a concern.
Cooper selected the LiftMaster 8500W Wall Mount Garage Door Openers with wifi-integrated MyQ app and Amazon Key In-Garage Delivery connectivity. With this new smart garage system, she can check the status, open/close the door remotely, and even monitor the temperature of her garage from the app.
The connected cameras also give Cooper the ability to check on all garage access points from the safety of her phone. Cooper's new setup also includes an automatic garage door lock that deadbolts her door after closing.
"The ultra-quiet wall-mounted opener is a big step up from the clunky ceiling-mounted track system I used to have," Cooper says. "And it frees valuable ceiling storage space."
Thanks to these impressive new products, Cooper's home has transformed from brown and dated to modern and efficient. The house has been completely redesigned to function optimally for her lifestyle. Features such as the multifunctional soundproof serving pantry/ dog room to a decked out, secure and quiet wall-mounted garage door system are truly unique to Cooper's home and needs.
High-efficiency kitchen appliances, HVAC system and pool equipment, enhanced insulation, and solar panels work symbiotically to provide Cooper energy independence and a slashed utility bill. While the new floors, sinks, countertops, central vacuum and garage door upgrades give Cooper the durability, health and safety components the house was previously lacking.
"Now, with all the changes and upgrades, I have a smaller footprint. I'm creating my own energy. It feels healthy, new and clean," Cooper says happily. "Hopefully, it helps me engage other people looking to do the same in their homes to have the same direction, so we can all build a little greener!"
Feb 2, 2022 2:29:47 PM · 9 min read
---

Samantha is able to express her passion for the environment -- both natural and built -- as the special projects manager at Green Builder Media. Prior to joining the Green Builder Media team, she worked as an order management specialist at C.A. Fortune, a consumer brands agency. She is a recent graduate of the Master in Environmental Management program at Western Colorado University with an emphasis on sustainable and resilient communities. Originally from the suburbs of Chicago, she is currently thriving in Gunnison, CO where she enjoys the surrounding geology, mountain biking, and skiing.