LED Lighting Fits Energy Equation at Off-Grid Build

Samantha Carlin
3 min read
Worthwhile energy and cost saving are achieved with the use of LED lighting at VISION House Mariposa Meadows
At VISION House Mariposa Meadows in the Gunnison National Forest, Colorado, energy efficiency and conservation are paramount for this net zero build. The property lies in the Gunnison National Forest–13 miles from the nearest power line. The three homes will rely on power harvested from JinkoSolar's array of panels and stored in Blue Planet Energy's batteries.
Each product was specifically selected with energy efficiency in mind to reduce the demand on the solar and battery systems. Everything from the kitchen appliances to indoor radiant heating to ERVs and lighting technology fits perfectly into the energy equation.
Does Energy-Efficient Lighting Matter?
According to the Department of Energy, lighting accounts for 15% of an average home's electricity use, and switching to LED lighting fixtures can result in energy savings up to $225 annually for an average American home. LED lights use 90% less energy than incandescent bulbs and last 25 times longer. LEDs are also great for outdoor use because of their durability and performance in cold temperatures.
Over time, the cost of LED light bulbs has dramatically decreased and prices are predicted to further decrease. However, compared to incandescent lights, LEDs still save money due to their inherent long lasting properties and minimal energy demand.
John Barnes, design editor at Lamps Plus, acknowledges the continued evolution of LED lighting. "Not only are LEDs getting more efficient and affordable, they're also forcing a revolution in form and design. The small size of LED circuitry means that lamps and fixtures no longer have to be built around the bulb. They can be long and thin in profile or present free-flowing abstract shapes."
Dedicated to Sustainability
To fulfill the many requirements of the site, Ron Jones, owner of and General Contractor for the VISION House at Mariposa Meadows, chose Lamps Plus to provide all the indoor and outdoor lighting at the project to beautifully illuminate the space and allow a seamless transition from day to night.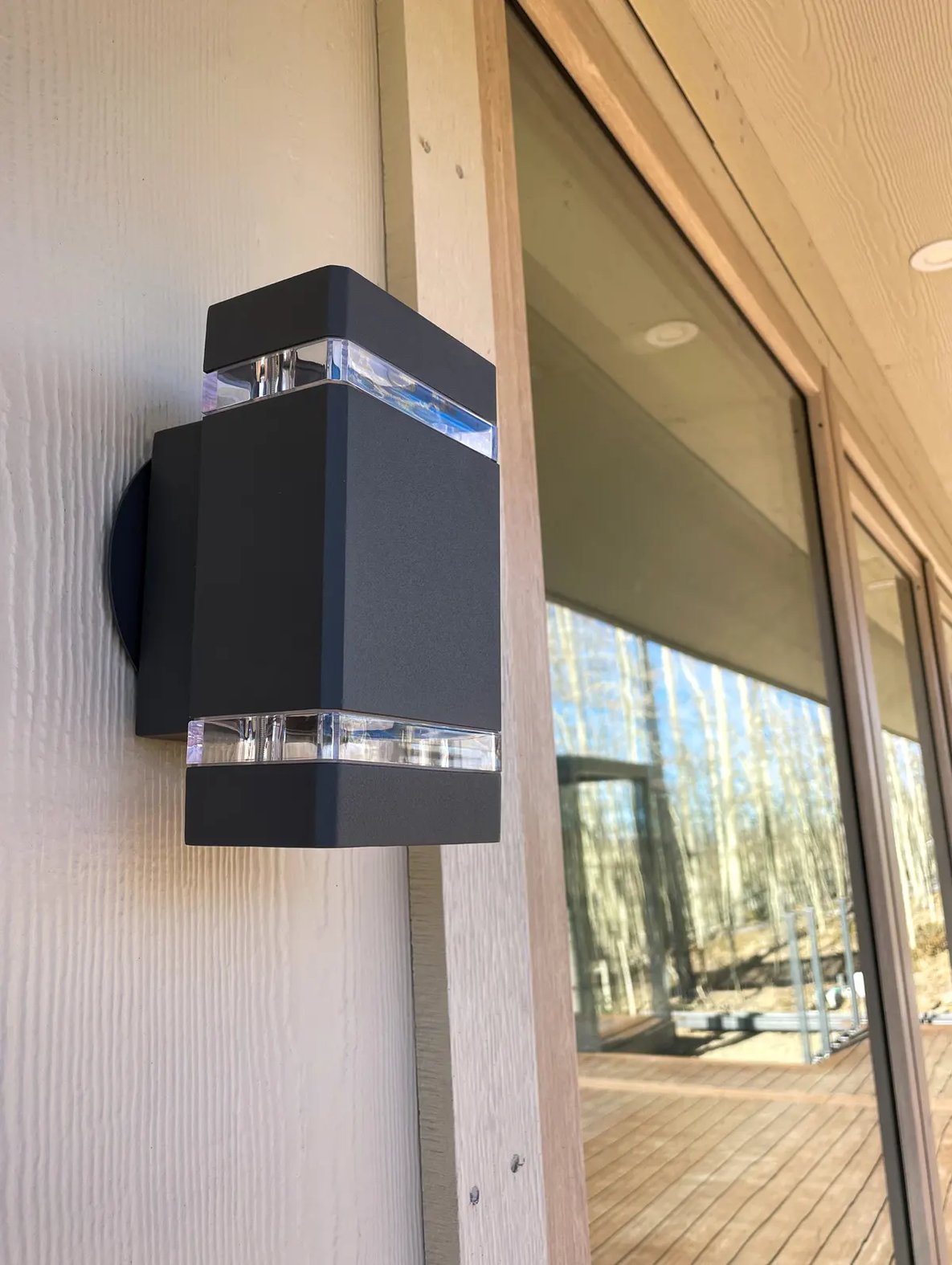 The outdoor wall lights include LED lighting and can be installed both vertically and horizontally.
Image credit: Samantha Carlin
"The scope of the Mariposa Meadows project and the ambitious master plan for a carbon neutral project were highly attractive and exciting elements. Also, for Lamps Plus, our involvement was a chance to learn and see how our lighting would perform in the off-the-grid, self-sufficient design of the property," Barnes presses.
With over 8,000 energy-efficient or LED design offerings, the California-based lighting and home furnishings company has a deep commitment to advancing sustainability whenever possible.
"The lighting designs we supplied at Mariposa Meadows were all highly energy efficient. The off-grid aspect of the project demanded the ultimate in energy performance, so we were pleased to be able to provide designs that not only met that challenge but also were stylish and of high quality," Barnes explains.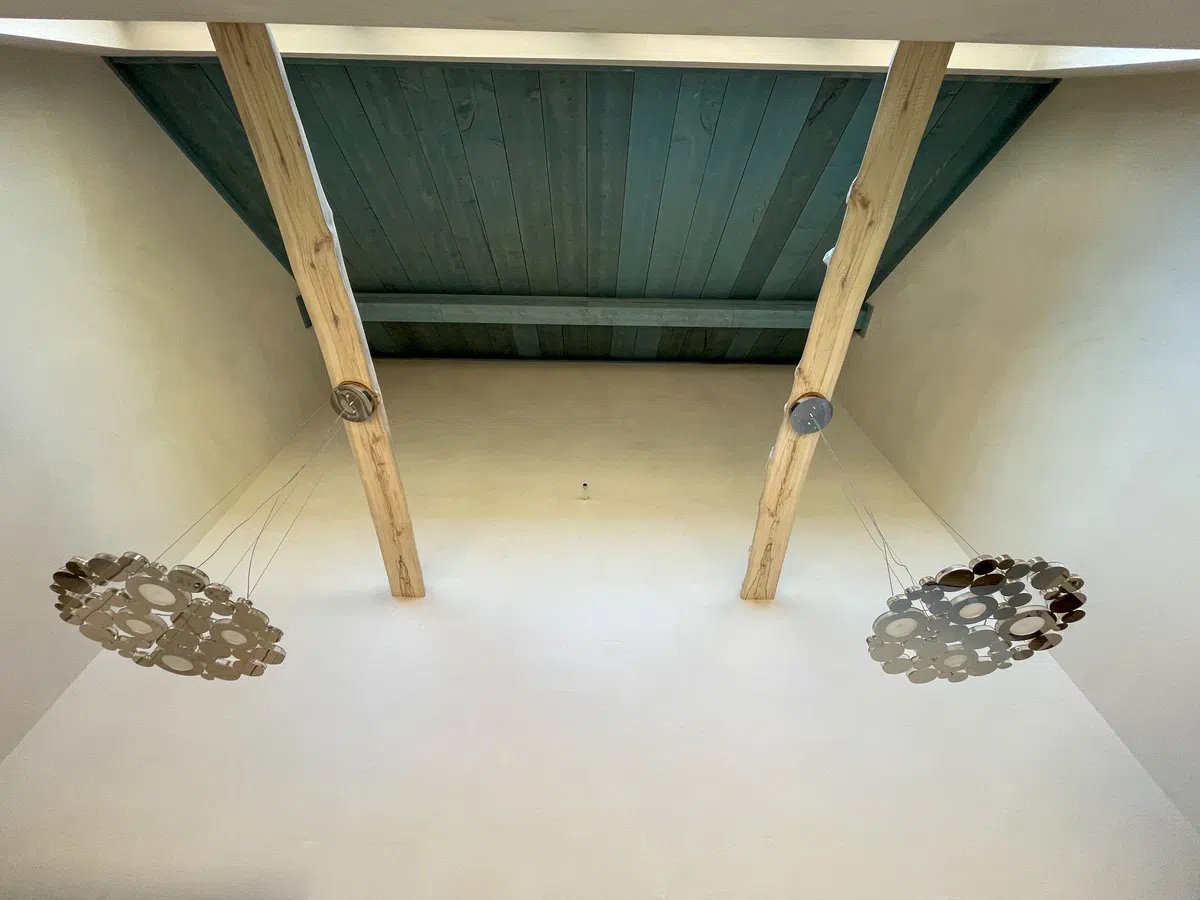 The Arlee II Pendants, showcased in the atrium of the Atrium Duet, add definition to the impressive 26-foot ceiling and hang from aspen logs retrieved from the property.
Image credit: Samantha Carlin
Light Source Design Tricks
At Mariposa Meadows, Jones selected a combination of energy efficient lighting and design techniques that let natural light into the homes to reduce the property's energy consumption.
Lamps Plus supplied a beautiful array of indoor and outdoor lighting designs that are both functional and in line with the mountain modern style of the homes.
Sara Gutterman, co-owner of Mariposa Meadows says, "The interior sconces and chandeliers that Lamps Plus provided are stunning. The outdoor wall-mounted lights are perfect for our needs because they illuminate the space with up and down lights but don't shine in your face as you walk up to the buildings, providing a lovely, soft effect. This is really important since the project is in the middle of the national forest and we've tried very hard to eliminate all light pollution."
Lamps Plus supplied almost 100 items for the project including light bars, lamps, sconces, ceiling-mounted lights, soffit-mounted lights and more. The standout products at Mariposa Meadows include Possini Euro Midtown 15" High Satin Nickel LED Wall Sconces, Possini Euro Deco Ceiling Lights, LED remodel recessed light kits, and Arlee II Stainless Steel LED Pendant Lights.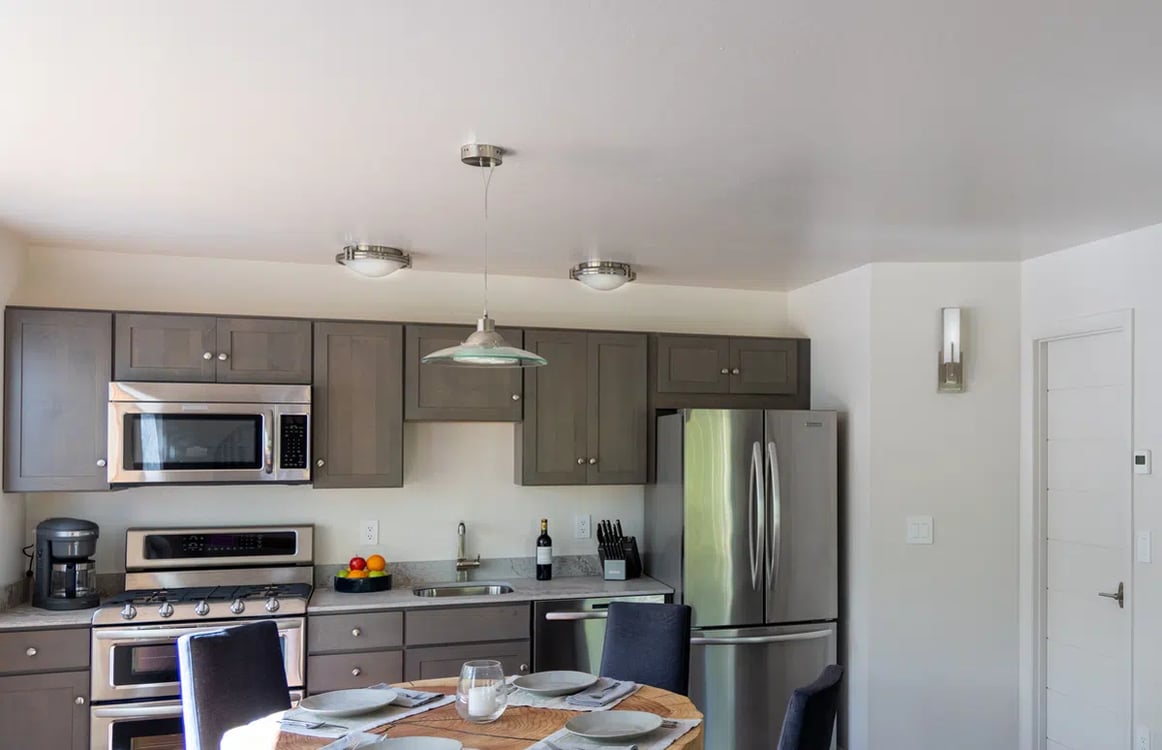 At VISION House Mariposa Meadows, ceiling-mounted lights, wall sconces and pendant lights elegantly illuminate the space. Image credit: Samantha Carlin
Wall sconces and ceiling lights bring a soft glow to the living spaces. Additionally, the LED recessed lighting retrofit kits that make recessed can lights more efficient were used in various areas of the property, including outside on the soffit, to illuminate the pathway at night.
While the Arlee II Pendant lights are discontinued, they pay tribute to the creative and stylish offerings available from Lamps Plus.
Check out Lamps Plus's array of LED offerings and stay tuned for more updates from VISION House Mariposa Meadows.
Feb 3, 2023 9:36:53 AM · 3 min read
---

Samantha is able to express her passion for the environment -- both natural and built -- as the special projects manager at Green Builder Media. Prior to joining the Green Builder Media team, she worked as an order management specialist at C.A. Fortune, a consumer brands agency. She is a recent graduate of the Master in Environmental Management program at Western Colorado University with an emphasis on sustainable and resilient communities. Originally from the suburbs of Chicago, she is currently thriving in Gunnison, CO where she enjoys the surrounding geology, mountain biking, and skiing.