Kitchen Design Trends

Sara Gutterman
1 min read
As homeowners spend more time at home, kitchen remodels are on the rise. The average expenditure on a kitchen remodel was 2.5 times in 2020 compared to 2019. What are homeowners investing in?
In a recent Green Builder Media survey, we asked homeowners how their behavior has changed due to the coronavirus. The number one response? They're cooking more.
This explosion in cooking activity has resulted in a surge in kitchen remodeling. According to COGNITION Smart Data, homeowners are looking for European-inspired kitchen designs that blend clean, contemporary lines with a natural feel and, if possible, connect to the outdoors. (Nearly 20% of homeowners added windows or doors to their kitchens to enhance the connection with nature.)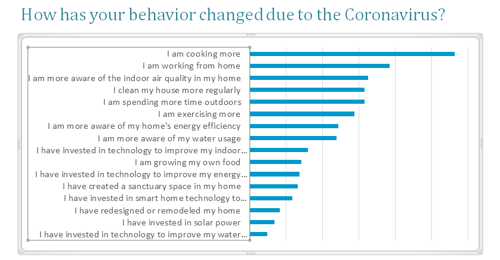 Homeowners reported that they're looking for streamlined, uncluttered spaces with minimal detailing and warm, organic finishes. The popularity of more traditional designs has decreased substantially over the course of the past year.
Homeowners are using kitchens more than ever as central family hubs, and they're redesigning these spaces to be open and flexible in order to accommodate a variety of cooking, eating, working, studying, socializing, and multitasking activities.
Ample storage is also in high demand—94 percent of homeowners who renovated their kitchens upgraded their cabinets and nearly 50 percent added pantry space.
Trending kitchen products include,
induction cooktops.
Touchless faucets.
Large-basin farmhouse sinks.
Ventilation hoods that connect to indoor air quality systems.
Water-conserving dishwashers.
Quartz countertops.
The good news for building professionals. According to Houzz, the vast majority of homeowners hired a general contractor, designer, or specialty contractor to do their kitchen redesign.
---
For more information about housing market trends, sign up for a COGNITION subscription.
COGNITION Smart Data offers advanced intelligence and insights about market trends and important customer information like behavioral patterns, purchase drivers, buying preferences and sentiment. COGNITION enables clients to make informed business decisions, yielding specific deliverables and tangible results. COGNITION provides a definitive competitive advantage by allowing companies to stay a step ahead of their competitors.
For more information on how you can tap into the power of COGNITION Smart Data, visit www.greenbuildermedia.com/cognition or contact Sara Gutterman at sara.gutterman@greenbuildermedia.com.
Feb 5, 2021 3:09:41 PM · 1 min read
---

As cofounder and CEO of Green Builder Media, Sara is a visionary thought leader and passionate advocate for sustainability. A former venture capitalist, she has participated in the life cycle (from funding to exit) of over 20 companies, with an emphasis on combining sustainability and profitability. She lives in Lake City, Colo., with her husband, where she is an avid long-distance runner, snowboarder, and Crossfit trainer. She is also on the Board of Directors at Dvele, runs the Rural Segment for Energize Colorado, and is a former County Commissioner.