The Magnetic Appeal of Induction Cooking

Cati O'Keefe
2 min read
As homes go electric, interest in induction cooktops grows.
According to COGNITION Smart Data, more consumers are looking to induction cooking as a healthier alternative to natural gas cooking—and they are enjoying the experience. A recent survey by Sonoma Clean Power found that 90 percent of adopters found it easy to adjust to induction cooking (versus traditional electric or gas).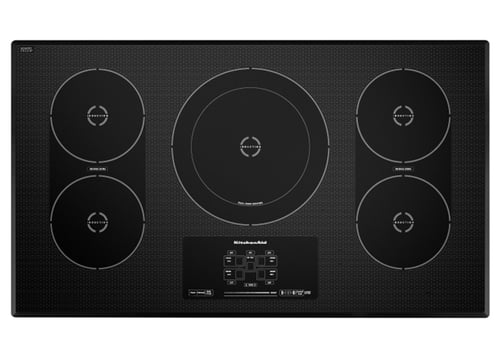 This KitchenAid 36" Induction Cooktop with durable glass surface by Schott Ceran, combines precision and speed. Electromagnetic technology directly heats the pan while keeping the cooktop surface cool to the touch. This cooktop model is featured in the ReVISION House Scottsdale.
Why is this important? Because the burgeoning electrification trend in housing means people must use electric appliances. This is particularly important in the cooktop category because many chefs (both amateur and pro) have claimed that electric cooktops are inferior to gas in terms of heat-up times and the ability to maintain even temperatures.
However, when presented with induction cooktops, many chefs agree that it is a viable alternative to gas. Plus, induction has a host of other upsides, such as:
faster cook times.
energy-efficiency.
cool-to-touch surfaces for safety.
lower levels of indoor air pollution.
Experiencing is believing, so some California cities (Palo Alto, Sonoma, and Sacramento) are conducting cooktop trials to help consumers learn more about the induction way. Sonoma Clean Power, an energy provider serving residents in California's Sonoma and Mendocino Counties, offers a "Borrow a Cooktop" program where residents can check out a cooktop to trial at home—much like checking a book out of the library.
For more information on other home trends, sign up for a COGNITION subscription.
---
About COGNITION Smart Data: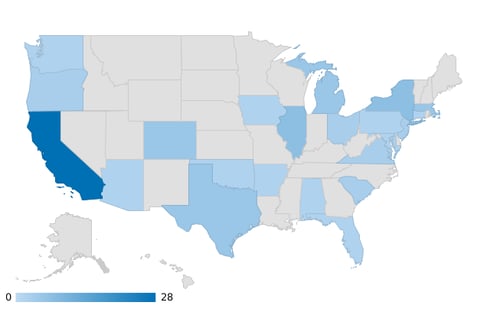 This map shows where the most social media mentions of induction cooktop occur, with California leading the pack because of its push for electrification.
COGNITION Smart Data offers advanced intelligence and insights about market trends and important customer information like behavioral patterns, purchase drivers, buying preferences and sentiment. COGNITION enables clients to make informed business decisions, yielding specific deliverables and tangible results. COGNITION provides a definitive competitive advantage by allowing companies to stay a step ahead of their competitors.
For more information on how you can tap into the power of COGNITION Smart Data, visit www.greenbuildermedia.com/cognition or contact Sara Gutterman at sara.gutterman@greenbuildermedia.com.

Dec 30, 2020 2:51:59 PM · 2 min read
---

Cati O'Keefe is the editorial director of Green Builder Media. She has 25 years of experience reporting and writing on all aspects of residential housing, building and energy codes, green building, and sustainability.