Cooking Up a Sustainable Future

Michele Lerner, Associate Editor
5 min read
An all-electric, highly energy efficient kitchen is part of the plan for the prefab demonstration house being built for delivery on a rural Colorado site.
Precision design and construction, all with a tight focus on providing the highest level of sustainability, VISION House Transcend will be installed in the San Juan Mountains near Lake City Colorado.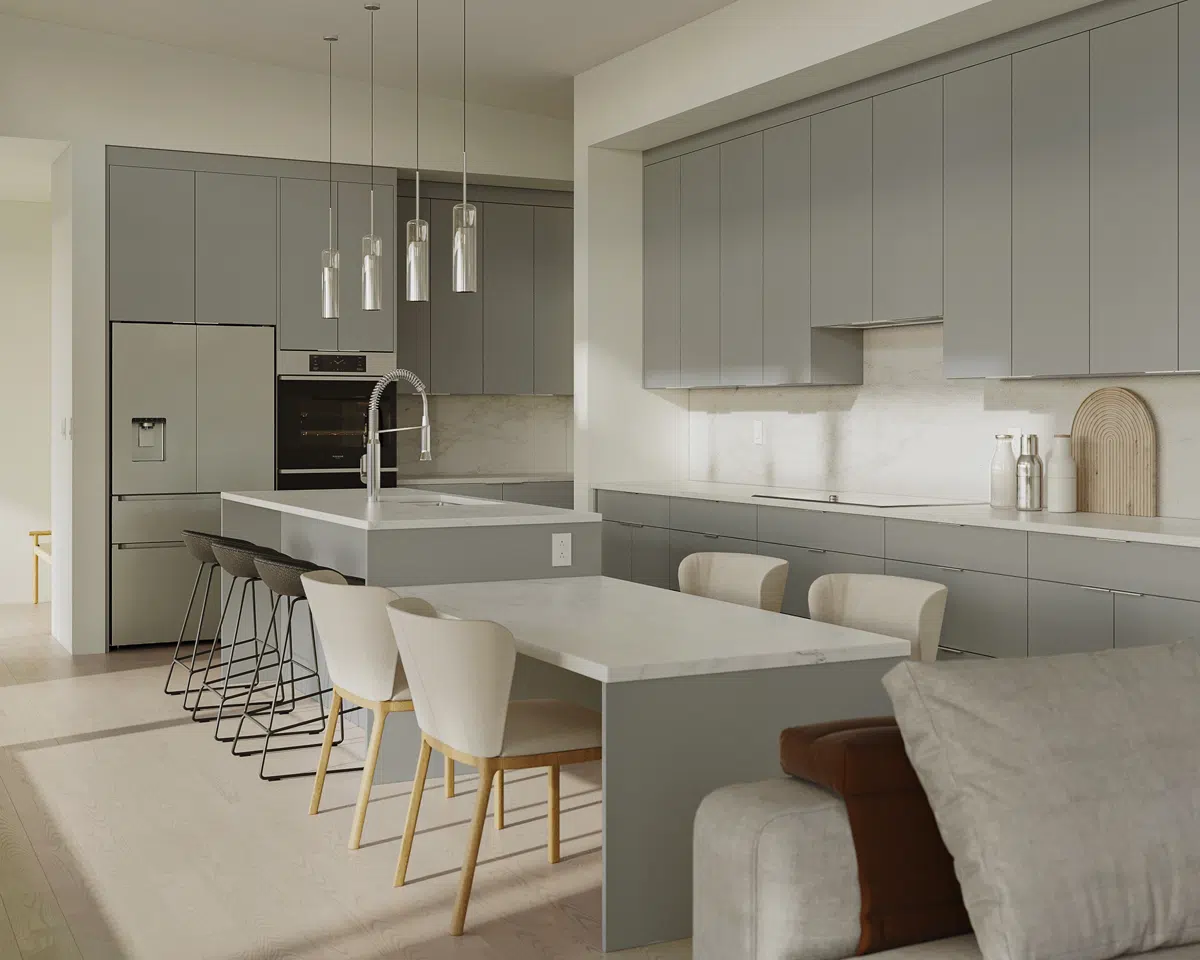 The home, designed and built by California-based prefab homebuilder Dvele, is the first iteration of a new line of net-zero, turnkey homes that will become Transcend Communities, a collaboration between Green Builder Media and Dvele. Sustainability has multiple meanings for Transcend Communities.
The factory-built modular homes in Transcend Communities are all-electric, energy efficient solar-powered homes that will produce more energy than they use. They are also designed for long-term durability and resilience so that they don't have to be replaced for decades. The kitchen design for Transcend Communities reflects the sustainability mission.
"We designed the kitchen with a timeless aesthetic and with the quality materials and appliances that will withstand the test of time," says Amy Armstrong, senior co-director of product and development for Dvele. "It's important that the kitchen won't have to be renovated in 10 years or so."
The first Dvele demonstration home, part of Green Builder Media's VISION House Series, will be installed on its Colorado site later this spring..
"We sourced timeless materials, fixtures and finishes that don't speak to a certain design trend," says Vanessa Young, senior co-director of product and development for Dvele. "We used a neutral palette so that the kitchen won't look dated too quickly. Buyers in Transcend Communities can add their own personality with art and furniture."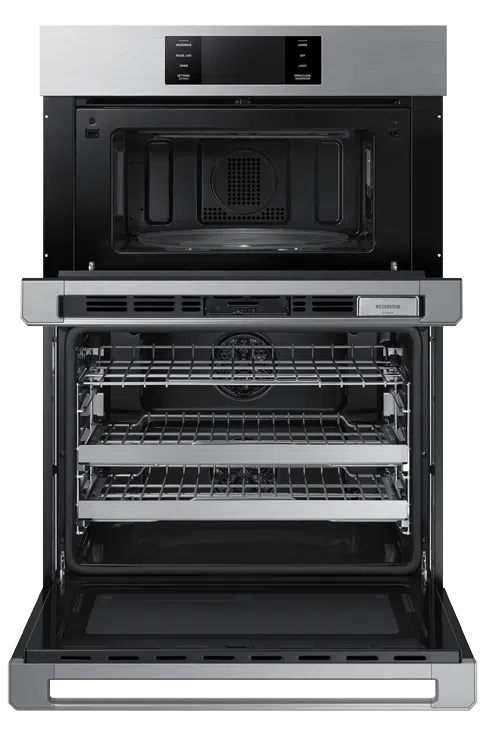 The Dacor appliances in the kitchen in the demonstration home offer luxury level performance, durability and sustainability.
"Dacor's premiere kitchen appliances elevate the art of living while bringing a new level of sustainability, intelligence, and comfort within the residential sector," says Scott Kim, director of product marketing for Dacor Luxury Brand. "Through innovative and lasting design that connects life to luxury, Dacor embraces the key pillars of Transcend Communities by providing homeowners with ultimate performance, intelligent living, and optimized wellbeing."
Integrating the Kitchen with the Outdoors
The 1,500-square-foot demonstration home includes walls of windows that can be telescoped to fully open to the outdoors. The floor plan places the kitchen for maximum exposure to natural light.
"When you enter the Transcend demonstration home into the vestibule, you immediately turn right into an open area that includes the kitchen and family room," says Sara Gutterman, CEO of Green Builder Media. "This location is so magnificent, with river and mountain vistas through these big windows from anywhere in the kitchen. The open floor plan complements the open vistas outside."
The neutral palette in the kitchen and throughout the demonstration home is meant to blend with the natural surroundings, Young says.
"The interior and exterior of the homes in Transcend Communities are cohesive so they fit into any surroundings," she says. "The huge windows bring in natural light, too."
Maximizing Practical Needs
The kitchen design is modern and sleek, with a large island that serves as a prep station and includes a bar height area for stools.
"Our focus was for the kitchen to function properly for cooking and as a place to gather," Young says. "There's more than ample storage in the kitchen, including a pantry, an area for a coffee bar, a full island and ample room on either side of the cooktop."
While Armstrong says the footprint of the house isn't huge, they chose not to sacrifice any space in the kitchen.
"We designed an integrated drop-down dining table that complements the island," Armstrong says. "It's a space saver since you don't need a separate dining table."
The island, counters and dining table are made of Caesarstone, which is extremely durable, anti-microbial and stain resistant, Gutterman says.
"It's such a great aesthetic to have the dining table as part of the kitchen island and an efficient use of space," Gutterman says. "There's also an outdoor kitchen and dining area that can be used for much of the year because of the weather in Colorado."
Sustainable Finishes and Fixtures
Dvele always sources systems, appliances and fixtures that are sustainably manufactured to standards above and beyond the norm, Armstrong says, and add to the health aspects of the home including indoor air quality. In the Transcend Communities, the homes will include water conserving plumbing fixtures, low-e windows and cabinets and painted surfaces with low or no VOCs.
"People are used to seeing melamine in the interior of their cabinets, but we don't have that," Young says. "Our cabinets have birch plywood interiors, soft close drawers and minimal hardware so they look sleek, modern and simple, but not trendy."
The cabinets also have a practical matte finish that doesn't show fingerprints, Young says.
Part of the sustainability proposition of Transcend Communities is to build homes that are not only self-powered because of their solar panels and battery storage system, but also because of their limited need for energy. In addition, the appliances are anticipated to have a lengthy life span.
Appliances from Dacor include an induction cooktop, a 36-counter-depth refrigerator, a convection oven with steam and a 24-inch dishwasher.
"As one of the most energy efficient cooking options on the market, Dacor's 36" Induction Cooktop offers a more sustainable alternative to gas ranges without sacrificing on quality or on the cooking speed offered by a gas-fueled flame," Kim says. "Dacor's FlexZone technology takes it a step further by eliminating excess and allowing consumer to only use the required amount of energy."
Similarly, the convection oven provides a sustainable alternative to gas that fits into the all-electric Transcend Communities.
"Dacor's enhanced, high-powered convection oven not only reduces energy expenditure through ultra-fast and even heating, but also cuts back on cooking time without sacrificing food flavor or quality," Kim says. "Dacor's pre-programmed cooking settings and recipe guides also promote a healthier and more sustainable lifestyle by encouraging homeowners to consume whole, fresh foods at home more often."
Another Dacor innovation is the ability to conserve energy based on demand and energy prices.
"Within the 36" Counter Depth French Door with Dual Reveal Doors, Dacor has implemented an innovative solution to conserving energy thanks to SMART GRID mode," Kim says. "This stand-out technological feature monitors energy prices and requests information from your utility company before sending notifications to the refrigerator. The product will then respond by running high energy consuming tasks during off-peak times when electricity costs and demand are lower."
Water conservation, an important element of Transcend Communities, is supported by Dacor's dishwasher in the demonstration house.
"A key built-in feature of the 24" Dishwasher is Dacor's WaterWall™ technology, designed to distribute high-pressure water that effortlessly cleans up to fourteen place settings," Kim says. "This technology combined with Dacor's Autorelease™ door, which opens automatically at the end of each cycle to release residual steam, helps reduce the need for multiple washes and allows homeowners to conserve more water."
Grohe water filtration devices in the house include a faucet in the kitchen that provides filtered still or sparkling water.
The kitchen also has a leak detection system to conserve water and a range hood from Broan for spot ventilation that ties into the Overture ERV system the provides fresh air exchange throughout the house.
Mar 7, 2023 3:21:44 PM · 5 min read
---

Michele Lerner is an award-winning freelance writer, editor, and author who writes about real estate, personal finance, and business.