Apron-Front Sink Stuns With Ultra-Thin Walls
This new sink made with environment-friendly materials gives the farmhouse style a more svelte look.
BOCCHI just rolled out the Aderci apron-front sink. This new take on a modern farmhouse style is the result of a two-material combo: fireclay and aluminum.
"We are the first to innovate ceramic by putting metal in it," says Dawn Robinson, Director of Marketing and Communication at BOCCHI. "We added aluminum deposits into our raw ceramic composition to create super-thin walls that keep their shape with no waviness."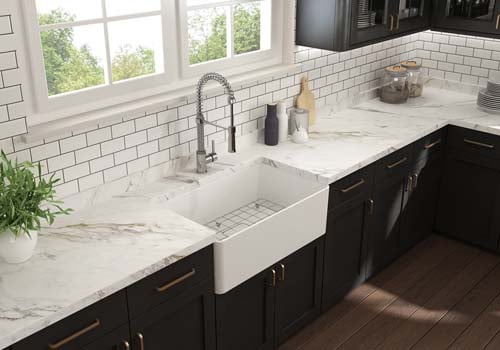 Thin walls mean more space for cleaning: The sink, which is half the size of a traditional farmhouse sink, offers 20 percent more volume using the same amount of counter space, yet it is 40 percent lighter than traditional fireclay sinks.
Robinson notes that this new technology is stronger than traditional fireclay. "The strength is in the metal, but combined with Fireclay it offers a warmer feel."
Plus, the company's glaze is 19 times smoother than the average glaze, resulting in a poreless finish that is easy to clean, scratchless, and doesn't require harsh chemicals to clean. The finish offers heat, stain, and impact resistance. It also resists bacteria, making it a great component of a healthy home strategy.
BOCCHI, an American-based company that draws inspiration from Europe, sources materials for its sinks in Turkey and has made land conservation an important part of its manufacturing process.
"Turkey is rich in minerals to make ceramics," Robinson explains. "The country is protective of the land and the environment. We protect the earth and olive trees by planting vegetation and making sure production is environmentally done. We even have a reduced footprint for our glaze."
BOCCHI believes in eco-friendly production and manufacturers every part of its product to maintain quality. "We control the processing of raw materials and the manufacturer of molds through distributing the product to industry. We don't outsource," Robinson says.
The environmentally friendly Aderci is available in a 30-inch edition. Colors include white and black, in both matte and glossy finishes. Other colors available are glossy biscuit and sapphire blue, as well as matte gray, dark gray, and brown. See the new Aderci sink and other products.