2020 Green Home of the Year Award Winner: Horizon House

Matt Power, Editor-In-Chief
4 min read
This tiny house is designed to stay safe, even in the face of nature's fury.
There's nothing quite like a small house on a big setting. But "The House of the Horizon" in Puerto Rico meets that challenge just fine.

Horizon is a 480-square-foot tiny eco house on a mountaintop a mere 400 feet above sea level in Lajas, one of the driest but better dark sky municipalities still remaining in the Southwest coast of Puerto Rico.
The home is an indirect result of the damage caused by Hurricane Maria, which devastated the region in 2017, killing more than 3,000 people and leaving tens of thousands homeless. The Category 5 hurricane is the worst natural disaster in the area in recorded history, according to the United States National Hurricane Center.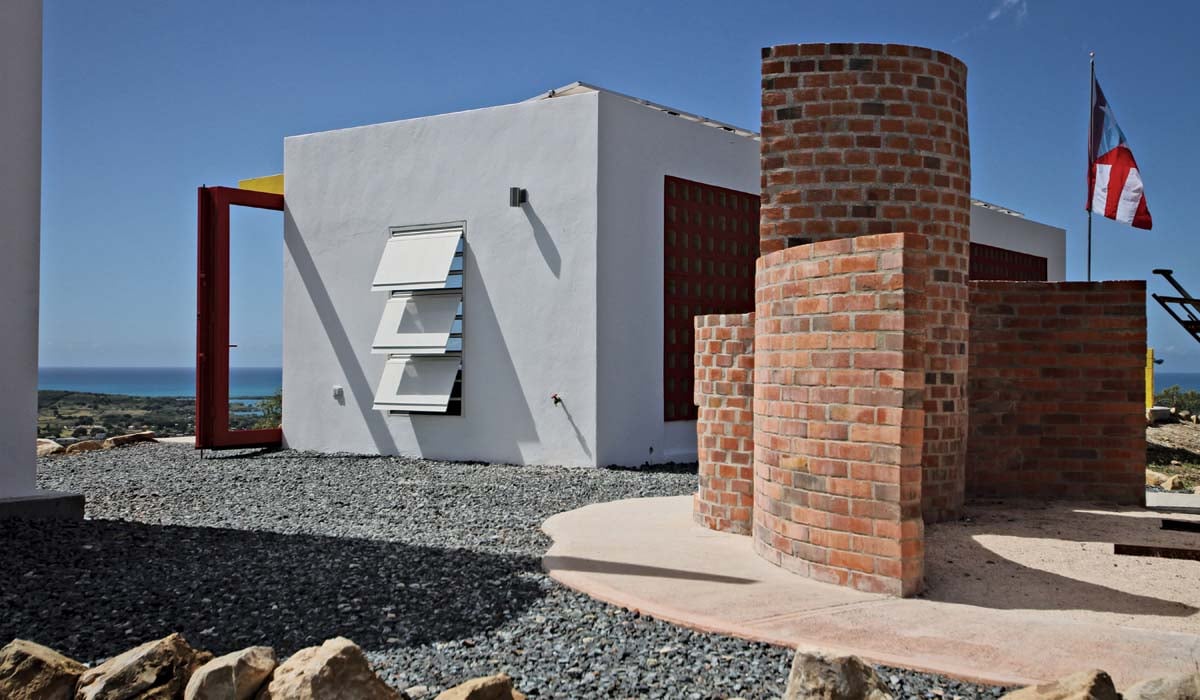 During that storm, another project by architect firm Abruña & Musgrave, Casa Ausente—the "Silent House"—proved super resilient and lost a mere four solar panels (out of 25). The home was otherwise functional, but project architect Fernando Abruña had "survivor's guilt" because so many other people were suffering.
That led to construction of Casa Rescate—the "Rescue House"—a 650-square-foot, zero energy home for anyone who was off the grid due to distance or disaster. Abruña made the architectural plans free to the public.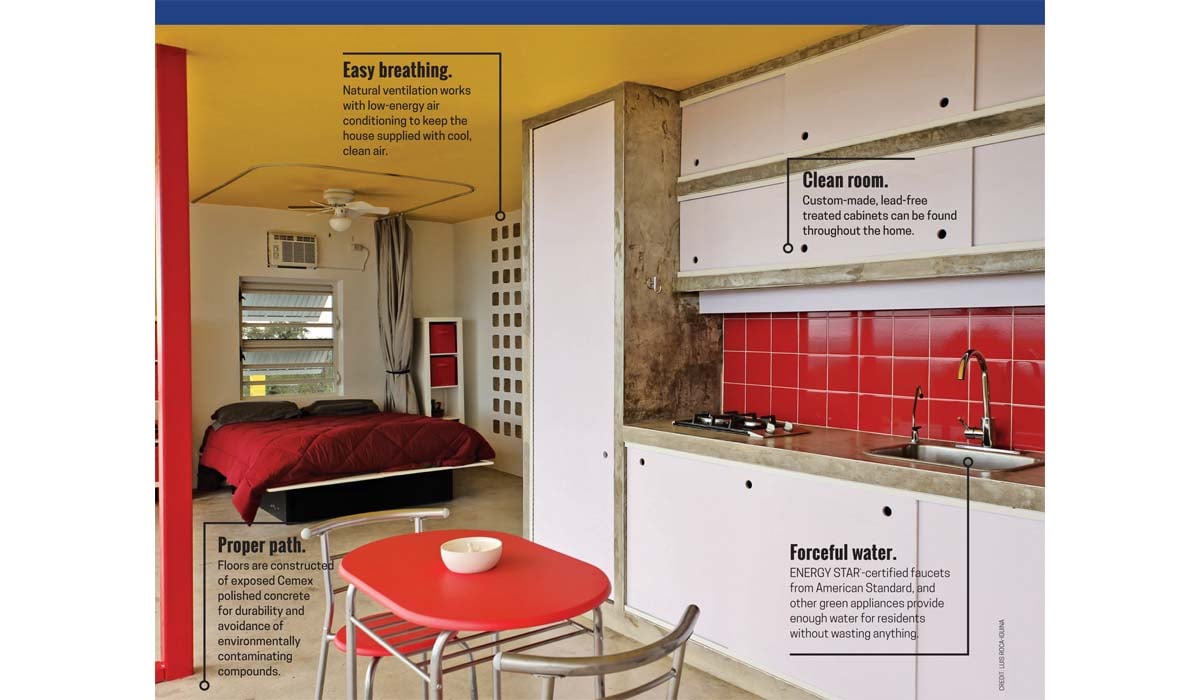 A Caribbean Jewel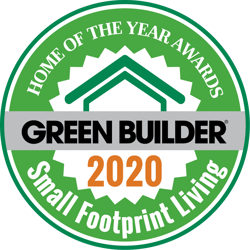 From the Judges: ""A very efficient design, and concrete is site- and climate-appropriate—albeit with high embedded energy."
Project Stats


Name: House of the Horizon, Lajas, Puerto Rico
Architect/Designer: Abruña & Musgrave, Architects
Builder:

Peter Davis Torres

, Professional Home Builders
Photographer: Luis Roca-Iguina
Which brings him to House of the Horizon, a very simple 12-foot by 40-foot volume built with core insulated concrete panels to minimize solar heat gains. It is water- and energy-independent by means of a well and a photovoltaic system with batteries. Gray water is used at the site for plant irrigation. Composting toilets convert excrement into fertilizer.
A basic floor plan highlights the central location of the kitchen/bathroom volume to organize the interior space with a sleeping area on one end, and a living room—with a sofa bed for occasional visitors—on the other. The kitchen incorporates two corner closets for a compact clothes washer on one, and a microwave oven and compact refrigerator in the other. The concrete countertop is fitted with a two-burner gas stove.
An outdoor barbecue/roaster north of the site next to the photovoltaic battery room and water cistern, completes the site composition.
Lunar Landing
Horizon is blessed with a magnificent view of the Caribbean Sea on the South and beautiful mountains on the North. The South-East main façade opens completely to a roofed area facing the beautiful seascape, making the house one big longitudinal porch with spectacular views. Coastal breezes allow for thermal comfort most of the year. A 5kBtuh air conditioner (SEER 28) uses only 25 percent of its capacity thanks to an energy-saving curtain system that isolates the bed area from the rest of the space, Abruña notes.
A lunar terrace with site-sourced cyclopean stones and a small personal pond for four is the protagonist of the design scheme, he adds. It is located on the Southwest part of the site providing the setting for a "Moon Lamp" consisting of a white stones mandala that reflects moonlight, and a concentric circle of luminous stones that releases collected sunlight at night. The white stones turn "on" with an ethereal luminosity on full moon nights and the luminous stones on New Moon nights.
All in all, there's nothing be unhappy about, Abruña notes. "All is tranquil," he says. "The sun is warm, the breeze is cool and the moon proudly shines at night."
Key Components
Alternative Building Systems: M2 core insulated structural concrete panels by
Carmelo, PR
Appliances: Della compact washing machine; 3.3 CF refrigerator and 0.07 CF microwave oven by Magic Chef; stainless steel kitchen sink by Elkay; kitchen faucet by American Standard
Building Envelope: M2 core insulated structural concrete panels
Cabinets, Shelves, Millwork: Custom made with no lead content, 1/2-inch PVC panels from Home Depot
Caulks and Sealants: DAP Alex Plus
Countertops: Exposed Cemex concrete
Concrete Decks: Broom finish Cemex concrete
Doors and Hardware: Valco, PR hardware by Best Locks
Electrical: Roger Electric and Home Depot
Exterior Finishes: Paint by BEHR
Fireplace: Barbecue with firebrick by Bloques Carmelo, PR
Flooring: Exposed Cemex polished concrete
Furniture: Capri Furniture, PR
HVAC/Ducts: Frigidaire 5 Kbtuh window unit with remote control
Insulation: 4-foot R-15, EPS (inside M2 panels by Bloque Carmelo, PR)
Landscaping: Site sourced
Lighting: Exterior LED down lights by Progress Lighting; LED ceiling fan by Hampton Bay; ceiling lights by EGLO
Paints and Stains: Paint by BEHR
Plumbing/Plumbing Fixtures: Lavatory and kitchen sink by Elkay, Biolet NE; composting toilet at main bathroom; and EZ-Loo air composting toilet at visitor's bathroom
Renewable Energy Systems (solar, wind, etc.): 2 kW photovoltaic system w Li-Ion battery by Maximo Solar, PR
Roof: Cool Roof – BULL-BOND liquid membrane
Specialty Products: Bed perimeter curtain by Bright Inc.
Structural Components: M2 core-insulated structural concrete panels
Ventilation: Natural ventilation
Water Filtration: 36 GPD-6 stage home reverse osmosis system with solar pump by AMI AA Series system
Water Heating: Heliatos solar modular solar water heater
Windows, Skylights, Patio Doors: Flat slat aluminum doors; Operable Aluminum Jalousie Window and BrightShade aluminum window by Valcor, PR
Feb 10, 2020 6:08:55 PM · 4 min read
---

Veteran journalist Matt Power has reported on innovation and sustainability in housing for nearly three decades. An award-winning writer, editor, and filmmaker, he has a long history of asking hard questions and adding depth and context as he unfolds complex issues.