2020 Green Home of the Year Award Winner: Net Zero Times Three

Alan Naditz
5 min read
The Anacortes Triple Zero Home covers all the bases when it comes to energy efficiency.
When Ted L. Clifton was asked to design a net zero home for clients in very Northwestern Wash., he already knew the goals he had to meet. This wasn't his first such dwelling; it wasn't even his first in the tight-knit city of Anacortes, population 18,000-plus.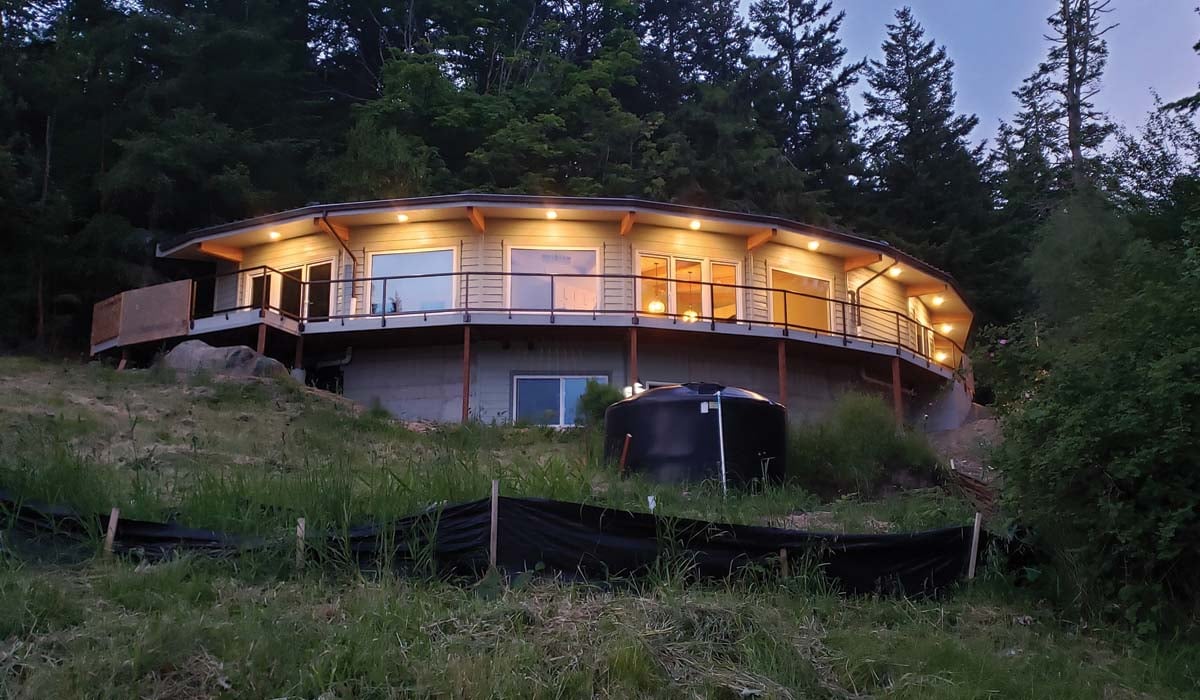 After all, being net zero really means being exceptionally efficient with a home's components. In this case, the goal was triple zero, as in zero energy, zero water and zero carbon emissions. Again, not impossible if done right, he notes.
But this dynamic living quarters—dubbed "The Anacortes Triple Zero Home"—gave Clifton, founder and chief designer at Zero-Energy Home Plans, LLC, and his builder partner, David Wallace of CVH Inc./Clifton View Homes, a few things to think about. There wasn't much property to work with, and owners wanted a premium view of Lake Erie, one of Skagit County's lowland lakes.
"We needed to fit on a very tiny, narrow lot, while staying at least 100 feet back from Lake Erie, and not taking up the same space as the already-in-place on-site septic system," Clifton notes. '[Ultimately] we were able to fit a three-bedroom, three-bath luxury home into less than 1,900 square feet of conditioned living space, while minimizing exterior surface area with [a] rounded shape."
Green Design Is in the Details
The key starting point in the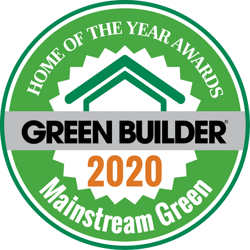 From the Judges: "This home had to be shoehorned into a narrow site with constraining setbacks. The round form of the floor plan minimizes exterior walls and takes advantage of solar exposure for PV and passive gain in the winter while providing shade in the summer"
Project Stats


Name: Anacortes Triple Zero Home, Anacortes, Wash.
Architect/Designer: Ted L. Clifton, Zero-Energy Home Plans, LLC
Builder: David Wallace, CVH, Inc. dba Clifton
View Homes
Photographer: Ted L. Clifton


Triple Zero Home's construction came with the use of structured insulated panels (SIPs) and their composition: a structural insulating foam core sandwiched between two structural facings—typically a composite board such as oriented strand board (OSB).
Clifton View Homes notes that SIPs are manufactured under factory controlled conditions and can be fabricated to fit nearly any building design. The result is a building system that is extremely strong, energy efficient and cost effective. Building with SIPs can actually save time and money because the components come ready to install and don't require extra labor for each component, the company states. The large panel sizes also contribute to a very tight building envelope.
"The use of SIPs allowed us to go places with the design that would not have been possible using conventional framing methods," Clifton says.
Natural Lighting and More
Solar power became another key component is the home's construction. Triple-pane high solar heat gain windows, combined with the Triple Zero Home's long south-facing overhangs, allows owners to collect lots of passive solar heat during the winter, while minimizing solar gains during the summer.
There were also internal atmospheric conditions to meet. With a blower-door test just over 1.0 ACH50, developers provided fresh air through a MERV 21-powered HEPA filter, which also serves to balance the range fan. A Panasonic WhisperGreen bath fan provides the ANSI/ASHRAE Standard 62.2 make-up air requirement, using a High-efficiency particulate air (HEPA) filter as its conduit for fresh air to enter the home.And the COP 3.92 Chiltrix Air-to-Water CX34 heat pump reheats the incoming air more efficiently than it could be recovered using any currently available heat recovery ventilator (HRV), Clifton notes.
"The home was [also] built without any material containing volatile organic compounds (VOCs) inside the building envelope, possibly making this house a 'Quadruple-Zero' house, if anyone is counting," he notes.
Secondary Living Improvements
Clifton and Wallace also tackled two key green areas that are outside the main living area.
In the basement, there is 20,000 gallons of fresh water storage, along with a rainwater treatment system.The basement also houses the buffer tanks and pumps for the hydronic air-to-water heating system, providing heat and hot water to the home at an efficiency of 392 percent.
And in the garage, two 240V, 40Acharge ports provide enough energy with only the first two-thirds of the photovoltaic system installed to power an electric car for about 6,000 miles per year.With the other one-third of the solar array installed, the home would power itself and two electric cars for more than 30,000 miles per year.It's a key point for anyone who wants a truly sustainable home, Clifton stresses. "In our opinion, you are not zero until your house and your car are zero," he says.
Overall, Anacortes Triple Zero Home showcases Zero Energy Home Plan's philosophy. "We get a kick from hearing customers stories about no energy costs," the company notes. "We hear how some homes have excess solar production and are 'fueling' their electric cars; they tell us how they love the floorplan, and the way the house 'lives.' This helps affirm that we are providing real value in our home designs."
Key Components
Alternative Building Systems: Graphite-infused structured insulated panel (SIP) construction for walls and roof
Appliances: Bosch ovens, Samsung induction range, Bosch dishwasher, Sub-Zero refrigerator, Bosch laundry pair
Automotive: Two 40A electric car charging stations in garage
Building Envelope: James Hardie Hardiplank siding over Kimberly Clark BLOCK-IT House Wrap; 6 1/2-inch graphite-infused SIP walls; half-inch Gypsum Wall Board (GWB) interior; R-28 wall assembly; 10 1/4-inch graphite-infused SIPs roof; Grace Ice & Watershield underlayment; standing-seam roofing from Taylor Metal; 5/8-inch Type X GWB interior; R-46 assembly
Cabinets, Shelves, Millwork: Custom cabinets from Woodhouse of Anacortes
Caulks and Sealants: SIP sealants from Premier Building Systems, Puyallup, Wash.; zero volatile organic compound (VOC) siding and interior sealants from GE.
Central Vac: Rough-in only.
Countertops: Granite
Decks: Sustainably harvested eucalyptus wood decking
Doors and Hardware: Vinyltek exterior EuroTwist glass doors; Codel C6P and SF61 other exterior doors with Schlage hardware; Masonite interior doors with Schlage hardware
Electrical: 100 percent LED lighting; wireless repeaters in every room for optimal performance
Exterior Finishes: Sherwin-Williams zero-VOC exterior and interior paints
Fire Protection: Uponor fire sprinkler system
Flooring: Finished concrete, surface ground finish.
Garage Doors: Clopay R-18 panel doors
Home Controls: Integral to HVAC system
HVAC/Ducts: In-floor radiant system, Chiltrix CX34 air-to-water heat pump
Insulation: R-38 closed-cell spray foam insulation under floor; the rest is SIP except for air-sealing of rim-joists and other minor areas also using closed-cell spray foam
Landscaping: By owner, native trees or semi-dwarf fruit trees closer to house
Lighting: 100 percent LED, various manufacturers
Paints and Stains: Sherwin-Williams zero-VOC products (no stains)
Plumbing/Plumbing Fixtures: Nebia shower valves and heads, Kohler wall-mounted toilets, Kohler sinks, Moen faucets
Renewable Energy Systems (solar, wind, etc.): 9.450 kW solar array, with room for another 4,725 watts for future car charging
Roof: Taylor Metals standing seam steel
Structural Components: Boise Cascade BCI joists, Glulam beams
Telecommunications: By owner, custom computerized system
Ventilation: Fantech CM200 HEPA filter, coupled to Fantech RVF6 range fan for balance; Panasonic WhisperGreen bath fan; HEPA filter; Chiltrix CX34
Water Filtration: Part of rain-water catchment system designed by RainBank of Seattle
Water Heating: Chiltrix CX34
Water Management (indoor/outdoor): Overflow water used for outside irrigation, with a 3,000-gallon tank for storage; indoor water is managed by low-flow faucets and short plumbing runs; hot water circulation system on timer to limit wasting of water while waiting for hot
Windows, Skylights, Patio Doors: Vinyltek triple-glazed Triple-Low-E glass, U-value average 0.16, high SHGC for optimum passive solar heating of concrete floor; large overhangs to limit excess summer solar gain and help with rain water collection.
Feb 10, 2020 5:35:15 PM · 5 min read
---

Alan Naditz is managing editor of Green Builder Magazine. He has covered numerous industries in his extensive career, including residential and commercial construction, small and corporate business, real estate and sustainability.