Enter to Win a Cold Brew Coffee Maker
Cold-Brew Coffee Maker Giveaway!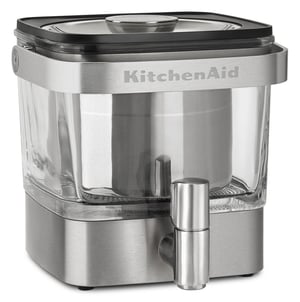 Haven't you always wanted your own cold brew setup? Enter for a chance to win and have caffeine at the ready whenever you need a pickup!
With the KitchenAid Cold-Brew Coffee Maker, all you need to do is add coffee and water, and steep in the fridge overnight.
Mix with your favorite milks, syrups, or ice for unlimited options to get your day off to a great start.
Time to unwind? Add a shot of your favorite liquor, like Fireball or Amaretto, and enjoy a boozy iced coffee.
Indulge your sweet tooth: Add brew to cake and dessert recipes.
Not a coffee drinker? Use it for tea!
Forget plastic pods. This unit has a reusable stainless steel steeper.
Small footprint fits in over-stuffed fridges!
Fill out the form on this page to enter for your chance to win!
Contest runs through June 14, 2021. See contest rules.