Download This New Ebook: Intelligent Water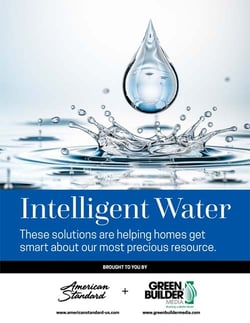 These solutions are helping homes get smart about our most precious resource.
In the United States, we take abundant, inexpensive and safe drinking water for granted. But aging infrastructure, urbanization and climate change are taxing our water systems, and costs are rising, too. This ebook outlines several strategies building professionals can use to make better use of our most precious resource and distinguish their projects as water wise.
You will learn:
How specifiying water-conserving fixtures and appliances impacts the water budget.
Why water monitoring and leak detection devices are becoming more available and popular.
How smart irrigation controllers optimize water use in landscaping.
Strategies for reusing water both indoors and outside the home.
Fill out the form on this page to download your free copy.