Prepared for the uncertainties of Climate Change, this home can weather almost any storm.
As the summers get hotter and the storms get bigger, it is not that far a stretch to think that at some point, many people will lose power for longer than a day or two. When that happens, will their current "green" home still work?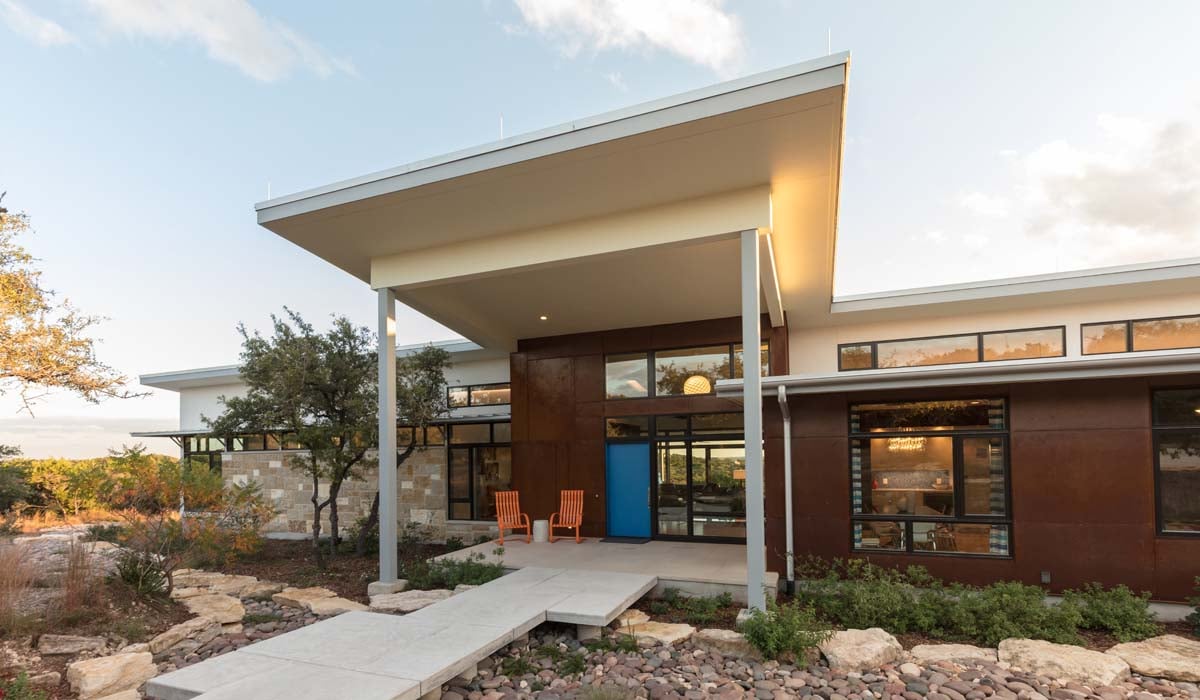 That's the question developers of the Net Zero Retreat in Austin, Texas, wanted to answer. Instead of relying on energy-efficient equipment and "green" technologies, the Net Zero Retreat was designed using climate-responsive, site-specific principles that help keep the home comfortable without relying solely on air conditioning. The orientation, organization and layout work as an ensemble to provide the home with soft, balanced daylighting, passive heating and cooling, and very good indoor air quality. Meanwhile, the low-maintenance exterior and drought-tolerant native landscaping provide resiliency by design—all while conforming to the "modern" aesthetic.
"While the design went through multiple iterations, the final version met all of our criteria, and then some," notes Peter Pfeiffer, principal of Barley|Pfeiffer Architecture. "Without the direct intention, we created what will become a net zero home!"
In a Natural State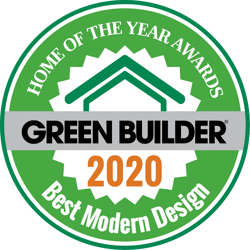 From the Judges: "This is a gorgeous home of sophisticated contemporary design—quite possible the best architecture of any other applicant."
Project Stats


Name: Net Zero Retreat, Austin, Texas
Architect/Designer: Alan Barley and Peter Pfeiffer, Barley|Pfeiffer Architecture
Builder: Paul Oliver, Oliver Custom Homes
Landscape Architect: Steve Domigan, SKDLA Landscape Architecture
Interior Designer: Sharon Radkovich, Panache Interiors
Photographer: James Leasure
According to Pfeiffer, the homeowners were looking for the nexus of environmental stewardship, "high performance" comfort, and healthy living. That meant complete reliance on rainwater collection for indoor water use, a harmonious response to the site's micro-climate, the need for excellent indoor air quality (IAQ), enhanced natural ventilation strategies and a bug-free outdoor "living room" that comfortably connects one to the outdoors—while maintaining the indoor/outdoor spatial relationship.
The No. 1 goal by the architect, as well as builder Paul Oliver of Oliver Custom Homes and landscape architect Steve Domigan of SKDLA Landscape Architecture, was to create a tasteful addition to the area that worked in harmony with the existing, on-site ecosystem.
After reviewing their programming desires and visiting the area, a building site was chosen that maximized the ability to meet these goals, as well as ensure a wonderful view from each living space and the ability to preserve as much land as possible in its natural state.
Only areas that were to receive impervious cover such as the home, driveways, patios and cistern were cleared, and existing swales were preserved or enhanced for directing water around the home. New additions to the landscape included a dry creek created in front of the house. The rest of the site was protected and left as is.
Going Grey(water)
Because water is somewhat of a commodity in Texas Hill Country, care was taken to select only native species of plants for landscaping. These drought-tolerant plants are watered only as needed, and almost entirely by greywater.
Rainwater is collected for 100 percent of indoor water use, including for pool and spa. A first-flush diverter and fine particle filter clean the water before it reaches a 60,000-gallon cistern capable of supplying a five-person household for almost six months. A UV light filter finalizes water purity.
Greywater is also diverted away from the septic field, and used to do most of the irrigation on site. There is also a backup well for outside water use, but with all of the plants being native and drought tolerant, the well's use is kept to a minimum.
Built to Last
Durability, embodied energy and occupant health were first priorities when selecting materials for this project. Many of the exterior materials were deemed acceptable based on their environmental product declarations, while the health product declarations were extensively reviewed for the interior materials so as to limit chemical and VOC off-gassing within the home. Materials were selected, in part, based on their recycled content as well as regional availability.
For example, the home's metal roofing contains steel coil stock from a regional source that has a high recycled content and is manufactured locally. It also has a Class 4 UL 2218 Impact Test storm rating, meaning far less panel replacement in the future, and therefore less potential waste.
Workers were also required to split the types of waste into separate bins for reuse or recycling, ultimately diverting more than 25 percent of project waste from the landfill.
Light-colored surface materials were chosen for the interior of the house to enhance the daylighting in every space, making them bright and welcoming without artificial lighting. Specifically placed operable windows provided advanced passive cooling strategies. Meanwhile, separating the garage from the main house and providing adequate ventilation for the carport, along with carefully sized mechanical equipment that positively pressurizes the home and MERV 10 air filtering, establish excellent IAQ.
"We also found that a combination of by-hand sun angle analysis and energy modeling allows us to be proactive in our design when it comes to the climate-specific features of the home," the firm Barley|Pfeiffer notes. "Since we use it not just to predict the overall energy usage but also as a design tool, our design adjusts as we identify places for potential savings."
Speaking of Savings...
Instead of relying on efficient mechanical systems and furnaces, builders took advantage of the site's available natural resources. The home's orientation and layout are driven by solar angles and predominant winds, resulting in shaping the building to have long faces on the north and south, and short faces on the east and west. The home has high windows on the northern side to take advantage of reflected northern light and is an integral part of the passive cooling system. The main living spaces and outdoor living areas are placed towards the southeast, taking advantage of the passive cooling winds they capture.
Oversized overhangs and awnings help balance out the natural southern light and allow it to be brought into the house indirectly, as well as provide radiant heat and rain protection for every window and door. Spray foam in the exterior walls and along the underside of the roof, along with continuous insulation on the exterior walls and a unique ventilated radiant barrier roof system—a "shading umbrella"—also provide protection from radiant heat.
By capturing prevailing breezes, energy consumption is reduced to where without mechanical air conditioning, the house can remain comfortable—under 80 degrees F—during a day where the peak outdoor temperature is 102 degrees F. Once a photovoltaic array and home battery are installed, the project will fulfill its design intent of being completely off grid, Pfeiffer notes.
The result? After analyzing a full year of bills, it's been determined that the home is consuming around 2,000 kWh per month. While that doesn't sound that energy efficient, Pfeiffer notes that when you take into account the amenity items such as the pool and spa, as well as the rainwater system, the house itself is actually using closer to 1,250 kWh per month. Considering its size, and that a family of five lives in the house full time, that's less than half of what a similar-sized home with one less person living in it typically uses.
"[Overall] the house is performing around 66 percent better than our energy modeling predicted it would," the company notes. "Simply put, by design, this home requires less energy to be comfortable year round."
Key Components
Alternative Building Systems: Passive Solar Design, Rainwater Collection, Solar panels
Appliances: Expressions Home Gallery
Building Envelope: James Hardie Hardie Board via Eastside Lumber and McCoy's
Cabinets, Shelves, Millwork: Russell O'Connor Construction, Inc. and Austin Wood Works
Central Vac: AIR-RITE by Design
Countertops: Hill Country Granite, LLC
Decks: San Gabriel Ornamental
Doors and Hardware: TriSupply and Builders Display
Electrical: RPE Enterprises, LLC
Exterior Finishes: James Hardie Hardie Board via Eastside Lumber and McCoy's
Flooring: Mike's Hardwood Floor
HVAC/Ducts: AIR-RITE by Design
Insulation: Best Insulation
Landscaping: SKDLA Landscape Architecture
Lighting: Lights Fantastic
Paints and Stains: Gamez Painting
Plumbing/Plumbing Fixtures: Dahl Plumbing, Morrison Supply, Moore Supply
Roof: Precision Roofing
Structural Components: Conrad Engineering
Window Coverings: Panache Interiors
Windows, Skylights, Patio Doors: Mirror Gallery