Research at the University of California offers a tantalizing look at the future of food production.
Researchers at the Santa Cruz branch of the University found that a greenhouse built with special, translucent solar panels produced as much growth of tomatoes and cucumbers as one with standard glazings.
In The Celestia Project "Abundance," chapter, we illustrated the use of translucent solar panels in the kitchen, as a way to daylight and do "double duty" with solar glass.
But this new research takes the idea to its natural next step: as a way to extend the growing season for certain crops, especially in colder climates. Although this research was fairly narrow in scope, looking primarily at the impact of the power-generating panels on plant growth, the implications are far broader.
Aiming for Eden
One can easily imagine an off-grid version of this greenhouse, with a battery storage system that could power a super-efficient mini-split heat pump at night and on cloudy days. In effect, you could have a net-zero 24-hour greenhouse. This could be a major game changer. This prototype however, doesn't quite get us there. The efficiency of the PV panels hovers around 5%. Let's hope that's just a technical hurdle that can be cleared.
What will happen if it can? Consider the solar hot water greenhouse called Solviva, located in Massachusetts, that stored solar heat in a suspended water bag system, plus a 700-gallon hot tub.
The food production results of that solar-hydronic Solviva project are worth noting. The designers created a hyper productive food forest indoors:
Hundreds of tomatoes are ripening on 15-foot climbing and cascading vines. Along the north wall, where the light is too dim for greens to thrive, there is a tall wall of nasturtiums with thousands of blossoms in infinite varieties of pastel and deep velvety colors.
Fennel reaches 8 feet, tipped with 6-inch umbrels of tiny yellow flowers, exquisitely anise-flavored. The delicate red trumpet flowers of the 6-foot pineapple sage bush yield little drops of nectar that actually taste like pineapple. Another variety of scented sage reaches 16 feet tall, covered with sweet pink flowers. A lime geranium yields exquisite fragrance, as do carpets of honey-flavored sweet alyssum.
Translucent PV greenhouses still face some hurdles, as the researchers acknowledge. Along with the relatively low power output, the use of red dye to increasing power generation could negatively affect growth of some plants. They note:
"The population of transmitted photons is depleted in blue and green wavelengths, and the integrated amount of energy transmitted is 5–30% lower than companion clear greenhouses (depending on season, time of day, and cloud cover.).
Results of the research were published by Michael Loik, professor of environmental studies at the University of California, Santa Cruz, in the current issue of the American Geophysical Union's journal Earth's Future.
The greenhouse was constructed with Wavelength Selective Photovoltaic (WSPV) panels, at the University of California Santa Cruz Arboretum. In technical terms, "The WSPVs consist of polymethyl methacrylate (PMMA) plastic embedded with luminescent perylene red dye. The electricity generated by narrow photovoltaic strips (black lines in red panels) powers the operation of the glasshouse fans, microclimatic monitoring sensors, and data loggers." Photographs below by Glenn Alers.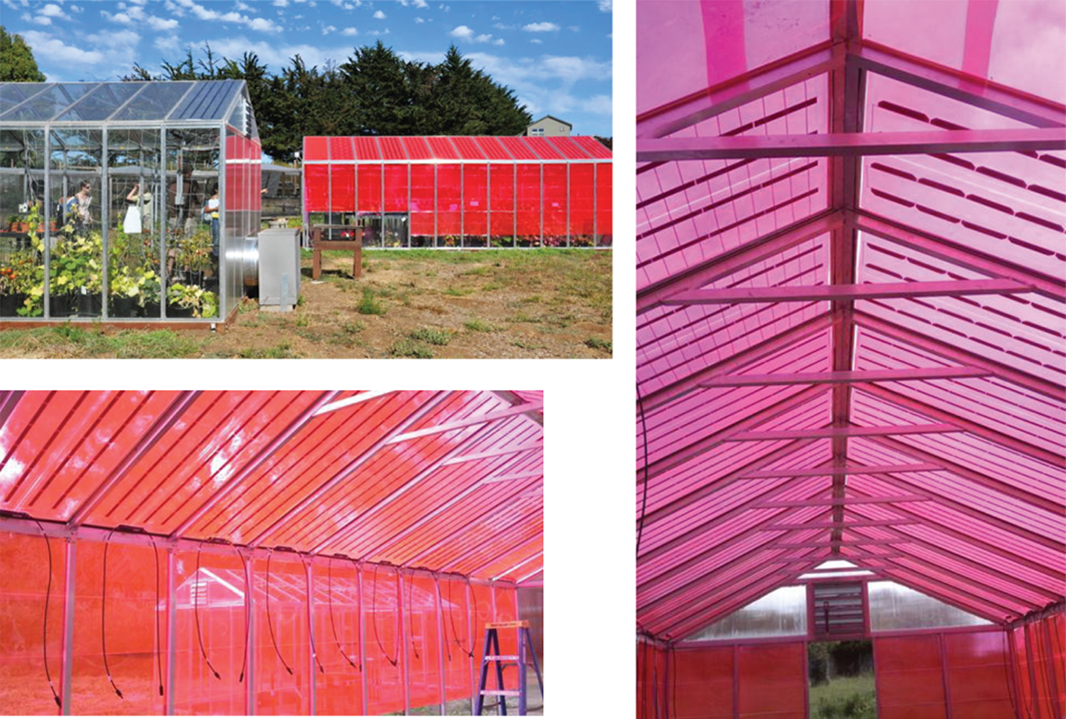 Here's a link to the FULL TEXT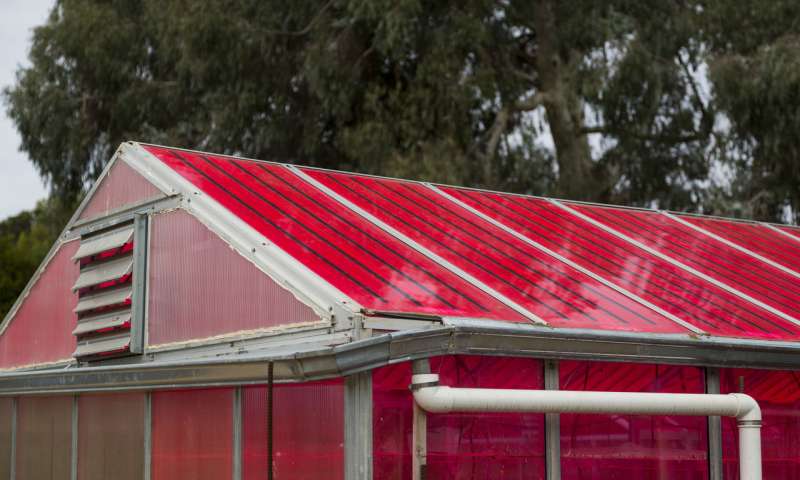 ---
© 2015, Green Builder Media. All rights reserved. This article is the exclusive property of Green Builder Media. If you would like to reprint this content, you are free to extract a short excerpt (no more than 1/4th of the total article), as long as you 1. credit the author, and 2. include a live link back to the original post on our site. Please contact a member of our editorial staff if you need more information.