Water: A Balancing Act

Sara Gutterman
5 min read
Two-thirds of Earth is water—yet its increasingly limited availability will make future construction efforts even more challenging.
Dr. Nathan W. Snyder may have said it best: "Water is the most basic of all resources. Civilizations grew or withered depending on its availability."
That statement, made by Snyder when he was an environmental engineer for The Parsons Company, has been quoted numerous times over the decades—probably because it's true.
Water has become the most pressing issue of our time. If you're in the building industry, you know its importance: Simply put, if there is no water, there is no interest in homebuying. No homebuying, no homebuilding. No homebuilding, no business.
Mother Nature, with its gift of multi-year droughts, has been a tough-enough challenge for the construction industry to overcome. But rapidly changing water-related codes, mandates, programs and pricing will continue to place new demands on the building sector, impacting every home and building.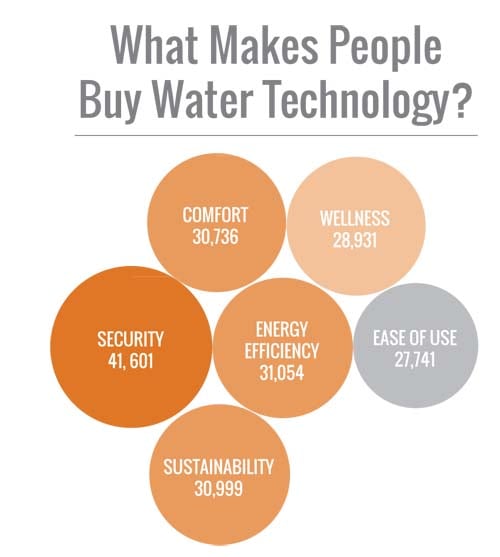 Green Builder Media's consumer survey places security above all other reasons for investing in any water-related technology. Totals shown are the numbers of responses gathered from January to August 2019. Source: COGNITION Smart Data
Green Builder Media and COGNITION Smart Data have studied the problem and discovered numerous issues. Here's some of what was found.
There's not enough to go around—and what's there isn't always useful.
Due to the combination of increased water consumption, climate change, pollution, poor infrastructure, and weak governance, nearly two-thirds of the global population lives in water-stressed areas, making the need for innovative water solutions dire.
According to the United Nations, humans withdraw about 4,000 cubic kilometers of water globally every year (approximately the volume of all the water in Lake Michigan)—triple what we withdrew 50 years ago. Water consumption continues to increase at an annual rate of about 1.6 percent.
Within the U.S., demand for water is exploding as our population swells, especially in water-parched areas like the Southwest and West. By 2030, experts predict more than 100 percent growth in states like Nevada and Arizona, 60 percent in Texas, and upwards of 30 percent in California and Colorado. Many states throughout the nation are exploring stringent policies, programs and pricing to proactively solve for the water predicament.
Like most countries across the globe, the U.S. isn't just struggling with water quantity, but quality as well. Dilapidated infrastructure and agricultural practices have deposited toxins into drinking water supplies throughout the nation, resulting in widespread water pollution (the U.S. is currently listed 64th on the World Health Organization's global drinking water quality assessment.)
Water's use is becoming even more regulated
Within the building sector, water has the potential to become the No. 1 limiting factor to growth. Water quality and quantity concerns will increasingly affect the way we address the built environment, and will force sweeping changes to codes, mandates, programs and pricing.
Across the country, builders and developers will soon be required to create water plans for building projects, taking into consideration water challenges as determined by climate change, extreme weather events, ecosystem impacts, and local governance. Some municipalities have already implemented offset programs that require builders to show net-zero demand on aggregate water resources in order to receive a permit.
Interestingly, when asked about the global risks of highest concern, nearly 40 percent of consumers cited water crises—ranking higher than the failure of climate change mitigation and adaption (36 percent), extreme weather events (26 percent), food crises (25 percent), and profound social instability (23 percent).
Consumers want even greener, smarter water
When analyzing water-related purchase drivers, security topped the list, followed by energy efficiency (proving that consumers understand the nexus between energy and water), sustainability, comfort and wellness. Do-it-yourself (DIY) consumers are the most active with respect to water content on the web and social media.
The hottest innovation in the water space: leak detection and water monitoring systems, offered by companies like Phyn and Moen, that learn the water footprint of a home and alert homeowners of leaks or irregular usage.
Greywater systems from companies like Greyter that recycle water for interior non-potable use as well as exterior landscaping, along with smart irrigation systems and innovative technologies such as atmospheric generators (that pull water out of the air for fresh water supply), are also gaining market traction.
Local governments are getting on board—--and getting pricey
States and municipalities are adopting net zero water policies and restructuring water pricing to address water shortages.
Municipalities and water utilities are also increasing water pricing and tap fees to incentivize conservation. For example, along the Front Range in Colorado, water prices have soared—increasing an astronomical over 400 percent between 2011 and 2018—causing home prices to surge and developments to stall, compelling builders and developers to become extremely creative in how they manage water in their projects. For example, the city of Arvada (near Denver) is no longer supplying water to large residential developments until a new water source is built out.
Codes are transforming too—there are several proposed changes that may be implemented as early as the 2021 code cycle (underway now) that will require enhanced water conservation in all types of homes and buildings.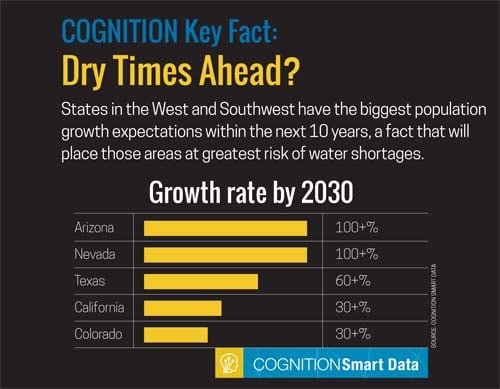 Expect a 'zero' future
With respect to water, the future is certainly zero. There is a definitive business opportunity for building professionals and manufacturers alike to offer innovative solutions that solve for the mushrooming water crisis.
The curve for net zero water will likely follow that of net zero energy. There will be a growing dependence on water programs, such as Water Efficiency Rating Score (WERS), the HERSH2O Index, and the Water Efficiency and Sanitation Standard (WE•Stand) that offer performance- and prescriptive-based approaches to residential water efficiency. These programs are now being incorporated into codes, standards and even financial incentives.
No doubt, water pressures will require enhanced situational awareness, accurate water assessments, water risk mitigation, and ongoing monitoring and management. But for innovative building professionals and manufacturers, there is a blossoming opportunity to provide creative water technologies and solutions that proactively address water quality and quantity.
Water Can Make or Break a Project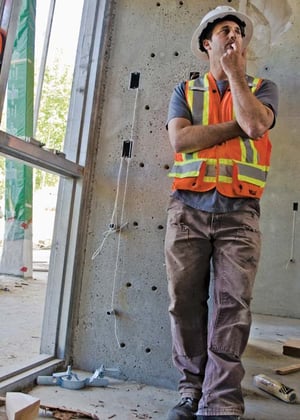 Nothing will slow down the construction industry faster than a lack of water. A long-term or permanent shortage will have a wide impact on everyone from developer to homeowner. To compensate for an increasingly dry landscape, builders and manufacturers will need to:
Consider water use, monitoring, leak detection, recycling/reuse and discharge.
Set site water targets to drive effective action and decision making
Examine and prioritize local water challenges, regulations and pricing by reducing water risk.
Consider a growing list of water-related criteria, including quality, quantity, sanitation, local governance, important ecosystems, extreme weather events and possible climate impacts.
Aquatic Administrators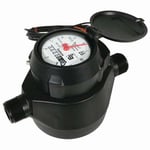 Various water usage programs and performance tools enacted throughout the United States will play a large role in keeping the shortage under control in coming years. These include:
Water Efficiency Rating Score (WERS): A performance-based approach to residential water efficiency, WERS covers single-family and multifamily new and existing properties. This third-party tool looks at all water use and is frequently cited in codes and financial incentives.
HERSH2O: Another performance-based approach to residential water efficiency, RESNET's HERSH2O Index rates a home's indoor and outdoor water usage. Currently in draft form as an ANSI standard, it covers single-family and duplex properties. HERSH2O does not address capture and reuse.
Water Efficiency and Sanitation Standard (WE•Stand): Taking a prescriptive approach to residential water efficiency, IAPMO's WE•Stand is the first ANSI standard that focuses solely on achieving safe and efficient water use in both residential and non-residential buildings.
Florida Water Star: This state-level water conservation certification program is for new and existing homes and commercial developments. Standards and guidelines for water efficiency are included for indoor fixtures and appliances, landscape design and irrigation systems.
Water Smart Home: A metropolitan-area program run by Southern Nevada Water Authority, the Water Smart Home program promotes water efficiency, requiring homes built through the program to include water-smart landscaping and water-efficient appliances. It changed from a prescriptive program to a performance-based one in 2017.
Source: COGNITION Smart Data
Jan 6, 2020 12:22:27 PM · 5 min read
---

As cofounder and CEO of Green Builder Media, Sara is a visionary thought leader and passionate advocate for sustainability. A former venture capitalist, she has participated in the life cycle (from funding to exit) of over 20 companies, with an emphasis on combining sustainability and profitability. She lives in Lake City, Colo., with her husband, where she is an avid long-distance runner, snowboarder, and Crossfit trainer. She is also on the Board of Directors at Dvele, runs the Rural Segment for Energize Colorado, and is a former County Commissioner.