Video: Builder Shares Key Mountain Modern Design Elements

Samantha Carlin
1 min read
The owner of VISION House Mariposa Meadows explains the decision making process behind the selection of leading edge products, used to enhance the design and sustainability of this off-grid project.
Ron Jones, the owner of Mariposa Meadows and co-founder and president of Green Builder Media, has spent the last eight years building his passion project–VISION House Mariposa Meadows. The homes are an intricate demonstration of how sustainable living and innovative technology can work together to create a net-zero project.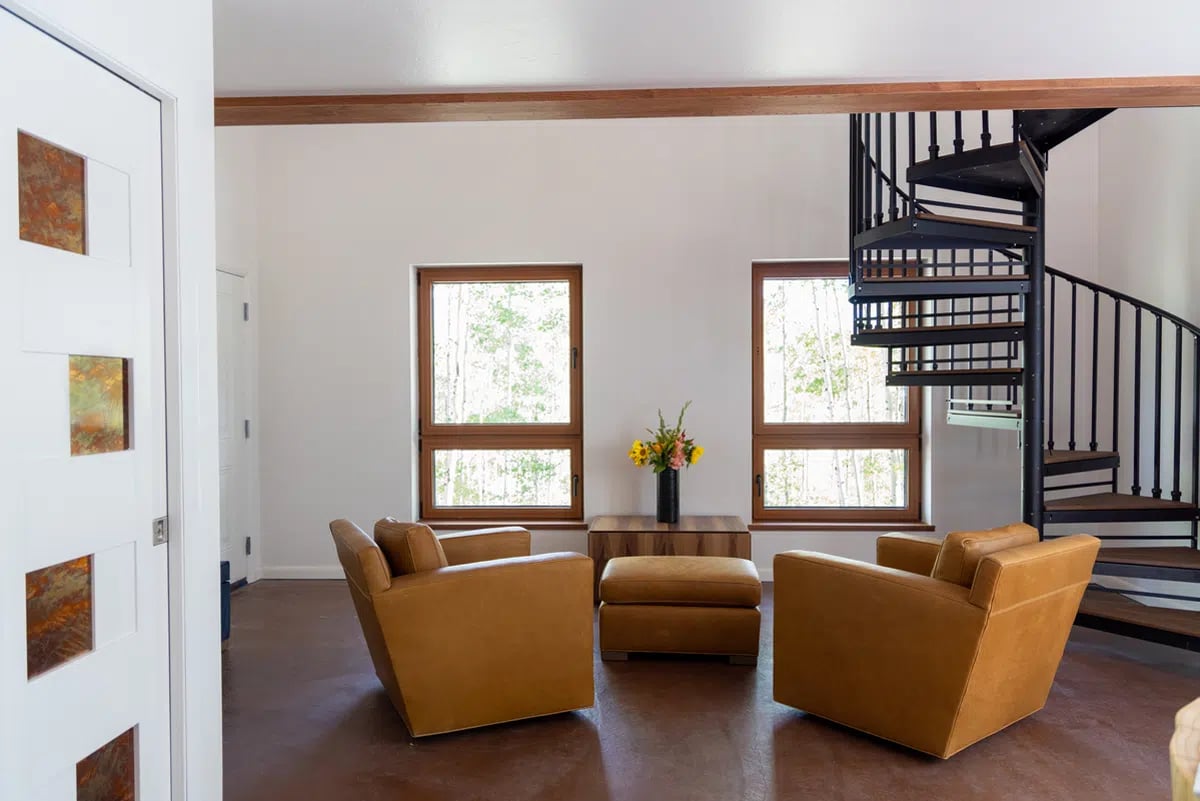 This video series is dedicated to the unique and environmentally friendly products at VISION House Mariposa Meadows. As the structures are nearing completion, Jones eagerly shares his thoughts on the standout products that made this project possible.
In this short video, Jones discusses the design details that enhance the project's sleek, mountain modern aesthetic. For example, Jones explains that he chose to work with TruStile for interior doors because of the variety of design options and product quality.
"They supplied beautifully detailed products with leather to copper inlays and very advanced detailing", Jones explains. Additionally, Jones wanted to have doors with a one-hour fire rating. "We were able to accomplish that with these gorgeous, solid-core doors that don't look industrial," he says.
To augment the aesthetic of the doors, Schlage locks were added for security. "They are done in a beautiful brushed nickel," Jones adds. The handles, lock sets and touchpads all match and work seamlessly for a solid feel of security.
Finally, Jones gushes over Nick Harmon's creation of Fresco Harmony, a color additive for drywall compound. Not only does it skip the step of painting, but it also creates an elegant addition to a room or house at a competitive price.
"Fresco Harmony gives the look and feel that you would expect from Venetian plaster," explains Jones. "It's not only beautiful, it's easy to maintain, it's easy to touch up, and it takes your interior surface to the next level."
Follow along for more videos as Jones explains the intricate product selection process for VISION House Mariposa Meadows.
Jan 20, 2023 9:23:16 AM · 1 min read
---

Samantha is able to express her passion for the environment -- both natural and built -- as the special projects manager at Green Builder Media. Prior to joining the Green Builder Media team, she worked as an order management specialist at C.A. Fortune, a consumer brands agency. She is a recent graduate of the Master in Environmental Management program at Western Colorado University with an emphasis on sustainable and resilient communities. Originally from the suburbs of Chicago, she is currently thriving in Gunnison, CO where she enjoys the surrounding geology, mountain biking, and skiing.