Use of Reclaimed Building Materials Trends Up

Mel Smith
2 min read
A design trend of 2022 to bring us all together: using reclaimed and recycled items in housing decor.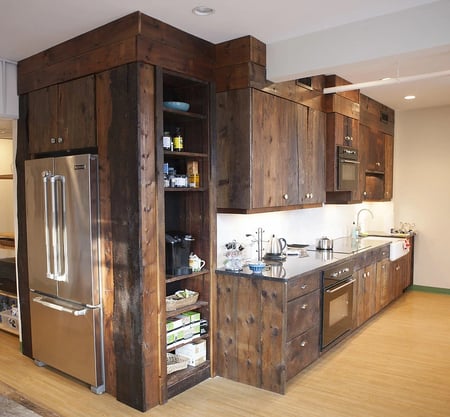 From coast to coast, interest in reusing materials in home and office decor is up. Reclaimed timber and lumber has become mainstream, with remodelers often trying to save beautiful (and now unattainable) wide plank flooring, or unique barn lumber.
Vision House Mariposa Meadows recently installed a range of bespoke furniture built using salvaged wood from felled urban trees.
Throughout the many award-winning homes from Green Builder's Home of the Year program you can find reclaimed building materials, reclaimed land, and recycled water.
In 2021, interest in reclaimed and recycled products was particularly high in Florida and California, with Texas and Pennsylvania close behind.
As is gleaned from the word cloud below, people LOOKED FOR and wanted to USE reclaimed building materials, or home items made with recycled or salvaged materials, CHOSE and SWITCHed to them during remodeling projects, and CANNOT WAIT to SHOW OFF their RECOMMENDED pieces.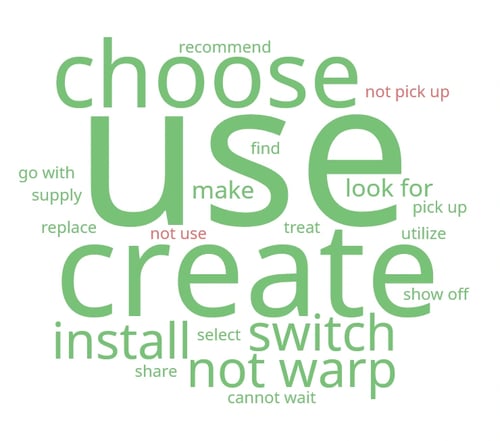 Not only is the interest high, but builders and remodelers recommend trying to reuse and salvage what you can during the process. One interview with remodelers found two-thirds of them recommended trying to reuse or salvage your existing structure or materials during the process, both to add character and to save money on the remodel.
Another interview with builders and homeowners found the conversation focused on the pragmatic side of reusing building materials, as well as the air quality benefits of using the old instead of bringing in new.
What reclaimed materials are likely to be super popular in 2022?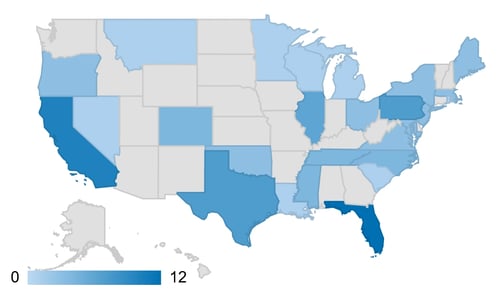 A glimpse into where reclaimed materials are particularly popular
Brass and copper fixtures and door handles. Because both brass and copper are antimicrobial and are beautiful custom additions when restored, expect to see more brass and copper being reused from older homes, or old pieces being reused in new ways.
Lumber. Lumber is always a popular choice for salvaging. Some boards are ideal because of the board width, others because it lends charm or uniqueness to the home. Hardwood flooring can add as much as 5% to the value of your home, a meaningful amount if your home already has it. Additionally, pieces of wood can always be given new life as a shelf, table, or art.
Furniture. Forbes reported in 2021 a whopping 97% of supply chains were facing disruption, including every type of furniture. Sourcing vintage, refinished furniture, or custom pieces from local artisans not only shows support for a local economy or a love of history, but it also may be easier to source than a new couch.
Glass. Glass isn't a new trend, but with an increase of remodeling projects being undertaken to provide occasional division in homes, look for vintage glass to make a comeback, particularly in the form of glass-upper Dutch doors or full-glass French doors.
For more trends pieces, visit the COGNITION Smart Data site.
Feb 11, 2022 9:47:03 AM · 2 min read
---
Despite being a full-time editor and parent, Mel makes time for slow breathtaking moments- from watching the stars under a Florida sky to eating berries in the back-woods in northern Maine. Past experiences include camping across the U.K., embracing a minimalist wardrobe, building a traveling medieval pleasure garden, trying to get to net-zero living in an apartment, creating a verge garden for people experiencing food insecurity and most recently living, working and traveling in an RV for two years.