Stronger Together: The Power of Salvaged Urban Lumber

Samantha Carlin
1 min read
Sponsored Content
Learn how two companies came together to create stunning furniture. From beds and nightstands to dining room tables, each piece was handcrafted using lumber destined for the landfill.
Daniel Torres, co-founder of Deadwood Revival Design talks about the company's collaboration with West Coast Arborists. This partnership resulted in beautiful pieces of furniture for VISION House Mariposa Meadows. These masterpieces celebrate each tree's unique character while storing carbon and giving a second life to quality lumber.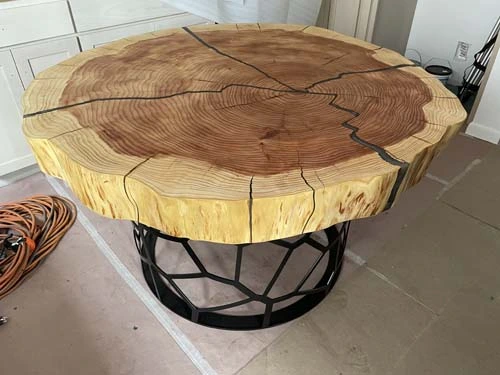 Deadwood Revival's mission is to salvage urban lumber and create exquisite furniture. Environmental protection is of great importance to the team, and therefore they have partnered with several nonprofits and organizations that responsibly harvest trees and protect ecosystems.
Torres doesn't believe in competition, only collaboration. He understands that partnering with like-minded companies to share best practices, materials, and opportunities helps propel the industry forward and creates success in all spheres of their "people, planet, profit" business approach.
West Coast Arborists donated some of the lumber used in this three-building project to add unique accents to the design. The English Elm was salvaged from trees suffering from Dutch elm disease. Similarly, the Red Gum Eucalyptus recovered from over 100-year-old trees that had reached maturity and posed a safety concern to the public.
Both types of lumber produced high quality furniture that otherwise would have been chipped or sent to the landfill, which would have released the trees' stored carbon into the atmosphere. By turning the trees into furniture, Deadwood Revival captured that carbon into pieces that will last generations.
Diverting material from landfills and sequestering wood carbon from the atmosphere is West Coast Arborists mission, but their story doesn't end there. The company has committed to being socially responsible, facilitating community growth and protecting the environment.
According to Christine MacCarthy, Firewood and Urban Wood Customer Service/Office Manager at West Coast Arborists, the company plants over 17,000 trees per year through the nursery program. "We work hand-in-hand with the Audubon society to make sure we don't disrupt our feathered friends," she says. West Coast Arborists also participates in multiple urban wood community groups and is invested in pushing the industry forward.
Learn more about the VISION House Mariposa Meadows project.
Jan 18, 2022 1:05:41 PM · 1 min read
---

Samantha is able to express her passion for the environment -- both natural and built -- as the special projects manager at Green Builder Media. Prior to joining the Green Builder Media team, she worked as an order management specialist at C.A. Fortune, a consumer brands agency. She is a recent graduate of the Master in Environmental Management program at Western Colorado University with an emphasis on sustainable and resilient communities. Originally from the suburbs of Chicago, she is currently thriving in Gunnison, CO where she enjoys the surrounding geology, mountain biking, and skiing.