The State of Sustainable Building 2022

Sara Gutterman
13 min read
What will sustainable home building look like in 2022? We've broken it down for you. This is part one of a four-part series on green home building that will help you navigate the rapidly evolving shelter industry.
Over nearly two years, the pandemic has acted like a surprise electric jolt upon the building industry. What's not yet clear is whether we'll use this power surge to accelerate sustainable practices, or whether it will make the CO2 impact of building worse.
To create a meaningful impact on runaway Climate Change, we need to set our sights on the full-scale decarbonization of our economy, reaching net zero emissions across all sectors as quickly as possible.
But are we up to the challenge? Author George Monbiot argues that we've first got to stop believing in "green growth," and start "using less of everything."
That honorable intention may become our species' epitaph, but for now, we can do our part in the shelter sector, and tackle pollution priorities: the burning of fossil fuels for heat and electricity, construction materials, methods, and innovations.
For building pros, that means doubling down on the direction many have been moving in for some time: upgrading energy efficiency and insulation and encouraging product innovation along with conservation, and generally considering the environmental impact of everything you do.
Let's take a closer look at where we stand, and where we need to go.
Sky-High Demand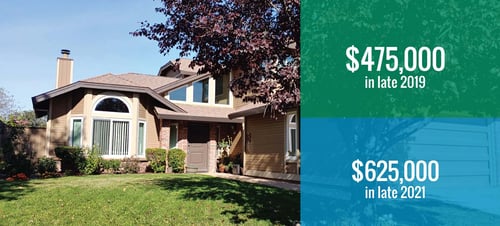 A single-family home may not change much in appearance in only a couple years, but its sticker price can. This Sacramento, California-area residence sold for $475,000 in late 2019 but was worth $625,000 in late 2021. Credit: Green Builder Media
The booming construction and sales activity of 2021 is going to level off—but nobody's sure by how much. Despite, or perhaps because of, the pandemic, home building and remodeling surged in 2021.
A "perfect storm" of limited housing inventory, high material costs and labor shortages pushed competent building companies into high demand. Analysts expect the storm to continue in 2022—at first.
Most of the good news will be in the early part of the year, as the once-blistering housing economy cools and gives way to a general correction. Economic experts are forecasting growth in single-family home construction, sales and pricing at a pace that is about 40 percent to 50 percent the levels seen in 2021.
According to Beth Sorvino, U.S. chief economist for S&P Global, there are two probable scenarios. The positive one portrays a stimulus-driven economic recovery, along with a massive vaccine push, that results in herd immunity that brings back consumer confidence, increases public demand and ultimately leads to production growth and reduced inflation by the end of 2022.
The not-so-positive version sees the U.S economy continuing to suffer shortages of labor and goods, inflation that creeps up consistently, stagnant job growth, weakening of consumer real disposable income, and big-ticket spending that slows through the first half of 2023.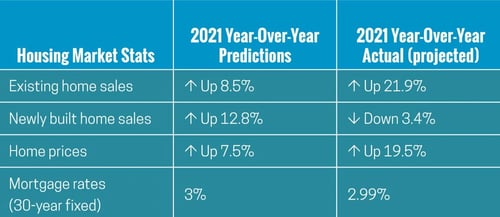 Source: U.S. Census Bureau and the U.S. Dept. of Housing and Urban Development
Marco Santarelli, founder of Norada Real Estate Investments, believes more in the former scenario. "While we still face economic and health challenges ahead," he notes, "there is no doubt that the nation will continue to recover from this pandemic, and an improving economy will continue to prop up the housing market competition."
The Housing Market: Boom or Bust?
Nearly every real estate analyst acknowledges that 2021 surpassed their predictions in terms of housing prices, sales, and construction starts. The record-setting numbers in these categories were attributed in part to a nation's recovery from the pandemic—and resulting need to "get back to life"—and to government-sustained low interest rates.
Homes in general, always considered a strong source of family wealth, became an even greater investment in 2021. The numbers varied slightly, but analysts nationwide forecast double-digit growth in valuation.
For example, market projections by COGNITION Smart Data, Green Builder Media's market intelligence division, showed a 13.5 percent growth rate by mid-year, a number financial experts called "very reasonable." Small mortgage handler Freddie Mac offered a 16.1 percent forecast, considered to be "on the high end." Online real estate marketer Zillow saw a 17.7 percent year-to-year increase, a number some analysts said was "very bullish."

In 2021, most of the nation experienced excessive home buyer traffic. Meanwhile, there were far fewer sellers with product, making it harder for buyers to find their dream homes. Source: Realtors Confidence Index Survey, 2021

But the bottom line was that it meant more financially to own a home than it has at any time since the early 1980s, according to research firm Statista. Many owners took advantage of their homes' increased equity—and pandemic-induced free time—to take out a second loan for remodeling, or refinance for extra cash.
That won't change, according to the Leading Indicator of Remodeling Activity (LIRA) report by Harvard University's Joint Center for Housing Studies. Annual growth in home renovation and repair expenditures is expected to climb from 4.7 percent in the first quarter of 2021, to 9.2 percent by year's end and up to 12.3 percent by fall 2022. If it does, total spending on residential remodeling by then would hit $401 billion, up from $351 billion in mid-2021.
"Residential remodeling continues to benefit from a strong housing market with elevated home construction and sales activity, and immense house price appreciation in markets across the country," says Carlos Martín, project director of the Remodeling Futures Program. "The rapid expansion of owners' equity is likely to fuel demand for more and larger remodeling projects into next year."
In 2022, some homeowners may decide to completely cash it in. Experts note that there could be more homes on the market than there were at the end of 2020 because of how much more they are worth. As such, it's a prime time to sell, according to Sherry Chris, president and CEO of Better Homes and Gardens Real Estate.
Chris notes that a person who sold a house in the first quarter of 2021 made an average of $94,500 and had an average return of 44.9 percent on the home's original price. Those numbers won't be as high in the coming year but they will still be a significant jump from two years earlier, experts note.
Sales volume didn't change much from 2020 to 2021, largely due to limited inventory. COGNITION forecast a 6.9 million unit total, about the same as government large mortgage handler Fannie Mae's 6.8 million estimate. Total sales were up from 6.5 million in 2020, and are expected to remain flat in 2022, according to Freddie Mac Chief Economist Sam Khater.
Median list prices increased by 13.7 percent, up to $353,000 nationally, according to COGNITION. Findings by real estate brokerage firm RedFin support these numbers, adding that 54 percent of all homes sold above list price in 2021. Freddie Mac and the National Association of Realtors each reported a list price increase of 16.9 percent, to about $385,000.
Skylar Olsen, principal economist at digital home buying platform Tomo Networks, considers the speed of home sales and rising home prices over the past year "staggering." Tomo notes that the pace will slow a bit in 2022 as sales competition lessens, "but don't expect prices to come down drastically any time soon."
Experts' opinions vary. Financial analyst CoreLogic expects home prices to increase by only 2.2 percent; Freddie Mac believes it will be more like 5.3 percent. Zillow, meanwhile, is exceptionally optimistic at 11.7 percent. Research firm Pulsenomics takes a longer-term approach, forecasting an annual rate of 5.7 percent through 2025.
All of those projections are well below the list price increases of 2021, a sign that the market may finally be moving, as Zillow puts it, "from white hot to just red hot."
Still, housing prices are expected to continue to rise in the coming year. The biggest reason? The same as in 2021: low inventory. Analysts at Freddie Mac say there is still a 4 million home shortage heading into 2022, a guarantee that things are not going to level off significantly any time soon.
A potential glass of water on the hot housing market: higher interest rates. The average rate stayed at about 3 percent throughout the year. This is expected to increase, perhaps reaching Fannie Mae's estimate of 4 percent by the end of 2022. This could price some potential buyers out of the market, the government lender notes.
Brian Bernard, director of industrial equity research for financial services firm Morningstar, agrees. But it won't be enough to slow the housing market on its own. "In our view, there is still plenty of pent-up demand from households that can shoulder higher, but still palatable, mortgage rates," Bernard says.
A second, possible deterrent: Financial necessity. Homeowners who are on the verge of foreclosure—largely due to pandemic-induced financial problems—will create underpriced inventory. This won't be enough to pull home values down overall—foreclosures are expected to make up only 5.4 percent of available inventory in 2022—but it will give buyers a bit more selection at slightly better cost, Fannie Mae notes.
Overall, homeowners listing their houses will make up about 39.7 percent of the available inventory in 2022, according to Zillow. It's the largest source of inventory, but not as influential as new housing, analysts note.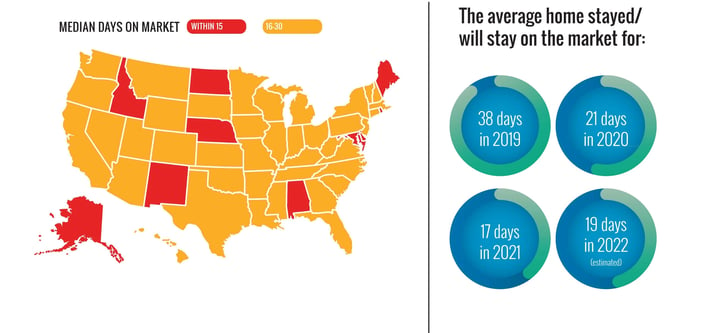 How Fast Do Homes Leave the Market? Sellers have not needed to wait long to pass the house keys to their buyers—homes nationwide were off the market in less than a month, sometimes even less than two weeks. Source: Realtors Confidence Index Survey, 2021
New Home Construction: King of Market Growth
Although it's the second-largest generator of housing inventory—accounting for 22.5 percent of all sales, about 17.2 percent behind existing homes—nothing pushes the market ahead like new construction, according to Zillow.
"New home construction has been weighed down in 2021, due to shortages of key building materials," says Cory Hopkins, manager of economists at Zillow. "But despite the setbacks, [construction] has largely remained above pre-pandemic levels."
COGNITION predicted 2021 single-family housing starts totaling 1.134 million, right in line with the Mortgage Bankers Association's numbers and an arm's length from Morningstar, at 1.115 million, and real estate firm Windmere Economics at 1.117 million.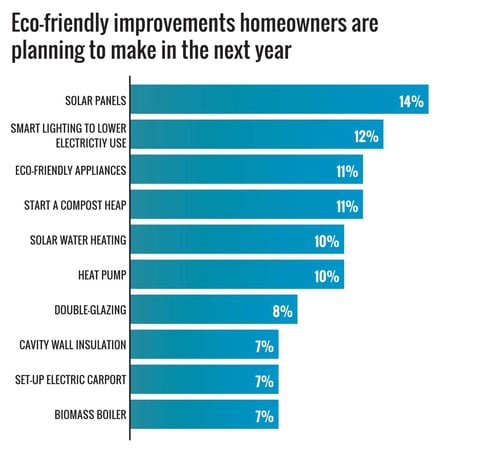 Two out of every five homeowners plan to undertake some type of eco-friendly home remodeling project within the next year, one that is likely to be energy-saving, according to a COGNITION survey. Interest in natural lighting, energy consumption, and solar panels are also on the list of home buyer desires.
While 2021 was "another strong year" for single-family construction, it's unreasonable to expect more of the same in 2022 and beyond, Bernard notes. "Construction growth will moderate," he says. "Homebuilders will boost production to address the undersupply of single-family homes, [but] we don't think the homebuilding industry has the capacity for housing starts to sustain the levels seen in the mid-2000s."
Morningstar's findings are echoed by COGNITION. The market intelligence service expects moderate growth rates of 1.165 million starts in 2022 and 1.210 million in 2023.
Another key indicator, building permits, shows a continued spike from coast to coast over the past two years. According to Omnis Panels' latest analysis of U.S. Census Bureau and U.S. Department of Housing and Urban Development data, the overall number of residential construction permits issued in 2020 and 2021 increased 36 percent nationally. For single-family homes, the increase was 30 percent; for large buildings containing 5 or more units, the increase was 21 percent.
Much of the new residential construction has taken place in the southern United States. A report by New York City-based Regional Gutter Repair (RGR) shows that five of the nation's six most-active metropolitan areas in 2021 were in Florida, North Carolina, and South Carolina.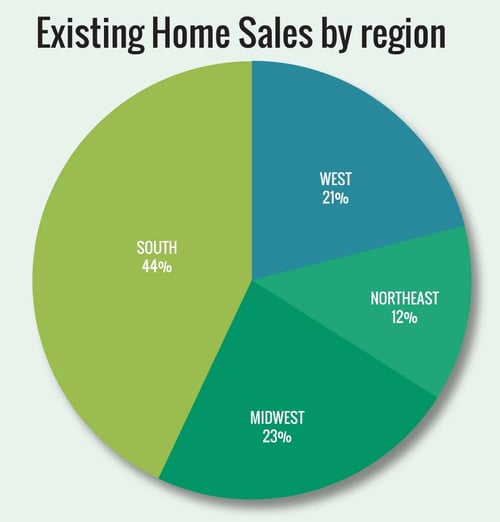 Existing Home Sales by Region If you sold a home last fall, there's a good chance it was in the southern United States where prices were lowest but seller equity was among the best in the nation. Source: National Association of Realtors
The ringleader, North Port/Sarasota/Bradenton, averaged nearly 1,400 new permits per 100,000 residents. According to RGR specialist Henry Gerbin, this equates to more than 1 percent of the market population requiring new construction, "a clear indication of a housing boom, and good news for general contractors."
But getting those new homes started is impossible if there's no one to do the work. The lack of skilled labor continues to hinder construction growth just as it did pre-pandemic. According to a labor market report by the Home Builders Institute (HBI), the construction industry needs 740,000 available workers per year for the next three years to keep up with demand. That's about 61,000 new hires per month from 2022 to 2024, a figure that HBI President and CEO Ed Brady calls "staggering."
"The construction worker shortage has reached crisis level," Brady says. "The situation will become even more challenging in the coming year when other industries rebound and offer competitive wages and benefits to prospective employees."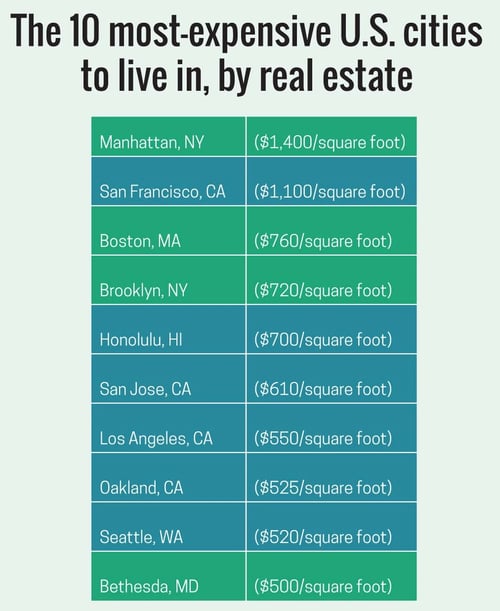 A big wildcard in terms of how active construction will really be in 2022? Lumber. Prices hit an otherworldly high in the summer of 2021 at $1,670 per thousand board feet—and later scaled back to about $615 in mid-November, according to Trend Economics.
That total is still a light year above the pre-pandemic five-year average of $356, and it is more than likely where things are going to stay, according to Bryan Shaffer, principal and managing director at Los Angeles-based real estate investment firm George Smith Partners.
"I think the $500 to $600 range is going to be more the new normal for at least the next 12 months," Shaffer reported in GlobeSt.com. "Nothing's normalized yet. And you have the inflation and labor issues cropping into pricing of everything. It's very hard to get labor today so it's made it harder for all the producers to get goods out."
A Runaway Remodeling Market
Rising home equity and pandemic-related free time led to homeowners investing in remodeling projects at a record pace over the past two years. Homeowners spent an average of almost $18,000, up from a pre-COVID $12,000, and projects increased by 75 percent in some U.S. markets, according to COGNITION Smart Data. There's more to come: nearly 4 out of 5 homeowners surveyed said they plan to undertake at least one new project within the next year, or have already done so.
Most of the projects completed on existing buildings are related to outdoor living (61 percent), interior upgrades like repainting, reflooring, and kitchen and bathroom renovations (58 percent), and tech improvements (44 percent), the survey notes.
Kitchens and bathrooms have long been two of the most frequently updated rooms in the home due to the "joy factor," or how much personal enjoyment homeowners get from creating dream spaces, COGNITION notes. They are also the two most frequently used rooms in the house, so enhancing their aesthetics and functionality improves quality of life.
Rising home prices also played a role in whether owners opened up their wallets, according to Houzz senior economist Marine Sargsyan. "While the pandemic caused initial concern for the residential renovation industry, many homeowners finally had the time and financial means to move forward with long awaited projects in the past year," Sargsyan notes. "This pent-up demand, along with other long-standing market fundamentals such as accumulated equity, will empower homeowners to continue investing in their current homes, rather than face skyrocketing prices in the housing market."
Nearly half of the respondents to Houzz's own market survey said they had already planned, pre-pandemic, to undertake a home improvement project. Another one-third cited financial means as being the key trigger. One-quarter of respondents said they wanted to renovate because it was less expensive than buying a new home.
Remodeling can also often be done over time, which allows homeowners the ability to budget and stretch their finances, COGNITION notes.
The generation most likely to remodel their homes are millennials, the current 20- and 30-somethings that made up more than half of consumers surveyed by COGNITION. Generation X, which is only half the size of millennials, and baby boomers, most of whom are 60- or 70-plus and beginning to age out of the market, combine for about 30 percent. Generation Z, the oldest of whom just reached the legal voting age, make up less than 10 percent of those with remodeling interest. But this group's 67-million person size—only about 5 million less than the millennials—definitely makes it the wave of the future, according to the Pew Research Center.
Stats
4 of 5 homeowners surveyed said they plan to undertake at least one new project within the next year.
Homeowners spent an average of almost $18,000, up from a pre-COVID $12,000 on remodeling.
Projects increased by 75 percent in some U.S. markets.
How people prefer to pay for remodeling:

Cash (83 percent)
Credit cards (29 percent)
Tax refunds (10 percent)

Crisis-Level Labor Shortage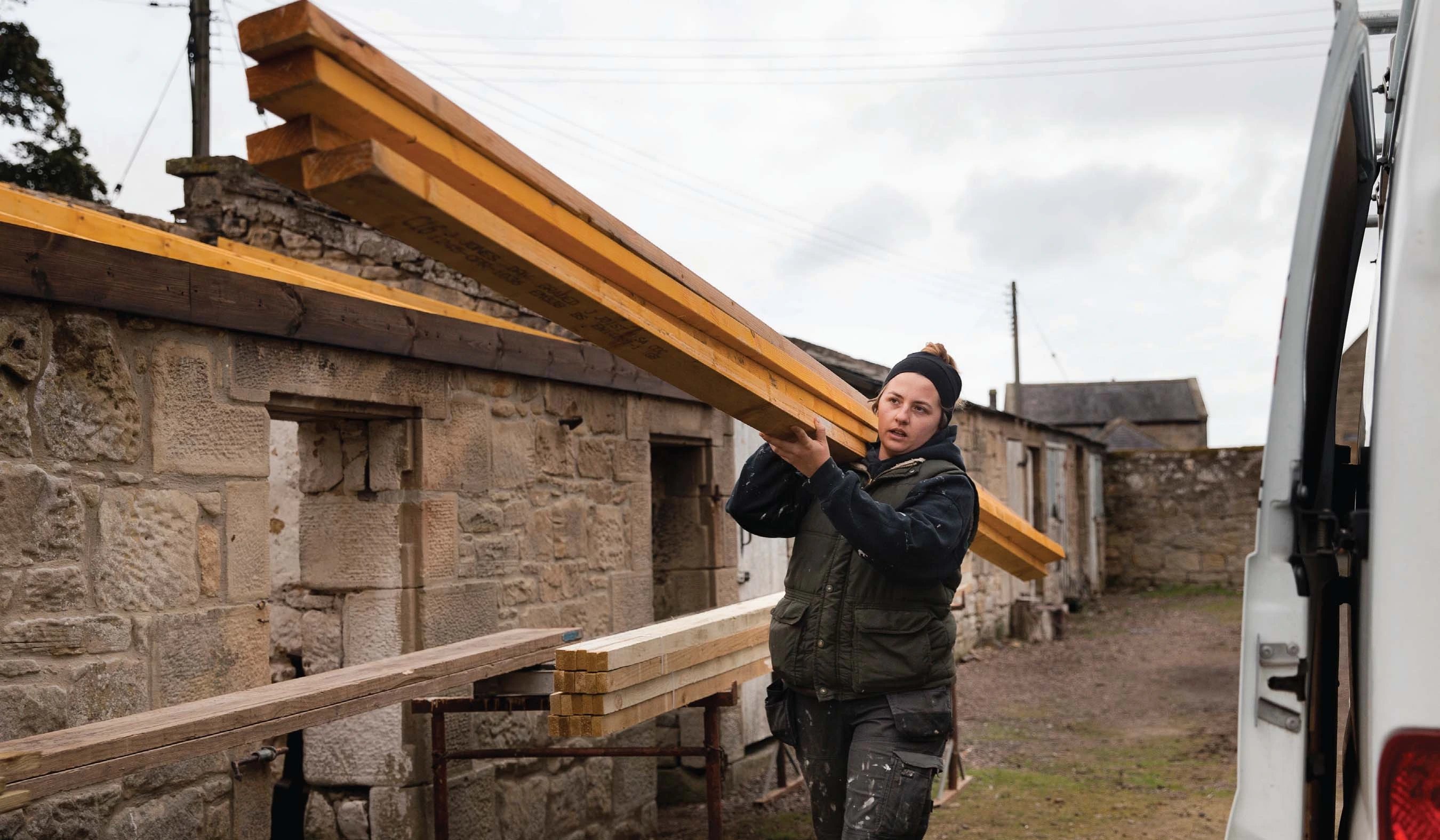 With the construction industry facing a projected shortage of about 61,000 workers per month—and the expected loss of about 3 percent of its current workforce over the next several years due to aging or people simply leaving the sector for good—there's an immediate need to bring in some new blood.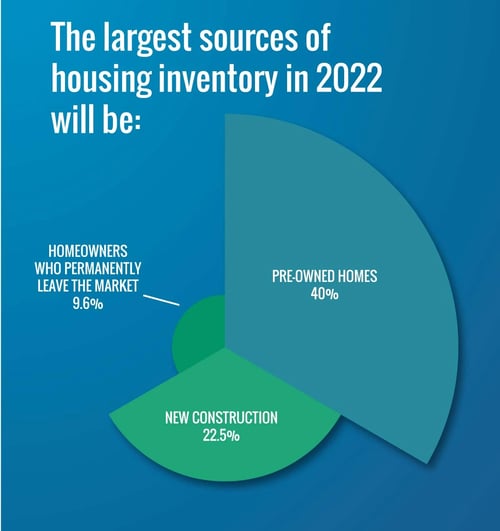 "We need to build the next generation of skilled tradespeople in construction," says HBI President and CEO Ed Brady. "One of our most important tasks as an industry is to work with parents, educators and students, as early as the middle school years, to demonstrate that young people can have the promise of great jobs and careers in the trades."
Brady says there are six fundamental steps that home builders can take to increase the number of skilled construction trade workers:
Reach out to secondary school students, and those who influence their decisions, to change their perception of careers in construction.
Increase worker pay while balancing the need to keep homeownership affordable.
Attract more women into careers in construction.
Train and place more minority and lower-income youth and adults in important industry jobs.
Increase trade skills education for veterans and transitioning military.
Work for bipartisan approaches to sensible immigration policies.
To learn more about the state of the building industry, join us at the Sustainability Symposium 2022: Roadmap to Decarbonization on April 20-21. Register today—it's free!
Related Stories In This Series:
Alternative Building Systems Rising
People Develop New Priorities for Living Spaces
Mar 4, 2022 3:05:18 PM · 13 min read
---

As cofounder and CEO of Green Builder Media, Sara is a visionary thought leader and passionate advocate for sustainability. A former venture capitalist, she has participated in the life cycle (from funding to exit) of over 20 companies, with an emphasis on combining sustainability and profitability. She lives in Lake City, Colo., with her husband, where she is an avid long-distance runner, snowboarder, and Crossfit trainer. She is also on the Board of Directors at Dvele, runs the Rural Segment for Energize Colorado, and is a former County Commissioner.