Alternative Building Systems Rising

Sara Gutterman
7 min read
In part two of our four-part series on the state of the industry, we explore how shortages of lumber and other construction materials offer a golden opportunity for other ways to build a home.
For the construction sector, the past year can be summed up with two modified statements: If you don't have it, you can't build it. If you don't build it, they won't come. Thanks to the pandemic, builders have seen a lot of the former en route to the latter: Higher prices, materials shortages, and workforce problems have the industry searching for other ways to get the job done.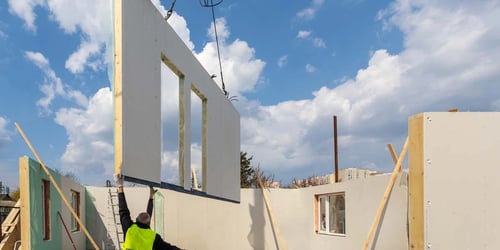 Structural insulated panels (SIPs) offer higher true R-values in the same thickness of a wall assembly. And, when the lumber prices are high, SIPs can be installed for the same cost as a stick-framed wall. Credit: istock/brizmaker
The effort has given insulated concrete forms (ICFs), structural insulated panels (SIPs), and other energy-efficient structural systems a tremendous boost. But not every material shift moves the needle toward greater sustainability. Replacing wood with steel framing, for example, infers the need for additional, CO2-intensive insulation or other methods to achieve a thermal break, to compensate for steel's extremely high thermal transfer characteristics. It's not just an easy swap.
It's a complicated situation, one that's going to be a headache for a while longer. Data indicates that some construction supplies will remain tight until at least next summer. Meanwhile, all anyone can do is plan carefully.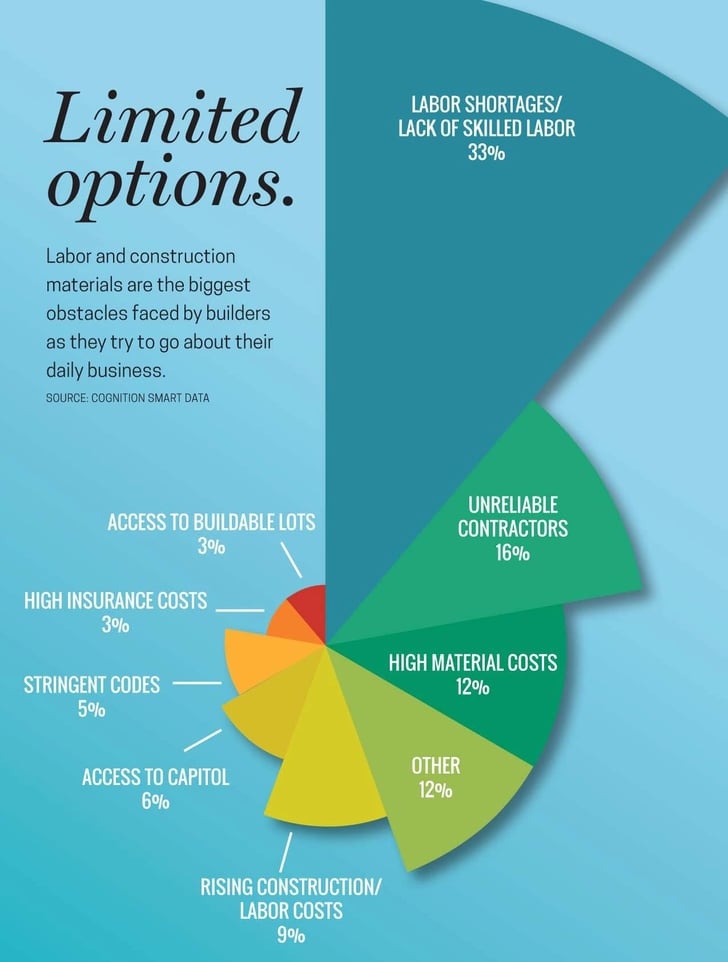 The Construction Sector: Challenges to Overcome
Going into 2020, experts presented a familiar slate of problems facing builders. These included:
Lumber costs, which were expected to rise (again).
Materials that were harder to find
A workforce that would continue to shrink.
More than 80 percent of builders surveyed by COGNITION Smart Data cited these challenges as being the items they have been and will be struggling with while doing business.
In a survey by the National Association of Home Builders conducted last May, 90 percent of respondents reported shortages of appliances, framing lumber, oriented strand board (OSB), and plywood. Eighty-seven percent also cited shortages of doors and windows; 50 percent reported shortages of steel beams, insulation, roofing materials, vinyl siding, copper wiring, and plumbing fixtures, among other materials.
Deepa Raghavan, a housing market analyst for Wells Fargo & Company, doesn't find the numbers surprising. But they are frustrating. "It used to be like Whac-A-Mole, where you would whack one thing and another one would pop up," Raghavan said in a report from the Wall Street Journal. "This is like six of them coming out and you can only whack two at a time."
Builders have been forced to seek new suppliers or alternative products, sometimes with mixed results. Delivery times have been delayed, with many builders being forced to place orders without concrete dates or prices. These delays disrupt construction schedules, which costs builders time and money, leading to increased costs for consumers. That, in turn, has priced 2.1 million U.S. consumers out of homeownership.
Straub Construction in Shawnee, Kan., changed insulation materials when its usual supplier couldn't fill the order. The switch added $20,000 to the project's cost, but it was better than delaying things by six to nine months before the original product arrived. "It's unprecedented," company president Parker Young said in a report from the Wall Street Journal. "I've been in the business for 30 years and never seen anything like this."
Nor has Greg Sizemore, vice president of workforce development at Associated Builders and Contractors in Washington, D.C. He acknowledges that every project has a start date and an end date. But these days, it's harder than ever to stick to those, which often means negotiating what gets done when. "Maybe you were planning to install a refrigerator one day, but the wood for the floor gets delayed," he notes in a report at Marketplace.org. "You can't install the refrigerator. So, we do something else—like the countertops, which might be marble if granite's not available."
On its website, officials at modular home contractor Vesta Modular in Southfield, Michigan notes that many people may find the situation "disheartening." But there are alternatives to traditional building. The materials shortage, the company advises, "doesn't have to be the end of the story."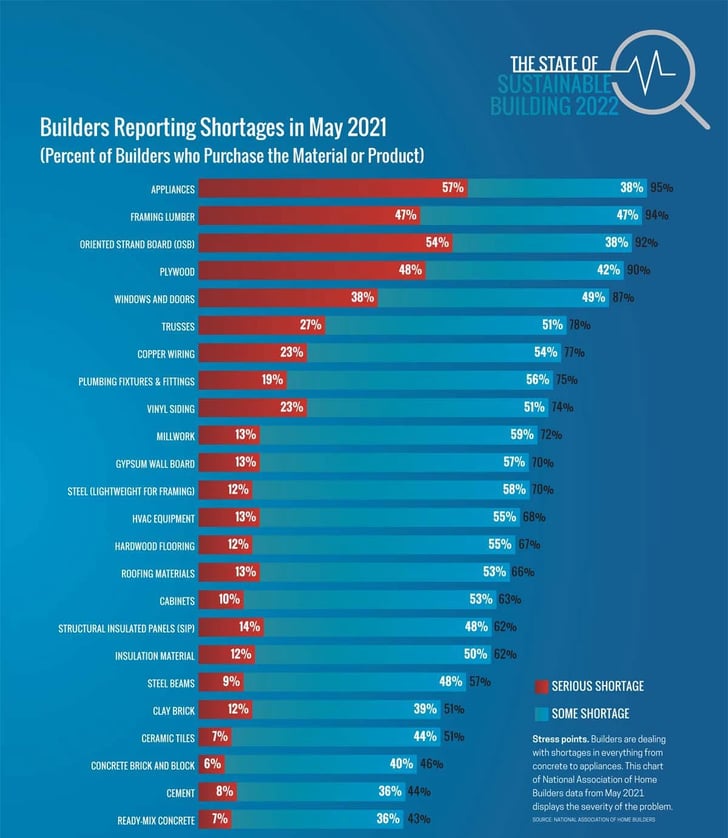 Alphabetical Envelope: ICP, ICF, SIP, and VIP
When searching for an alternative building envelope system, insulated concrete panels (ICPs), Insulated Concrete Forms (ICFs), and SIPs have advantages.
In terms of moisture management, ICP, ICF, and factory-built SIP wall panels are nearly completely moisture impermeable. They also have the advantage of being equally impermeable from the outside-in and the inside-out, giving them multi-climate, all-season resistance to condensation issues.
With ICPs, ICFs, and SIPs, the insulation is already in the wall when assembled, so one less trade is required. The required framing crew is about the same in terms of the number of people, but there is less handwork involved, meaning the job goes quicker.
"What makes ICFs so attractive is that they are cost-competitive with wood frame, steel frame, and masonry construction," notes Lionel Lemay, executive vice president of structures and sustainability for the National Ready Mixed Concrete Association. "A building owner gets a building that is more disaster resilient and energy-efficient, at or nearly at, the same cost."
BASF Neopor and other graphite-infused foams are already impacting the ICP, ICF, and SIP industry by offering higher true R-values in the same thickness of wall assembly. When the cost of lumber is high, SIPs can be installed for the same cost as a stick-framed wall.
Most stick-frame builders fail to calculate more than the cost of the framing and insulation, leaving out the value of time savings and other intangibles. For example, being able to build six homes in the time it would otherwise take to build five with the same size crew and the same group of sub-contractors yields a substantial economic advantage.
Advocates of ICPs, ICFs, and SIPs are also keeping their eye on vacuum insulated panels (VIPs), especially for existing home applications and when space is tight. VIPs are comprised of rigid panels with a microporous core that has been evacuated, encased, and sealed in a thin, gas-tight envelope to give outstanding R-values and an ultra-thin insulation solution.
Manufacturers tout that VIPs have a high level of thermal efficiency (up to five times better than other commonly available building insulation materials) with minimal thickness. VIPs are also more than 90 percent (by weight) recyclable and therefore make for a very sustainable option, according to the U.S. Green Building Council (USGBC).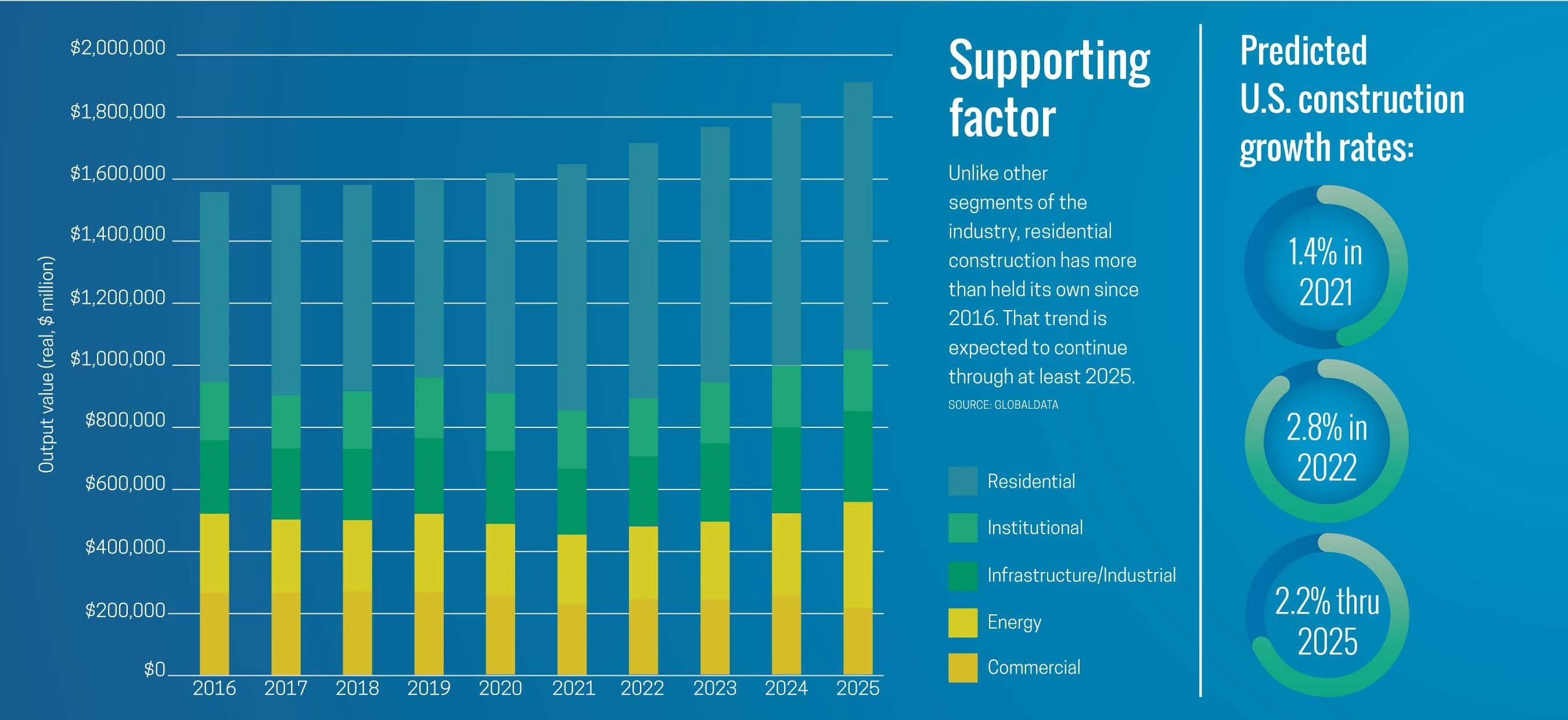 Modular and Prefabs: Instant Achievements
Projected to gain momentum and market adoption over time due to the resource and labor efficiencies that the process can achieve, modular and prefabricated construction makes it possible to take advantage of economies of scale, faster speed, and improved quality control, making it an increasingly attractive option. Modular construction also exhibits a substantial decrease in waste generation when compared to traditional building methods—up to 90 percent, according to the Waste & Resources Action Programme (WRAP).
"Green building efforts for site-built construction focus on reuse, recycling or diversion of waste that is generated on site," notes the Modular Building Institute. "With off-site construction, however, the materials can be managed prior to leaving the factory, offering a much more efficient process to reduce the amount of waste sent to landfills."
The global modular construction market size is projected to grow from $85.4 billion in 2020 to USD $107.9 billion by 2025, according to COGNITION. This market growth is attributed to increased concern about labor shortages, work-zone safety, environmental impact, ongoing investment in residential housing development, renewed focus on upgrading healthcare infrastructure, and government incentives.
Quality Control's Top Ally: Panelization
Quality insulation, windows, and other building envelope systems are paramount for home performance. Experts note that poor insulation installation can cut a building's energy performance by up to 28 percent. This is a growing concern, particularly as energy performance targets continue to ratchet up. Enter panelization, which solves for quality issues because the wall framing is so precise that insulation installation can be exact.
Panelization, or prefabricated wall panels, can also solve water and moisture management concerns. Fiberglass and other "soft fill" insulation materials are the most common failure points in wood-frame construction, according to COGNITION data. They are prone to trapping moisture, leading to mold, fungus, and rot.
States recognize the method's importance to quality control in housing. For example, California's Quality Installation Inspection (QII) sets specific standards for panelization in residential dwellings and offers incentives to builders who meet the standards. It has also become a key factor when a builder seeks Leadership in Energy and Environmental Design (LEED) certification for a home.
There's a labor-friendly aspect as well. Prefabricated wall systems can be installed with smaller crew sizes—typically six to eight people—which is a 60 percent or greater reduction in jobsite workforce compared to on-site construction, according to a report in Walls & Ceilings.
"Throughout the pandemic, the construction industry has witnessed how a controlled manufacturing environment has allowed fabrication and construction to stay on schedule," the report notes. "In a post-pandemic world, these benefits will remain important."
Related Stories In This Series:
The State of Sustainable Building 2022
People Develop New Priorities for Living Spaces
Insulation Imperfect
The Alexandria, Virginia-based Insulation Institute and Plano, Texas-headquartered construction consulting firm Burgess Construction Consultants conducted a survey of more than 100 of the nation's top production builders to identify the five most common insulation install flaws. The study also asked builders to identify their biggest challenges in working with insulation contractors. Most responses pointed toward use of incorrect materials and improper installation.
According to the results, the top five areas in which insulation flaws can compromise a building's energy performance are:
Improper sealing around windows, doors, and rough openings.
No sealing of plate penetrations and chases.
Improperly installed air barriers around double walls, tubs, and showers.
Drywall not sealed to top plates.
Misalignment of insulation.
Mar 17, 2022 1:21:19 PM · 7 min read
---

As cofounder and CEO of Green Builder Media, Sara is a visionary thought leader and passionate advocate for sustainability. A former venture capitalist, she has participated in the life cycle (from funding to exit) of over 20 companies, with an emphasis on combining sustainability and profitability. She lives in Lake City, Colo., with her husband, where she is an avid long-distance runner, snowboarder, and Crossfit trainer. She is also on the Board of Directors at Dvele, runs the Rural Segment for Energize Colorado, and is a former County Commissioner.