People Develop New Priorities for Living Spaces

Sara Gutterman
6 min read
In part three of our four-part series on the state of sustainable building, we explore how fear, contemplation, and technology have converged to change where people want to live, and what kind of housing they prefer.
With the pandemic's lingering impact on daily life came many shifts in how people perceive and use their living spaces. Along with this came the first signs of climate migration in the United States—for example, as homeowners fled the drought and wildfires of the West, they moved east.
Call it a quest for resilience: People want a life with less anxiety, a safe haven with more family time at home, an easier cooking experience, more home office spaces. Change has come, and it's driving remodeling, relocation, and re-thinking of what "home" means.
Work Life Balance
Home has become, more than ever, a sanctuary and a safe space, changing the way people think about well-being, belonging, health, and peace of mind.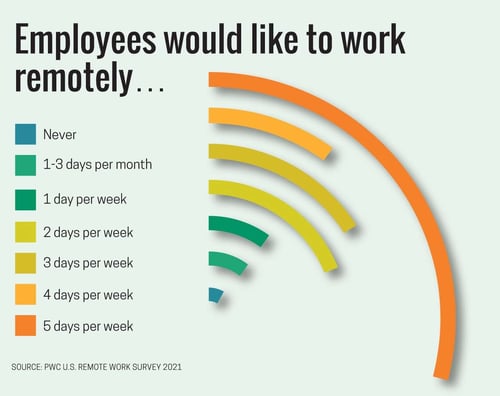 Pre-COVID-19, only about 10 to 15 percent of homes had a dedicated office space. Now, that number is closer to 75 percent, according to COGNITION Smart Data. A big reason for the new in-home office space is necessity: Studies from Pew Research, Gallup, Stanford University, the Census Bureau, and others reveal that at least 50 to 75 percent of the workforce began working remotely in 2020 due to the pandemic. About one-third want to continue telecommuting after they would normally go back to the office.
"People who choose to work from home want more than just a kitchen table and chair to work from," COGNITION notes. "They want a place where they can feel comfortable—because they're going to be spending a lot of time there."
Those who worked (and may still be working) from home face several decisions when creating a dream office, including room size, type of work and its needs for maximum productivity, location within the house for best access to Wi-Fi and least amount of interruption, and adequate lighting and ventilation.
There's also room design. Modern times call for sleek, uncluttered, light, and airy spaces to help increase work productivity. A blue color scheme is also in, as it can promote clear thought, calm the mind, and aid concentration, according to COGNITION.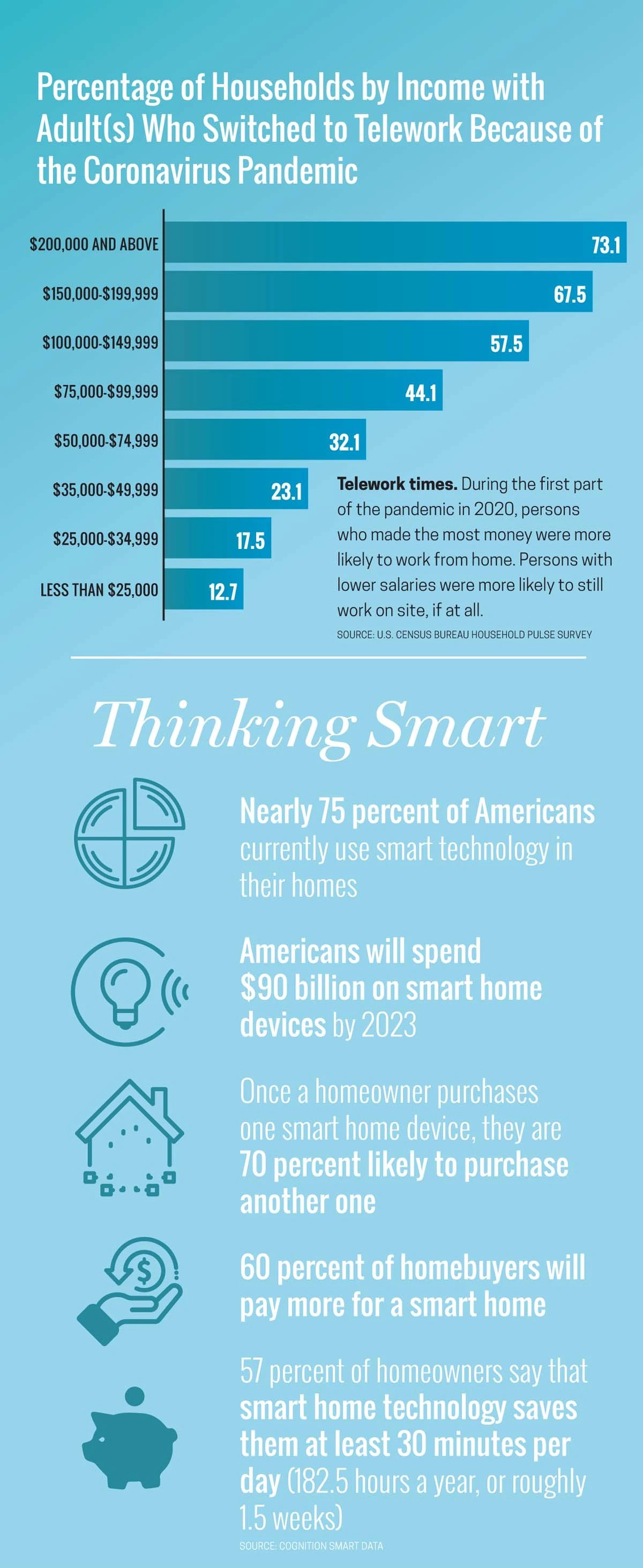 Comforts of Home
Because they were indoors for quite a while—the most movement-restricted moments were in spring and summer 2020—homeowners went for long-term comforts that made their lives more enjoyable.
For health and wellness, the focus was on indoor air quality—ventilation, source control, and contaminant containment; antimicrobial surfaces and finishes; touchless faucets and bidets; home healthcare and telemedicine; and home fitness.
Because of the extended need for contact with the outside world, connected living became a bigger deal. Cue bandwidth, network, and connectivity technologies for enhanced working and schooling from home, along with energy efficiency, performance, and comfort efforts. These included voice-activated locks, appliances, and other systems.
There were also resiliency and self-sufficiency matters, such as on-site power production via solar processing and storage tools, on-site food production via outdoor garden areas and indoor growing opportunities like living walls, larger storage and pantry spaces, and water monitoring and leak detection.
A New Era of Connected Living
The idea of going "smart" with a home isn't a new one. Devices to remotely control lights, temperature, alarms, appliances, sprinkler systems and more have been available for almost 20 years. But homeowners have found other reasons to improve in-house technologies.
Being smart adds value. Smart technologies offer home and building owners new levels of convenience, efficiency, comfort, independence, and security.
There's an evolution from the "mindless structure"—disparate devices with separate functionality—to the "mindful structure"—those items integrated by voice control—to the "intuitive structure"—a central hub that connects devices, products, systems, and vehicles.
Smart technologies can now learn our behaviors, upgrade themselves seamlessly, and take human error out of building performance to optimize comfort, cost-effectiveness, and sustainability.
And there are innovation opportunities. The quickly evolving connected living space provides an opportunity to be creative and stay ahead of the pack.
Room to Move
Homeownership has slowed due to COVID-19 and various product supply shortages. But having a set of keys of their own is still on prospective buyers' minds. Pew Research notes that 72 percent of renters want to own a home someday.
As buyers flock to less dense outer suburbs and even rural markets, some of which have been suffering from declining home values for years, they're seeking reasonably priced homes with lawns, gardens, and elbow room.
Limited inventory has shifted consumer priorities and expectations. "While most buyers prefer move-in ready homes, they're no longer turning up their noses at listings that need improvements," COGNITION notes. "It's the veritable return of retro—'dated' is in, especially when the payoff is more outdoor living space."
Consumers are looking to decrease monthly costs and increase asset value. It therefore makes more sense to invest in a home rather than rent, especially with record-low mortgage rates.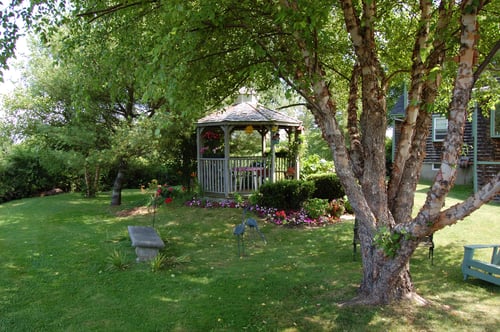 COVID-19 kept people home, resulting in a desire to entertain outdoors. With little effort, homeowners transformed basic backyards into nature-friendly places with gazebos, plants, and lawn ornaments. Source: Flickr/Eric Savage
Al Fresco Living
There has been a discernable uptick in interest and investment in outdoor living due to an increased interest in a connection with nature, and a desire to entertain outdoors during the pandemic.
Trending projects include deck expansions and replacements, transition spaces such as roof covers, pergolas, and gazebos, outdoor kitchens and entertainment systems, and edible gardens. There's also a preference for rooftop gardens, balconies, and terraces; and integrated planters and greenspace transformed into decks.
There is a move toward "flexible privacy"—the ability to enjoy nature while screening out neighbors, and reducing sightlines.
Homeowners are favoring composites over wood because they are durable, require low maintenance, and are impervious to moisture and pests. There's also an enhanced interest in recycled materials and zero-waste generation.
To meet these design upgrades, contractor projects are becoming bigger and more elaborate, featuring multi-level structures, and incorporating covered spaces, cabanas and flex spaces.
Meanwhile, many homeowners are into do-it-yourself (DIY) projects: smaller efforts that are personalized and unique, using colors and patterns to distinguish the item visually.
The bottom line with all of the home design and lifestyle changes of the past two years is that they're here to stay, according to Elizabeth Yuko, Ph.D., an adjunct professor of ethics at Fordham University in New York City. "We might not keep our voice-controlled appliances solely because they reduce the spread of germs—but because they also make it easier to cook dinner while taking a Zoom call," she notes, in a blog on Real Simple.com.
"And once we've experienced cooking a meal using vegetables from our garden and enjoyed that meal in our beautifully landscaped backyard, how can we go back to undervaluing our outdoor space?"
Related Stories In This Series:
The State of Sustainable Building 2022
Alternative Building Systems Rising
Screen New Deal
It's not just smartphones and Zoom calls. Homebuyers have become more adept than ever with smart home products. Have we reached a tipping point?
Given current consumer preference and purchasing pattern trends, baseline smart home offerings should include:
Security—cameras, locks, intruder alerts, remote check-in/monitoring
Smart thermostats
Lighting
Audio/speakers
An integrated indoor air quality (IAQ) system with monitors and sensors that connect with vent fans, energy recovery ventilators (ERVs) and range hoods to facilitate fresh air exchange
Water monitoring and leak detection
Carbon monoxide/smoke detector
Smart switches/plugs
Built-in data protection and privacy technologies/protocols
Enhanced connectivity and bandwidth capabilities to address increased working/schooling from home
Upgraded offerings should include:
Smart appliances
Smart irrigation systems
Integration with solar system
Aging in place functionality for active adults, including non-intrusive cameras/monitors, fall detection, and voice-controlled technologies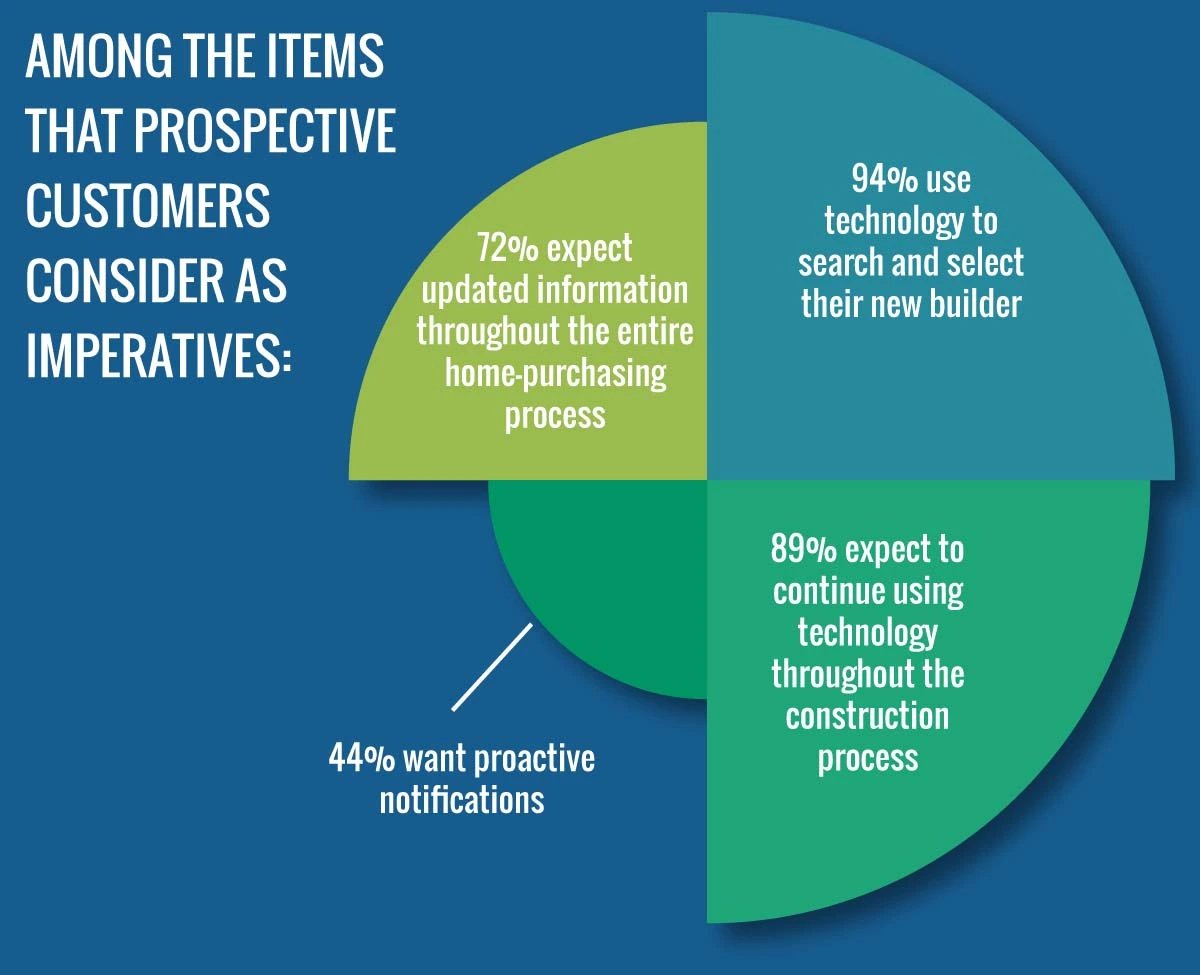 The Great Digital Beyond
Given that more homebuyers are relying on online tools to shop for homes and willing to purchase a home sight unseen, it's essential for the building industry to participate in the digital revolution.
Builders can augment a buyer's online experience with enhanced 3D home tours, having a social media presence, and providing access to items such as online information, FAQs, and educational videos. "Not only will this position builders as an essential resource to homebuyers, it will also help decrease the stress of purchasing a home," COGNITION notes.
Manufacturers can contribute to this transition by providing building professionals with content, data, research, and insights about key trends and topics to share with buyers, thereby enhancing the online experience.
Mar 24, 2022 11:21:30 AM · 6 min read
---

As cofounder and CEO of Green Builder Media, Sara is a visionary thought leader and passionate advocate for sustainability. A former venture capitalist, she has participated in the life cycle (from funding to exit) of over 20 companies, with an emphasis on combining sustainability and profitability. She lives in Lake City, Colo., with her husband, where she is an avid long-distance runner, snowboarder, and Crossfit trainer. She is also on the Board of Directors at Dvele, runs the Rural Segment for Energize Colorado, and is a former County Commissioner.