The Healthy Indoor Environment

Sara Gutterman
6 min read
As people spend more time in their homes, thoughts turn to indoor air and water quality.
Covid-19 could be on the wane, but the importance of healthy homes is a concept that is here to stay, which begs the question: How safe are houses, and how can they be made safer?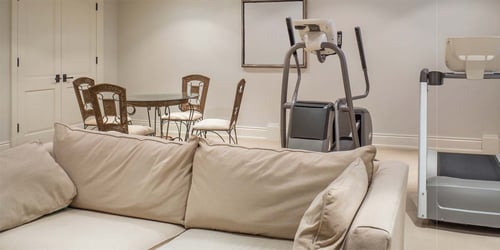 The pandemic has brought exercise and indoor air quality into the foreground. Homeowners want spaces and systems that help them stay in shape and avoid illness.
According to Sam Rashkin, chief architect at the U.S. Department of Energy's Building Technologies Office, now more than ever, homeowners are searching for successful strategies to improve the health of their homes in an effort to protect their families.
"It's shocking how palpable the benefits of healthy homes are," insists Rashkin. "We spend $40 billion a year on organic food and $20 billion a year on bottled water to stay healthy, and the promise of those things are so much less tangible than maintaining a healthy home, primarily because we ingest seven times more air than food and water each day."
Rashkin believes that the most effective way to communicate about the benefits of a healthy home is to keep the message simple. "We make selling homes very complicated," he says. "But interest in healthy homes, which was surging before the pandemic and exploding now, is not only easy to communicate, it's incredibly bankable for building professionals."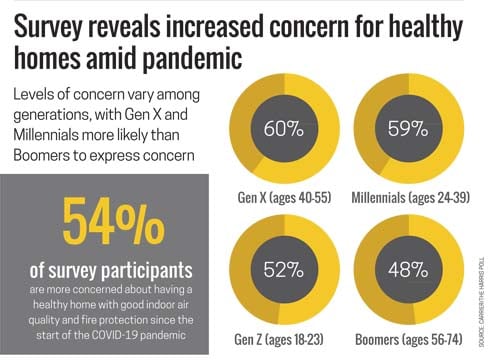 Survey reveals increased concern for healthy homes amid pandemic
Proactive IAQ
When it comes to designing, building, and remodeling healthy homes, Rashkin emphasizes:
Source control: Making sure that all products, materials, surfaces, furniture, and cleaning products brought into a home are non-toxic and will not continue to leech chemicals into the air for years (also known as "off-gassing").
Containment: Cleaning surfaces regularly and making sure a home has proper filtration systems, ventilation, and fresh air exchange.
Rashkin believes that proactive indoor air quality (IAQ) systems—ones with sensors to monitor toxins, dust, temperature, humidity, CO2, and volatile organic compounds (VOCs) and proactively turn on ventilation fans, range hoods, and energy recovery ventilators (ERVs) when those elements are sensed—are the future of IAQ.
That view is shared by Rashkin's colleague, Aaron Johnson, environmental protection specialist at the U.S. Environmental Protection Agency (EPA). "IAQ is eclipsing energy efficiency in terms of the top area of consumer interest," Johnson notes.
He asserts that IAQ improvements can be made virtually anywhere in the home during any new construction or retrofit project. "There is a whole frontier waiting to be explored by builders and contractors who want to integrate products that meet IAQ requirements," Johnson says.
But when it comes to having the air quality improvements made, Rashkin and Johnson warn buyers to beware. "It's kind of like the Wild West in terms of IAQ products right now because there is no certification or labeling," Rashkin asserts. "Consumers who are interested in products that effectively improve and address IAQ need to make sure that a product's claims are legitimate."
Improve Indoor Air Quality
There are no disagreements on that statement from consumers. According to a recent COGNITION Smart Data survey, consumers are connecting to health more now than they did before the pandemic. Owners of green homes, however, were much more confident in the quality of their indoor air and less concerned about IAQ problems in their homes than owners of non-green homes. And, among homeowners, 85 percent of survey respondents said they would pay more for a healthy home.
The survey also notes that consumer interest in IAQ has hit a new high, with nearly 92 percent of respondents considering the topic "important" or "very important."
"COVID has captured homeowners' imagination of what is transferrable in air," confirms C.R. Herro, vice president of innovation at Meritage Homes in Phoenix. "Consumers are now aware that viruses and other harmful toxins can be airborne, so investing in products and technologies that reduce pathogens on surfaces and in airways has become a top priority."
A major reason, Herro notes, is that people want to feel secure. "People are moving from places where they didn't feel safe into newer construction and single-family homes," Herro says. "It's simple psychology as identified by Abraham Maslow—one of our most basic needs is the desire to feel safe."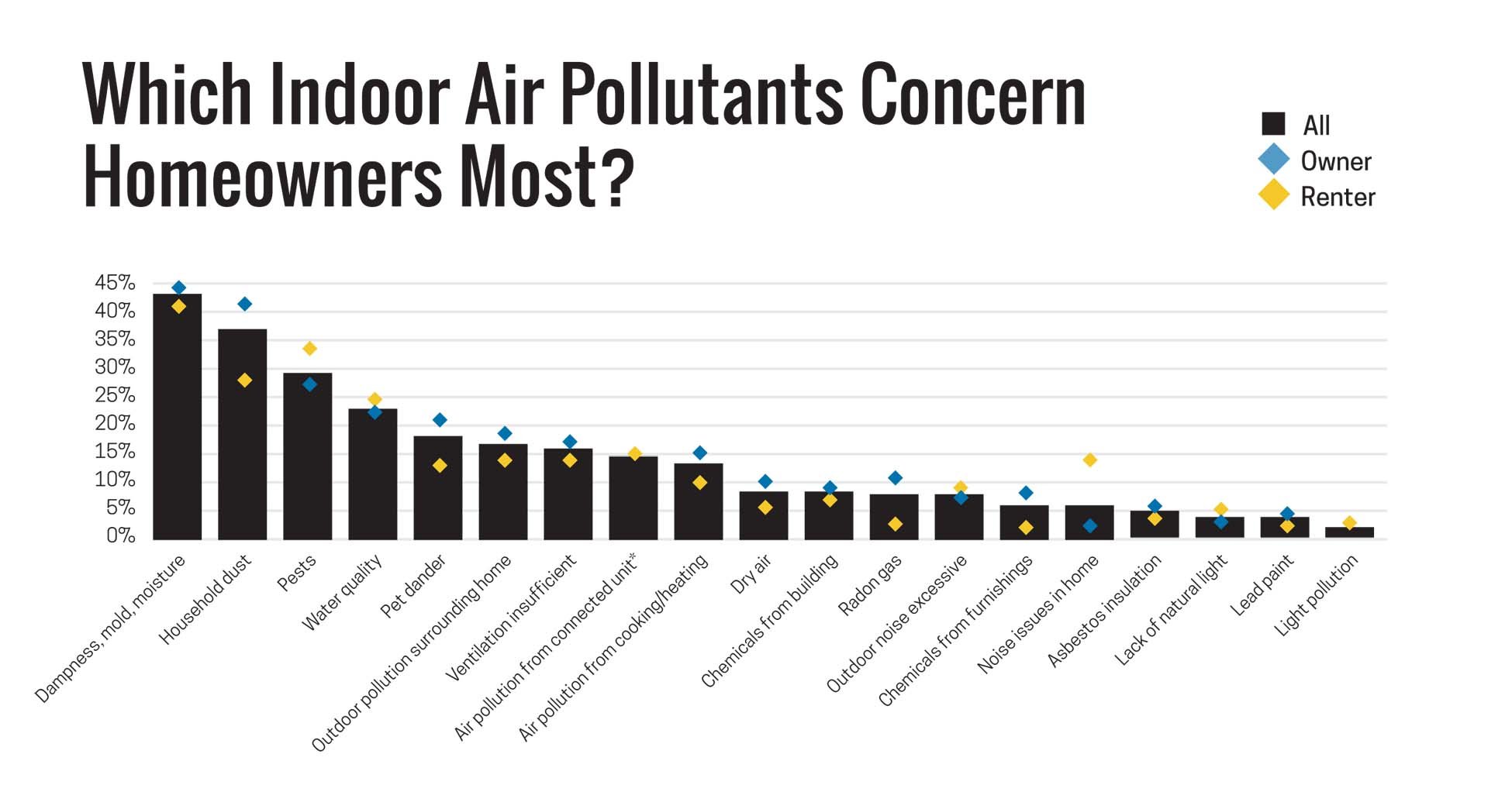 Note that respondent fears are not always rational. For example, they underestimate the risk from the most dangerous toxins, such as lead and asbestos. Source: COGNITION Smart Data
Addressing Indoor Pollution
Even before the pandemic, IAQ was quickly shifting from a "nice to have" to a necessity. It is now seen by early-adopter and first-mover consumers as a fundamental homeowner right and as important as location to some home buyers.
According to COGNITION, few topics "exhibit as much passion intensity as IAQ." Discussion is influenced by strong language and high positive and negative emotions. "People care deeply about healthy homes and get very angry when their homes create health issues."
They also want to learn more. Throughout 2020, there has been an upsurge in online searches for terms such as "fresh air," "contaminate free spaces," "volatile organic compounds," "carbon monoxide," and "duct cleaning." Consumers are also seeking information on products such as demand-controlled ventilation systems to regulate fresh air exchange, indoor air quality sensors, and high-performance air filters.
Overall, that is a great sign for the housing construction industry, Herro notes. Meritage Homes has upheld for more than a decade that delivering healthy homes with good IAQ is essential. "At first, we believed it was our responsibility, but now we see it as an opportunity," he says. "As homebuyers lean into the concept of healthy homes, we get the opportunity to evolve our platform."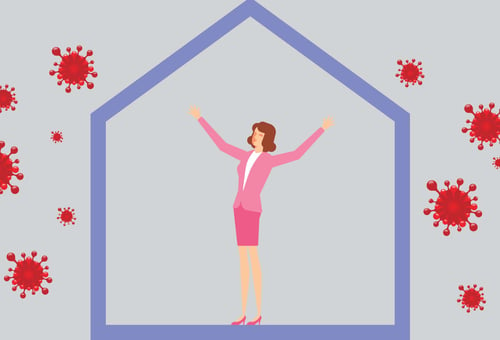 Nearly seven of eight prospective homeowners will pay more for a residence that can better protect against viruses, germs, and other toxins, according to COGNITION Smart Data. Credit: KrizzDaPaul/ iStock
Pandemic-Proofed Home
New design approaches and product specification decisions are emerging to improve poor indoor air quality and virus-proof homes, including:
Minimalist designs with light, openness, and ventilation strategies for fresh air exchange and filtered air.
Minimal decoration and clutter to fight against dust and grime.
Terraces, balconies, rooftop gardens, and windows to enhance connection with nature
Broad integration of touchless technologies like voice-activated doors and elevators, hands-free light switches, and cellphone room entry.
Increased specification of bidets, sensor faucets, anti-microbial surfaces, fabrics, paint, and materials.
Onsite food production, greenhouses, and hydroponic growing appliances to ensure food security.
Flex spaces that allow for working and schooling from home
Source: COGNITION Smart Data
Exterior Options
Although ventilating and cleaning indoor air is top of mind for many homeowners, outdoor living space has also become a must-have feature. During the pandemic, outdoor gatherings have become an essential lifestyle amenity.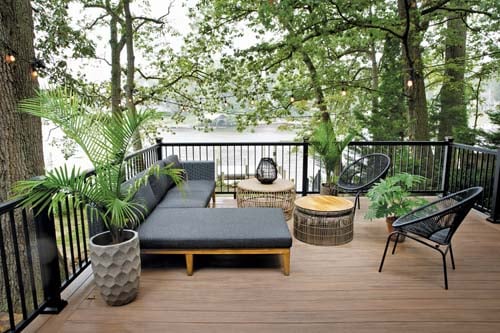 People spending a lot of time at home who decide to go into the yard for downtime should try TimberTech decking. The product looks more like real wood than any other composite (the company's AZEK Vintage Collection is pictured), resists scratches and stains, and is easy to maintain. It also saves a few trees.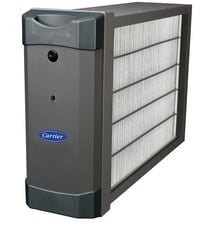 Keeping indoor air clean and ultra-safe against viruses is easy with a product such as Carrier's Infinity Air Purifier. With every cycle of air that passes through the system, pollen, animal dander, bacteria, and other pollutants are trapped and held tightly to the filter. An electrical charge then bursts the cell walls of pathogens it comes in contact with. Credit: Carrier
Introducing IAQ to Home Buyers
Consumers' interest in healthy homes offers a tremendous opportunity for building professionals and manufacturers to help homeowners truly understand the nature of IAQ. As a result, builders are changing their approach to promoting healthy homes:
Generate "situational awareness." Builders work with homeowners to conduct an IAQ assessment. Through this, the homeowner gains an understanding of the health risks within homes, and the builder can address each family's unique situation given physical ailments and concerns.
Teach homeowners to mitigate IAQ risk. For example, builders are specifying healthy, low- or no-volatile organic compound (VOC) paints, materials, finishes, furniture, and cleaners. They also teach homeowners how to: purify indoor air through proper ventilation, clean filters and fresh air exchange, keep surfaces clean to prevent infectious particles from becoming airborne, reduce risk of mold and water damage, maintain pest-proof homes by filling cracks on the building envelope, properly store food.
Engage at-home monitoring. Homeowners are advised to deploy ongoing monitoring and management by identifying healthy thresholds based on families' specific needs. They can then create IAQ strategies accordingly, such as installing demand-controlled, integrated systems that keep IAQ at healthy levels without human engagement.
Source: COGNITION Smart Data
Mar 10, 2021 4:53:52 PM · 6 min read
---

As cofounder and CEO of Green Builder Media, Sara is a visionary thought leader and passionate advocate for sustainability. A former venture capitalist, she has participated in the life cycle (from funding to exit) of over 20 companies, with an emphasis on combining sustainability and profitability. She lives in Lake City, Colo., with her husband, where she is an avid long-distance runner, snowboarder, and Crossfit trainer. She is also on the Board of Directors at Dvele, runs the Rural Segment for Energize Colorado, and is a former County Commissioner.