Clean Air: A Must-Have for Today's Home Buyers

Sara Gutterman
3 min read
COVID has highlighted the importance of good indoor air quality, which is now a non-negotiable for today's home buyers. Fortunately, thanks to advanced technologies and building science knowledge, clean air is a luxury that we can all afford.
Consumer interest in indoor air quality (IAQ) hit a new high in 2020. According to COGNITION Smart Data, Green Builder Media's market intelligence division, 92 percent of early adopter and first mover homeowners believe that good IAQ is extremely important or very important, and 85 percent would pay more for healthy home.
A recent Green Builder Media survey shows that homeowners believe that healthy home and indoor air quality is the category that will be most impacted by Coronavirus, and online searches for terms like air purifiers, air filtration, and ventilation have skyrocketed since the onset of the pandemic.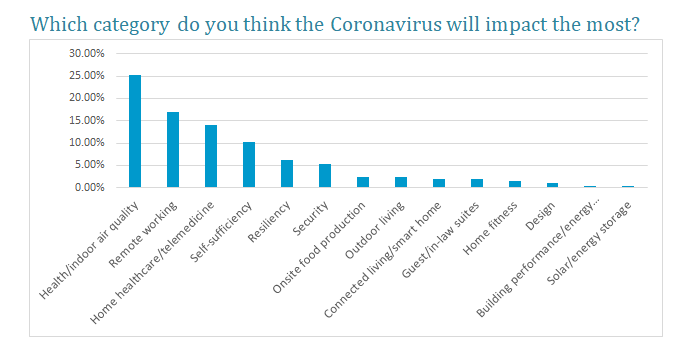 Port Orchard, Wash.-based builder Bryan Uhler of Pioneer Builders confirms that IAQ is top of mind for today's home buyers. "We're not in the luxury market, but we build homes with quality, performance, and sustainability in mind. One of the most important ways to deliver high-quality homes to our clients is to ensure that they have good indoor air quality."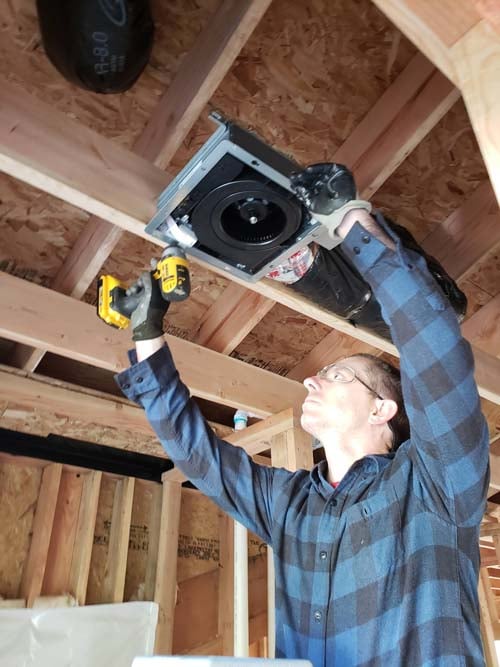 Bryan Uhler of Pioneer Builders installing a Panasonic WhisperValue vent fan in a home in Port Orchard, Wash. Photo courtesy Panasonic
To that end, Pioneer Builders' baseline package includes Panasonic Intelli-Balance 100 energy recovery ventilators (ERVs), Panasonic's WhisperComfort ERVs, Panasonic WhisperValue and WhisperComfort exhaust fans, and range hoods with dedicated exhaust fans.
"We don't go all out to maximize airtightness, but we are able to provide high-performance homes without pricing ourselves out of our market," Uhler says. "The Panasonic Intelli-Balance 100 ERVs can be adjusted to provide between 50 and 100 cfm (cubic feet per minute) of supply and exhaust airflow, allowing for continuous ventilation and fresh air exchange. The company also has a cold climate version with a boost mode for when there is temporary high occupancy. The range hood and exhaust fans in bathrooms and utility-rooms provide intermittent ventilation and remove moisture and odor at the point where they're created."
To optimize indoor air quality, Uhler asserts that it's essential to have a tight building envelope with a controlled source of fresh air. "In a leaky house, air is drawn inside through random cracks, but that air isn't filtered. In a tight house, ERVs can provide a reliable source of fresh air, and it can also recover the heat contained in the outgoing air. ERVs can also maintain a comfortable level of humidity during the winter, when air is often colder and dryer, which can cause health issues for occupants and negatively impact materials like wood floors."
"We rely on the ERVs to draw in a steady supply of clean, filtered fresh air," Uhler continues, "and the exhaust fans to remove polluted air and humidity from point sources. This offers ample capacity and keeps the ductwork simple."
A word of warning offered by Uhler: While it's tempting to specify one type of vent fan for an entire home, making the effort to select fans that are appropriate for each room in which they are used helps maximize value and minimize costs.
"Don't underestimate the value of a humble exhaust fan," he says with a smile. "We've had an excellent experience with Panasonic's WhisperValue and WhisperComfort fans. They have lots of options, including LED lights and condensation sensors, as well as a low-profile design, and they are UL rated for ceiling or wall installation. While we're a new-construction, single-family residential builder, these fans would work well in retrofit or remodel situations, too."
Uhler recognizes that Pioneer Builders' IAQ strategy slightly increases energy use, but he is adamant that the improvement to occupant health is worth it. "Increased air flow means that homeowners might spend a little more on heating and cooling, which is why we try to do it as efficiently as possible, but as soon as our buyers learn about the positive impact that good IAQ will have on their families' health, they're willing to make the investment."
According to Uhler, the baseline cost for the whole package of Panasonic equipment, including an ERV, is a modest $2,000 (builder price).
Brought to you by Panasonic - Why IAQ Matters

Feb 24, 2021 4:21:58 PM · 3 min read
---

As cofounder and CEO of Green Builder Media, Sara is a visionary thought leader and passionate advocate for sustainability. A former venture capitalist, she has participated in the life cycle (from funding to exit) of over 20 companies, with an emphasis on combining sustainability and profitability. She lives in Lake City, Colo., with her husband, where she is an avid long-distance runner, snowboarder, and Crossfit trainer. She is also on the Board of Directors at Dvele, runs the Rural Segment for Energize Colorado, and is a former County Commissioner.