The 4 Hottest Interior Trends for Summer
Here are the season's timeless interior design trends and links for inspiration.
After spending what felt like the longest-ever winter indoors, homeowners are demanding cost-effective, sustainable interior design solutions to connect with the outdoors again.
COVID-19 brought renewed focus on mental health and wellness, triggering a worldwide movement to preserve the environment, appreciate time outdoors, and promote positive energy in the home to relieve stress and anxiety. As the summer season is all about youth, extravagance, and prosperity—and as a return to activity is re-imagined—the primary priorities are easily predictable: sustainable architecture and green building design.
As well as following sustainable design principles to create homes with low energy consumption and reduced carbon emissions, the decor needs to be spruced up too. Let's round up the coming season's timeless interior design trends.
A Focus on Outdoor Areas
A home's relationship to the outdoors is of utmost importance. Therefore, whatever the size of the outdoor area, from balconies to terraces to acres of land, homeowners will be wanting to make it guest-ready for the summer.
It's time to repurpose old garden furniture and reinvigorate neglected courtyards and gardens using eco-friendly natural materials like wood, clay, and stone. For example, an old bench can be given a new lease of life with a few coats of bold-colored sustainable outdoor paint.
When buying outdoor furniture from scratch, opt for wicker, bamboo, and rattan that all induce a very light, super chic feel. Woven, geometric, weather-resistant floor pillows and rattan bean bags offer a layered look, durability, and comfort. Stick with a neutral rattan color for a traditional aesthetic, but white or black painted wicker can create a modern patio oasis.
Homeowners can populate their balconies with outdoor rugs, colorful cushions, and plants to raise humidity levels, improve the air quality, and lower the temperature. For bigger gardens, people should consider decking, a daybed built from rustic pallets, or Marazzi's eco outdoor tiles.
The Return of Raw Wood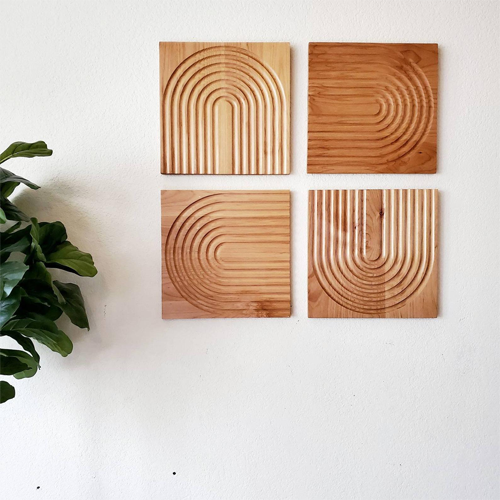 Shopping local and supporting small businesses is a great way to discover sustainable art that is high-quality and unique. Etsy has an endless selection of high-quality sustainable work.
Biophilic design is an approach to architecture that seeks to create a more productive and healthy environment for people by connecting them more closely to nature. For those who don't have any outdoor space, another way to bring the outdoors inside is by incorporating sustainable materials like wicker, rattan, bamboo, and wood in bedrooms and lounge areas.
Warm raw wood, with surface texture and imperfections, looks sensational in areas with natural light, creating a cozy sanctuary. Oftentimes, people use raw wood as accent touches throughout the home for coffee tables, benches, chairs, and shelves.
Devin Shaffer, the Lead Interior Designer at Decorilla Online Interior Design, stated: "Raw wood with live edges creates naturalistic shelving solutions. One cost-effective way to remodel a kitchen is to go with raw wood open shelving as a replacement for dated cabinetry. The result is an instant showcase effect for glassware, dinnerware, or spices."
Raw hardwood is sustainably harvested and can be installed, sanded, and refinished on-site to create renewable and durable hardwood flooring, like the white oak flooring from The Hudson Company.
Trending Metallics and Splashes of Color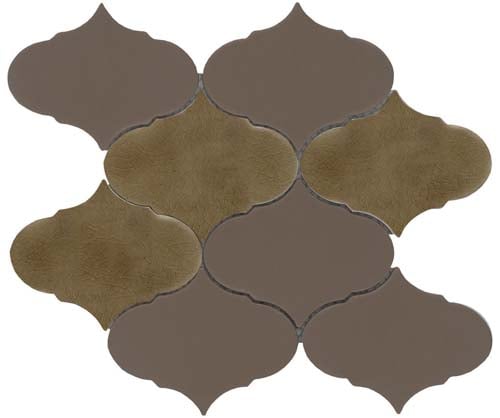 Retro II tile by Emser
revisits a classic mod-inspired mosaic with a blend of metallic and crackled finishes. Each hue expresses a slightly different contrasting color, enhancing the crackled texture. Shown is Bronze Cloud Gloss & Crackle.
Muted metallics can accentuate other elements of design with sophistication and elegance. Take a black kitchen countertop with metallic specks. The black galaxy granite is a natural stone characterized by black bedrock and small gold and white flecks of crystallized minerals. It is a popular choice for contemporary kitchens as it complements the colors of wooden cabinets, sparkles under auspicious lighting, and is long-lasting.
Apart from wooden accents, muted metallics pair well with bright splashes of color and gray-based neoclassical interiors. When it comes to metallic finishes, know that soft pink and scarlet red fabrics and furniture match with brass, while emerald green and royal blue throws or pillows complement gold. If your home is minimalistic and dominated by neutral tones, pair brass with white-on-white decor or pastel hues.
The Reign of Sustainable, High-Quality Artwork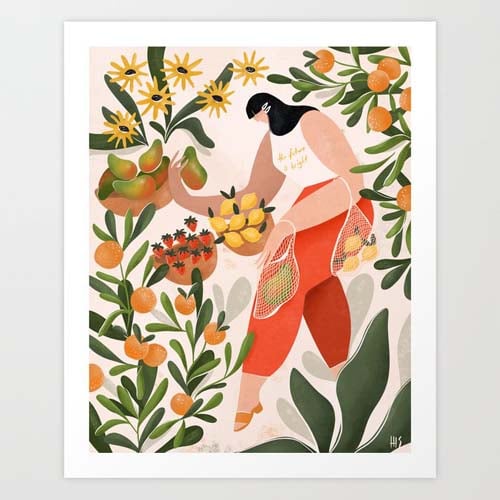 We love these Society6 prints as they are not only trendy and stylish but they also showcase natural environments and are sustainable. You can visualize Society6 artwork in your home by using the app

DecorMatters

.
Local thrift stores will more than likely have some hidden gems. And for homeowners to reduce their carbon footprint whilst still purchasing high-quality artwork, they should consider supporting local artists and craftsmen, and shopping second-hand.
Shaffer suggested investing in Driftwood as it comes in a variety of shapes and forms: "Product options range anywhere from under $100 to over $5,000, allowing clients with any size of budget to incorporate these naturalistic pieces in their homes."
Sold individually, the unique, handcrafted Phillips Vine Tile Wall Décor pieces can be rearranged and grouped together to create a natural wall display above a fireplace or bed. The visually stimulating Assemblage Sculpture by James Skuban is an "aesthetically pleasing multidimensional work of art [exemplifying] the expressive potential of thoughts and emotions that coexist with the natural world."
In essence, summer 2021 is all about reinventing our homes, cultivating fully equipped outdoor spaces, surrounding ourselves with natural elements and visual points of interest, recognizing the importance of sustainable materials, and celebrating individuality.
This is just the beginning–the entire structure of our buildings needs updating to become eco-friendly, from energy efficiency to sustainable landscaping.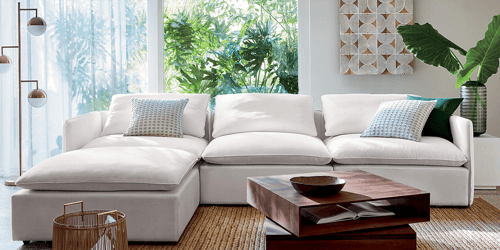 You can try artwork in your home virtually using the DecorMatters app, CB2 offers truly high-quality, fine artwork made from sustainable materials such as wood. This is a great option for those with a larger budget.