Indoor-Outdoor Connection Makes This Prefab Passive House Shine

Matt Power, Editor-In-Chief
4 min read
This contemporary beauty proves that factory-built homes can achieve high design along with high performance. It also won a 2021 Green Home of the Year award.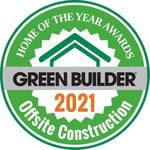 The Lang/St. Marie Residence is a prefabricated, Net Zero home in the New Jersey shore town of Spring Lake Heights, designed as a weekend retreat for a retired couple from Brooklyn, New York.
According to developers, the front of the modern Lang/St. Marie Residence blends into its well-established beach neighborhood in scale and appearance. The rear of the home is a fresh turn on modern living. A stunning 16-foot cantilever cuts strong horizontal lines across the landscape and creates a large covered outdoor space.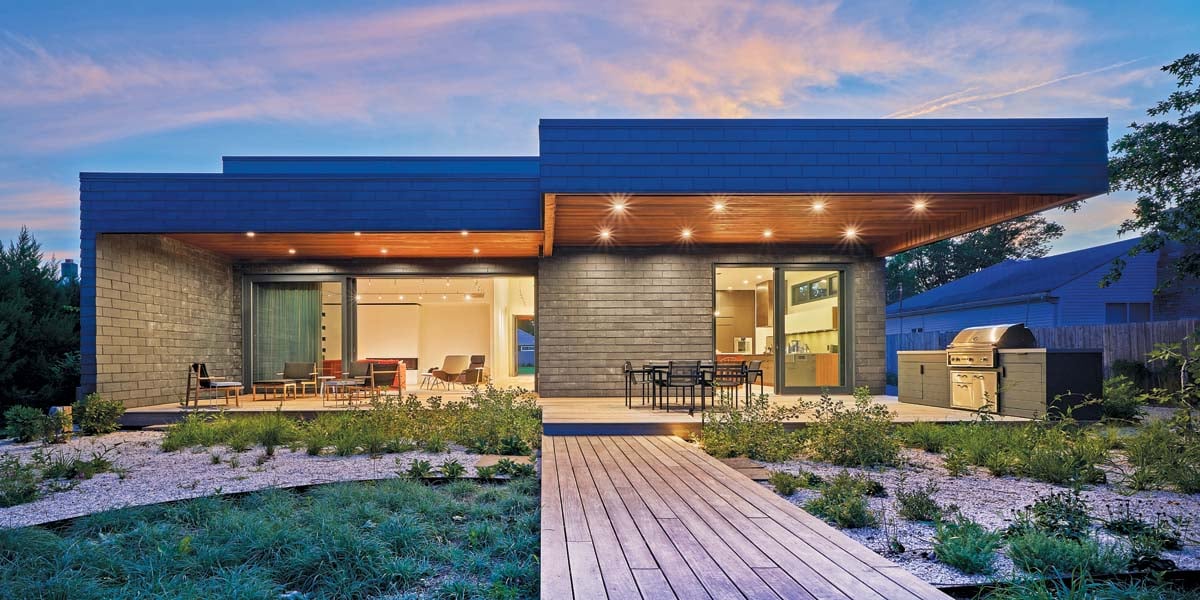 From the Judges:
"A beautifully designed modern home that pays respect to the local environment. [There's an] indoor/outdoor connection, and design details throughout."
Landscape architect Marsha Lea joined the project to create a breathtaking garden space as a backyard retreat. The relationship with the outdoors was of the utmost importance to the homeowners, she notes. A 10-foot-high by 25-foot-wide retractable glass wall unifies the rear of the home and the backyard.
Passive House developers, including builder Mark Hermann, owner of Hermann Construction, were employed in the home's design, resulting in low energy consumption for heating and cooling, and a cozy, healthy indoor environment. The high-performance triple pane windows allow for large expanses of glass. With the addition of a roof-mounted photovoltaic (PV) solar system, the home has achieved Net-Zero Building (NZB).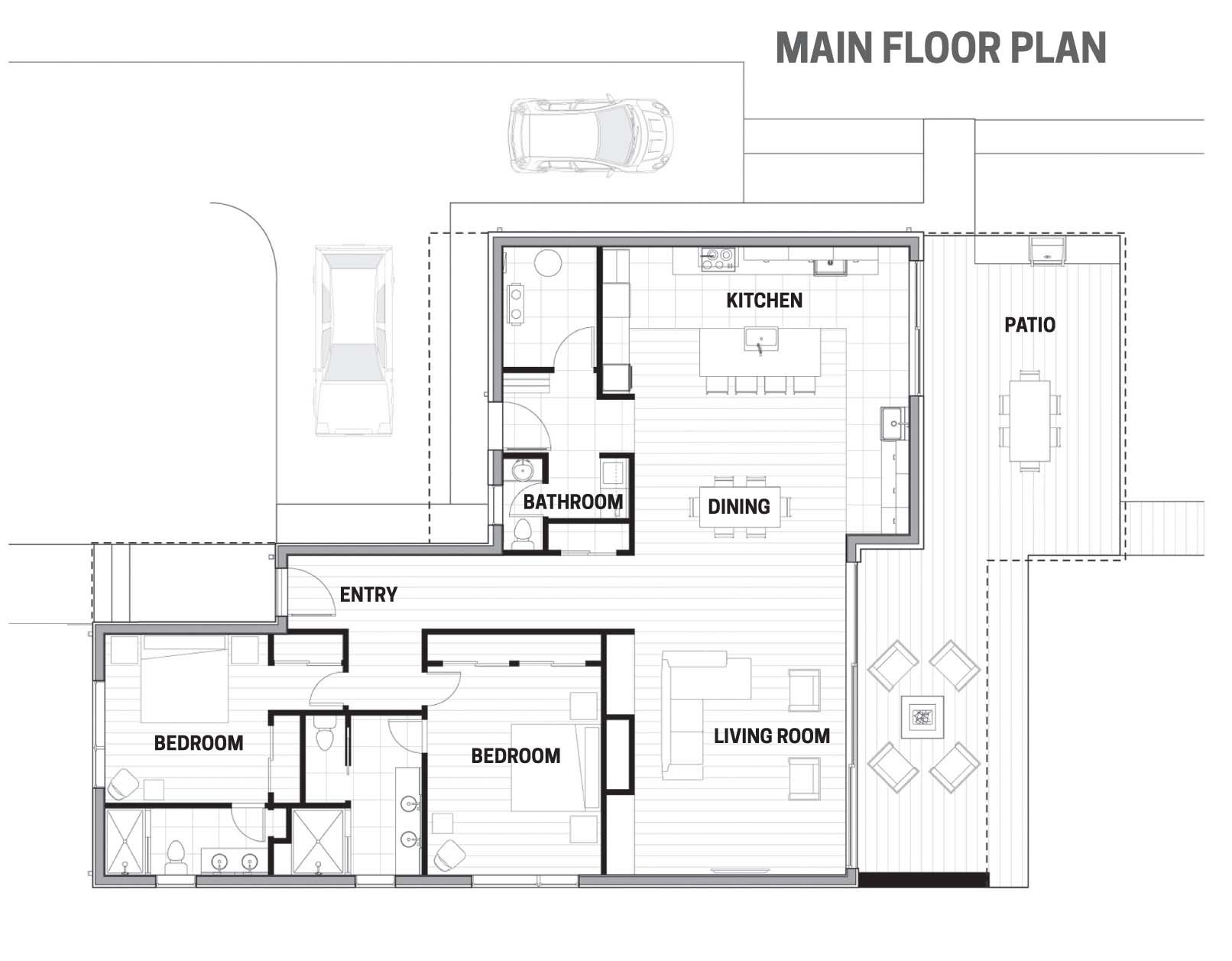 According to architect Richard Pedranti, this custom home was translated from existing building information modeling software into the machine language understood by robotic manufacturing systems. Using those instructions, the machines at the manufacturing facility created panelized wall assemblies for the home that were then transported from Maryland to New Jersey and assembled at the job site.
The aesthetic, application of building science, and off-site fabrication combine to make the Lang/St. Marie Residence the epitome of modern residential design, Pedranti notes. The home was built using Passive House building principles and building science strategies that create a comfortable, affordable, sustainable house with low energy consumption for heating and cooling.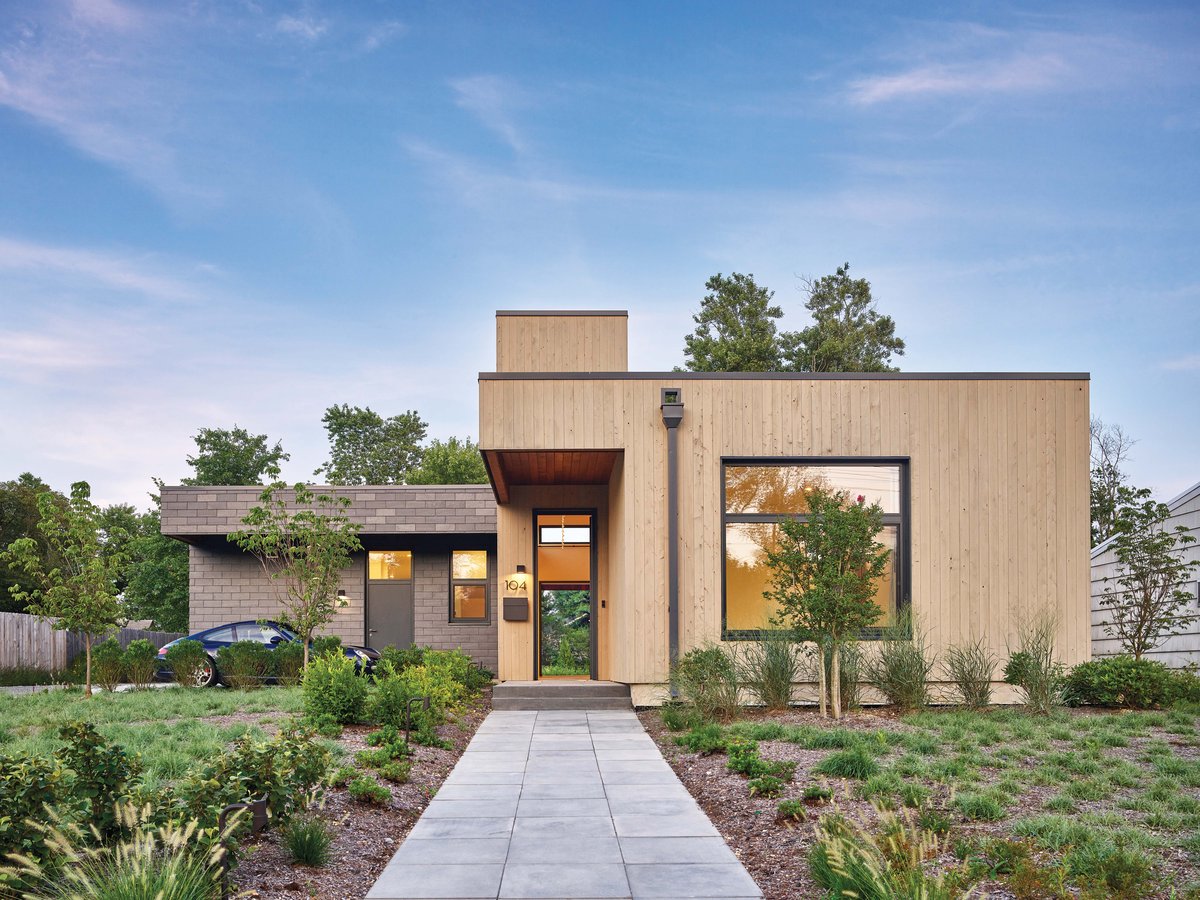 The entrance to the house is a perfect combination of walking stones and water-careful plants. Credit: Jeffrey Totaro
Sustainable building principles include higher levels of insulation, airtight construction, triple-pane windows, the use of a heat recovery ventilator, and passive solar orientation of the home on the building lot. These strategies allow the home to remain comfortable year-round without having a traditional heating, ventilation, and air conditioning (HVAC) system.
Lang/St. Marie requires less than half of the energy needed to heat and cool a typical American home, yet feels more comfortable, as drafts are eliminated and a stable temperature and fresh air quality is maintained throughout, Pedranti notes.
Pedranti adds that the unique combination of Passive House wall structures manufactured off-site illustrates what is possible in rapid and efficient creation of sustainable custom-designed homes. It allows for greater specialization than other prefab construction techniques, uses high-grade building materials and advanced manufacturing technologies in a controlled factory environment to create homes that expressly meet customer needs while saving both time and money.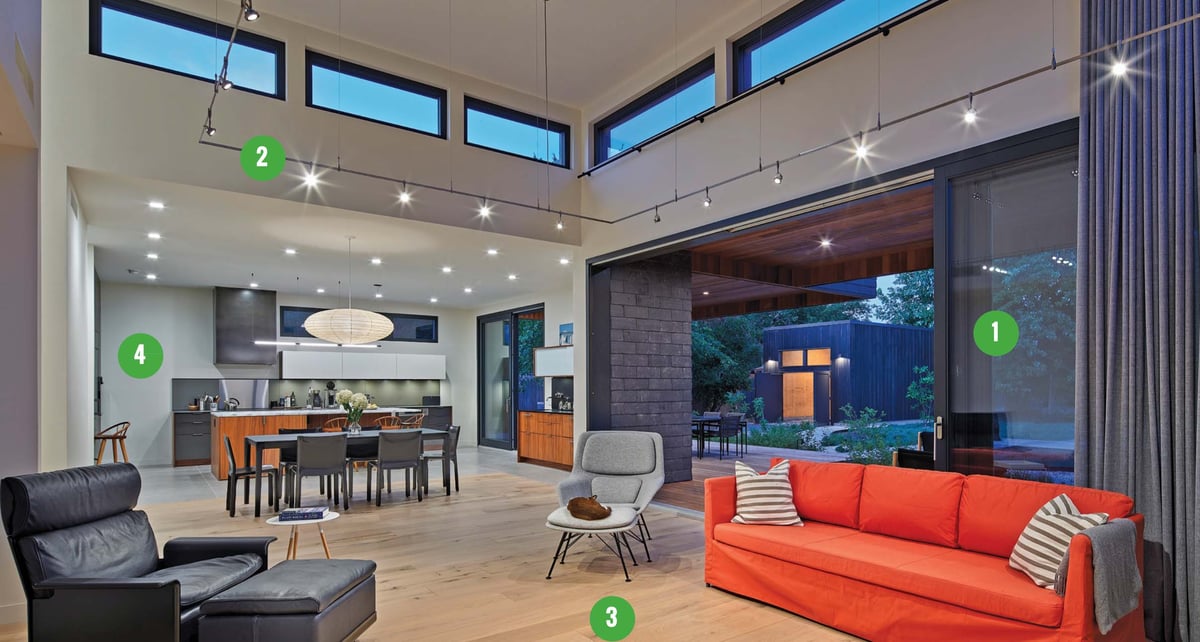 Advanced glazings. Triple-pane, aluminum-clad wood doors, and windows help keep the household temperature stable year-round.
Natural mix. Clerestory windows fill the open plan with light by day, while energy-efficient LEDs provide evening illumination.
Hardwood flooring. Renewable and durable, white oak flooring from The Hudson Company is sustainably harvested and sourced.
Low-VOC finishes. Use of low-VOC paints and adhesives reduce the indoor off-gassing load.
"The architect's work with us from the very start was both creative and collaborative," homeowner Theresa Lang says. "They took our wish list and transformed it into a beautiful design through a shared belief that functional passive house principles are consistent with a minimalist modern aesthetic."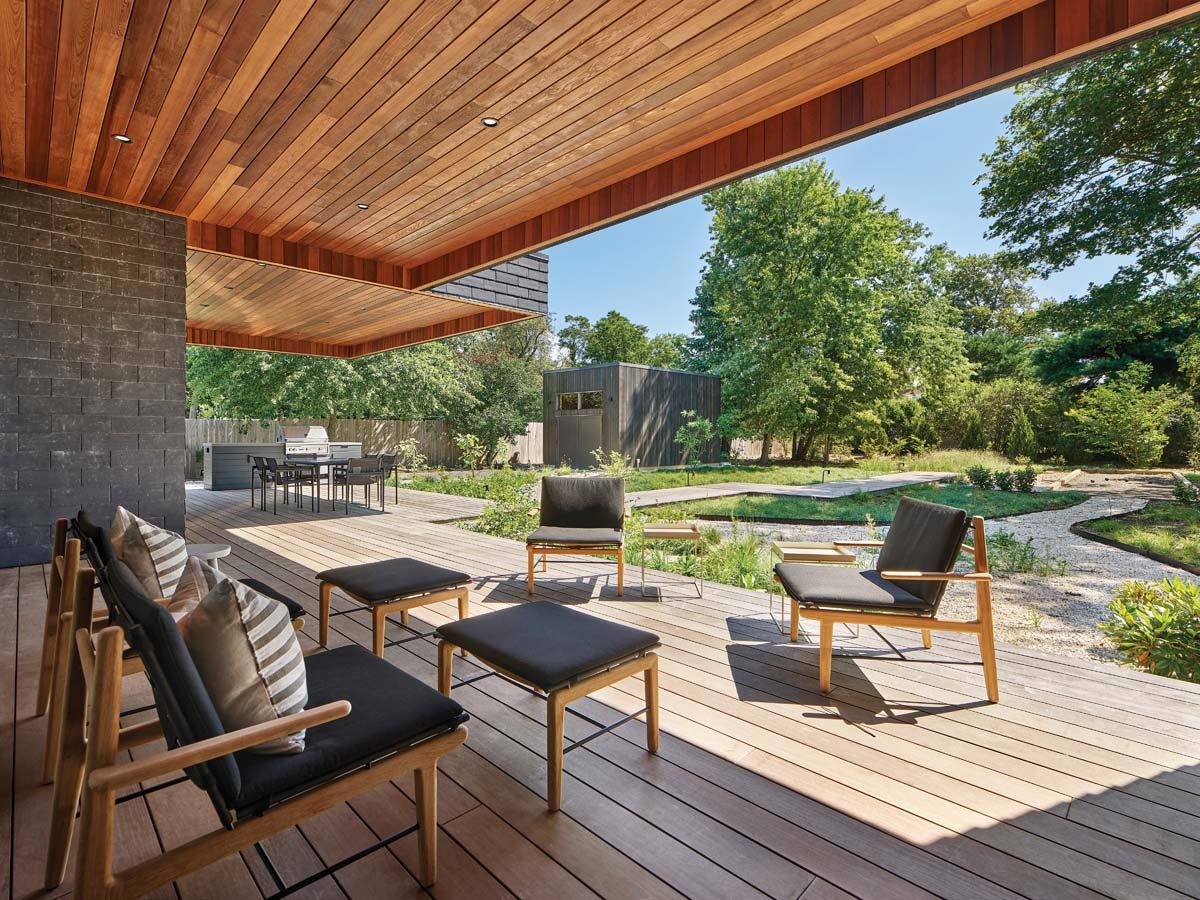 Decking made of FSC Certified cedar — known for its beauty, weather resistance, and bug-repelling qualities — is a key component in Lang/St. Marie's "at one with nature" design. Credit: Jeffrey Totaro
With improvements in technology and growing excitement from the architecture community, "It has become apparent that modern building science and beautiful design are not mutually exclusive," Pedranti says. "This bodes well for promoting sustainable principles and innovative building strategies to wider audiences and implementing them into a larger share of new and renovated residential design."
Project Stats
Name: Lang/St. Marie Residence, Spring Lakes Heights, N.J.
Builder: Mark Hermann, Hermann Construction
Architect/Designer: Richard Pedranti, Architect
Landscape Architect: Marsha Lea
Photographer: Jeffrey Totaro
Key Components
Alternative Building Systems: Offsite construction; panelized wall and roof systems by Blueprint Robotics; Aerobarrier air barrier system by Northeast Aerobarrier – 0.44ACH@50Pa
Appliances: Sub-Zero, Gaggenau, Wolf, Miele, RangeCraft custom hood
Building Envelope: Roof (Blueprint Robotics 18-inch TJI structure, CCSF, Zip roof sheathing, EPDM system with ISO tapered insulation to drain); Wall (Blueprint Robotics prefabricated 2-by-6 framed wall with dense-pack cellulose insulation, Zip R9 sheathing, furring, and siding)
Foundation: Frost protected shallow foundation –- 4-inch concrete slab with 6-inch sub-slab, Type 9 EPS insulation, and 4-foot EPS edge insulation
Cabinets, Shelves, Millwork: Henrybuilt (kitchen); Boffi (bathrooms)
Caulks and Sealants: Partel
Countertops: Henrybuilt
Decks: Cedar 1-by-6 with concealed fastener
Doors and Hardware: Flush Rift white oak; FSB hardware
Exterior Finishes: 1-by-6 T&G vertical white cedar siding; CUPACLAD slate shingle siding
Fireplace: Ortal 150 sealed combustion gas fireplace
Flooring: Hudson Flooring rift white oak
Furniture: Kroll, Ikea, Room and Board, Vitsoe Shelving
Garage Doors: Custom
Home Controls: Lutron
HVAC/Ducts: Zehnder CA350 ERV and Mitsubishi ductless minisplit; Electro Industries make-up air kit.
Insulation: Roof (CCSF in joist cavity, ISO tapered insulation to drain on roof deck under EPDM); Wall (dense-pack cellulose insulation, Zip R9 sheathing); Foundation (6-inch Type 9 expanded polystyrene [EPS])
Landscaping: Landscaping by Marsha Lea. Includes boardwalk, bocce court, parking court paving
Lighting: Lutron lighting controls; Tech Lighting pendant track in living room
Paints and Stains: Benjamin Moore zero VOC Aura Interior Paint
Pavers: Cobblestone
Plumbing/Plumbing Fixtures: Julien, Dornbracht, Evolution Excel, Fantini, Toto
Renewable Energy Systems: 7.5 KW roof-mounted photovoltaic (PV) system.
Roof: EPDM roofing
Structural Components: Open web roof trusses with glulam beams; 2-by-6 wall framing
Telecommunications: Lutron
Ventilation: Balanced ventilation using Zehnder CA350 ERV
Water Heating: Rheem HWHP-Marathon
Water Management (indoor/outdoor): On-site
Windows, Skylights, Patio Doors: Bildau & Bussmann triple-pane, aluminum-clad wood doors and windows
Apr 21, 2021 3:00:00 PM · 4 min read
---

Veteran journalist Matt Power has reported on innovation and sustainability in housing for nearly three decades. An award-winning writer, editor, and filmmaker, he has a long history of asking hard questions and adding depth and context as he unfolds complex issues.