Sanitizing Lamp in Bathroom Vent Fan Targets Mold and Bacteria Growth

Matt Power, Editor-In-Chief
2 min read
Broan's new bath fan, designed for in-room replacement, marks an innovative first: preventing mold and bacteria with light.
A decade or more ago (how time slips by), I wrote an article titled "Building Blind," about the many building products in a home that don't last as long as they should. Near the top of my ledger of shame were tile shower enclosures.
Once a tile shower is completed, and the contractor coats the grout with waterproofing silicone for the first and probably the last time. But grout is cementitious. It absorbs water, unless it is recoated every year or so. Homeowners rarely if ever do this. So mold grows. Mildew forms. Grout turns black. Homeowners panic and tear the whole thing out and start over. Tiles that should last 300 years are tossed in the landfill at less than seven years old.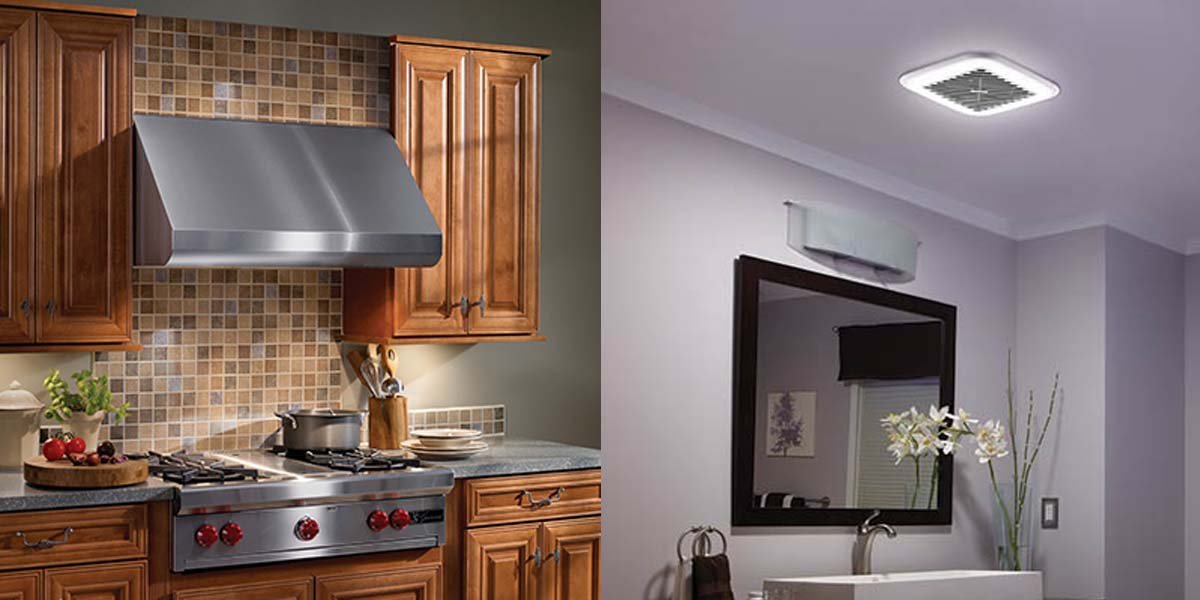 Airflow and Light: Double Defense
Up until now, the best way to halt this wasteful cycle, short of scheduled, yearly visits to seal the tile grout, is to remove humidity from the bath quickly. Bath fans, if used regularly, accomplish this, but grout can still become saturated and provide mold a foothold. The introduction of a mold-killing light to the ceiling unit chassis is a natural evolution.
Lauren Weigel, senior product director for Broan-NuTone, says the company just released its Broan SurfaceShield Vital Vio Powered Exhaust Fan because they saw a need for greater sanitation in bathrooms. The fan contains two lights, a standard 3500K LED for illumination, and a second antibacterial lamp. Either can be operated independently.
"It's a near-UV wavelength lamp," Weigel explains. "Normal UV can be harmful to the skin, so we kept it in a safe range for people. It will kill mold and bacteria, but not viruses at this point," she notes. It should be noted that Broan-NuTone also offers a LED upgrade grille cover and light module that allow you to upgrade an existing LED to a SurfaceShield LED.
Retrofit-Friendly Installation
Broan introduced the unit just a few months ago, at the Vegas builder show. It's been designed for "in-room" installation.
"We've designed it so you don't have to crawl around in an attic to install it," Weigel adds. "You can do everything from inside the room. If you have an older, existing fan that's moving 50-70 cfm, but noisy and energy inefficient, this fan can go in the same spot. You cut a slightly larger hole in the ceiling and slide the fan housing in. The duct assembly can be easily attached from inside the housing, no attic access required."
The 110 cfm unit can also be installed piecemeal. In other words, you can install just the fan, or just the LED light, or just the bright white, louver-free grille.
Lamp and Timer Upgrade Ready
One question sure to come up in this time of the COVID-19 pandemic is whether the light in this unit will kill the virus. The answer is no, but with a caveat. To my knowledge there is no commercial virus-killing ceiling unit for baths available, but the technology may be ready for the marketplace soon. Research is promising on far-ultraviolet C (far-UVC) light, a high frequency UV light said to be safe for humans.
Another question buyers may have is whether the unit can be integrated with timers and sensors. According to Broan-NuTone's tech department, it can be wired to work with the company's DH100W Dehumidistat wall control.
In any case, the smart, modular design of the AR110LVV means that Broan can easily develop a module that will slide into the installed fan unit, incorporating whatever lamp, sensor or other device is on the cutting edge, for years to come.
Apr 14, 2020 6:27:11 AM · 2 min read
---

Veteran journalist Matt Power has reported on innovation and sustainability in housing for nearly three decades. An award-winning writer, editor, and filmmaker, he has a long history of asking hard questions and adding depth and context as he unfolds complex issues.