Rid Your Air of COVID

Sara Gutterman
2 min read
With surging consumer demand for healthy home solutions, manufacturers are racing to develop innovative technologies that improve indoor air quality. One HVAC company, Carrier, has stepped up with a whole-home filtration system that inactivates 99 percent of coronavirus particles that are trapped on the filter.
According to COGNITION Smart Data , Green Builder Media's suite of market intelligence services, interest in healthy homes has mushroomed over the past year as COVID has unveiled the ugly reality that viruses, bacteria, and other undesirable particles are transferrable through the air.
Since the onset of the pandemic, homeowners have become hyper-focused on improving indoor air quality (IAQ) and cleaning their homes to help keep their families safe.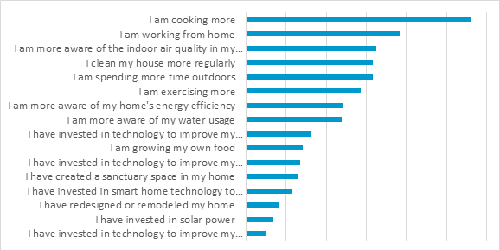 In fact, 92 percent of Green Builder Media's consumer readers indicate that they consider having good indoor quality extremely important or very important, and they deem healthy home considerations to be as vital as location when making homebuying decisions.
Manufacturers are scrambling to keep up with the demand for products and technologies that solve for indoor air quality. HVAC system manufacturer Carrier rose to the challenge, developing a whole-home air purifier that offers comprehensive IAQ protection for homeowners.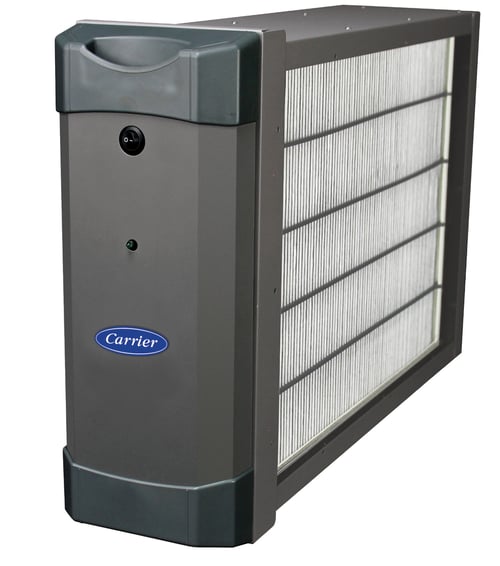 Carrier's Infinity Air Purifier inactivates 99 percent of coronavirus particles trapped on the filter as well as other select airborne viruses and bacteria.
Rigorous testing by the University of Colorado's Department of Civil, Environmental and Architectural Engineering Department and other third-party organizations confirmed that Carrier's Infinity air purifier inactivates 99 percent of coronavirus particles captured on the filter, and it is similarly effective for other airborne viruses and bacteria associated with the common cold, strep throat, and the flu.
To achieve its impressive results, the Infinity air purifier creates a "cloud" of electrically charged ions that attach themselves to airborne dust, pollen, viruses, germs and other particles as they pass through.
The ionized particles are pulled toward an oppositely charged, pleated MERV 15 rated filter and captured at an extremely high rate, similar to how a magnet attracts metal shavings.
The captured airborne microbes remain on the pleated filter instead of recirculating back into the home and are subjected to an intense electric field. There, 99% of select viruses and bacteria are inactivated.
"This technology offers homeowners a healthier indoor environment," says Ann Matheis, Associate Director, Brand Marketing at Carrier Corporation. "Families can have added peace of mind that their loved ones are breathing cleaner, filtered air."
The Infinity air purifier, part of Carrier's suite of Healthy Homes solutions, can be integrated into most forced-air HVAC systems.
Jan 14, 2021 8:30:00 AM · 2 min read
---

As cofounder and CEO of Green Builder Media, Sara is a visionary thought leader and passionate advocate for sustainability. A former venture capitalist, she has participated in the life cycle (from funding to exit) of over 20 companies, with an emphasis on combining sustainability and profitability. She lives in Lake City, Colo., with her husband, where she is an avid long-distance runner, snowboarder, and Crossfit trainer. She is also on the Board of Directors at Dvele, runs the Rural Segment for Energize Colorado, and is a former County Commissioner.