Ready for a Dose of Inspiration?

Sara Gutterman
2 min read
Life flies by at breakneck speed and it's easy to feel overwhelmed. Take a moment to refresh your enthusiasm and reinforce your commitment by listening to the recorded sessions from the Sustainability Symposium 2023.
Green Builder Media recently hosted our seventh annual Sustainability Symposium 2023: The Great Conversion, considered to be one of the most interesting and innovative sustainability events of the year.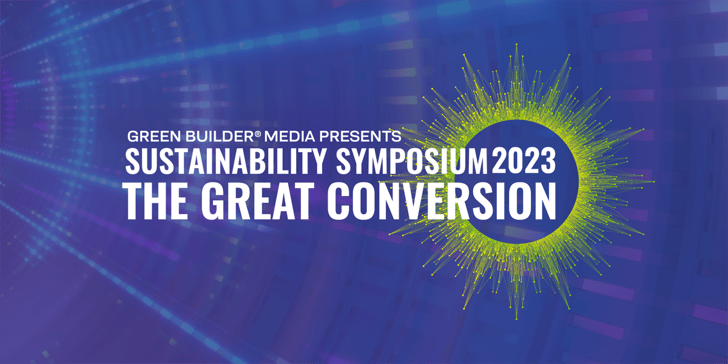 During the Sustainability Symposium 2023, we explored innovative ideas for curbing climate change and delved into specific solutions that will enable us to build life-giving, regenerative, circular economies.
Our illustrious presenters investigated the shifting dynamics of a decarbonization economy, what it means to electrify everything, the ESG imperative, and the transition from an economy that focuses solely on profitability to one that successfully values and incorporates sustainability, environmental stewardship, and social justice.
If you weren't able to tune in the whole time (or at all), don't fret! You can check out the recorded sessions to glean all of the invaluable insight and information you need to continue your quest for enhanced sustainability in your personal and professional life.
Here is an overview of the sessions:
These sessions helped me gain some much-needed perspective, bolstered my faith in human resiliency, and strengthened my resolve that we can solve for the challenges of our time. I hope that the sessions revitalize you in the same way.
One last special thanks to our sponsors, Trane Technologies and Whirlpool Corporation, for their generous support of the Sustainability Symposium 2023: The Great Conversion.
We look forward to seeing you at the Sustainability Symposium 2024!
May 4, 2023 12:09:23 PM · 2 min read
---

As cofounder and CEO of Green Builder Media, Sara is a visionary thought leader and passionate advocate for sustainability. A former venture capitalist, she has participated in the life cycle (from funding to exit) of over 20 companies, with an emphasis on combining sustainability and profitability. She lives in Lake City, Colo., with her husband, where she is an avid long-distance runner, snowboarder, and Crossfit trainer. She is also on the Board of Directors at Dvele, runs the Rural Segment for Energize Colorado, and is a former County Commissioner.