Kitchen Remodel: From Mood Board to Reality

Cati O'Keefe
3 min read
The deft work of an architect–interior design team is transforming this dated kitchen and prep area into a sophisticated entertainer's dream.
It's not that the kitchen in the existing house Tiana Cooper bought was beastly. Someone had clearly put time, effort, and expense into it a few decades previously (not to mention an extra heaping of brown). But the longer Cooper lived in the house, the more the heavy stonework, inconsistently performing appliances and chopped-up visual flow bugged her.
ReVISION House Austin Project
Spotlight: Design
Homeowner: Tiana Cooper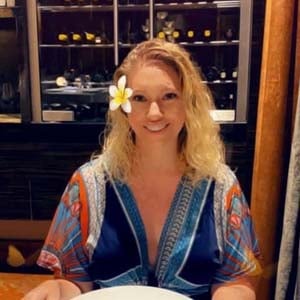 Architect: Chris Cernoch, the principal of Studio C² Architecture + Planning, a residential and commercial architectural studio
Interior Design: Lori Michalek, principal of Michalek Designs, a residential and commercial interior design firm
Featured products: Signature Kitchen Suite full line of appliances, LX Hausys countertops, BOCCHI sinks and Mohawk flooring.
"I had been deciding between buying a new house or renovating an existing one," Tiana explains. "While it would have been great to have a brand new kitchen right away, I picked this older house because it had land for gardening (and) my dogs, and so I can eventually have rescue horses." She figured the interior could be reimagined as a sustainable modern living space with help from an architect and an interior designer.
Cooper joined forces with Green Builder Media to layer sustainability into the remodeling mix, and the ReVISION House Austin came to life. She enlisted the design expertise of Chris Cernoch, principal of Studio C² Architecture + Planning, and Lori Michalek, principal of Michalek Designs, for a complete interior redesign.
Following the client's lead, the design duo placed a strong emphasis on the kitchen renovation, particularly how the room connects and flows with the rest of the house. In a unique co-opting of space, the team transformed a spare bedroom into a large super-functional pantry area. This allows the busy influencer to showcase glamor in the kitchen and leave messes behind closed doors.
Here, the design team walks us through the choices Cooper made for the kitchen so far, and shares how she has taken the job requirements and created a brand new floorplan. Follow the ReVISION House Austin project to watch as the build takes shape over the next few months.
Click images for versions that can be enlarged for closer viewing.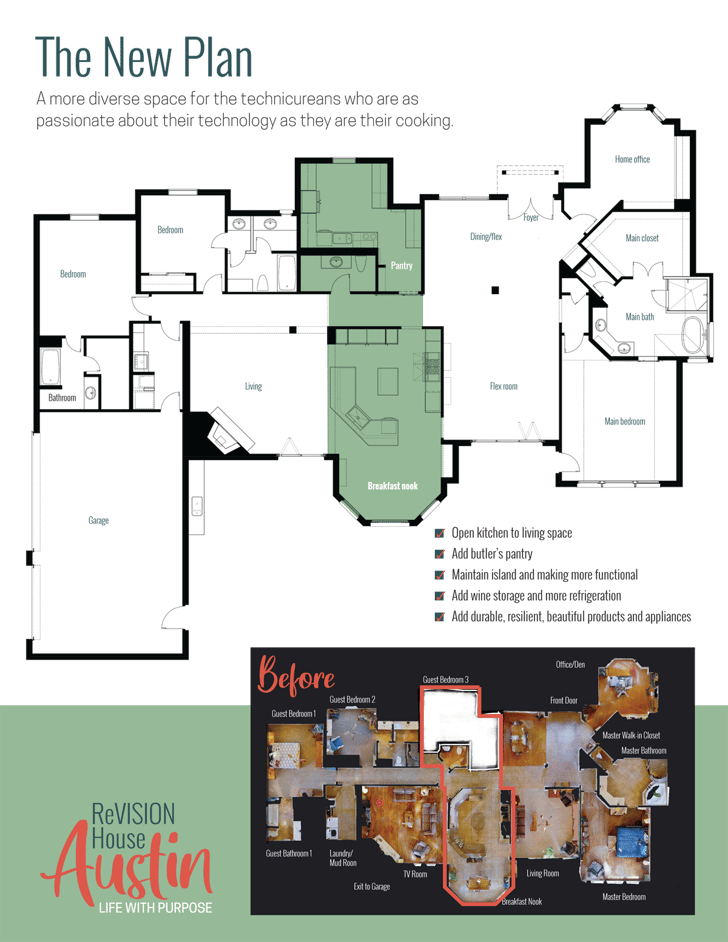 The Kitchen Rules
"When we first met with Tiana, we walked through the house to get a feel for it," says Cernoch. "There were dated columns and arches everywhere. She shared her Pinterest mood boards to give us design ideas, which always helps."
The overall vibe requested by Cooper was: Bring in light and open things up.
Michalek considered the mood boards as she started making selections. "She likes modern farmhouse and contemporary. I am pushing to take it more contemporary with finishes."
Both Cernoch and Michalek call the kitchen the star of the show. Major design changes include removal of a wall and a heavy stone archway over the stove, replacement of the cabinets and flooring, and the addition of a new suite of stainless appliances appropriate for "technicureans"—foodies who love the latest cooking and preservation innovations.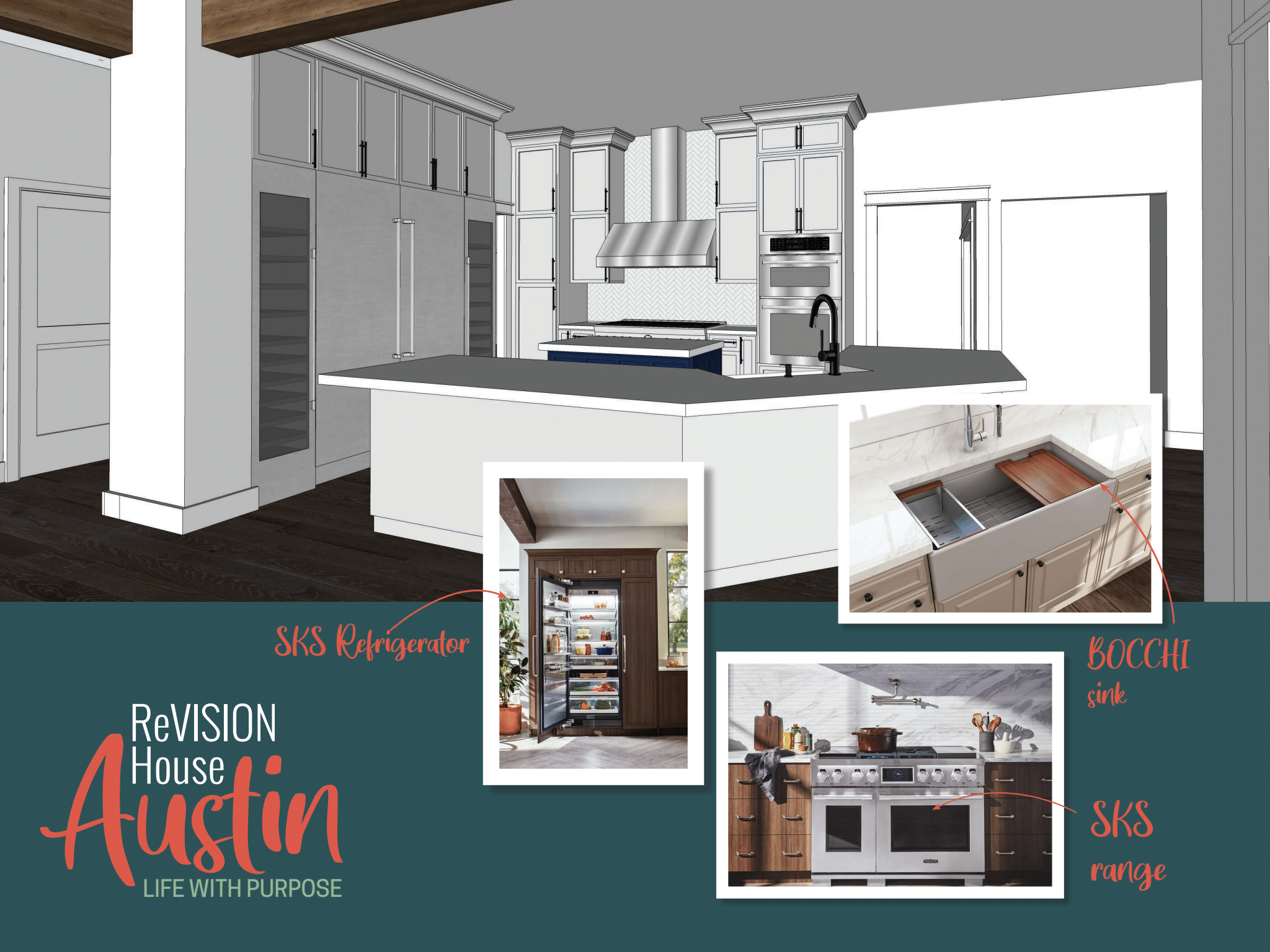 Place to Chill
Following is a breakdown of the kitchen redesign. It started with rethinking space. Where there was once an angled closed-up kitchen wall, there is now an open view to the living room, and more light.
Cernoch replaced the single refrigerator in that space with a wall of high-end cooling: The Signature Kitchen Suite 30-inch Integrated Column Refrigerator and Freezer are flanked by two 18-inch Integrated Wine Column Refrigerators. Rounding out the team's decision to coordinate with all SKS stainless products is the 24-inch PowerSteam Stainless Steel Dishwasher.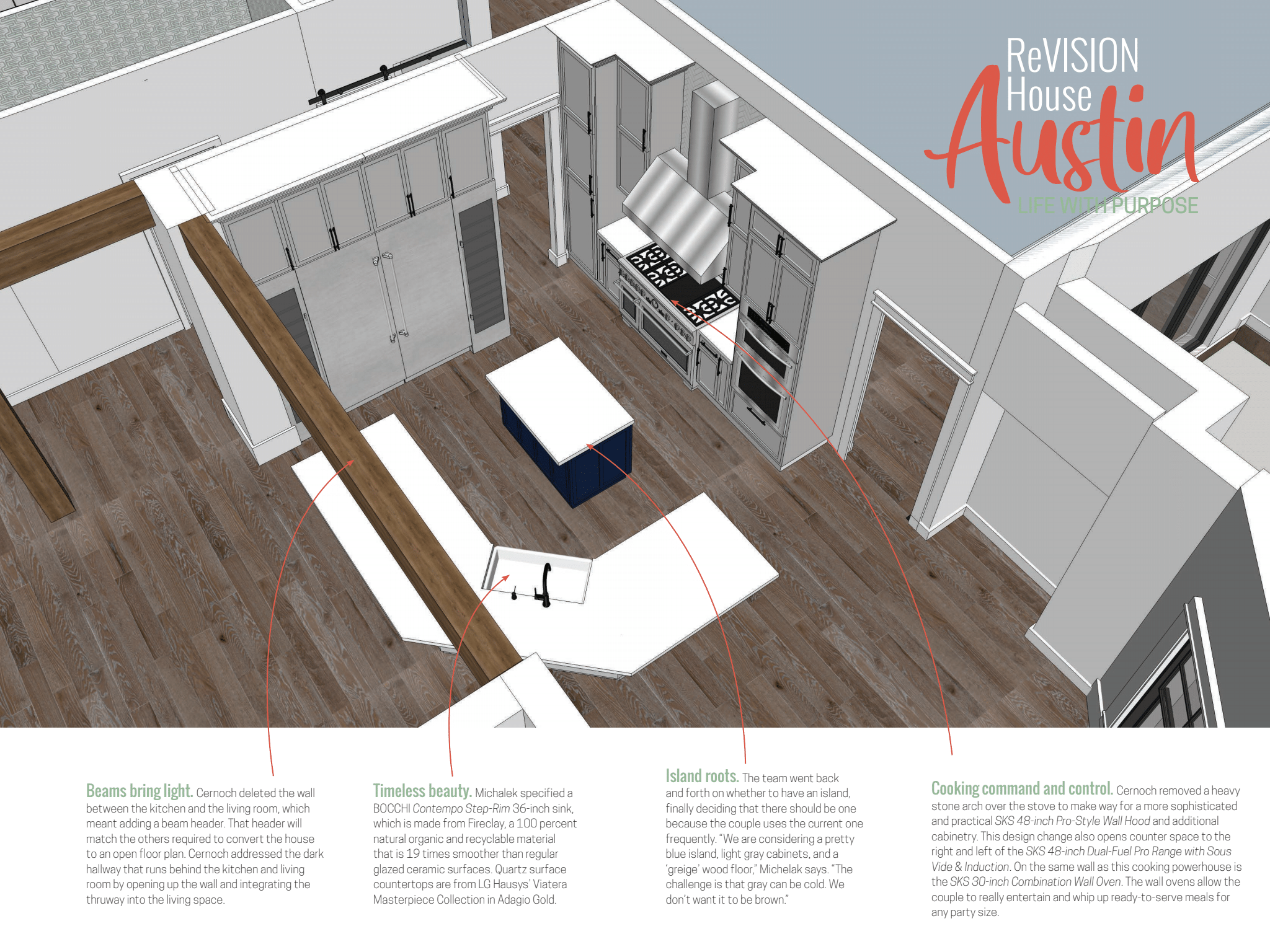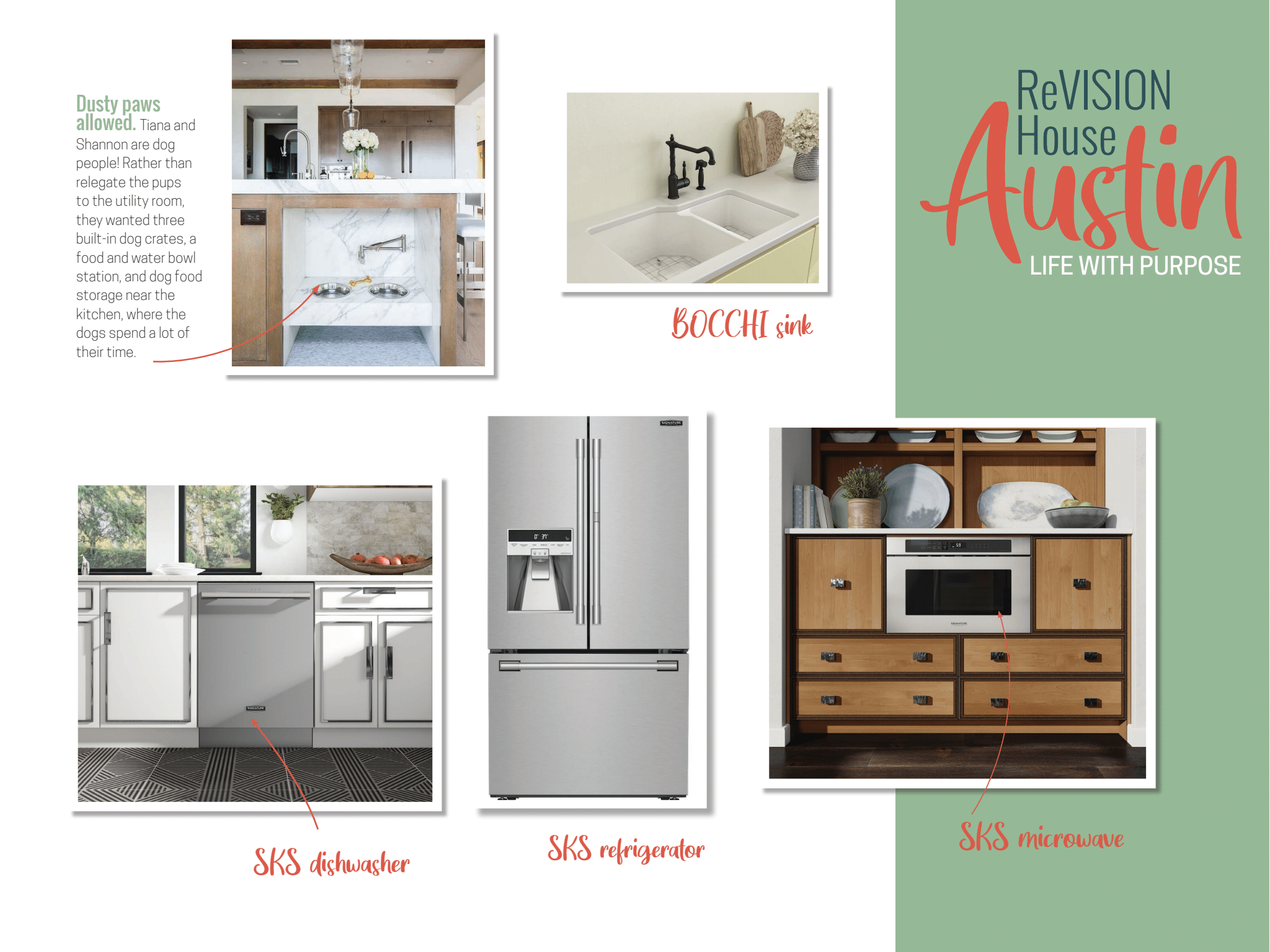 Picks In the Works!
While Cernoch is finalizing the layout, Michalek has presented her with choices for tile (they are considering a chevron layout for the backsplash), flooring, cabinetry colors, island color and wall color.
Currently, they are huddled over a slew of just-on-the-market options from Mohawk for flooring for the whole house. This includes the ultimate in performance hardwood, Ultrawood in Ember Oaks, which is slated for the kitchen. Stay tuned for Cooper's final color choices in the November/December issue, where the final kitchen will be featured.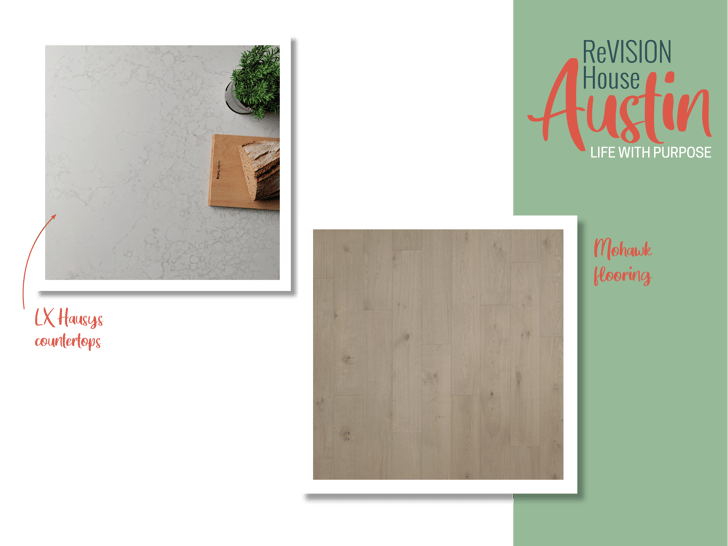 Butler's Pantry Redux
Not many people opt to turn a spare bedroom into a pantry, but in the layout of this house, the little-used room was appropriately located to make a big difference in the functionality of the main kitchen.
"I really need a space to keep things like the mixer, microwave, and extra refrigerator storage without taking up room in the kitchen," Tiana says. "Plus, when I'm filming cooking videos, honestly, I can be pretty messy!"
Cernoch redesigned the room to handle multiple functions, from dog crates to built-in trashcans to kitchen prep. "There was lots of stuff to cram in here," she admits. Cernoch also had to align the door with the kitchen entrance for seamless dashes between rooms.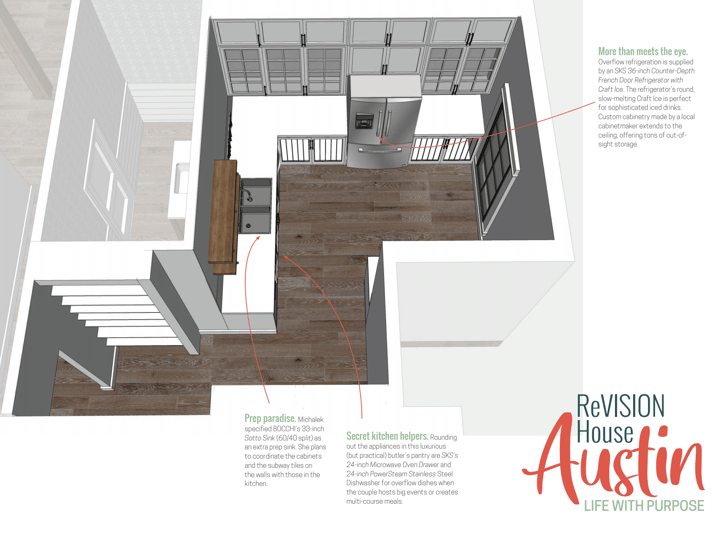 Aug 24, 2021 11:31:58 AM · 3 min read
---

Cati O'Keefe is the editorial director of Green Builder Media. She has 25 years of experience reporting and writing on all aspects of residential housing, building and energy codes, green building, and sustainability.