Just In: The 2023 Homeowner's Handbook of Green Building & Remodeling!

Cati O'Keefe
1 min read
Whether you're buying new or renovating, this ebook has everything you need to know about smart green lifestyle and product choices for your home.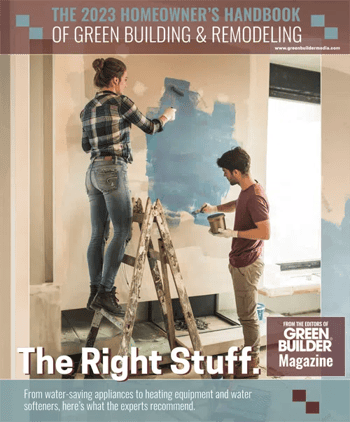 "This new handbook can help you make informed choices to improve your home's ecological IQ," says book editor Matt Power, Editor-in-Chief of Green Builder magazine. "For the best results, start with the big stuff."
And so starts the book, which takes the reader on a Point A to Point B path through a house, emphasizing which options, products, and lifestyle choices will net the most comfortable and environmentally friendly house.
It includes sections like:
Which renovations to an older home offer the best sustainable return.
Highlighted products chosen by Green Builder editors help you avoid greenwashing.
The important (and cool) role of "castoffs" in any green home.
10 ways to squeeze every kilowatt out of your kitchen's efficiency.
Solutions for short-lived appliances.
Which home energy hacks actually work.
In one easy to understand ebook, you get a complete overview of what to consider when buying a green home or renovating one to become your new eco home. Download for free and enjoy!
---
Publisher's Note: This content is made possible by our Today's Homeowner Campaign Sponsors. These companies take sustainability seriously, in both their products and their operations. Learn more about building and buying homes that are more affordable and less resource intensive.
Jul 7, 2023 10:53:08 AM · 1 min read
---

Cati O'Keefe is the editorial director of Green Builder Media. She has 25 years of experience reporting and writing on all aspects of residential housing, building and energy codes, green building, and sustainability.