Inside Out: Outdoor Living Space Trends

Sara Gutterman
6 min read
Homeowners have enhanced their outdoor living areas at record rates during COVID-19. Expect that trend to continue.
The pandemic has forced consumers to cut back on discretionary activities such as dining out, recreation and travel, and spend more time at home. As a result, for many people it's been the perfect time to tackle home improvement projects that they've eyed for months, if not years.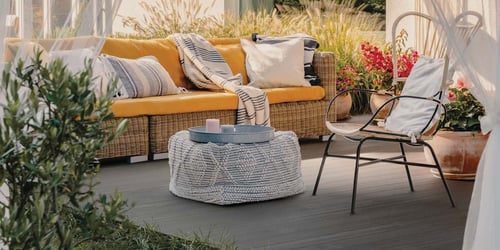 Fiberon's closed-loop manufacturing process reuses almost all of the water needed, and nearly any waste the method generates. Courtesy Fiberon
According to COGNITION Smart Data, Green Builder Media's market intelligence division, remodeling projects rose by 75 percent in 2020, with homeowners spending an average of $17,140 (up from $12,000 in 2019).
Outdoor living projects have commanded the lion's share of those dollars, as COVID-19 amplified the desire to connect with nature, and as homeowners have relied on outdoor spaces to gather safely with loved ones. Leading the charge? Decking projects. Homeowners are building new decks and replacing old ones to make them attractive spaces for entertaining, working and relaxing.
According to Patrick Barnds, senior vice president of product management at The AZEK Company, contractor-based decking projects were bigger and more elaborate over the past year, with multiple levels, covered spaces, cabanas and flex spaces. Meanwhile, do-it-yourself (DIY) projects have tended to be smaller but more personalized and unique. "DIYers are using more colors, patterns and widths than ever before to visually divide deck spaces," he observes.
Barnds says AZEK is seeing unprecedented demand for its composite decking products, as homeowners seek a combination of design, durability and sustainability.
"Many homeowners who are building new decks lean towards composite options because they are low maintenance and impervious to moisture, pests and [ultraviolet] damage," Barnds asserts. "We're also seeing an acceleration of wood conversion—homeowners replacing older wood decks with composites—not just because of performance and sustainability aspects, but also because they have more design options with composites."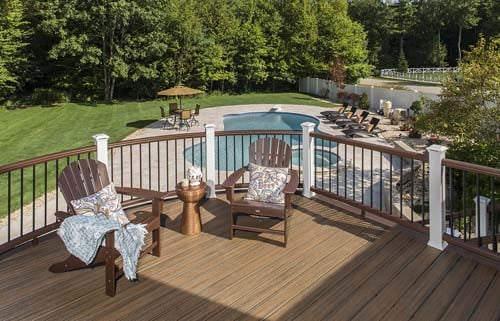 Because Trex constructs its decking using more than 95 percent recycled content, the company has never had to cut down trees. Courtesy Trex
Recycled Content Decking
Composite decking companies have established robust science-based recycling programs, through which they turn a wide spectrum of PVC products—such as siding, flooring, window components and piping—into composite decking and outdoor furniture.
The entire Trex decking portfolio, for example, is manufactured using more than 95 percent recycled content, including reclaimed industrial wood scraps and recycled plastic from common items such as shopping bags, newspaper sleeves and shrink wrap. The company reclaims and repurposes more than 800 million pounds of recycled plastic film and reclaimed wood fiber annually, and it is one of the largest recyclers of discarded plastic shopping bags and polyethylene film wrap in North America.
Trex claims that it keeps more than 400 million pounds of plastic and wood scrap out of landfills each year and that it has never felled a tree in the making of its products.
AZEK notes that it diverts roughly 400 million pounds of waste and scrap materials from landfills annually. At the company's recycling plants in Wilmington, Ohio, and Scranton, Pennsylvania, TimberTech—AZEK's decking division—converts hard-to-recycle materials that would traditionally end up in landfills into composite decking products. TimberTech also reuses up to 99 percent of internal scrap.
Not to be outdone, decking manufacturer Fiberon each year can tout that it protects more than 1 million trees from being cut down, recycles 100 million pounds of plastic into composite decking materials, and maintains closed-loop processes by reusing almost all of the water and waste used in its manufacturing process.
Personal Oasis: Outdoor Rooms
New decks are not the only way people are upgrading their backyard environments. A number of preferred changes follow an alfresco philosophy: Peace in the great outdoors. Trending alfresco living projects include:
Transition spaces that provide shelter from the elements through roof covers, screens, pergolas, gazebos, and awnings.
Intimate "sanctuary spaces" that offer peace and quiet for those much-needed reprieves.
Outdoor kitchens, entertainment systems and dining areas.
Integrated smart technology, like voice-enabled televisions, connected outdoor grills and appliances, and smart lighting.
Spaces that offer "flexible privacy," allowing homeowners to enjoy nature while screening out neighbors, roads and unappealing sight lines.
Rooftop gardens, balconies, terraces and integrated planters in urban settings.
Sustainable landscaping and edible gardens are also on the rise, driven by a marked interest in enhanced security and self-sufficiency during the pandemic. COGNITION data shows that homeowners are moving away from sweeping lawns with sprawling Kentucky bluegrass that require vast amounts of water and mowing, in favor of edible gardens that provide food security, water-saving native plants, and native greenspaces that offer refuge in concrete jungles. Urban dwellers are getting creative about finding ways to grow herbs and vegetables on small apartment patios or even bringing the garden inside with living walls and potted plants.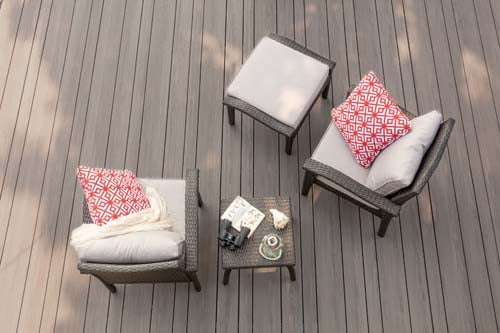 Homeowner demand for stylish, durable and sustainable composite decking, such as TimberTech's (shown), is at an all-time high due to the "stay at home" lockdown of the past year. Courtesy TimberTech
COVID-19 or no, there's good news for the landscaping industry: Investment in outdoor living is expected to continue through 2021 and into 2022, as homeowners recognize the true worth of outdoor spaces with respect to quality of life and resale value. This will be particularly true within the millennial and older Gen-Z audience segments, which are now the top housing influencers and are willing to spend more money on buying and remodeling homes than any other generation.
Download Green Builder 's Outdoor Living Guide for more ideas.
Seeds of Success
Sustainable landscapes are at the leading edge of outdoor design. Why wait?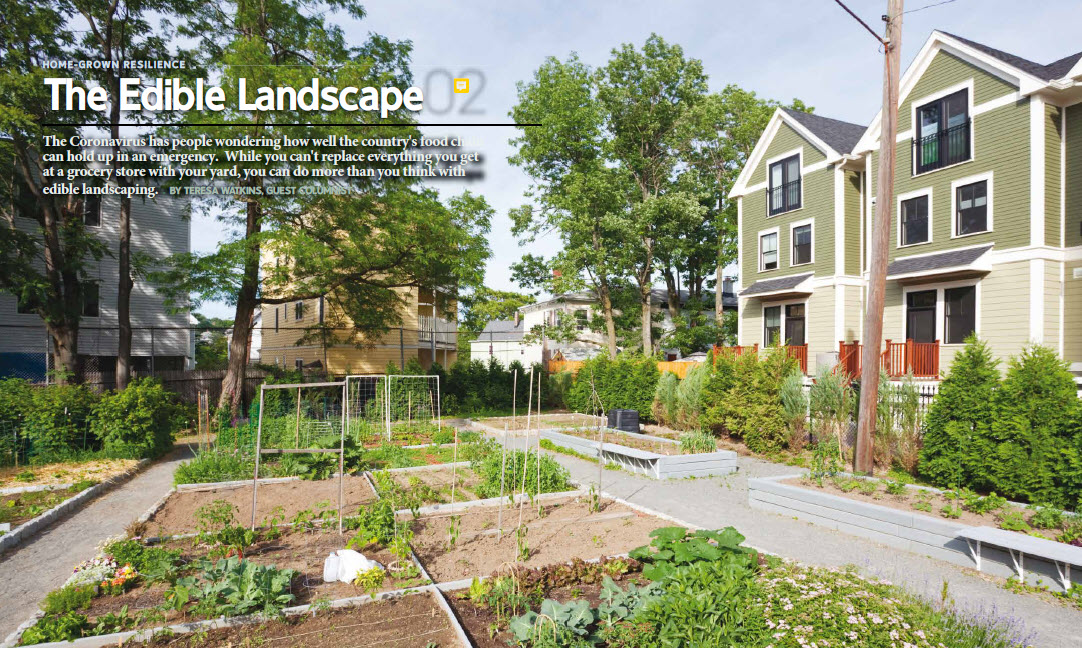 Between the desire to spend more quiet time outdoors, and the need to compensate for limited availability of food during the pandemic, sustainable landscapes became a fashionable item last year. Now, even with the COVID-19 crisis leveling off somewhat, there's no reason not to set that backyard garden in motion.
It's best to consider and incorporate edible components into a landscaping plan at the beginning of the design process. For new construction, site assessment before the home is started will determine if there are any species—especially natives—already on-site that can be incorporated into the landscape design, or moved properly and held off-site to be used in final stages.
Regardless of whether the project is new or a retrofit, budgeting for landscaping material, smart irrigation and installation costs should be determined up front, so that there is adequate funding for accents and special features.
When working with edible plant palettes and scheduling installation, it's essential to be flexible and understand the stresses of construction, timing, and probable delays, especially when species are out of season or are being grown from seeds.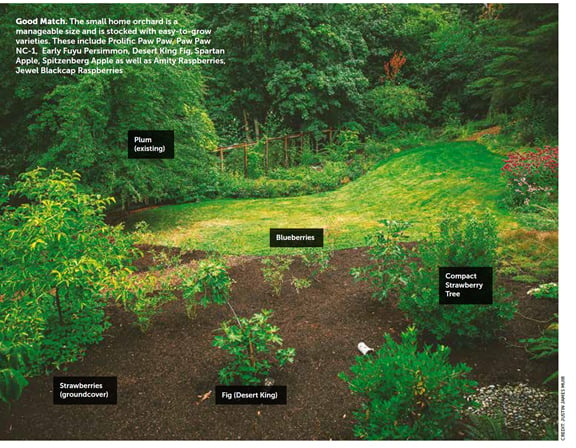 Site assessment is crucial to a bountiful edible landscape. Knowing the property's sunlight conditions and whether the plants need full or partial sun, morning or afternoon sun, or morning or afternoon shade, will determine specific plant selections that can grow and/or produce fruit on the property. Full shade—five hours or less of sun—will be a detriment to growing many fruits, herbs and vegetables.
Meanwhile, analyzing soil moisture conditions and pH are important to a plant's health and ability to absorb nutrients. Soil types vary tremendously, so in some cases, organic amendments such as mushroom compost can be added to help soil structure, increase fertility and aid with percolation or water retention.
Growing edible landscapes may require more nutrients to get a good harvest. Edible landscaping will also require average to above-average maintenance and water use, depending on the percentage of edibles used, normal rainfall and seasonal changes.
Best management practices, smart irrigation efforts such as Rachio's Thrive lawn care system, which monitors soil moisture and allocates water accordingly, and organic amendments and slow-release fertilizers, can give homeowners more fruits and vegetables, while also decreasing turfed areas' impact on stormwater runoff.
The Home Orchard
Keep these tips in mind when designing a home orchard that's a good match for personal skills, time and energy.
Plant for success. Research what varieties are commercially grown in the area, and match varieties for the region. Peaches are a good choice for central Texas, not for the Pacific Northwest coast.
Choose easy varieties. Species that produce well with little maintenance include common medlar (a bushy tree that produces an apple-like fruit), Asian persimmons, pawpaw, figs, cherries and some citrus varieties. Raspberries and blackberries are fairly easy to grow; blueberries require more care.
Keep it close. As with vegetable and herb gardens, the closer an orchard is to the house, the more likely it will be properly cared for.
Prune faithfully. Maintain a strong central leader form, and remove water sprouts and suckers each year. In general, semi-dwarf fruit trees are a good choice for their manageable size.
Maintain the orchard. This includes picking up ripe fruit that has fallen. If left on the ground, it can be a vector for diseases.
Keep records. Years down the road, it will be invaluable to have a record of what worked and what didn't.
Source: Fiddlehead LLC
Jun 25, 2021 3:11:01 PM · 6 min read
---

As cofounder and CEO of Green Builder Media, Sara is a visionary thought leader and passionate advocate for sustainability. A former venture capitalist, she has participated in the life cycle (from funding to exit) of over 20 companies, with an emphasis on combining sustainability and profitability. She lives in Lake City, Colo., with her husband, where she is an avid long-distance runner, snowboarder, and Crossfit trainer. She is also on the Board of Directors at Dvele, runs the Rural Segment for Energize Colorado, and is a former County Commissioner.