ICC and SEAOC Release New Seismic Design Manuals

Cati O'Keefe
1 min read
The new seismic design manuals have been updated to reference the 2018 IBC and are available in both PDF and a new eBook format.
The International Code Council and the Structural Engineers Association of California (SEAOC) have partnered to release a joint publication of the 2018 IBC SEAOC Structural/Seismic Design Manuals. The updated series provides a guided approach to applying the structural provisions of the 2018 International Building Code (IBC) and referenced standards.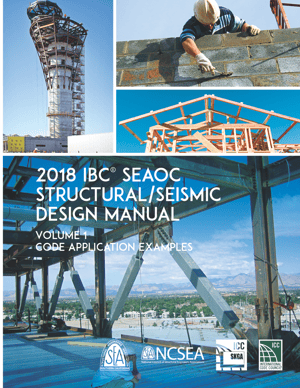 This updated, four-volume series includes:
Volume 1: Code Application Examples – Volume 1 contains code application examples based on the IBC and ASCE 7-16, including determination of seismic irregularities, combinations of structural systems, determination of drift, support of discontinuous systems and analysis of seismic forces applied to equipment, nonstructural elements and nonbuilding structures.
Volume 2: Examples for Light-Frame, Tilt-up and Masonry Buildings – Volume 2 contains code application examples of light-frame, tilt-up and masonry construction. Diaphragm flexibility, center of mass, collectors and chords, deflection and anchorage are discussed through examples. In- and out-of-plane seismic loads are analyzed.
Volume 3: Examples for Concrete Buildings – Volume 3 contains code application examples of concrete construction. Moment frames, braced frames and shear wall construction are analyzed.
Volume 4: Examples for Steel-Framed Buildings – Volume 4 details sample structures with steel moment frames or braced frames and steel connections.
The 2018 IBC SEAOC Structural/Seismic Design Manuals are available for purchase through the Code Council store individually or as a collection in both print and a new eBook format to use on any device. Code Council eBooks provide instant access to references and codes both online and offline with a full suite of study tools.
Visit www.iccsafe.org/ebook for more information.

Jul 20, 2020 9:23:13 AM · 1 min read
---

Cati O'Keefe is the editorial director of Green Builder Media. She has 25 years of experience reporting and writing on all aspects of residential housing, building and energy codes, green building, and sustainability.