How to Pick the Best Green Cabinets and Countertops

Matt Power, Editor-In-Chief
8 min read
From the incorporation of recycled materials to the use of non-toxic finishes, many makers of cabinets and countertops are finally offering truly green options.
Consumers interested in indoor air quality and resource management should know the origin of all cabinet materials, understand the finishes used, and know where the cabinets are manufactured. Obviously, local manufacturers should be chosen whenever possible to minimize fossil fuel emissions, not to mention freight costs.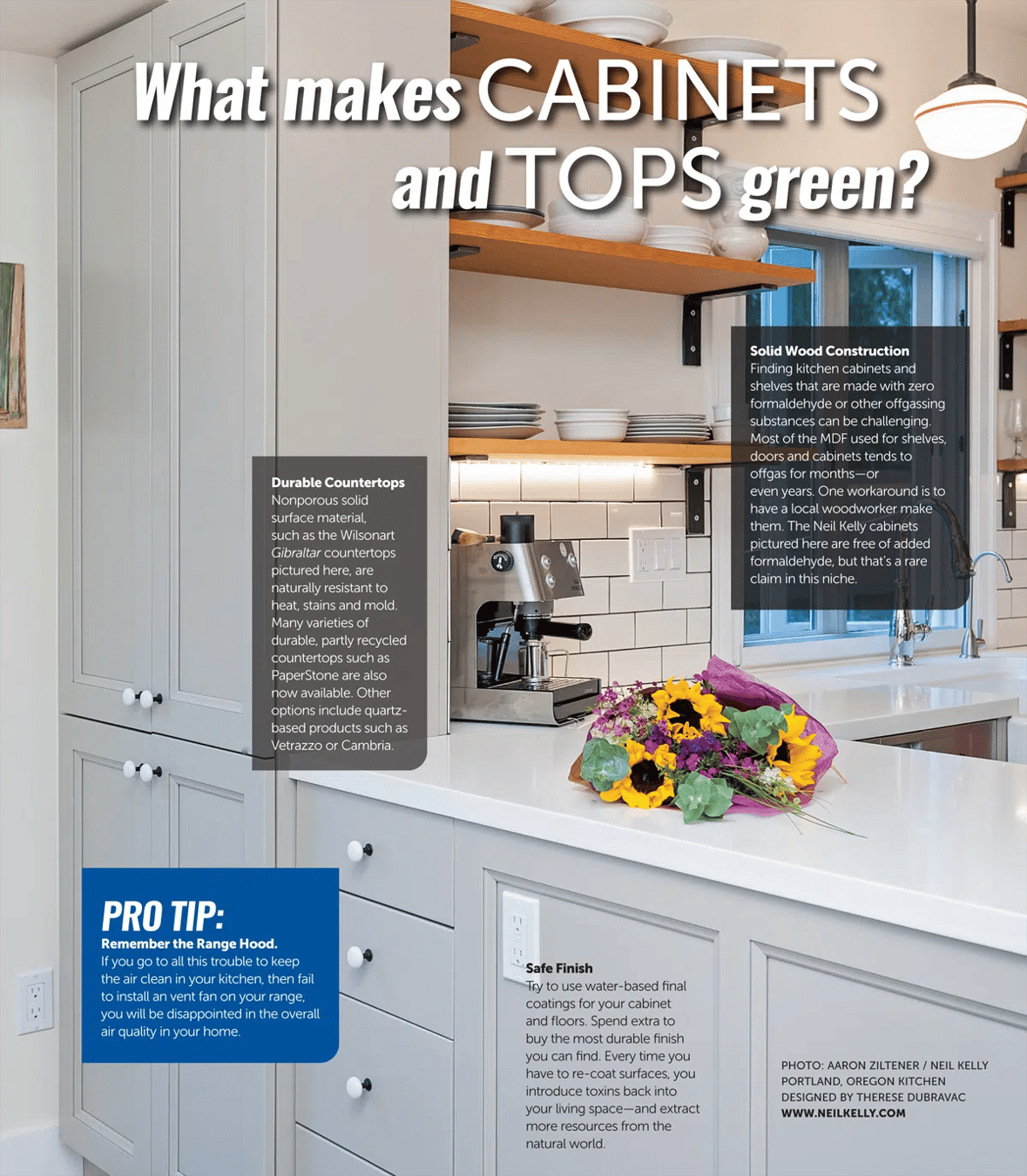 Is the Cabinet Formaldehyde-Free?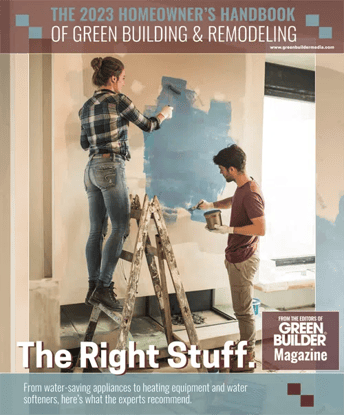 The number-one distinguishing feature of a green cabinet is that the box material is free of urea-formaldehyde. Urea-formaldehyde resins are used in conventional plywood and particleboard adhesives and can off-gas formaldehyde gas, a carcinogen, into homes.
Formaldehyde gas can affect people in various ways, but when present in the air at levels at or above 0.1 ppm, acute health effects can include watery eyes, nausea, coughing, chest tightness, wheezing, skin rashes, and burning sensations in the eyes, nose, and throat.
A few manufacturers have addressed the formaldehyde issue, such as Columbia Forest Products, a manufacturer of hardwood plywood and hardwood veneer, which has replaced formaldehyde with a soy-based protein binder—and at no upcharge. But most popular cabinet brands still contain formaldehyde (albeit in smaller quantities) or other chemicals that offgas into living spaces.
Ikea, for example, has an often undeserved green reputation, but if you read the fine print, they're still producing products with formaldehyde. Internet forums are full of complaints about chemical odors from Ikea products.
One problem is that the most mainstream cabinet companies that make an effort toward sustainability adopt the Kitchen Cabinet Manufacturers Association's (KCMA) industry-backed Environmental Stewardship Program (ESP). As with any self-assessment tool, it's fairly weak in its requirements about formaldehyde.
Cabinets with what are deemed to be low levels of formaldehyde can still be stamped with their seal of approval. In our opinion, however, if you have chemical sensitivities, you may be disappointed with these products in your home. And these companies really have no excuse for not doing more.
How do we know that? Recently, Columbia Forest Products extensively researched the cost of using formaldehyde-free products in cabinetry. They found that in a $25,000 remodel of an average-sized kitchen, 15 panels of formaldehyde-free plywood would be used with an added cost of only $100.
So why don't more companies shift away from toxic adhesives? In part, because the bulk of what makes up most off-the-shelf cabinets consist of particleboard and MDF. These products require more binder (adhesive) than plywood to produce. The formaldehyde-free binders cost more and are simply less familiar to manufacturers than their chemical-intensive cousins.
So if you want formaldehyde-free MDF or particleboard, you end up paying a premium price.
If you care about indoor air quality, however, formaldehyde-free cabinet box materials should rank at the top of your health priorities. Fair warning though: Even if you hire a local cabinet maker to produce your healthy cabinets, you may have to choose the base materials, and price will definitely be a factor.
We recommend going with plywood boxes as a first choice, formaldehyde-free particleboard or MDF as a second choice. Another option is to use locally harvested dimensional lumber (real wood). Beetlekill pine is an excellent choice as is cedar, if you can find a local source.
If you do decide to use sheet stock for your cabinet boxes, consider the important differences between the two materials:
Particleboard and medium density fiberboard (MDF). On the "pro" side, most particleboard incorporates some recycled content. This makes the product less environmentally intense than plywood, but the quantity of recycled wood varies. The biggest drawback to these materials is that they are heavier and more fragile than plywood. They may crumble if exposed to water (such as a plumbing leak), so consider where and how they will be used. Will the space have high humidity? If so, you might have future durability problems.
Plywood. Opt for Forest Stewardship Council (FSC)–certified veneered plywood. The FSC is the primary accrediting agency for sustainably managed forestry operations. Plywood boxes require a greater initial investment but will perform better and for a longer time. FSC-certified plywood can be more expensive than non-certified wood, but it is assured to be from a sustainably harvested source.
Cabinet Doors: Know Your Wood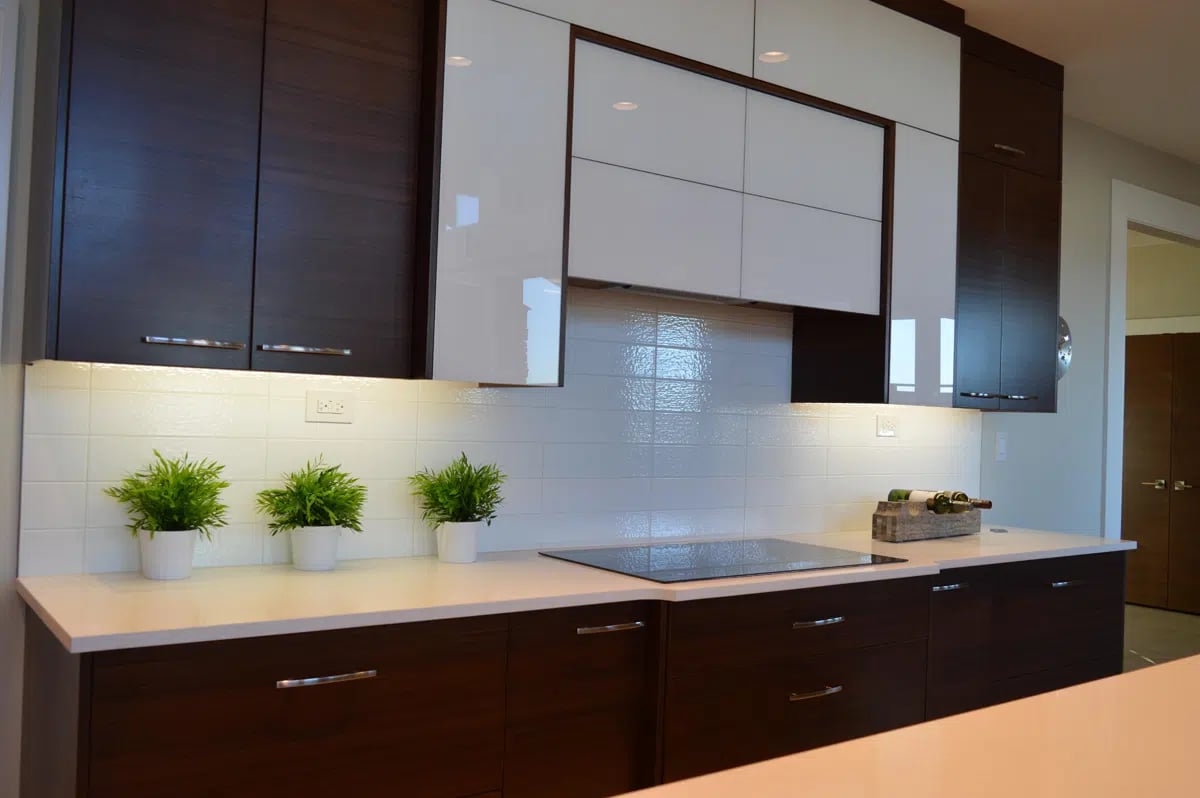 Cabinet doors should either be built entirely from hardwood or have a hardwood frame with a veneered, formaldehyde-free center panel. We've already addressed the sheet material component. Let's take a look at our hardwood options:
FSC-certified North American hardwoods. FSC certifies sustainable loggers and tracks the timber through the supply chain. Every sawmill, plant and distributor must be an FSC-certified organization for the end product to carry the FSC eco-label. FSC-certified hardwoods and sheet materials are possibly the "greenest" solution because they are guaranteed to have come from sustainably harvested forest products.
Be warned: Most green cabinet builders offer FSC products, but it is not the default selection. If you want FSC trees in your kitchen, you must specify that. There is usually an upcharge on FSC materials for cabinet manufacturers that is passed on to the consumer.
Uncertified North American hardwoods. Only 3 percent of domestic timber carries the FSC label. It would be inaccurate to assume, however, that the remaining 97 percent is old-growth clear-cutting. As the Hardwood Council points out, "The volume of hardwood in American forests is 352 billion cubic feet, and they are adding growth of 10.2 billion cubic feet a year. This compares to annual removal of 6 billion cubic feet. We are not running out of trees."
Traditionally sourced American hardwoods tend to be less expensive than their certified counterparts. Sourcing American hardwoods, especially those species native to your region, minimizes the gas and oil needed to get these materials to the manufacturer near you. However, the trade-off is that there is no guarantee the hardwood you are getting came from a source that practices sustainable harvesting techniques.
If you choose to go this route, do some homework. Ask your supplier about where the wood comes from and whether those companies use sustainable practices. The information should be available to you.
Alternative non-native hardwood species. There are many materials not native to North America that are rapidly renewable and sustainable. German beech, a light hardwood native to Europe, with qualities similar to maple, is extremely sustainable due to practices implemented 200 years ago in European forests.
The Importance of FSC Certified Wood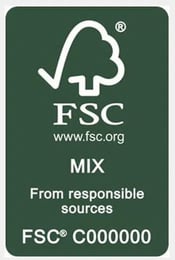 Wood is a renewable resource, but in many places it has been harvested faster than it can regenerate, with little concern for the natural ecosystems or human communities impacted by the logging. However, you've probably heard of "certified wood." This refers to lumber or products that contain wood fiber from sustainably managed forests. Globally, the area of certified forests has been rising steadily.
Wood products with certification labels have been vetted by third-party organizations. The two certification programs you're likely to encounter are those managed by the Forest Stewardship Council (FSC) and the Sustainable Forestry Initiative (SFI).
The FSC certifies forests all over the world—380 million acres, to date. The standard includes provisions for protecting water quality, prohibiting pesticide use and protecting old-growth habitat, among others.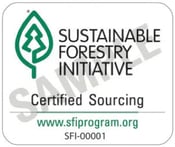 As of this year, 250 million acres in the U.S. and Canada are certified to the SFI standard. The SFI manages standards for Forest Management, Fiber Sourcing and Chain-of-Custody certification; these SFI standards were updated this year.
Cabinetry is just one category where certified wood is available, so be sure to ask for certified wood for all aspects of your project, from framing lumber and plywood to trim. Certified wood may cost 10 to 15 percent more—although the cost depends on availability and varies from region to region—but choosing it over lumber that isn't certified will help ensure forests, which are a key tool for fighting climate change, stay intact and healthy.
Don't Overlook the Cabinet Finish
Finishes are the component of the green kitchen package where most green cabinetry companies fall down. Low-VOC finishes often take quite a bit of extra work to apply, and require a skill set that is very different from the application of conventional finishes. Many manufacturers simply aren't set up for the process.
Understand that VOCs are chemicals that readily volatilize under ambient conditions, and react with sunlight to produce smog. Chances are good that your kitchen, bath or laundry room cabinets will be exposed to heat, humidity and other shifting conditions that can release VOCs from surfaces.
The EPA cautions that exposure to VOCs can produce the following health effects: eye, nose, and throat irritation; headaches; loss of coordination; nausea; and damage to liver, kidneys and the central nervous system.
"Understanding the effects of HAPS and VOCs on human health is important, because we spend about 90 percent of our time inside increasingly tight structures where accumulations of interactive chemicals can cause concentrations of pollutants that can be as much as 50 to 100 times greater than outdoor air," says Andy Pace of Waukesha, Wisconsin–based Safe Building Solutions.
Keep in mind that just because a finish is water-based doesn't mean it's low-VOC. Ask your contractor or read the manufacturer specs. Just how "green" is this coating? What kind of adhesives are used to hold the cabinet door together? Assume that no coating is low-VOC unless it specifically states that claim.
The Future of Green Cabinets
Where's the green cabinet industry headed? By all accounts, toward more national market share—and quickly. This is in part because shocking new reports have alerted us to the presence of dangerous chemicals all around us.
There are PFAs in our farmland, and dozens of toxic chemicals in toys and household items, especially low-cost items from places such as Dollar Tree stores. The same general rule applies to cabinet: if the price sounds too good to be green, you're probably bringing toxic materials into your home.
A company that has long offered greener cabinetry, located in Portland, Oregon, is Neil Kelly Cabinets.
Edited from the original by Chris Parkinson and Lauren Fleer
What is a Green Cabinet?
A green cabinet is a cabinet that is free from added urea-formaldehyde, has a low-VOC finish, and is made from sustainably sourced materials.
Is sandblasting old cabinets a good idea?

In terms of reduced muscle labor, sandblasting is a great way to remove tough old paint. We recommend an aluminum oxide abrasive. You'll need a sandblasting cabinet big enough to hold the door, and commercial-grade respirators, however. Old window paint may contain lead paint and other dangerous particles. To be safe, use the cabinet outdoors and away from children.

Here's where you can find green cabinets:
• Berkeley Mills
• Breath Easy
• Crown Point
• Crystal Cabinets
• Healthy Cabinet Makers
• Kerf Design
• Kraftmaid
• Norelco
• Nobilia
• Pedini
• Purekitchen
• Taylor Made Cabinets
• Woodharbor Doors & Cabinetry

Green cabinetry can earn credit under the NAHB Model Green Home Building Guidelines. Green cabinetry and millwork also can contribute to LEED certification in multiple categories, including appropriate sourcing of materials and resources and the use of rapidly renewable materials.
Glossary of Terms: Know the Lingo
Particleboard: Wood chips bonded together with resins that frequently contain air pollutants such as formaldehyde.
Medium-Density Fiberboard (MDF): An engineered wood often used in cabinet door construction. MDF may also contain volatile air pollutants.
Veneer: A thin layer of wood typically glued to a less valuable substrate. Both the adhesive and the substrate can contribute to indoor air pollution, depending on the glues used.
Substrate: A panel that's used underneath higher value finish materials. In cabinetry, substrates typically are made of plywood, particleboard or other engineered wood products.
Surface Seal Paint: Some finishes, such as AFM Safecoat Hard Seal, have a low enough permeability that they can be used to prevent or slow the release of air pollutants from particleboard and other resin-bonded materials.
---
Publisher's Note: This content is made possible by our Today's Homeowner Campaign Sponsors. These companies take sustainability seriously, in both their products and their operations. Learn more about building and buying homes that are more affordable and less resource intensive.
Sep 26, 2023 8:00:00 AM · 8 min read
---

Veteran journalist Matt Power has reported on innovation and sustainability in housing for nearly three decades. An award-winning writer, editor, and filmmaker, he has a long history of asking hard questions and adding depth and context as he unfolds complex issues.