Housing Breakthrough: Next is Now

Sara Gutterman
3 min read
KB Home is transforming the housing market with net zero, all-electric, attainably priced communities in California. Watch this video as KB executives Dan Bridleman and Jacob Atalla explain how they're creating resilient microgrids that ensure security and predictability for homebuyers.
KB Home is showcasing the future of housing in the Oak Shade and Durango communities in Menifee, Calif.
I recently had the opportunity to interview Dan Bridleman, Senior Vice President of Technology, Strategic Sourcing, and Sustainability for KB Home and Jacob Atalla, Vice President Innovation and Sustainability, about the forward-thinking communities, which boast homes that are net zero, all-electric, healthy, connected, and resilient.
Each home features high-performance building envelopes and advanced technologies for energy efficiency, water conservation, and enhanced indoor air quality, such as heat pumps (for HVAC and water heating), induction stoves, and ERVs.
All of the homes have rooftop solar and battery storage, which work in tandem with community solar arrays and battery storage systems to ensure that the communities are self-sustaining microgrids, increasing resiliency and self-sufficiency.
Schneider Electric demand-side energy management systems help each home optimize energy use by load shifting (making sure that homes use energy at non-peak times), thereby decreasing costs for homeowners and reducing grid stress. The Schneider Electric systems also determine how and when each home should access power—from the rooftop solar panels, community solar array, or grid.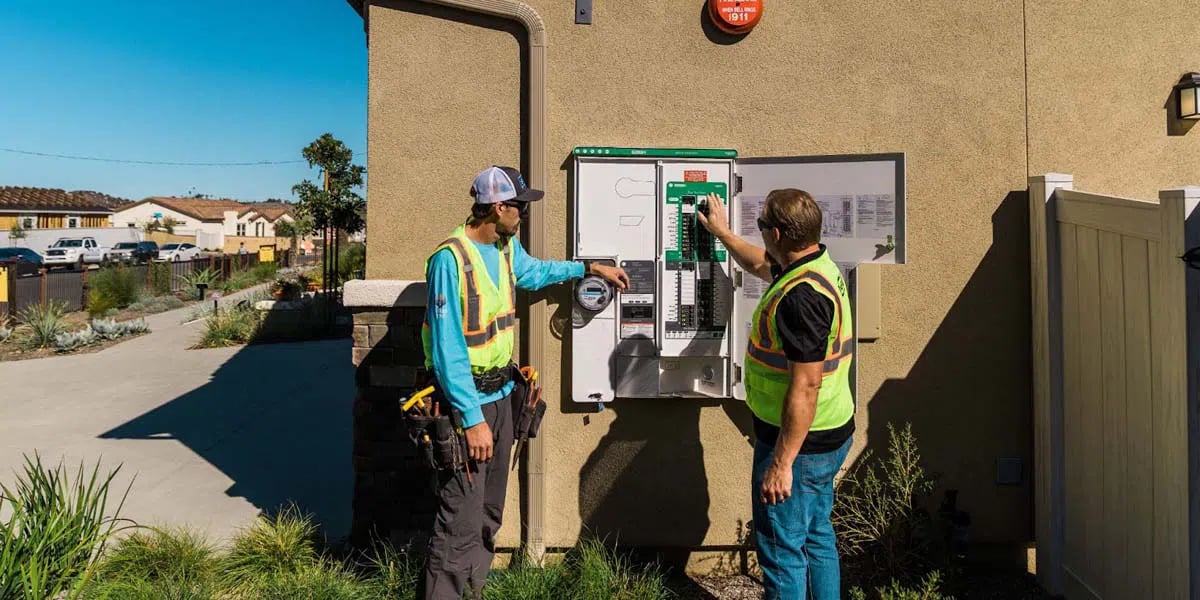 Each garage has a 2-way charging station so that electric vehicles can serve as backup battery systems.
"The Oak Shade and Durango developments are the culmination of years of strategic development, technology innovation, and sustainability planning between KB Home and our partners, including University of California Irvine, Schneider Electric, SunPower, Southern California Edison, and Department of Energy," says Bridleman.
The Department of Energy (DOE) provided a grant to KB Home to support the development of grid services technologies for load balancing and grid stabilization. KB Home and its partners will test the systems and report back to the DOE on the efficacy of the systems, offering the industry a benchmark to use for future developments and helping streamline the technology so that communities like this can be built across the country in the future without public funding.
Attalla reports, "We're trying to create two things that home buyers want as far as energy: stability and low, predictable costs. In this community, we have workforce homeowners and retirees—both cost-sensitive groups that understand the total cost of homeownership. These homeowners are looking for reliable power and resilience. In the Oak Shade and Durango communities, power is offered at predictable and level cost for a long time, so homebuyers aren't subject to the continued price increases that are plaguing the energy market."
Attala also explained how KB Home representatives have a conversation with homebuyers before they move into their homes about their energy preferences. Home buyers can choose to derive economic returns from net metering, or selling energy back to the grid, or saving energy in their battery storage systems use in their own home.
KB Home has also focused on water conservation. "Water is the next frontier," insists Bridleman. "Nothing more precious to us than water. Sensors in the home monitor water use, giving homeowners important data and insights about how to save water. We also use greywater for exterior applications."
The resilient communities are priced attainably in today's environment, with homes ranging from the $400,000s to high $500,00s. "That's relatively reasonable in the California market," asserts Bridleman.
Want to learn more about how KB Homes is delivering next generation homes in grid-resilient communities? Watch the interview, which includes insights from Bridleman and Attala about behavioral modification, resiliency monitoring systems, and transforming the lending and appraisal sectors.
Learn more about Schneider Electric's Square D Energy Center
Jan 12, 2023 12:57:12 PM · 3 min read
---

As cofounder and CEO of Green Builder Media, Sara is a visionary thought leader and passionate advocate for sustainability. A former venture capitalist, she has participated in the life cycle (from funding to exit) of over 20 companies, with an emphasis on combining sustainability and profitability. She lives in Lake City, Colo., with her husband, where she is an avid long-distance runner, snowboarder, and Crossfit trainer. She is also on the Board of Directors at Dvele, runs the Rural Segment for Energize Colorado, and is a former County Commissioner.