Hot 50 Products Highlight: 4 Decking, Roofing, Siding Products
When it comes to decking, roofing, and siding, durability wins the day. Here are Green Builder editor picks for new resilient options.
1. MoistureShield Elevate Capped Composite Decking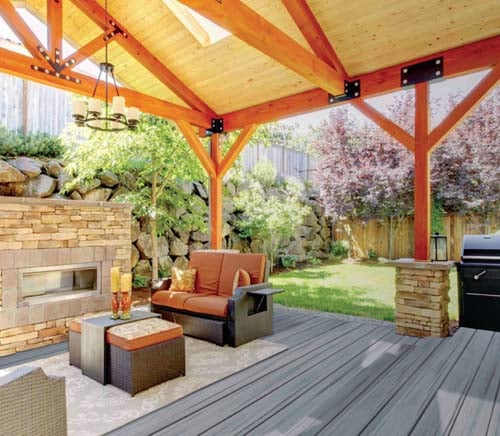 MoistureShield redefines decks entirely with its Elevate capped composite decking, which is among the most durable decking materials on the market, and 95 percent of which is made of recycled content. The solid core of MoistureShield's composite decking is made from wood fibers, but to make it incredibly durable and water resistant, each wood fiber is encapsulated in a plastic barrier. This revolutionary design makes it possible for the decking to be used underwater.
No exposed wood also means that there is no food source for insects, protecting the decking against typical damage from pests. With weathering and insect damage covered, this decking has no rotting or warping. This makes the decking much longer-lasting, and it even has a 50-year transferable structural warranty.
On top of its durability, Elevate is also affordable, and it comes in a wide array of colors and finishes to perfectly match or complement any outdoor living space.
2. PAC-CLAD Petersen Box Rib wall panels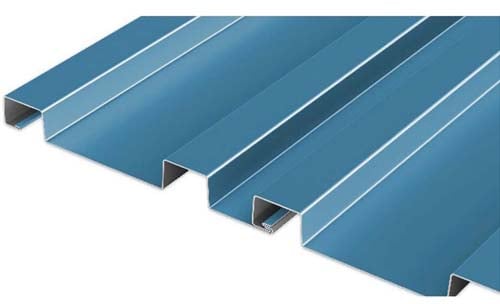 PAC-CLAD Petersen's Box Rib series of architectural metal wall panels bring a new, greener fit to a classic exterior for residential and non-residential buildings. They are available in 46 standard PVDF colors, many of which meet ENERGY STAR requirements and possess emissivity and solar reflectance index (SRI) properties to direct heat from the sun away from a building and keep it cool inside, which saves energy and expense. In addition, Box Rib panels are fully recyclable at the end of their useful lives.
Box Rib panels are offered in four rib patterns, and feature 87-degree rib angles and a variety of rib spacing patterns. They deliver design flexibility, while combining bold visual effects with easy, cost-effective installation. Each of the four Box Rib profiles is offered in a no-clip fastener-flange option, or a clip-fastened panel to accommodate thermal expansion and contraction. Architects and designers can specify one of the four panel profiles or combine multiple Box Rib panels to create custom patterns of ribs and valleys.
The panels are available in steel or aluminum, and carry a 30-year finish warranty that covers fading and chipping.
3. ProVia Shake and Slate Metal Roofing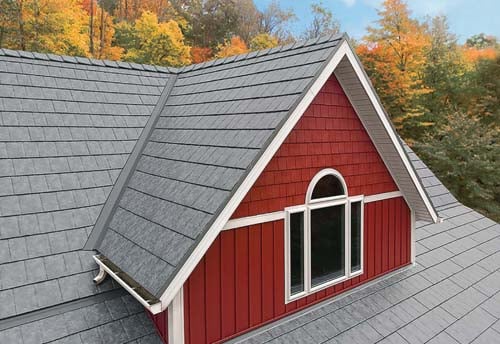 ProVia has launched a metal roofing product line which combines the luxury and beauty of slate or cedar shakes with the durability and longevity of a galvanized, highly engineered steel roof system. ProVia's high-performance metal shake and slate roofing is engineered to perform and maintain its good looks longer than any other asphalt, wood, slate, or metal roofing product. The molds used to produce the metal panels are cast from actual pieces of slate and wood shake, resulting in a realistic look that's immediately noticeable.
The roofing is designed for high performance even under extreme weather conditions. It is third-party tested to meet or exceed stringent ASTM and UL industry standards for tensile strength and resistance to wind uplift of up to Class 90, 180 mph, Class 4 hail impact resistance, wind-driven rain and corrosion resistance.
ProVia's metal panels are 10 percent thicker than the industry average (28 to 30 gauge), while weighing up to three times less than asphalt shingles. The exclusive GalvaTec four-part Kynar paint system includes a lifetime warranty on coating integrity and 40 years on chalk and fade.
4. Trex Signature Railing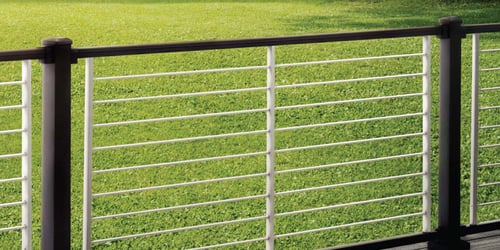 Trex has expanded the premium end of its aluminum railing line with the addition of mesh and glass rail. The new systems feature one-piece rail designs that can accommodate 304 Stainless Steel Trex mesh infill or one-quarter-inch tempered glass panes.
Premium-grade aluminum offers superior strength, while the durable powder coating allows the material to retain its color and resist corrosion. True to Trex's eco-friendly legacy, the aluminum used to manufacture Signature railing is made from 50 percent recycled aluminum and is a 100 percent recyclable, renewable resource.
Driven by a commitment to "make it easy," Trex is offering its Signature railing in pre-assembled panels for simpler and faster installation. The black horizontal panels feature square balusters and are available in 6-foot by 36-inch, 6-foot by 42-inch, 8-foot by 36-inch, and 8-foot by 42-inch configurations. Trex also offers posts with pre-mounted brackets for line, end and corner configurations for 36-inch and 42-inch rail heights.