Green Builder 2023 Sustainable Products of the Year

Alan Naditz
33 min read
Indoor air quality, environmental control and energy savings are back in the forefront of enviro-friendly products.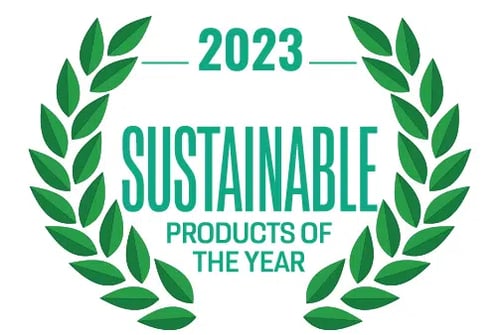 Sometimes, the road ahead takes a traditional turn. This year, Green Builder's "Sustainable Products of the Year" lineup leans heavily toward appliances and related fixtures—items found in every home but which are also known for their environmental impact.
Our 2023 troupe is going above and beyond in manufacturing items that encourage sustainability through innovative technology or an improved version of a traditional technique.
Featured Products
AZEK
Broan
Certainteed
GE
JELD-WEN
Lennox
NetZero Fire
Rheem
Trex
Westlake Royal Building Products
Alternative Energy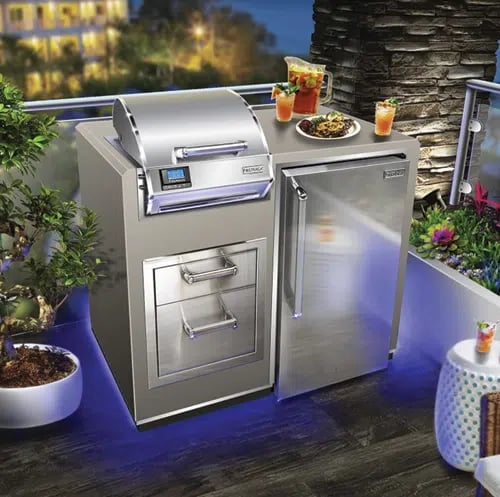 Whether it's a lack of space or an owner's desire to move away from natural gas, Fire Magic's new line of electric grills offers a healthy way to cook food without relying directly on fossil fuels. The product's compact size makes it a good fit for nearly every patio, and firing it up is easy: As long as there is a 120-volt power plug nearby, you're in business.
The company's stainless steel electric grills have numerous features that make outdoor cooking as much fun—perhaps more so—as with their natural gas counterparts. Typical components include a fast preheat time, a large heating element for faster grilling at up to 700 degrees Fahrenheit, and a digital thermometer with thermostatic control and a meat probe for precision grilling.
Meanwhile, a version set for market release this summer includes a state-of-the-art control panel with Bluetooth technology for control of the grill from a smartphone.
---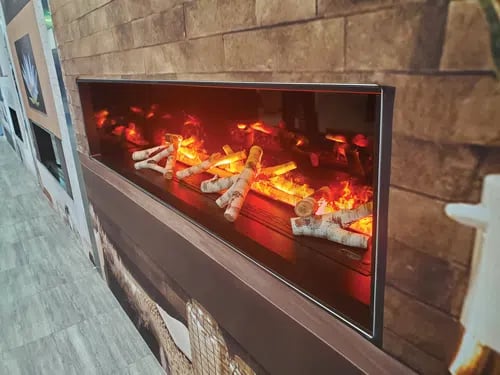 An in-home fireplace can be great. But the ashes leftover from wood, and the natural gas needed for the "colorful" version isn't very sustainable. A surprise alternative comes from NetZero Fire's Waterplace, a fireplace that is carbon neutral, courtesy of H2O.
You read that right. Using only water vapor, Waterplace creates ultra-natural, dancing "flames" that only a trained eye could discern as artificial. With a constant fuel supply provided by a water line, Waterplace can be installed virtually anywhere close to an electrical outlet. No venting is necessary, and there's no risk of damaging humidity or moisture buildup on surrounding surfaces. Indoor air remains free of burned smoke smell. And because the flames "burn" cold, there's no fire danger.
Units can be installed with various flame and log configurations—Waterplace currently has four—along with glass media and user-controlled color-changing LED lights. Flame patterns can be up to 20 feet long.
Appliances and Fixtures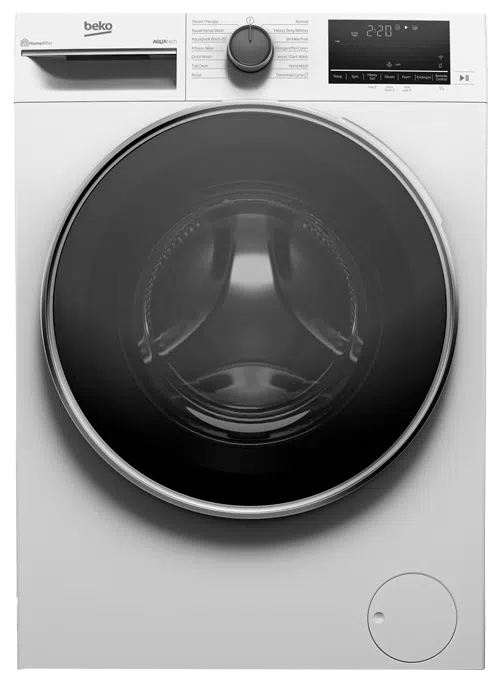 The Beko Compact Washer with RecycledTub is a Wi-Fi-enabled washing machine with state-of-the-art functionality and sustainability features, including a recycled tub made from 60 recycled polyethylene terephthalate (PET) bottles. Since 2017, the RecycledTub has eliminated more than 114 million PET bottles worldwide, a direct response to the tons of plastic that end up in U.S. landfills every year.
The washer includes a Fast+ function, which senses the type of fabric and the amount of clothes, then optimizes the washing program to reduce wash cycle duration by up to 55 percent, saving water and energy. Also, steam introduced at the beginning of the cycle helps pretreat and loosen stains, for better cleaning.
Beko's new laundry products will combine with the rest of the brand's 2023 product portfolio to create the Beko Healthy Kitchen—an intersection of health, wellness and sustainability in the American kitchen, led by leading designers, and health and wellness experts.
---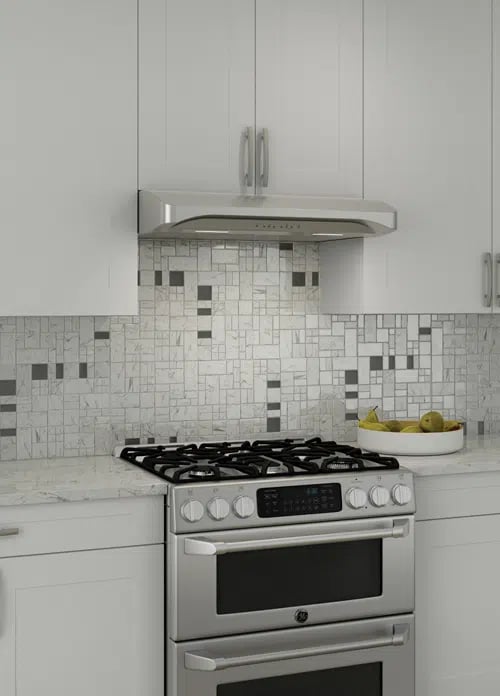 Broan-NuTone's Broan Elite Convertible Under-Cabinet Range Hood does what the company's Alta line is famous for: It provides a bold alternative to typical hood designs. The range hood features infrared controls, perimeter aspiration and non-dimming LED lighting. A handheld remote enables device control from anywhere in the kitchen.
The unit is equipped with the exclusive Broan Captur system, which combines advanced blower design with new filter technology.
Broan Captur's blower features a forward-positioned centric inlet to remove 98.5 percent of smoke and odor, and airborne pollutants caused from cooking.
Another system, Broan Heat Sentry, detects excessive heat and adjusts the blower speed to prolong the life of the product and provide proper ventilation. And, dishwasher-safe, hybrid baffle filters provide ultra-efficient grease removal with superior airflow. A filter clean reminder ensures they will always maintain a high level of capture. The unit comes in 30- and 36-inch sizes.
---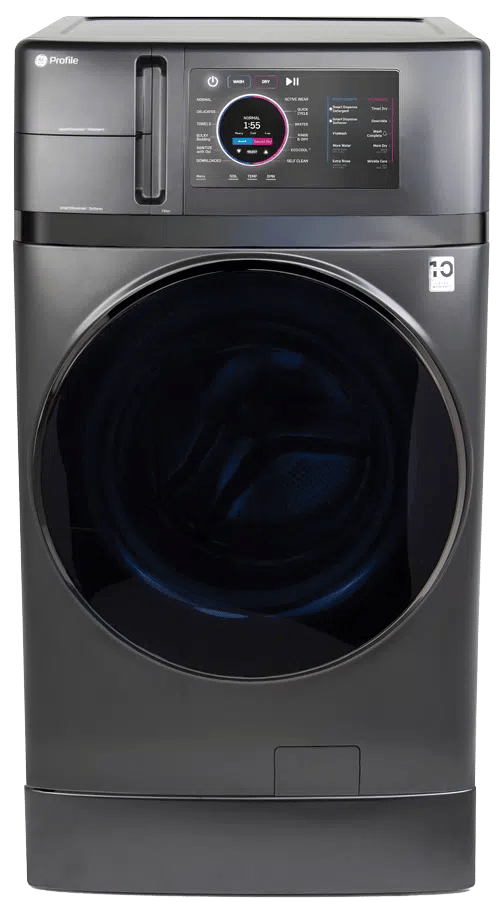 The GE Profile UltraFast Combo with Ventless Heat Pump Technology offers a "one and done" technology that saves space, labor and energy. Instead of letting laundry linger between cycles, the washer automatically switches to dry. Combined time is less than two hours vs. the 130 minutes-plus with a washer and dryer.
The unit's ventless technology enables a machine to be installed anywhere with a water hookup and 120-volt power, such as a bathroom or closet. A High-Airflow Ventless Drying System delivers 50 percent more energy-efficient drying.
In addition, the machine's Wi-Fi Connected with SmartHQ technology provides the power to select detergents, download specialty cycles and initiate updates automatically through GE's SmartHQ app. Plus, users may control and monitor laundry from anywhere, engage easy-to-use, customizable settings, receive remote status notifications and more.
---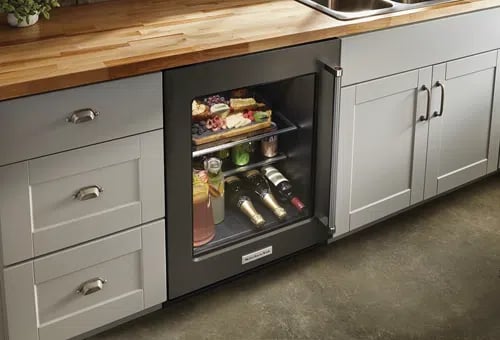 At first glance, all undercounter refrigerators appear alike. But KitchenAid breaks that new ground with this new model. This 24-inch unit operates for about $33 a year, and offers technological aspects such as motion-activated LED lighting that turns on inside, allowing an inner view without opening the door, and a temperature monitoring system with sensor alert. If the system detects temperatures above 45 degrees Fahrenheit for more than four hours, an over-temp alarm and indicator light will alert that service is needed.
There is also a UV-protected thermal glass door to protect against damaging effects of light and heat, an open door alarm to prevent loss of cool air, and a stainless steel-crafted PrintShield finish that resists smudges and fingerprints, allowing more time for cooking and less spent cleaning up the kitchen.
A fully flush installation with hidden hinges provides a built-in look within cabinetry. The refrigerator's door opens up to 115 degrees, enabling easy access to food. The unit is ENERGY STAR certified.
---

LG's Studio Induction Cooktop with 5 Burners and Flex Cooking Zone is capable of combining two of its induction elements to accommodate different sizes and shapes of cookware. Meanwhile, a dual element center burner—one large, one small—allows proficient cooking of any size meals.
The electric induction cooktop is also an alternative to natural gas, resulting in cleaner air indoors. The surface never gets hot, meaning no heat is lost into the home environment—a desirable feature during the summer. Lack of surface heat also means no risk of skin burns.
The cooktop is compatible with LG's ThinQ app, which allows Wi-Fi-enacted control of smart devices no matter where the user happens to be. ThinQ also enables use of time- and energy-saving features, such as smart recipes that offer step-by-step instructions on how to prepare a meal.
---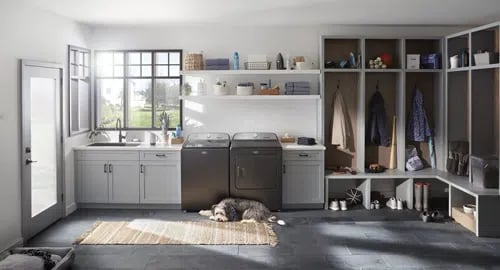 Trying to remove pet hair from clothing offer requires multiple washings, which is a waste of water and energy. Maytag's Pet Pro System combats that problem with a washer and dryer designed to pull fur, lint and debris out of clothing and bedding. The washer's specialized filter removes five times more pet hair than a conventional washer, while the dryer's no-heat, extended dry time and extra-large lint trap catches even more.
The washer includes a deep fill option for additional stain removal power, and a built-in water faucet for rinsing, spot treatment or soaking when needed. The dryer includes a steam dry option to remove wrinkles and static, and keep clothes looking fresh. The set comes in natural gas- and electric-powered versions.
Maytag notes that the system gives pet owners more time to enjoy their furry friends—the typical owner spends about four hours a week cleaning up from their pets.
---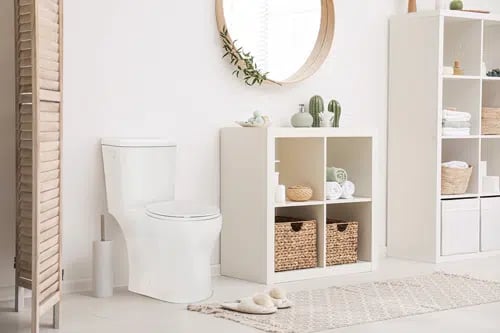 Niagara's new Phantom One Piece toilet blends its award-winning technology with a single-piece design to make an ultra-efficient product that helps customers reduce water consumption and alleviate high utility bills.
The Phantom One Piece includes Niagara's patented Stealth Technology, which has re-engineered the flush into a high-power, low-maintenance, virtually clog-free, water-efficient solution. The toilet has a vacuum-assist pull and a noise-cancelling tank. At 0.8 gallons per flush (GPF), the product is powerful enough to eject 1,000 grams of miso paste. It has an MaP Premium rating, is WaterSense certified and surpasses all industry drain line carry standards.
The toilet also displays a modern, sleek design that is ideal for residential, multifamily and hospitality properties. The elongated bowl has an Americans With Disabilities Act (ADA) height and includes a concealed trapway that's aesthetically pleasing and makes it one of the easiest toilets to clean.
Construction Equipment and Tools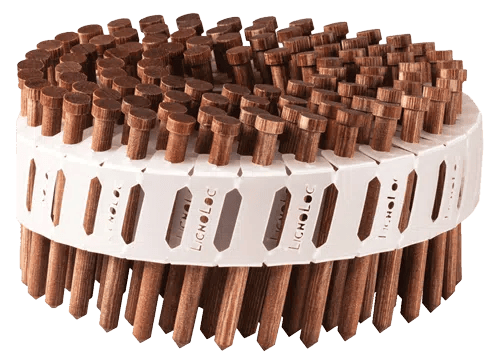 Sometimes the old ways are best. With the LIGNOLOC Wooden Nail System, Beck has rethought fastening technology and brought back a sustainable, traditional fastener— the world's first shootable wooden nail—developing it to meet today's construction requirements and make it perfect for use in industrial manufacturing and ecological timber construction.
LIGNOLOC wooden nails are made from Central European beech from sustainable FSC forestry. Thanks to their mechanical properties, the nails can be shot into wood and wood-based materials using the specially developed FASCO pneumatic nailer without pre-drilling. The heat generated by friction when the nail is driven in causes the lignin of the wooden nail to weld with the surrounding wood and bond to them permanently.
The LIGNOLOC fastening system also generates
70 percent lower CO2 emissions versus conventional systems. It is also the only fastening system that fully supports the requirements of the circular economy in terms of recyclability.
---
Euclid Chemical's PSI Fiberstrand REPREVE 225 is a high-quality, synthetic microfiber that is certified and traceable, and made from 100 percent recycled materials, including post-consumer plastic bottles and pre-consumer waste. These provide a more-durable and longer-lasting concrete with reduced environmental impact.
The synthetic microfiber performance technology creates unique sustainability benefits for the concrete consumers and construction industry. For example, a 1,000-cubic-yard project could keep 4,725 bottles out of landfills and save the equivalent of 103 gallons of gasoline, 263 gallons of water, and 470 kilograms of CO2 emissions. Meanwhile, one box of PSI Fiberstrand REPREVE 225 contains fiber manufactured from 190 bottles.
PSI Fiberstrand REPREVE 225 can be easily added to a concrete mixture at any time prior to placement. It is ideal for a variety of applications, including pavements, slabs-on-grade, overlays and toppings, wall systems, foundations, shotcrete, precast and prestressed structures, composite steel decks and decorative concrete.
---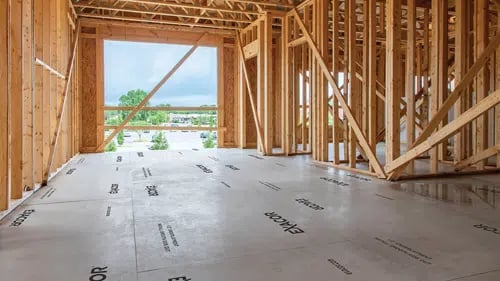 Huber Engineered Woods has created a flooring underlayment called EXACOR that's fast to install, with high structural strength and excellent fire resistance. It meets UL 528 fire assembly requirements. These inorganic, magnesium oxide panels come in three sizes and also help with soundproofing—a good fit for multifamily construction.
EXACOR panels are comprised of a cementitious material reinforced with an internal woven fiber mesh to provide jobsite durability and sound dampening essential for apartment, townhouse or multi-use projects. They offer an easy-application alternative to labor-intensive wet-laid gypsum underlayment for floor systems in multifamily or other wood-framed commercial projects.
Installed like traditional plywood or oriented strand board (OSB) panels—but about 30 percent faster—existing framing crews can install EXACOR panels, which eliminates the need for a specialty gypsum contracting crew on large jobs. This allows builders to reduce scheduling volatility by taking out one subcontractor coordination need.
---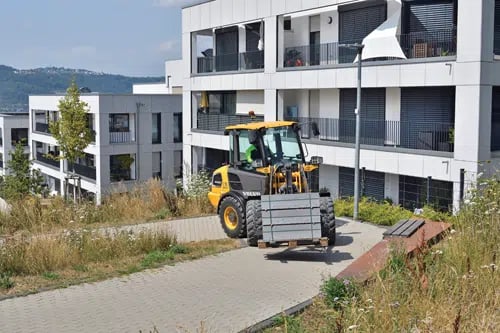 The L25 Electric compact wheel loader from Volvo Construction Equipment could be a builder's Swiss army knife—one with zero emissions, low noise and no fuel. The L25 Electric offers zero exhaust emissions and significantly lower noise levels, making it ideal for working indoors in populated areas and at night. And because it doesn't have an engine, there's no need for engine-related maintenance products like engine oil, oil filters, diesel particulate filters or diesel exhaust fluid.
Other advantages include the number of attachments it can support and its higher travel speeds compared to skid steers and compact track loaders. The vehicle's performance is comparable to or better than its conventional diesel equivalent.
The L25 Electric works several hours on a single charge, and it automatically turns off when not in use to save power. This is much more environmentally friendly than a diesel model that idles and continues putting off fumes when not being actively used.
Controls and Sensors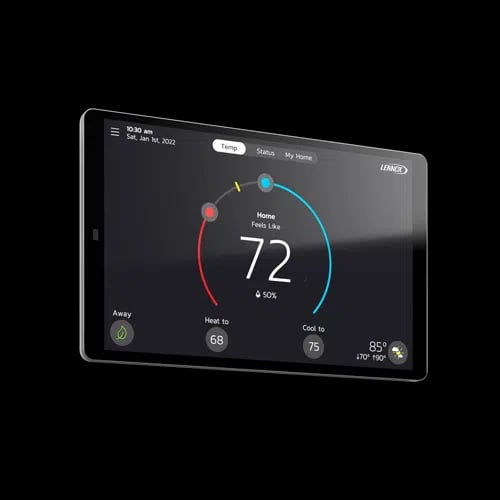 The new Lennox S40 Smart Thermostat monitors sensors throughout the home and in all of its equipment and increases overall energy efficiency through Schedule IQ and Smart Away technology. Smart Away uses the GPS in a phone to detect when the user is leaving and automatically adjusts the temperature to a more energy-efficient setting. Once the owner returns home, the system resumes a normal schedule and comfortable temperature, ensuring that unique preferences are still met while saving energy and money.
The S40 Smart Thermostat also allows healthier, cleaner air through its air ventilation, purification and filtration capabilities. Additionally, the Lennox Smart Room Sensor provides accurate temperature and humidity readings to the S40 Smart Thermostat by telling it how to balance temperatures across the rooms where the sensor is placed.
Also, the Lennox S40 Smart Thermostat integrates with a range of smart home devices, from smart home systems like Control4 to popular virtual assistants like Amazon Alexa and Google Assistant.
---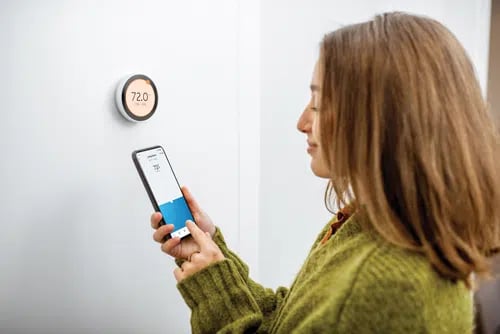 HVAC inverters and smart thermostats are great products, but they don't always work well together. Adding a smart thermostat to an inverter system may prevent key inverter features from working, reducing the unit's energy efficiency. Airzone resolves that discord with the Aidoo Pro, a simple-to-install system add-on that sits between the HVAC system and Internet of Things (IoT) control devices such as third-party smart thermostats, voice assistants and home automation.
The Aidoo Pro receives smart thermostat data via API, interprets it, and then sends the appropriate commands to the inverter unit via manufacturer-certified protocol. The inverter continues to function at a variable rate, preserving the system's superior comfort and efficiency.
The Aidoo Pro has manufacturer-certified HVAC protocols from all leading brands, including Daikin, Fujitsu, Hitachi, LG, Mitsubishi and Panasonic. Airzone also has dedicated API cloud integrations with the industry's leading smart thermostat solutions, including Nest, ecobee and Honeywell Home.
---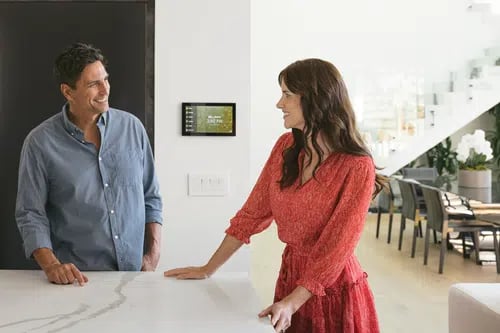 Nice/ELAN's smart home automation system intuitively controls indoor lighting, climate and even window shades with a single touch. The Nice/ELAN 8.7.500 software version includes a new lighting scheduler with 32 programmable periods—suitable for anything from turning on smart lighting when a user wakes up or returns home, to adjusting lights to set a perfect party mood.
Intelligent features include the ability to automatically anticipate a homeowner's needs for indoor temperatures, as well as controlling heating or cooling systems. Automation controls extend to the outdoors by maintaining pumps, lighting and even automated covers, making swimming pool, spa and other outdoor activities more enjoyable.
In addition, the software network's video recorder (NVR), thanks to a user-friendly interface, gives users the ability to manage the NVR and the cameras without the need to switch between the Nice/ELAN app to view live feeds and a surveillance app to review recorded footage.
---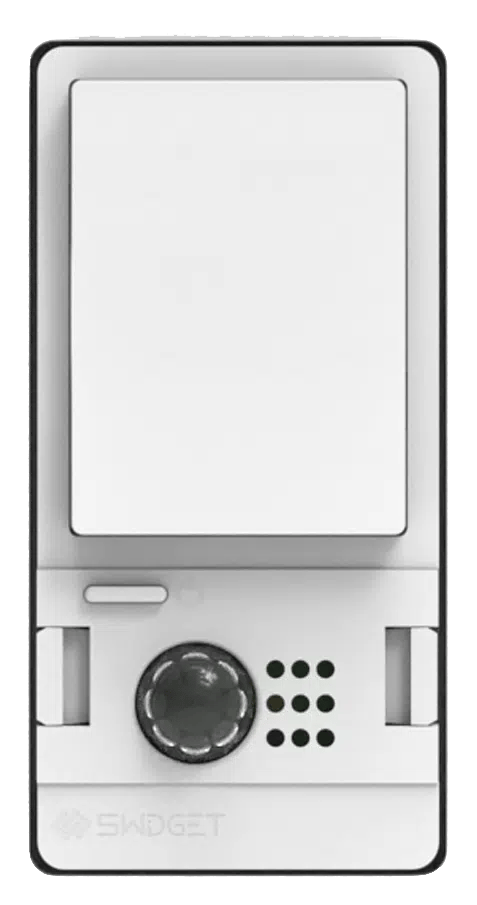 Panasonic's multi-faceted Swidget Smart Controls switch can easily detect and remove contaminated air, via a plug-in insert—one of many designed for the product.
The unit's snap-in Control + Temperature, Humidity and Motion Insert sensor can interact with a home's bathroom ventilation fans to maintain proper humidity levels and prevent mold. The insert's motion sensor can control light switches or outlets when it detects occupancy and vacancy in a room. It can control the Swidget-wired device it has been inserted into or paired with across multiple households.
A Swidget device can also use a home's 2.4GHz Wi-Fi network to enable notifications, set schedules, create powerful automations and monitor energy consumption and costs. The user can activate Amazon Alexa and Google Assistant with voice commands.
---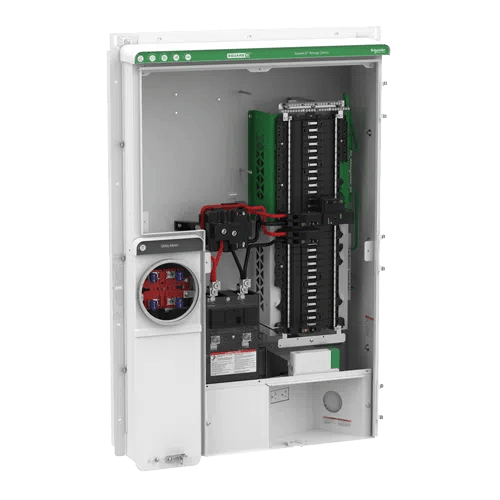 Schneider Electric's Square D Energy Center smart electrical panel is solar and electric vehicle-ready right out of the box. Owners can easily add generators and batteries for reliable home power. The unit's compact footprint and sleek aesthetics easily saves wall space. Transfer switches, inverters, utility metering, and energy monitoring can be integrated with a single solution.
The overall Square D Energy Center system supplies whole-house surge protection, and control of a solar energy system even when the grid goes down. Square D allows monitoring of energy usage by the home's appliances. Schneider Electric's Sense app enables a homeowner to receive custom safety alerts, such as when garage doors open, and monitor overall energy use in real time.
Meanwhile, builders can easily address changing building regulations, including California's Title 24 Building Energy Efficiency Standards. The unit's simplified install means lower expenses for the builder and homeowner.
Cooling and Heating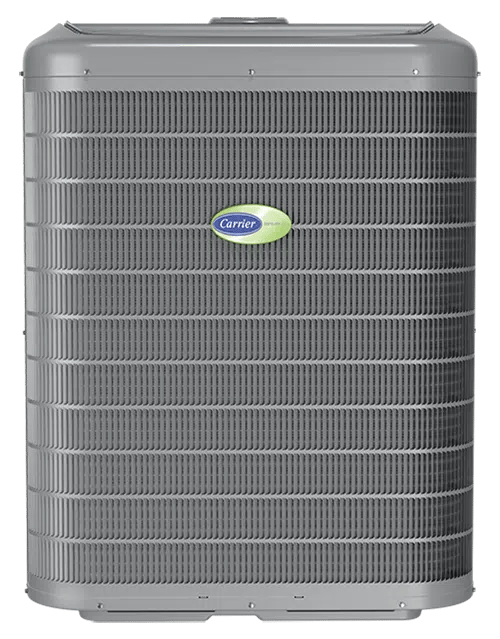 Carrier's Infinity system and its top of the line heating and cooling products are well known. The Infinity 24 heat pump takes that knowledge a step further via Greenspeed intelligence, which is created by pairing adaptable-speed technology with the Infinity System Control.
The unit's unique, variable-speed compressor allows it to literally adapt its output to the needs of the home. Adjustments between 25 percent and 100 percent capacity give the home only the amount of cooling or heating necessary. This allows the system to operate longer at steadier, lower capacities, ensuring greater energy efficiency and quiet operation, with tighter temperature control than standard systems.
In addition, the Infinity 24 offers numerous benefits for technicians. Bluetooth technology is available on the outdoor unit, making it unnecessary to access outdoor unit diagnostic information inside the home. The equipment is compatible with an updated service tech app that includes the fault history of the unit, system parameters and interactive fault tree.
---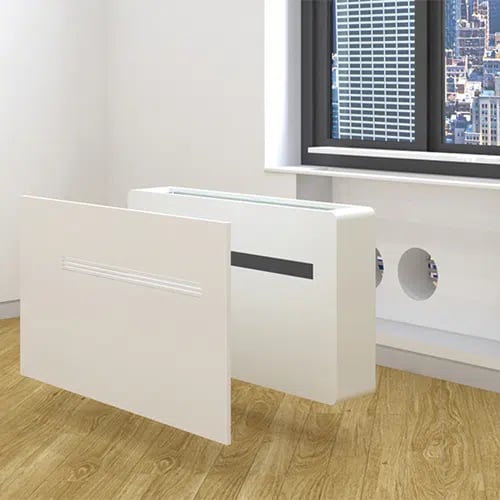 Homeowners who want (or need) a heat pump but are lacking for space can consider Ephoca's AIO Wall-Mounted Pro, a compact and easy to install unit that can fit in even the smallest apartments and houses. The slim and sleek machines can be mounted high or low with a factory-supplied bracket, making installation quick and simple. Special adapters enable the unit to be installed perpendicular to an outside wall, used with many louver styles, or even vented through an existing window frame with no construction required. And, an onboard touch controller simplifies use and installation.
An energy recovery ventilation (ERV) module adds fresh air and heat recovery to the Wall-Mounted Pro. No additional exterior vents are required, as the ERV module uses the same intake and exhaust vents. Treated and MERV 13 filtered fresh air is introduced into a room via a supply louver.
The AIO provides power for the electronically commutated motor (ECM) fans and electronics, so no additional energy source is required.
---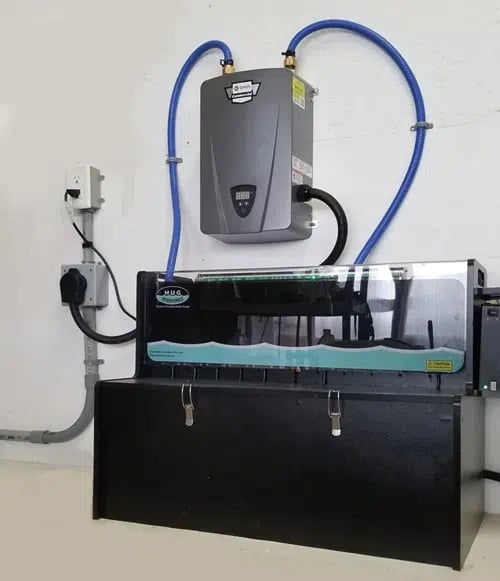 With its In-Floor Heating System, HUG Hydronics makes acquiring that heat ultra easy. Instead of a wall full of plumbing, valves, expansion tanks and manifolds, the HUG Hydronics in-floor heating unit is the size of a suitcase and can be installed by the homeowner in about 1 hour.
The HUG Hydronics In-Floor Heating System replaces the complex maze of plumbing and pipes fixtures with a tank full of water and pumps, along with a control panel that knows when each part of the floor needs heat, and turns those pumps on. A hydronics control board can handle up to four thermostats.
The unit is also ready to pair with on-demand gas or electric water heaters; up to three heat sources at once can be selected for flooring warm water. Installation requires only everyday tools.
---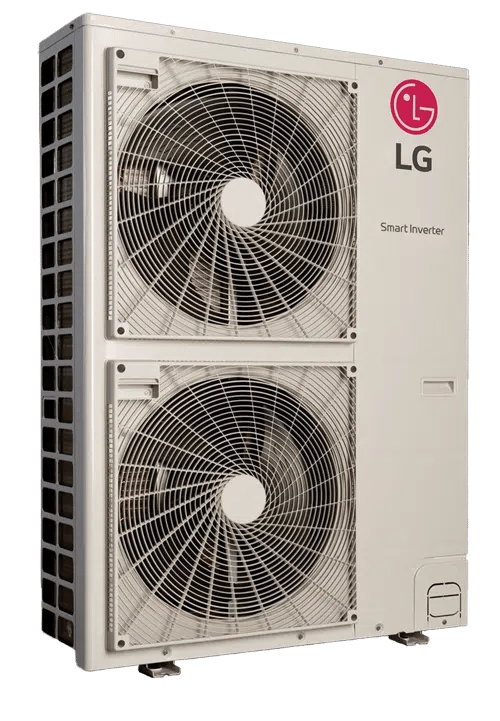 LG's Multi F MAX with LGRED offers a multi-zone heat pump system, available in 36K, 42K and 48K sizes, with a single outdoor unit that can connect up to eight indoor units.
LG Multi F MAX with LGRED heating technology provides continuous heating down to minus 13 degrees Fahrenheit and 100 percent of rated capacity at 5 degrees F. Ideal for residential and light commercial applications, the product is designed to allow individual indoor units to be placed in respective rooms, enhancing space comfort by enabling individual temperature settings, while avoiding over-cooling and/or heating, thus minimizing uncomfortable temperature swings.
LG's Multi F systems use a variable speed compressor, operating more quietly while using less energy. Additionally, the outdoor unit's compressor is mounted on vibration attenuating rubber grommets to avoid transmissions of vibrations to ensure the unit's noise level is low. The LGRED Multi F systems also feature a SEER rating of up to 21, qualifying them for ENERGY STAR certification.
---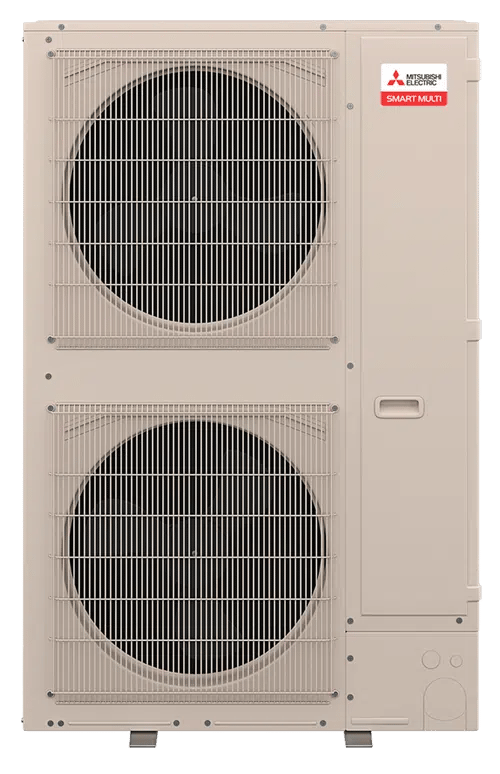 Heating and air-conditioning system maker Mitsubishi Electric Trane HVAC US (METUS) has debuted its SMART MULTI lineup, which includes an outdoor model with improved energy efficiency and ultra-quiet operation. The unit is available in single-phase and new three-phase configurations.
The SMART MULTI MXZ-SM outdoor unit is available in 36, 42, 48 and 60 KBTU/H capacities. Several capacities are offered with Hyper-Heating INVERTER (H2I) technology, providing cold climate heating performance down to minus 13 degrees Fahrenheit. The MXZ-SM operates as low as 50 dB(A), which is quieter than a typical conversation. Efficiency ratings include SEER, up to 23.0, and HSPF up to 12.5. A range of control options are available. Seacoast protection (-BS coating) is standard.
The SMART MULTI lineup also includes various M-Series, P-Series and CITY MULTI indoor units. The MXZ-SM outdoor unit is compatible with ductless and ducted units from the indoor product lines.
---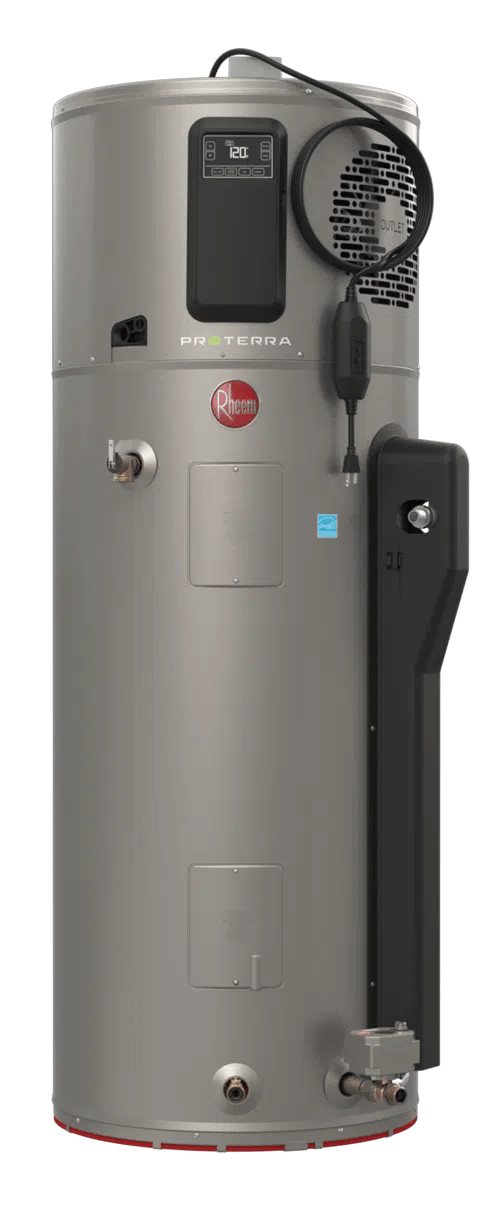 Rheem's popular ProTerra heat pump water heater is now available in an industry-first 120-volt plug-in model. The heater is ideal for drop-in gas unit replacement and high-efficiency upgrades without the need to install a 240-volt electric service. It is available in dedicated and shared circuit models.
With the ProTerra Plug-in, homeowners don't have to choose between sustainability and hot water performance. Instead, they have a unit that installs easily, draws warmth from the air to help heat water, and is up to five times more efficient than standard natural gas models. ProTerra Plug-in also includes features such as an industry-largest compressor that delivers an ultra-fast heat pump water heater recovery, and an integrated mixing valve that allows storage of water at a hotter-than-average temperature without scalding a user.
Users can also control the water heater with a smart phone, handling items such as adjusting water temperature, tracking energy usage, and setting an Away/Vacation mode.
---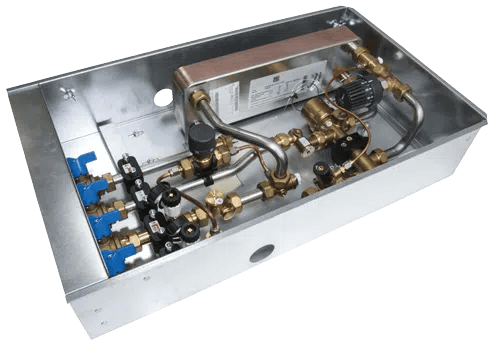 The first of its kind in North America, the Uponor AquaPort is a self-contained unit that converts a building's hydronic heating supply to on-demand domestic hot water. Ideal for multifamily low-rise, mid-rise, or high-rise applications, AquaPort eliminates centralized domestic hot water (DHW) and recirculation piping in a structure to provide numerous benefits, including energy and water savings, improved water quality, installation efficiencies and reduced maintenance.
Compared to traditional pipe-routing methods, incorporating AquaPorts can reduce hot-water energy use by up to 35 percent, eliminate up to 40 percent of unnecessary piping, and remove more than 50 percent of the total DHW volume in a building for improved system performance, efficiencies and hygiene.
The product's simplified design removes gas and electrical supply lines and venting in each dwelling unit to save on short-term and long-term expenses. Plus, it eliminates DHW supply and return piping for fewer piping supports, fire penetrations, insulation, and accessories required in a building.
Decking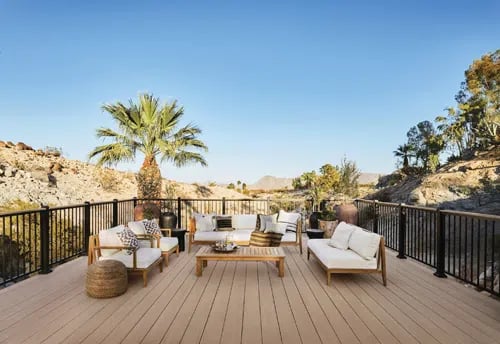 Unlike traditional composite decking—which can look fake or like plastic—TimberTech Advanced PVC offers the beauty and feel of real wood species without the upkeep of sanding and staining.
The decking is made for performance: It is fade- and stain-resistant, will not splinter, rot or peel, and should last for decades. It's also a good option for homeowners in fire-prone areas, passing tests for slowing flame spread with a Class A Flame Spread Rating and WUI (Wildlife Urban Interface) compliance.
TimberTech Advanced PVC is roughly 60 percent recycled content, the highest percentage available in the PVC decking market today. It consists of post-industrial and post-consumer PVC waste, such as used vinyl siding from homes, old PVC pipe and window trim, and post-consumer vinyl flooring.
---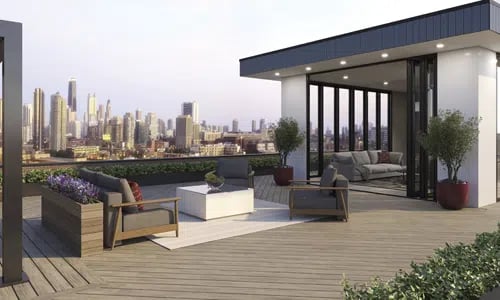 Trex expands its famed Transcend line with Lineage, the company's coolest decking product—literally. Boards are engineered with heat-mitigating technology in the shell to reflect the sun and keep boards cooler than competitors' composite decking of a similar color, in similar temperatures. This new offering also features an elevated look with subtle, elegant graining that delivers a natural wood appearance without the environmental impact of deforestation.
The sustainable composition of the boards is 95 percent recycled and reclaimed materials, including a mix of polyethylene plastic film and industrial wood scrap. This new line contributes to the more than 1 billion pounds of upcycled materials used annually in the making of Trex decking.
Lineage boards are engineered with a proprietary, high-traffic formulation and ultra-durable integrated shell that resists stains, scratches and mold. They won't rot, warp, crack or splinter, and upkeep is hassle-free.
Doors, Walls, and Windows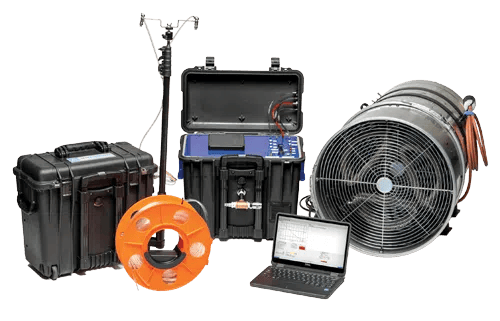 Complete air sealing of a home takes time—and even more if a retest is required. Aeroseal's AeroBarrier Connect helps handle both of those problems. The system seals all building envelope leaks of up to 0.5 inches, and as small as a human hair. Using a standard, single-point blower door test, AeroBarrier software measures the leakage in real time. Those measurements enable the user to dial in specific requirements and guarantee results.
A user—contractor or homeowner—has complete control over airtightness and can achieve any level required. At the end of the process, a final blower door test is run to verify the air sealing results. AeroBarrier then provides a Certificate of Completion that shows pre- and post-leakage.
Air sealing can be applied pre or post drywall (sheetrock). It will adhere to various building materials, including drywall, lumber (treated and untreated), metal, and oriented strand board (OSB). After the air sealing is complete, work can resume within 30 minutes.
---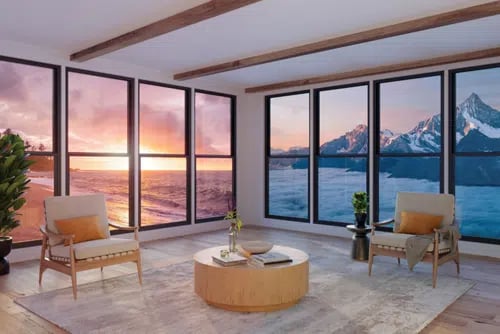 Jeld-Wen has launched its line of Auraline True Composite windows and patio doors as a long-awaited alternative to vinyl and wood. The Jeld-Wen product, as a true composite, blends a structural fiber, such as reclaimed wood fiber, with synthetic polymers and co-extruded color, to create a highly durable material that looks like wood but requires no painting and little maintenance.
Twice as rigid as vinyl, true composite installs cleanly and resists warping and sagging over time. The Auraline "next generation" composite offers slimmer sight lines for increased natural light visibility; architecturally correct design, for the look of contemporary wood windows; and co-extruded pigment for fade- and scratch-resistant color. Also, a Jeld-Wen standard glass package is 38 percent more efficient than a basic package. The Auraline line is GREENGUARD and ENERGY STAR certified for its contribution to healthier and cleaner air, and energy efficiency, respectively.
---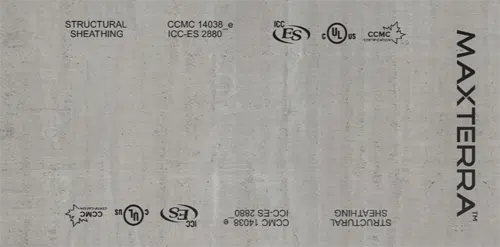 NEXGEN MAXTERRA magnesium oxide (MgO)-based panels for sheathing, subflooring, and floor underlayment are eco-friendly products that are fire, water, mold, impact, rodent, and insect resistant. MAXTERRA panels are the ideal building material for areas of the U.S. that encounter hazardous conditions that destroy buildings, homes, and lives.
MAXTERRA works as a replacement for oriented strand board (OSB), plywood, underlayment and gypsum. The product can now be found in structurally insulated panels (SIPs), wall and ceiling board, flooring underlayment, fire rated assemblies and walls, shaft liner, sheathing, curtain walls, trim materials, fencing and more.
The product is also eco-friendly. The manufacture of concrete is the third-highest emitter of CO2, while development of MgO-based materials is substantially lower. MAXTERRA also takes on Mother Nature, with the strength of MgO-based building materials being more storm resistant than legacy materials such as plywood sheathing and drywall. MgO-based building products are also stronger than other wood and gypsum-based building options, and can better survive earthquakes.
---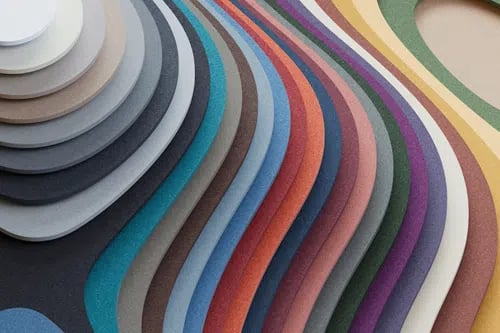 Turf's newest line of acoustics, Hues, offers a palette of 32 color varieties that explores how color and sound work together to give architects and designers the tools they need to build inspiring spaces. Hues are used on Turf's 60 percent pre-consumer recycled PET felt, which produces a variety of tints and shades, providing nuance in richness.
The company's effective use of recycled materials creates products that are still durable, functional and of quality. Turf's acoustic solutions are 100 percent recyclable at the end of the product's life cycle. In addition to creating recyclable products out of recycled materials, any manufactured waste from Turf is recycled into high-energy-value fuel with less emissions than coal, creating a cleaner fuel source.
Turf also offers a reclamation program that takes back acoustic panels and responsibly disposes them; the company pays for the freight to help reduce the amount of material disposed of in landfills.
Energy Management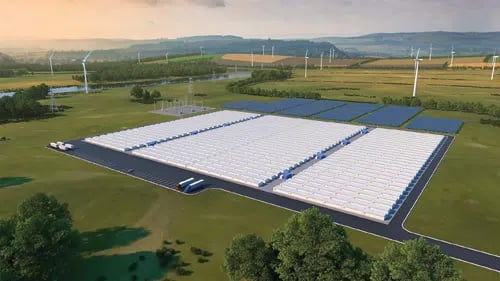 As concern over the environmental friendliness of lithium batteries grows, Form Energy has unveiled an iron-air battery system that stores renewable energy for up to 100 hours, at less than 10 percent of the cost of lithium-ion technology. Form Energy's battery system can be sited anywhere, even in urban areas, to meet utility-scale energy needs. They can complement the function of lithium-ion batteries to deliver the lowest-cost renewable and reliable electric system year round.
The battery's basic principle of operation is reversible rusting. While discharging, the battery breathes in oxygen from the air and converts iron metal to rust. While charging, the application of an electrical current converts the rust back to iron and the battery breathes out oxygen.
Form Energy calls the product a "first step to tackling the biggest barrier to deep decarbonization: making renewable energy available when and where it's needed, even during multiple days of extreme weather, grid outages, or periods of low renewable generation."
---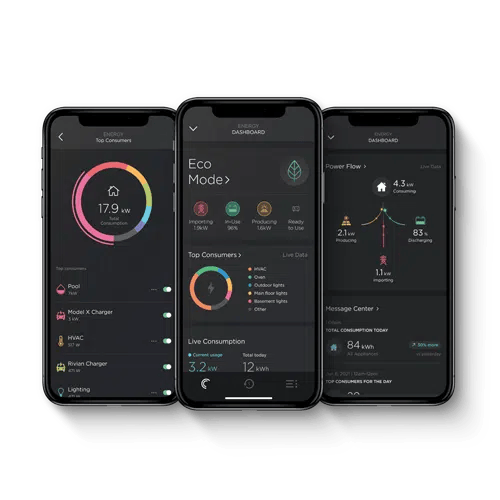 If everything else in your home is smart, why not your energy? A Savant Power System delivers the benefits of smart power to every home. The owner can monitor a few main, power-hungry circuits or every one in the house. A user can set a schedule to power an electric vehicle (EV), put the home into ECO Mode to reduce costly time-of-use rates, or use smart power to extend the available hours of a local battery.
A homeowner can monitor energy consumption trends; manage power usage by automatically powering down other high-current devices while actively charging; and schedule charging to avoid peak utility rates. Progress can be reviewed over time and adjusted with the Savant app.
Savant Power System modules are installed in standard electrical panels, so no hard-to-find proprietary panel is required. Meanwhile, combining Savant Power with an integrated battery storage system, solar panels, and backup generator can also help overcome a weak energy grid.
---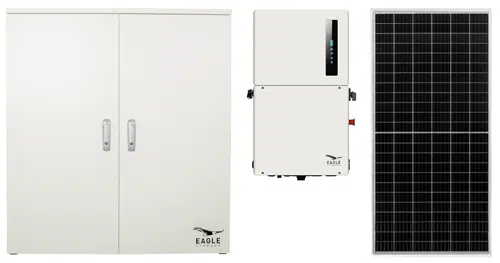 The Eagle Encore System by JinkoSolar is an all-in-one solution that includes solar panels plus storage. It ensures availability of household power to run appliances, lights, security systems, HVAC and more during outages, including those that go on for weeks.
Eagle Encore features a single DC-coupled hybrid inverter which manages the power from both the solar and storage system. This reduces cost and inefficiencies introduced with systems utilizing multiple inverters, providing the best value for installers and homeowners. The system utilizes best-in-class Lithium Iron Phosphate (LFP) Li-ion battery technology.
There's also JinkoSolar's Eagle Continental solar panels, which utilize high-efficiency mono PERC technology for a module power of up to 400 watts. The entire system is covered by a single wrapped warranty backed by JinkoSolar.
Indoor Air Quality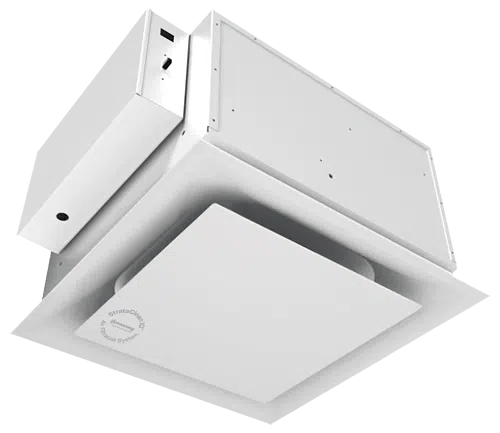 Armstrong Ceiling & Wall Solutions has introduced the StrataClean IQ Air Filtration System, an in-ceiling unit that captures and eliminates 90 percent of airborne bacteria, viruses, odors, mold and other particulates using proven MERV 13 filtration.
The system has proven efficient at removing particles as little as as 0.3 microns in size. One unit can filter the air in a 1,000-square-foot space every hour. Typical applications range from education, office and healthcare, to senior living, restaurants, retail and daycare centers.
The unit's 24-inch by 24-inch design allows for easy installation in any suspended ceiling system, making it simple to integrate into new construction or retrofit applications. The StrataClean IQ system meets the in-room filtration recommendations made by the EPA Clean Air in Buildings Challenge. The system is also part of the Armstrong 24/7 Defend portfolio of ceiling and wall products that contribute to healthier, safer spaces and cleaner air.
---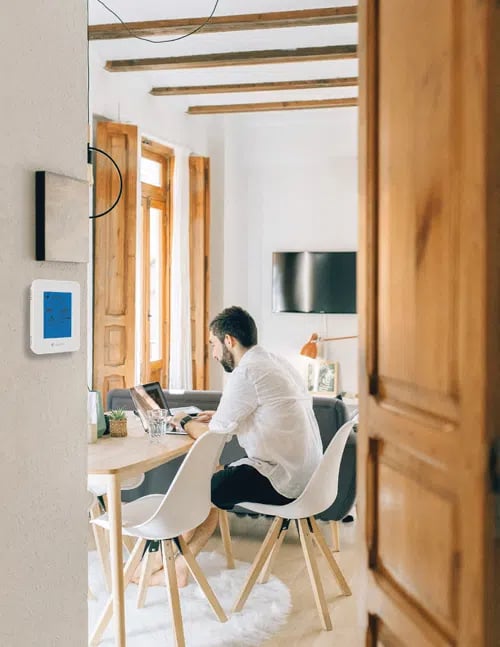 The ECO-Touch Auto IAQ controller automatically recognizes elevated volatile organic compounds (VOCs) such as from cooking, cleaning and perfume, and automatically ramps up ventilation rates to bring more fresh air inside while removing stale air to the outdoors. It also monitors relative humidity and will recognize an influx of moisture, such as that generated by a large family gathering, and adjust fresh air intake accordingly.
ECO-Touch Auto IAQ is a first-of-its-kind control system, with a set-it-and-forget-it operation that adjusts fresh air rates based on real-time VOCs, to operate with optimal energy efficiency. ECO-Touch can be considered the brains of the fresh air appliance, while the unit is the lungs. The ECO-Touch IAQ signals the fresh air appliance to "breathe."
In addition, a touchscreen controller provides easy identification of clean air status in the home at any time.
Exteriors and Siding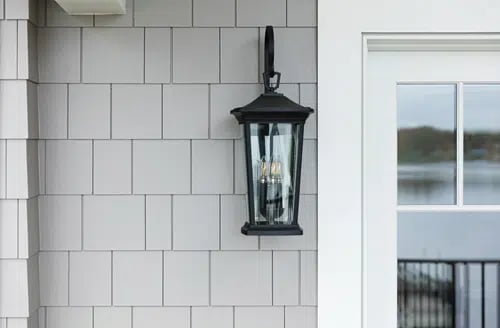 Captivate, AZEK Exteriors' new line of prefinished siding and trim, is made from approximately 30 percent post-consumer/post-industrial recycled PVC material, such as used vinyl siding from homes. The siding and trim combine AZEK-engineered polymers, PaintPro technology surface prep and automated painting with top-tier solar-reflective coatings, and environmentally controlled curing. The result: A finish superior to anything painted in the field.
The Captivate line includes a range of siding and trim profiles complementary to a variety of architectural design styles, including shingle siding that duplicates the look of natural cedar shingles; board and batten siding for accent areas or an entire elevation; and dozens of trim profiles for a complete, finished look.
The siding and trim's composition makes it naturally resistant to water and requires ultra-low-maintenance. It won't rot, splinter, soften, or warp like wood does when it absorbs moisture. The product's long-lasting nature makes it likely it will not end up in a landfill.
---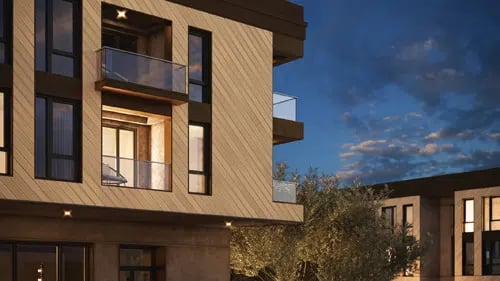 Fiberon Wildwood composite cladding brings performance and beauty to forward-thinking architectural designs, while utilizing materials that support important sustainability initiatives. Wildwood is made from 94 percent mixed recycled wood fiber and plastic content that would otherwise likely be destined for landfills, incinerators, or oceans. About half of what's in Wildwood comes from recycled wood—sawdust and leftover material that would otherwise be discarded. This saves more than 1 million trees every year.
The rest of the composite boards come from recycled plastic, including grocery bags and recycled packaging material. The average American family uses around 1,500 plastic bags each year. If not recycled, these plastic bags likely end up in landfills or the ocean. As many as 2,000 plastic bags can be used in the manufacturing of a single board, averaging 100 million pounds of recycled plastic each year.
Wildwood resists fading and is not affected by freeze-thaw cycles. Additionally, the material never needs sanding, staining or painting.
---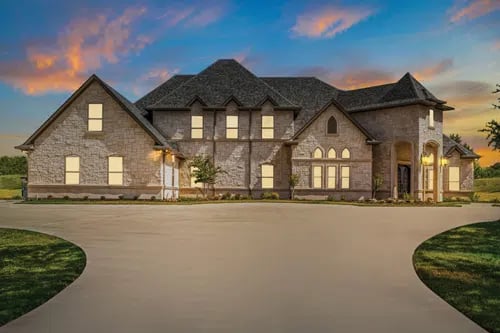 StoneCoat's stone veneer system utilizes limestone, an age-old binder that has the opposite effect: It absorbs CO2 and reduces the overall concentration of greenhouse gases, to slow the rate of climate change. StoneCoat's stone veneer system is climate positive, and emits 90 percent less carbon than traditional Portland cement-based materials, making it six times better for the environment.
StoneCoat SMOOTH mimics the appearance of stucco with a solid finish and customizable color choices. StoneCoat CARVE is applied, then carved and molded into a pattern—mirroring the look of stacked stone. SMOOTH and CARVE are also ideal for home remodels and repairs. Both products adhere directly to brick, cement, stucco, metal and many types of stone.
Set times are as fast as 24 hours, allowing contractors to quickly move on to other projects.
---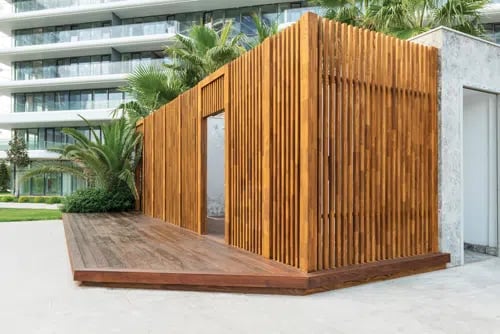 With the Amazon ever more endangered due to clearcutting, Tantimber ThermoWood Exterior Siding provides an alternative that protects the jungle's hardwood and reduces use of environmentally damaging petroleum-based wood imitations and hybrid products. The construction process takes sustainably sourced timber and, using natural methods of steam and heat, results in finished products that are incredibly durable.
All raw materials are sourced from FSC- and PEFC-certified forests, including U.S. forests. The modification process includes high-temperature drying, thermal modification and cooling, and moisture conditioning. The chemical-free, non-toxic process transforms the timber into stable and durable (Class 1 or Class 2) wood products that stand up to the most extreme environments.
Because of its low moisture content, Tantimber ThermoWood Exterior Siding products will not warp, expand or contract, twist, buckle or be a suitable food source for insects due to seasonal changes in temperature and humidity. As a result, it is virtually impervious to fungi and bacteria that can cause decay.
Flooring and Surfaces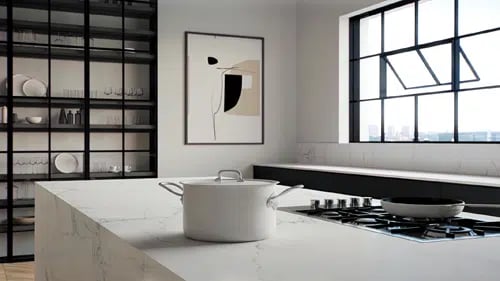 Caesarstone has expanded its portfolio with the Porcelain collection, which marks a leap in technology, functionality, and design. The collection introduces three innovative properties that deliver high durability, strength and style, and are fully sustainable.
Porcelain has a high heat structure, a resilient surface enabling direct contact with high temperatures. A blend of natural ingredients secures ultraviolet (UV) resistance for indoor and outdoor use. There is also a fortified frame, an extremely hard surface that is incredibly resistant to scratches, pressure and rupture; and a forward design consisting of striking color schemes, bolder veins, palpable textures and magnified patterns and finishes.
Production of Caesarstone's Porcelain calls for the use of recycled water, which is then sent to an external supplier that uses it as a raw material for floor tiles. Meanwhile, Caesarstone's production facility has completed upgrades that have decreased electricity usage, such as minimizing power consumption and improving maintenance throughout the production process.
---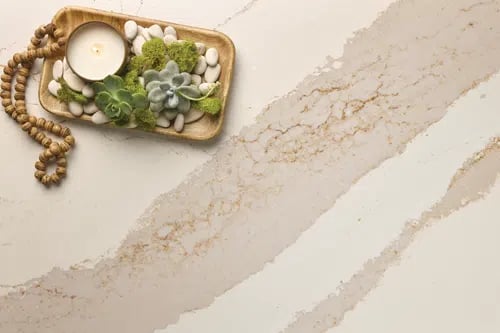 Cambria showcases its sustainability efforts with its quartz countertop Brittanicca Block, a product made almost entirely from recycled Cambria materials. Brittanicca Block has been certified by SCS Global Services as containing 99 percent recycled content, pre consumer.
Brittanicca Block features Brittanicca, one of Cambria's signature designs, laid in parallel lanes with unique veining, patterns, and tonality set against a milky white background. The quartz product drives the company's sustainability efforts—informing its processes, infusing its products, and shaping its environmental and community stewardship.
Cambria is the leading producer of American-made quartz surfaces. The company's innovative designs are stain resistant, nonabsorbent, durable, safe, maintenance free, easy to care for, and backed by a transferable lifetime warranty.
---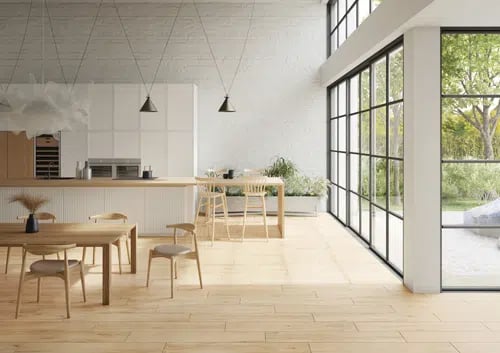 Florim USA's MILEstone brand has introduced a second carbon neutral porcelain tile, Native. The Native collection gives ode to earth's natural purifier and core preserves—earth's trees. Native seeks to extract the organic beauty of wood by featuring six shades and tones emulating natural forestry such as pine, polar and teak.
Native follows up Plaster 2.0, which MILEstone introduced in 2021 as its first carbon neutral tile. The products contain up to 60 percent recycled content, lend to LEED and WELL certifications, and do not contribute to the negative impact of volatile organic compounds (VOCs) in building materials. To lower carbon emissions, more than 95 percent of raw materials used in production of MILEstone tiles are sourced within 400-plus miles of the Clarksville, Tenn. factory.
Florim USA is working toward becoming carbon neutral by 2030. The manufacturer is WELL and Green Squared Certified. It is one of the largest and most technologically advanced porcelain facilities in North America.
---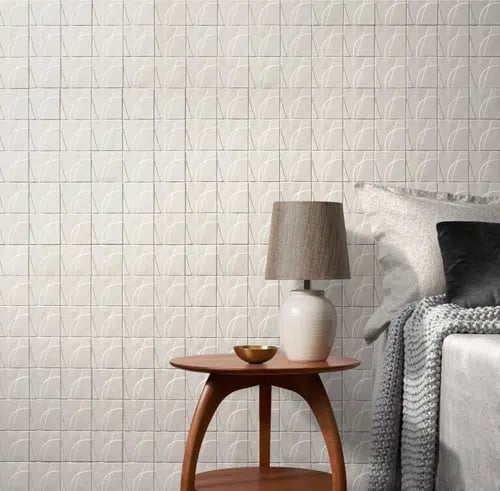 Kohler Co. has debuted The Abstra Collection by KOHLER WasteLAB, a series of bespoke brushed and matte tiles for residential and commercial installations, made from nearly 100 percent recycled waste materials. This is the second tile collection by KOHLER WasteLAB utilizing the company's pottery refuse to create sustainable products for the home.
KOHLER WasteLAB consists of designers, ceramicists and engineers at Kohler Co. that rely on factory waste as their primary medium and who have pioneered a way to leverage the pottery's wastewater stream for Abstra's tile body. Consisting primarily of pottery waste clay and glaze, the material is dewatered and processed into a usable base material.
Abstra follows the Ann Sacks Crackle Collection, the first nearly all-waste product-produced tile line by KOHLER WasteLAB in 2019. From 2019 through 2021, sales of WasteLAB tile have diverted more than 54,000 pounds of waste from landfills, as Kohler Co. works toward a net-zero status by 2035.
---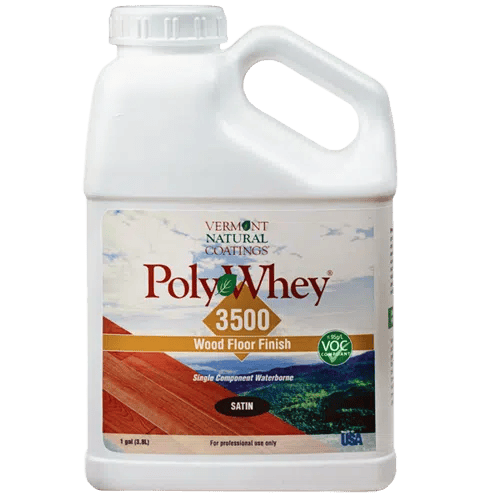 Vermont Natural Coatings' PolyWhey 3500 Wood Floor Finish uses whey protein, a renewable resource and a byproduct of cheesemaking, to create an ultra-safe and durable finish for wood floors.
PolyWhey's single-component formulation means no wasted finish, and a fast drying time offers the ability to apply up to three coats in one day. A neutral odor allows for coating in occupied areas without disrupting residents or visitors. The product's superior mar- and scratch-resistance helps a floor stand up to heavy foot traffic. And, with no carcinogens or isocyanates, PolyWhey 3500 has no flash point and will not contribute toward cancer or fire risks.
The coating complies with CDPH Standard Method v1.2, the nation's strictest emissions and indoor air quality testing. The product is available in matte, satin and semi-gloss.
Landscaping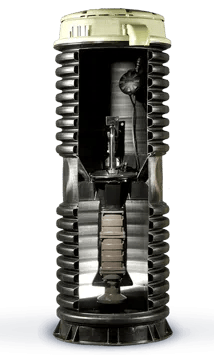 When it comes to a certain sort of…housekeeping, the E/One model DH071/DR071 simplex grinder pump station is an ideal choice for single-family homes: It can be installed in the yard or in the basement and provides 70 gallons of capacity.
The DH071/DR071 grinder pump station consists of a pump and a tank with a dry accessway. The grinder pump uses integrated level-sensing pressure switches instead of floats—the core-style pump is compact and easily removed for service if needed. The DH071 is the wired model, where a cable connects the motor controls to the level controls through watertight penetrations. The DR071 is the radio frequency identification (RFID) model that uses wireless technology to communicate between the level controls and the motor controls.
Stations are available for indoor and outdoor installations. Outdoor stations accommodate a wide range of depths, suitable for both warm and cold climates
---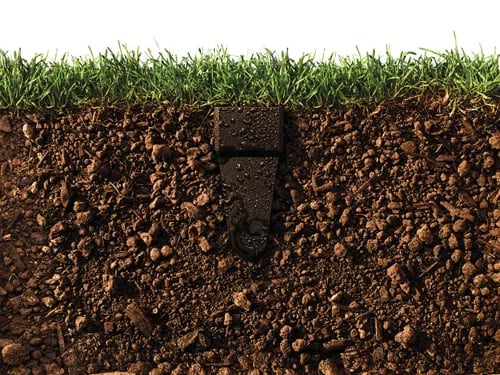 Moen has expanded its smart water technology to the outdoors with its new Smart Sprinkler Controller and Smart Wireless Soil Sensors. With a smartphone app, users can create custom watering schedules and control each zone independently so they can easily manage how much water each zone receives. They also can make seasonal adjustments, enable the weather-skip feature that automatically disables watering based on local weather data, and monitor water usage and estimated savings.
Outdoor water use accounts for a tremendous amount of water each day, mainly for landscape irrigation. The Smart Sprinkler Controller can reduce an average home's irrigation water use by up to 30 percent, saving the home up to 15,000 gallons of water annually.
The Smart Sprinkler Controller is the only controller compatible with Moen's Flo Smart Water Monitor and Shutoff, which connects to the home's main water line to monitor its entire water supply system for leaks and vulnerabilities.
Roofing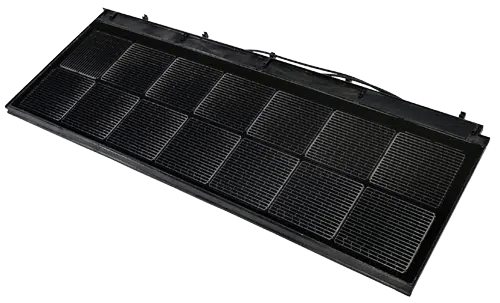 CertainTeed's Solstice Shingle packs powerful solar energy production into a sleek, low-profile roofing system. These high-efficiency solar shingles can produce about as much energy as conventional, roof-mounted solar. This helps homeowners save on home energy costs and reduce its carbon footprint. Solstice Shingle also offers clean energy without the bulky look of rack-mounted solar systems.
The Solstice Shingle seamlessly integrates with asphalt shingles or concrete tiles for a crisp look that accentuates the appeal of any home. CertainTeed warrants the entire system, including the installer's workmanship, for up to 25 years. When installed with CertainTeed asphalt shingles, the entire roof is protected by one company.
CertainTeed believes that solar should be a natural extension of a home. CertainTeed's mission is to make solar approachable and realizable, ultimately achieving this by presenting solar solutions as an actionable, enduring and stylish solution to advance the home and the planet.
---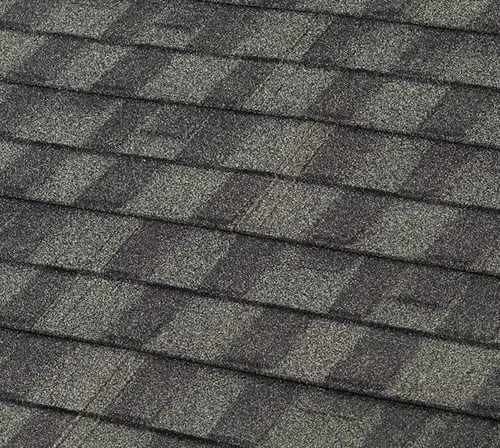 Between blazing summers and winter snowstorms—major enemies of roofing—homeowners are giving metal roofing a closer look. Westlake Royal Roofing Solutions' Unified Steel Stone Coated Roofing offers a stylish option. Stone coated metal shingles—such as Westlake's Granite Ridge in Ironwood—carry the appearance of a low-profile asphalt shingle, but all of the long-term durability of steel.
Unified steel panels are categorized as class 4 for impact resistance. This rating is among the best for roofing performance. Unified steels are warranted up to 2.5 inches of hail and wind up to 120 mph. This roofing material was also fire tested. Unified steel can be installed with a specific underlayment for a Class A fire rating.
This roofing material allows room for style but offers peace of mind with its high durability ratings. There are no weather limitations with these products; they can withstand fire, hail, and harsh winters. And they are 100 percent recyclable.
Solar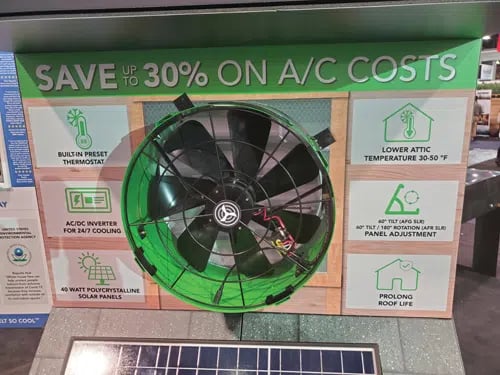 Hot weather can drive up an attic's temperature to 150 degrees or more. This can destroy the integrity of the home and roof because of humidity and moisture buildup. QuietCool Systems' Gable Mount 24/7 Solar Attic Fan with Inverter can help prevent that damage and cut air conditioning costs by up to 30 percent thanks to its solar power source.
Designed as plug and play, the Gable Mount's polycrystalline solar panel generates 2-4 times the output of the industry standard. It also has an AC/DC inverter to power the fan after nightfall, enabling 24-hour daily cooling.
Gable Mount includes a mechanical thermostat that determines when a fan should turn on or off—72 degrees Fahrenheit for off, 83 degrees F for on—an adjustment bracket with up to a 60-degree vertical tilt for maximum sunlight exposure, and a 30-foot cord for optimal solar panel placement.
---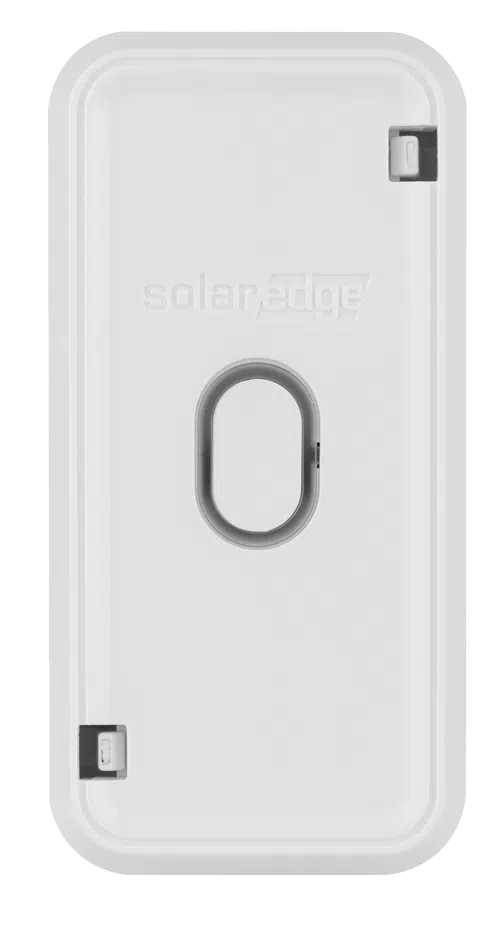 SolarEdge Technologies has unveiled its Home Load Controller, a wireless device designed to optimize energy consumption by controlling heavy load home appliances. This latest addition to the SolarEdge Home ecosystem enables longer and smarter backup control.
Only the size of a card deck, the Load Controller is easy to install, and enables remote and automatic control items such as heat pumps, electric vehicle (EV) chargers, pool and well pumps, HVAC units and others. Homeowners can increase their solar power consumption by using excess energy that would otherwise be lost, and extend their battery backup time during grid outages.
The load controller seamlessly integrates with SolarEdge's user-friendly mySolarEdge app, which enables homeowners to control some of their heaviest energy loads directly from their smartphones. Owners can now schedule and track their solar energy production, battery storage, pool pump, HVAC unit, grid services, solar self usage, and more.
Honorable Mention
The Beko French Four-Door Refrigerator features HarvestFresh, a revolutionary three-color light technology in the crisper drawer that changes to blue in the morning, green at midday, and red at night. These changes mimic the sun's 24-hour cycle and preserves vitamins in vegetables longer.

The BioBarrier HSMBR (High Strength Membrane Bioreactor) system simplifies the settling, screening, direct aeration and ultrafiltration of the wastewater treatment. The membranes and processes used act as an impenetrable physical barrier, and remove 99.9 percent of the contaminants.

The Aging in Place Core Kit uses smart sensor technology in the form of tiny, non-intrusive sensors to track a loved one's habits, movement and patterns. This provides family members with reassurance that things are fine, without use of invasive video cameras or wearable tracking devices.

The H Series is an energy-efficient, whole-home, modular LED downlighting system designed to last 50,000 hours at 70 percent lumen maintenance. Featuring a sustainable design, the unit has a single, compact, field-adjustable LED light module offering field-selectable lumens, and DMF Lighting's Natural Warm Dim technology.

These structural insulated panels (SIPs) save owners up to 60 percent on heating and cooling costs. Extreme Panel's SIPs can be used as a complete building envelope (roof, walls, floors and foundation), offering an ideal platform for energy efficiency, and fewer greenhouse gases emitted into the environment.

Resideo's Braukmann L5 WiFi Water Leak Shutoff Valve connects to the main water supply and can automatically turn off the supply to the home if a leak is detected. This smart tool can be connected by a sensor cable or paired with future and existing Resideo WiFi Water Leak & Freeze detectors.
May 17, 2023 3:16:41 PM · 33 min read
---

Alan Naditz is managing editor of Green Builder Magazine. He has covered numerous industries in his extensive career, including residential and commercial construction, small and corporate business, real estate and sustainability.