Generational Marketing: Gen Z and Housing

Sara Gutterman
5 min read
Green Builder Media has been studying Millennial behavior for years. Now we're turning our attention to Gen Zs, who are just about to enter their home-buying years. Here's what we learned.
Our latest research indicates that while the Millennials and Gen Zs have similarities, they're actually quite different, with divergent preferences and purchase drivers based on the events that took place during their formative years. What does that mean for housing?
Millennials (born between 1982 and 2000) have been top of mind for builders, developers, and manufacturers alike for years. And with good reason—88 million strong, this group boasts a total spending power of over $2.5 trillion.
Values-based and mission-driven, Millennials place purpose over paycheck, care deeply about the environment, and incorporate sustainability into their decision-making.
According to a recent survey conducted by COGNITION Smart Data, Green Builder Media's market intelligence division:
87% of Millennials respondents reported that they are worried about climate change.
93% believe that companies should take a stand on environmental issues.
78% prefer purchasing products from sustainable brands.
Nearly six in 10 (56%) of Millennials believe that humanity is doomed due to climate change. In fact, Millennial respondents claim that failure to mitigate and adapt to climate change is their top global risk of highest concern, more so than economic or social instability, COVID, terrorism, or gun violence.
Out of all the generations, Millennials report the highest level of interest in resiliency, perhaps because they're directly experiencing negative impacts from climate-based events like superstorms, tornadoes, wildfires, flooding, and extreme heat.
How important is resiliency when making decisions about buying a home and products for your home?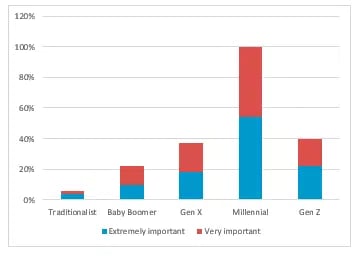 Which impact of climate change poses the greatest threat to your home?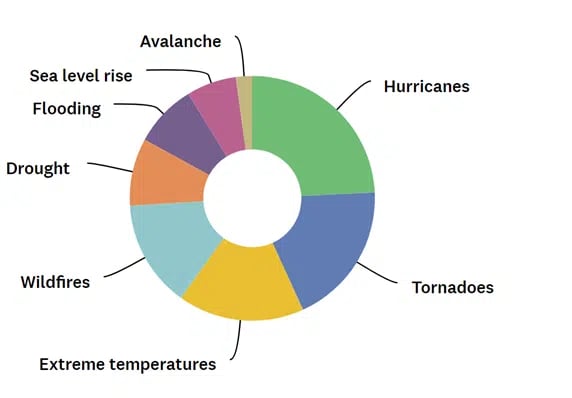 Gen Zs on the Rise
Gen Zs are individuals born between 2001 and 2019. Weighing in at approximately 78 million, they command a combined spending power of nearly $360 billion—a number that will grow substantially over time as their net worth increases. The oldest Gen Zs are graduating college and starting to think about buying homes.
Millennials and Gen Zs resemble each other in certain respects—for example, both generations value work-life balance and remote working. However, the events that defined their childhoods resulted in divergent global outlooks.
Millennials were raised during a time of relative economic growth and prosperity, whereas Gen Zs' childhoods were marked by two crippling recessions and a global pandemic. As a result, Zs tend to be more debt-adverse and budget-conscious than their older peers.
Perhaps because of the general instability of their childhood years, Gen Zs indicate that they experience stress and anxiety on a daily basis. They believe that mental health should be openly addressed in the workplace, and they're looking for jobs that offer benefits like mental health days, therapy, and access to medication.
Gen Zs are the most diverse generation in American history. While Millennials embrace and celebrate diversity, equality is a guiding principle for many Zs. Expect this generation to become even more vocal about their passions and concerns over the coming years as they continue to mature.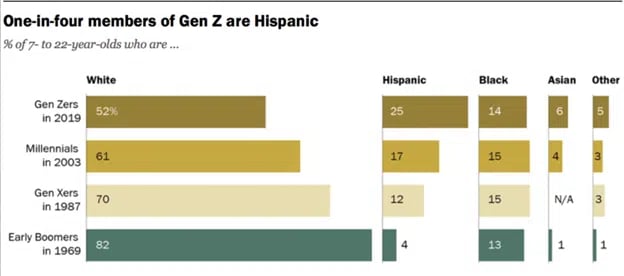 Gen Z is considered to be a highly sensible generation. They value realism, safety and security, and solving real problems.
When it comes to purchase decisions, Gen Zs—who never knew a world without the Internet—rely heavily on YouTube. According to a survey conducted by YPulse, 64% of Gen Zs access the majority of their media content on YouTube. It's the first place they go to get information about something they don't know (whereas Millennials tend to go to Google).
In addition, YPulse found that Zs are more likely to follow the purchase recommendations of social media influencers than Millennials (60% versus 42%).
Another essential difference between the two generations: Millennials grew up spending time in-person with their friends, whereas Zs have had more remote engagement. Zs are inclined to rely on remote learning, gaming, social media, and the metaverse as communication and socialization tools. Because of this, Zs are more inclined to spend time and work alone than their Millennial counterparts.
Gen Zs and Housing
As with general purchase drivers and behavioral patterns, Millennials and Gen Zs have similarities and differences with respect to their housing preferences.
According to a recent survey conducted by COGNITION Smart Data, both audience segments incorporate sustainability into their purchasing decisions and report that Environmental, Corporate, and Governance (ESG) is the most influential factor when making decisions about purchasing products for their homes. Millennials indicated that the environmental elements of ESG were the most important to them, whereas the social aspect was most important to Zs, with diversity, equity, and inclusion ranking top on their list of social concerns.
Because of their budget-conscious nature, Zs are more likely to consider long-term value, not just upfront cost, when purchasing a home since they understand that a more energy-efficient home will be more affordable over time.
COGNITION data reflects that Millennials care deeply about healthy homes—in fact, they're the first generation to indicate that having a healthy home is now as important as location when making home-buying decisions. With that said, the data shows that Gen Zs place an even greater value on healthy home than Millennials and that Zs have a broader definition of what healthy home means.
While healthy home used to address only indoor air quality (including mechanical systems like HVAC, ventilation fans and ERVs, and non-toxic materials), the concept of healthy home has expanded over the past two years to incorporate healthy cooking, sustainable lifestyle choices, and stress relief. Younger homeowners and home buyers are rethinking their lifestyle choices, including habits, diets, and exercise regimens to keep their families psychically and emotionally healthy.
This translates into increased demand for home features like:
Intimate spaces for calming activities like yoga and meditation.
Flex spaces to accommodate remote working and adult retreats.
Antimicrobial surfaces, self-cleaning toilets, and touchless products like faucets, bidets, and locks for enhanced sanitation.
Ergonomic furniture and workstations.
While Millennials generally prefer open floorplans with indoor and outdoor spaces that can be used for gathering with family and friends, Zs seem to prioritize sanctuary spaces, meditation rooms, private gardens, and places where they can find peace and solitude.
Healthy home isn't the only thing that Zs prioritize—they are keenly interested in all-electric living. In fact, the recent COGNITION survey showed that 100% of Zs said that they wanted to live in an all-electric home (versus 61% of Millennials) because they can reduce their environmental footprint, have a healthier home, and save money.
While Millennials prioritize resiliency, smart home technology, and solar, Zs place more value on net zero energy, water, and carbon.
Another interesting reveal from the COGNITION survey: 100% of Zs said that they wanted to live in a prefab home because they believe prefab homes are healthier, and offer higher performance and better quality than conventional site-built homes.
The survey also revealed that the circular economy is top of mind for Millennials and Gen Zs. When asked what they're doing to protect the planet, the most common response among Millennials was recycling, composting, and reusing products to give them a second life. Zs were more focused on ride-sharing, alternative transportation, and riding their bikes. Interestingly, Zs still want homes with garages, but not necessarily for their own vehicles—rather, they want to use the space for bike shops, offices, gathering areas, and other unconventional uses.
To all building professionals and manufacturers: while the market may be cooling off, your business doesn't have to. If you want to future-proof your business and ensure a thriving outlook regardless of market conditions, look no further than the COGNITION data—the future is here, and it's all-electric, net zero (energy, water, and carbon), healthy, resilient, smart, and solar powered.
Sep 8, 2022 12:40:22 PM · 5 min read
---

As cofounder and CEO of Green Builder Media, Sara is a visionary thought leader and passionate advocate for sustainability. A former venture capitalist, she has participated in the life cycle (from funding to exit) of over 20 companies, with an emphasis on combining sustainability and profitability. She lives in Lake City, Colo., with her husband, where she is an avid long-distance runner, snowboarder, and Crossfit trainer. She is also on the Board of Directors at Dvele, runs the Rural Segment for Energize Colorado, and is a former County Commissioner.