Millennials: The Driving Force in Housing

Sara Gutterman
8 min read
In part one of a three-part series, Green Builder digs into how Millennials (and older Gen-Zs) have seized the top influencer position in the housing market over the past two years. Bottom line? They are spending more money on buying and remodeling homes than any other generation.
Some members of this audience segment, namely younger Millennials who haven't yet established a secure career and corresponding savings, remain saddled with student loans and credit card debt, and are therefore relegated to renting in a record-hot home buying market. However, their older and more affluent counterparts have become a major force in the housing sector.
Millennials now have an estimated annual spending power of $1.4 trillion—far more than any other generation. These individuals will comprise nearly 75 percent of the workforce by 2025, and they will also be on the receiving end of a massive wealth transfer of tens of trillions of dollars of inheritance from their parents and grandparents.
This savvy audience segment is bullish about buying homes, equating home ownership to economic security and a desirable lifestyle. Spurred by a growing desire for financial independence, Millennials recognize the value of investing in an appreciable asset that can create long-term financial wealth and stability.
As a result, Millennials are facilitating a tectonic shift in the way that homes are valued, away from the antiquated price-per-square-foot metric to something different that incorporates factors like energy efficiency, resiliency, and indoor air quality—and more accurately reflects long-term homeowner value.
Buying Based on Green Amenities
Millennials, an audience segment that is values based and mission driven, have different expectations than previous generations, and this is placing new demands on building professionals and manufacturers. Granite countertops and large gas ranges, once considered mandatory elegance for boomers, are frowned upon by Millennials, who prefer more-sustainable options such as Quartz surfaces and induction cooktops.
In a notable shift over the past two years, Millennials now prioritize having a healthy home over location when making home-buying decisions, according to COGNITION Smart Data, Green Builder Media's market intelligence division.
COGNITION Smart Data research shows that 96 percent of Millennials believe sustainability is important when making purchasing decisions. In fact, they report that corporate sustainability, including Environmental Social and Governance (ESG) strategies and Environmental Product Declarations (EPDs), is the top purchase driver when selecting products for their home—over quality, performance, price, and warranty.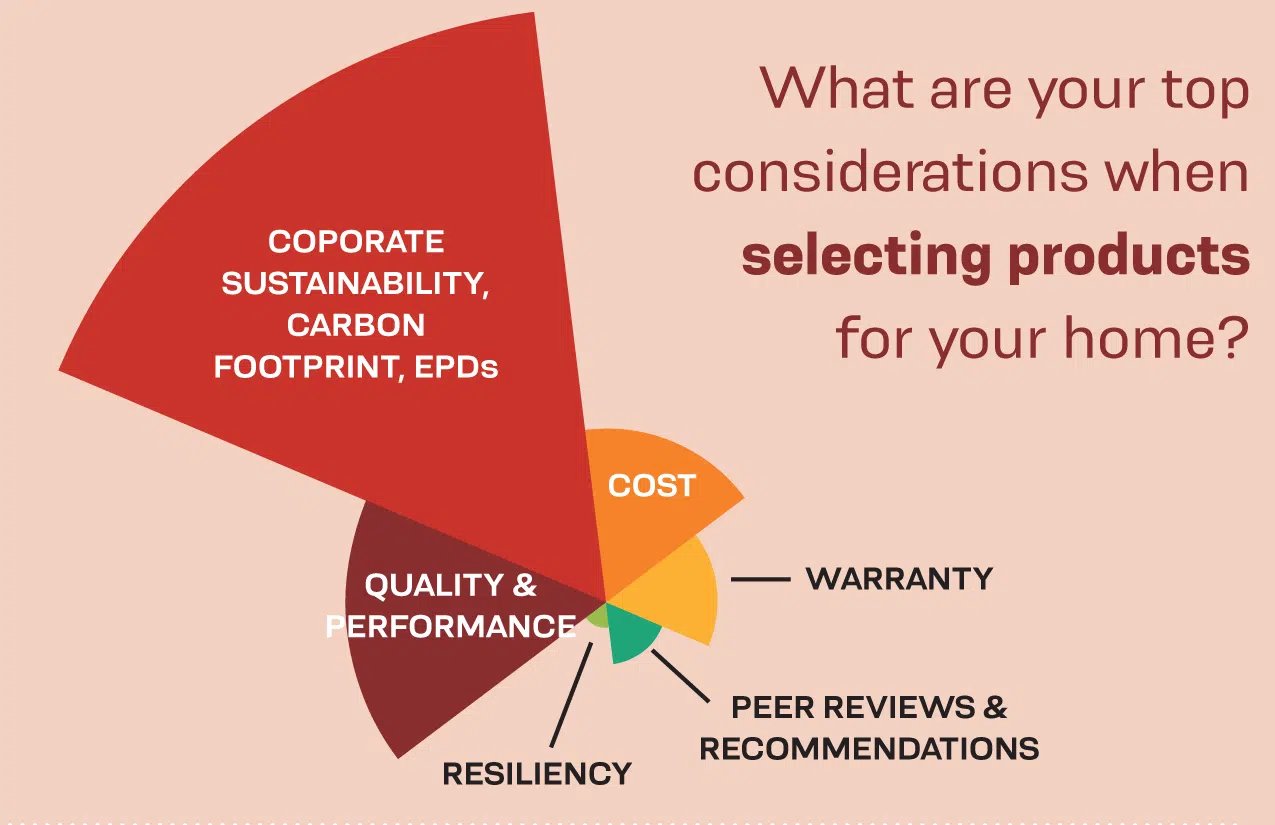 Seventy-seven percent of Millennials report that they are willing to pay more for environmentally sustainable products, and 79 percent of Millennials are concerned about the environmental impact of products they buy.
Perhaps sustainability is such an important purchase driver because the majority of this audience segment has grave concerns about climate change. Survey data reveals that a record 87 percent of Millennials are worried about climate change; 77 percent of Millennials consider the future to be frightening; and 56 percent think humanity is doomed.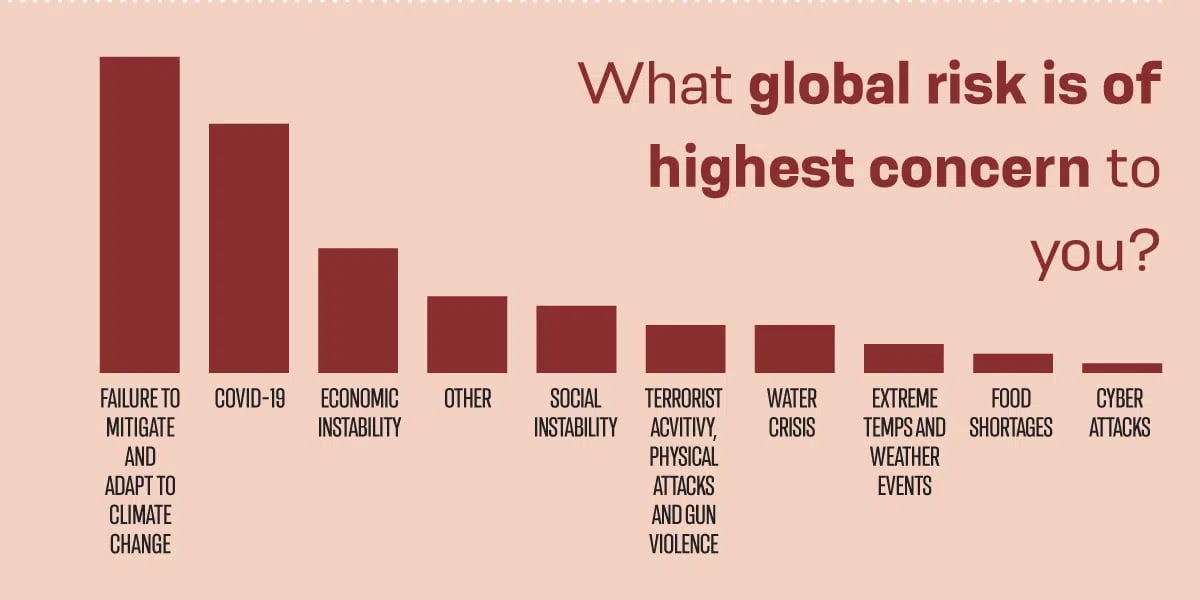 Savvy About Building Science
The average profile of the Millennial home buyer is a dual-income, college-educated couple with an inherent ethic of sustainability. Generally speaking, these couples are starting young families and want more room to move. Since many of them are able to work remotely, they're open to moving to suburban, secondary, tertiary, and even rural markets to purchase a home that offers more bang for their buck.
Many of these home buyers had been living in smaller apartments, dense urban areas, or multi-family settings, and they're looking for single-family homes with more square footage (COGNITION data shows that the ideal home size for Millennials is 1,500-2,500 square feet) with yards, gardens and patios.
And while they may shun hot tubs and other energy-sucking luxuries that were attractive to their parents, Millennials want the sustainability unicorn: They're looking for homes that are net zero, all electric, healthy, resilient, and solar powered, and provide the best value possible.
They understand that upfront investments in high performance, sustainable upgrades like energy-efficient appliances, windows and insulation, heat pump technology and induction cooktops will yield long-term benefits.
They value health and wellness, and are willing to spend their money on indoor air monitors, energy recovery ventilators (ERVs), ventilation fans, and air purification systems, as well as products like smart speakers and lighting that can add ambiance to their spaces.
Millennials also are savvy enough to understand concepts such as demand side energy management, and will invest in smart home systems that enhance convenience and improve efficiency.
New Uses for Old Spaces
Millennials' housing desires often resemble that of their parents. For example, as they grow into families, they shift toward the suburbs. What's different, however, is how they intend to use the traditional family home.
For example, they want garages—not so much for vehicles, but rather to convert into home gyms, offices, or craft spaces. They really like the idea of outdoor living spaces that spill out of big kitchens into nature. These serve as central dining and entertaining areas for their family and friends. Some of this move to outdoor living is likely driven by years under the pandemic proximity shadow, but also their own cultural experiences with friends.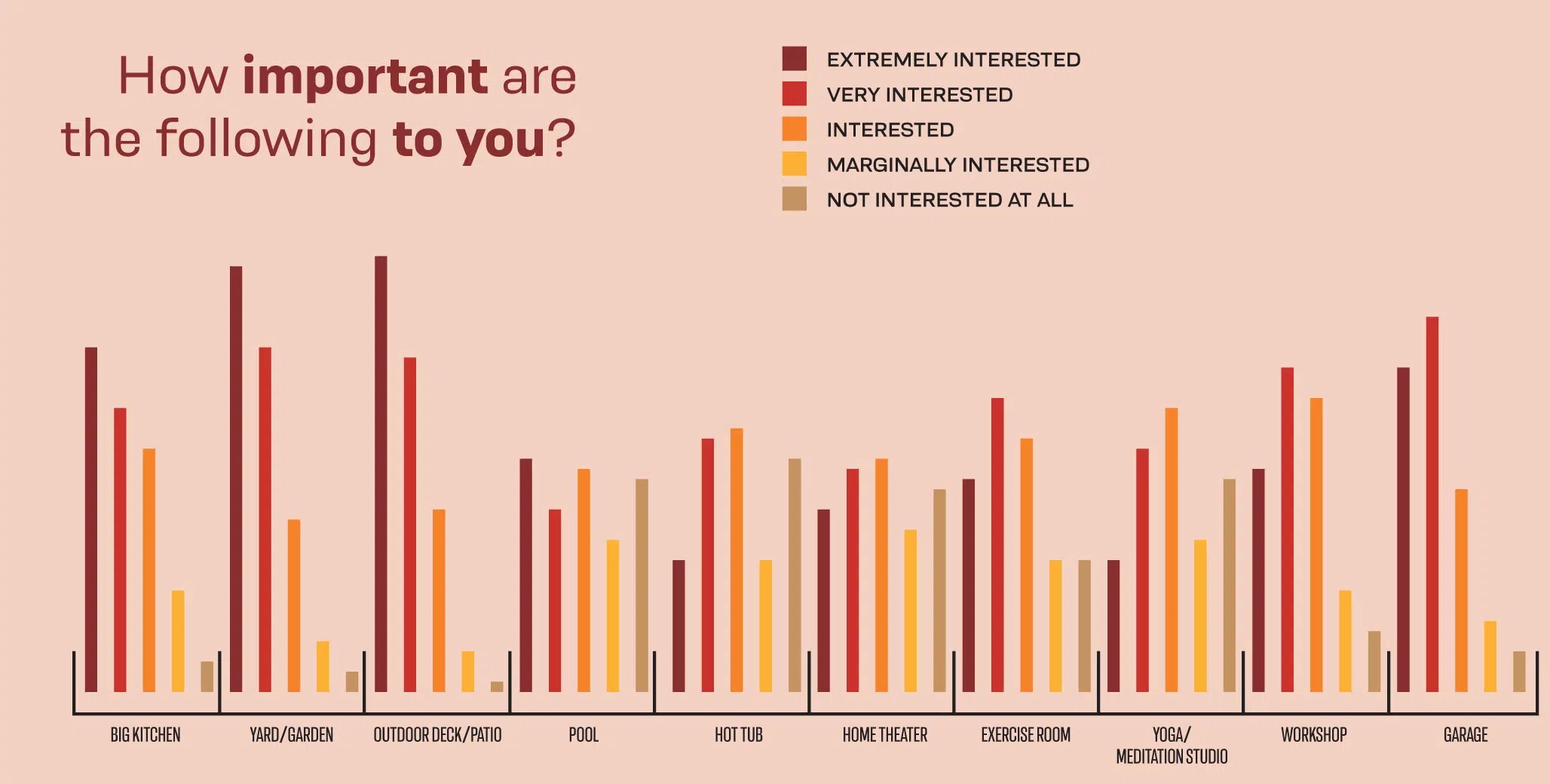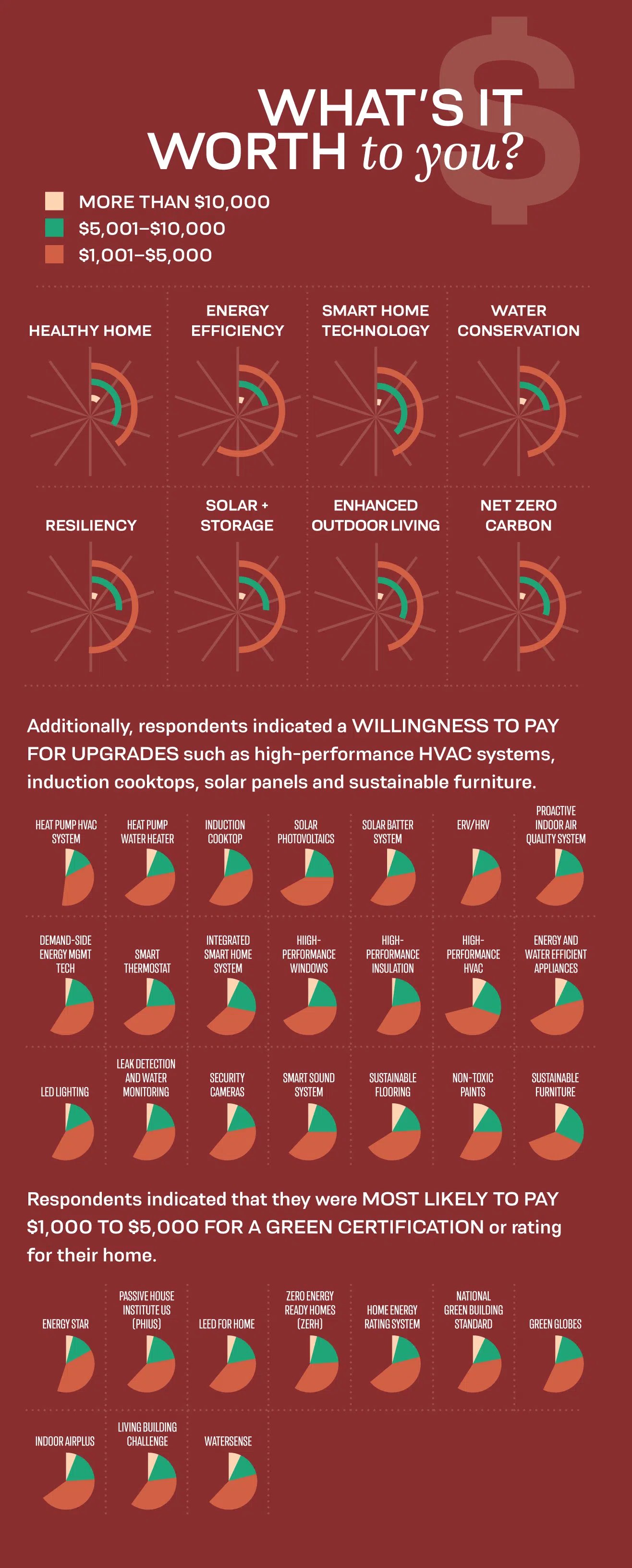 The Healthy Home Imperative
Our recent COGNITION survey of nearly 700 millennials across the U.S. revealed an active interest in healthy living.
Of the respondents, 43 percent own a single-family home; 30 percent own a condo, townhouse, or apartment; 17 percent rent a single-family home; and 9 percent rent a condo, townhouse or apartment.
Respondents selected healthy homes as the top sustainability driver when making decisions about buying homes and/or products for their homes, followed by smart homes, and homes with a net zero carbon emissions total.
While healthy home attributes ranked as the No. 1 purchase driver across all age groups, resiliency was 17 percent more important to Millennials than to older generations. This likely reflects the former's concerns about climate change. In fact, 40 percent of Millennials indicated that they have been directly affected by hurricanes or tornadoes, 18 percent have been impacted by extreme temperatures, and 16 percent have felt the threat of wildfires in their region.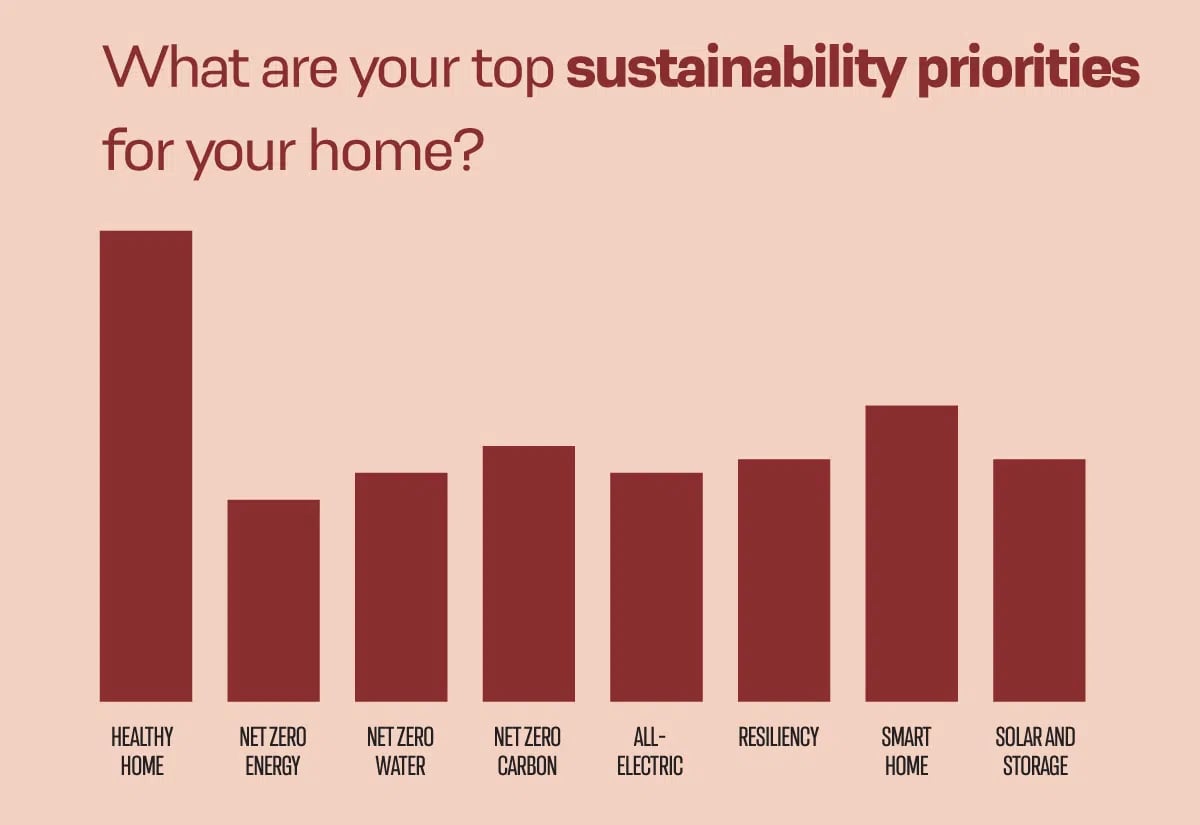 Edible Outdoor Living?
Since the onset of COVID-19, connecting with nature has become increasingly important to homeowners. Nearly 53 percent of Millennial respondents indicated that they use their outdoor living spaces 4-6 times per week. But they may not be using them to barbecue hamburgers, like their parents. They're looking for spaces that can be part of their personal resilience plan. Edible plants and drought-tolerant xeriscaping are the most important landscaping elements to them.
Regarding the outside of their homes, Millennials indicated that water conservation is the most important factor when making landscape planning decisions, followed by food production and rainwater collection.
Given that they most often use their outdoor living spaces for entertaining, cooking, and relaxing, they selected decks/patios, kitchen entertainment areas, and gardens as the most important outdoor living area features.
And the outdoor living renovation frenzy isn't over: 88 percent of respondents indicated that they have already upgraded their outdoor spaces in the last two years, 94 percent said that they plan to make more upgrades in 2022.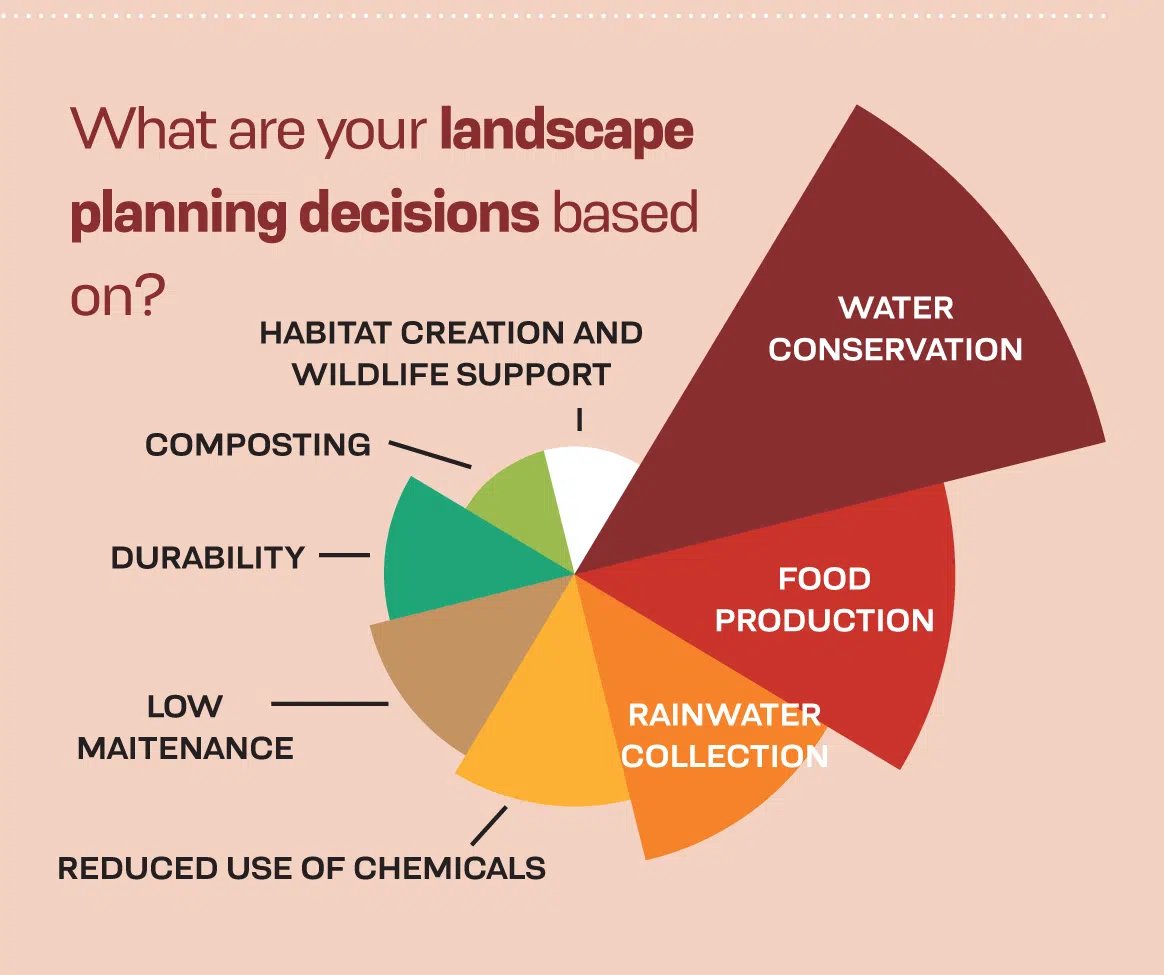 ESG in the Spotlight
Environmental, social, and governance (ESG) is a driving force for Millennials when making decisions about companies to buy from, work for, and engage with. According to CNBC, their passion for ESG investing has helped drive a tenfold sector-wide growth in just the past few years. "Millennials spurred the growth of sustainable investing throughout the 2010s – investors contributed $51.1 billion to sustainable funds in 2020, compared with less than $5 billion five years ago," the article claims.
Ninety-three percent of millennials we surveyed believe that companies should take a stand on environmental issues, and 95 percent say they want to use their financial capital for socially responsible investing. Fifty-seven percent report that they have sold stock when they think a company is not serving the best interest of society or the planet.
The COGNITION survey revealed that approximately 70 percent of Millennials consider ESG to be extremely important or very important when purchasing products, citing the "E," or environment-focused solutions like cutting carbon emissions, resource efficiency, and habitat restoration, as their top priority.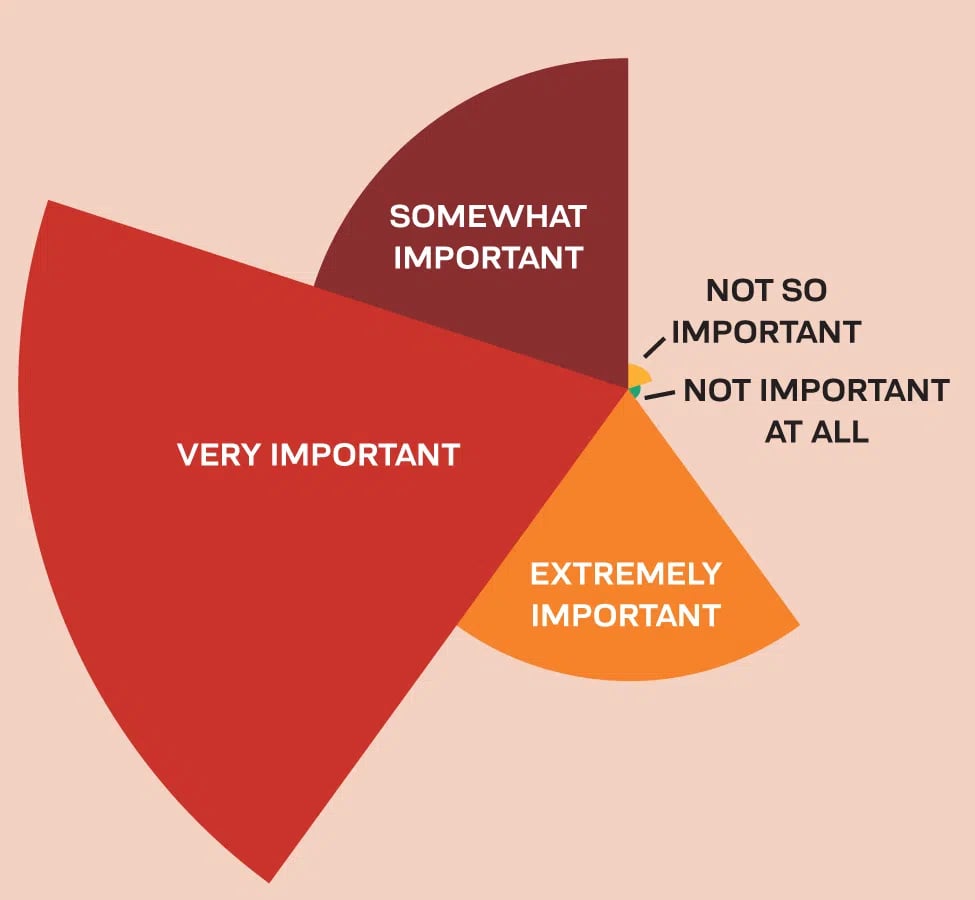 The Power of Purpose in Home Options and Products
Trends to stay ahead of a housing cooldown.
Right now, it's a seller's market for the building industry. That's likely to change, as housing inventories and interest rates rise, causing the red-hot market to cool. Knowing where and how to meet Millennials on their own terms will be the long-range winning strategy for building professionals and manufacturers alike.
In challenging times, purpose is the antidote to emotional fatigue. Health concerns, economic constraints, and world events have compelled Millennials, more than previous generations, to link their values with product purchases and home investments.
To resonate with this savvy audience segment, it's important to create enduring relationships and a sense of meaning to help combat what seems like endless uncertainty and ambiguity with hope and positivity.
The Shift From Gas to Electric
According to Green Builder Media's Next Generation Influencer Group, comprised of influential Millennial and older Gen Z sustainability professionals, Millennials don't want to burn gas in their homes. They're shifting away from gas ranges to electric cooktops–like Whirlpool's 30-inch induction cooktop–and from gas-powered water heaters and HVAC systems to heat pump technology.
Screen New Deal
Smart home platforms, like Vivint's Smart Hub, offer homeowners new levels of convenience, efficiency, comfort, independence, and security. These platforms allow homes to become intuitive, learn occupant behavior, upgrade themselves seamlessly, and take human error out of building performance to optimize comfort, cost-effectiveness and sustainability.
New Conveniences at Home
Millennials are looking for new conveniences like smart garage door opening systems, which enable them to provide temporary entry information to delivery drivers, or monitor their homes while they are away. Shown is a LiftMaster model, which is controlled with the myQ App.
New Dawn for Solar Power
Nearly 70 percent of Millennial respondents in a recent Green Builder Media survey identified solar as a priority for their homes. They like the idea of saving money and having the resiliency and self-sufficiency that comes with producing and storing their own power. Companies like JinkoSolar are now offering integrated photovoltaics and battery storage systems with built-in software for optimized energy management.
Sound Therapy
Healthy home is the top purchase driver for Millennials when making home-buying decisions. The power of sound can bring stress relief, peace, and harmony to indoor spaces. Portable Sonos speakers can turn any room into a wellness retreat.
---
Today's Homeowner content is made possible by:
Whirlpool Corporation is committed to being the best global kitchen and laundry company, in constant pursuit of improving life at home. In an increasingly digital world, the company is driving purposeful innovation to meet the evolving needs of consumers through its iconic brand portfolio, including Whirlpool, KitchenAid, Maytag, Consul, Brastemp, Amana, Bauknecht, JennAir, Indesit and Yummly.
Vivint is a leading smart home company in North America, focused on redefining the home experience with technology and services that create a smarter, leaner, and safer home for customers. This includes an integrated smart home system with in-home consultation, professional installation and support, and 24/7 customer care and monitoring.
myQ-connected garage door openers, locks, and cameras enable control, security and monitoring of a home's main entry points using a smartphone at any time, from anywhere.
Renowned for incredible sound, ease of use, and commitment to innovation, Sonos wireless speakers bring every room and everyone together with incredible sound for music, TV and more. As the premier audio solution for builders, Sonos takes a smart home offering to the next level.
JinkoSolar is a leading photovoltaic module manufacturer and energy storage system integrator. EAGLE Storage brings together the best energy storage technology for turnkey hardware and energy storage services. Publicly vetted by trusted industry third-party laboratories and top financial institutions, EAGLE is a trusted choice for U.S. solar and storage projects.
---
Long-Haul Sustainability Leader
For over 17 years, Green Builder Media has been the undisputed sustainability leader in the building industry.
Green Builder Media's team has unmatched experience, market intelligence, and technical expertise to provide clients with the information they need to proactively manage ESG risks and opportunities. We help companies understand the ESG issues that are most relevant to their business. By analyzing existing business practices, policies, metrics, and engagements, we help clients objectively assess their strengths and weaknesses. Contact us for more information about how we can help you!
Jun 16, 2022 2:28:22 PM · 8 min read
---

As cofounder and CEO of Green Builder Media, Sara is a visionary thought leader and passionate advocate for sustainability. A former venture capitalist, she has participated in the life cycle (from funding to exit) of over 20 companies, with an emphasis on combining sustainability and profitability. She lives in Lake City, Colo., with her husband, where she is an avid long-distance runner, snowboarder, and Crossfit trainer. She is also on the Board of Directors at Dvele, runs the Rural Segment for Energize Colorado, and is a former County Commissioner.