Elegant, Sustainable Doors

Samantha Carlin
2 min read
Meticulously designed doors from TruStile bring a sense of luxury and permanence to Transcend prefab homes.
Sponsored Content
The VISION House Transcend demonstration project, located in the majestic San Juan mountains in southwestern Colorado, boasts TruStile doors that enhance the interior with unique details and timeless designs.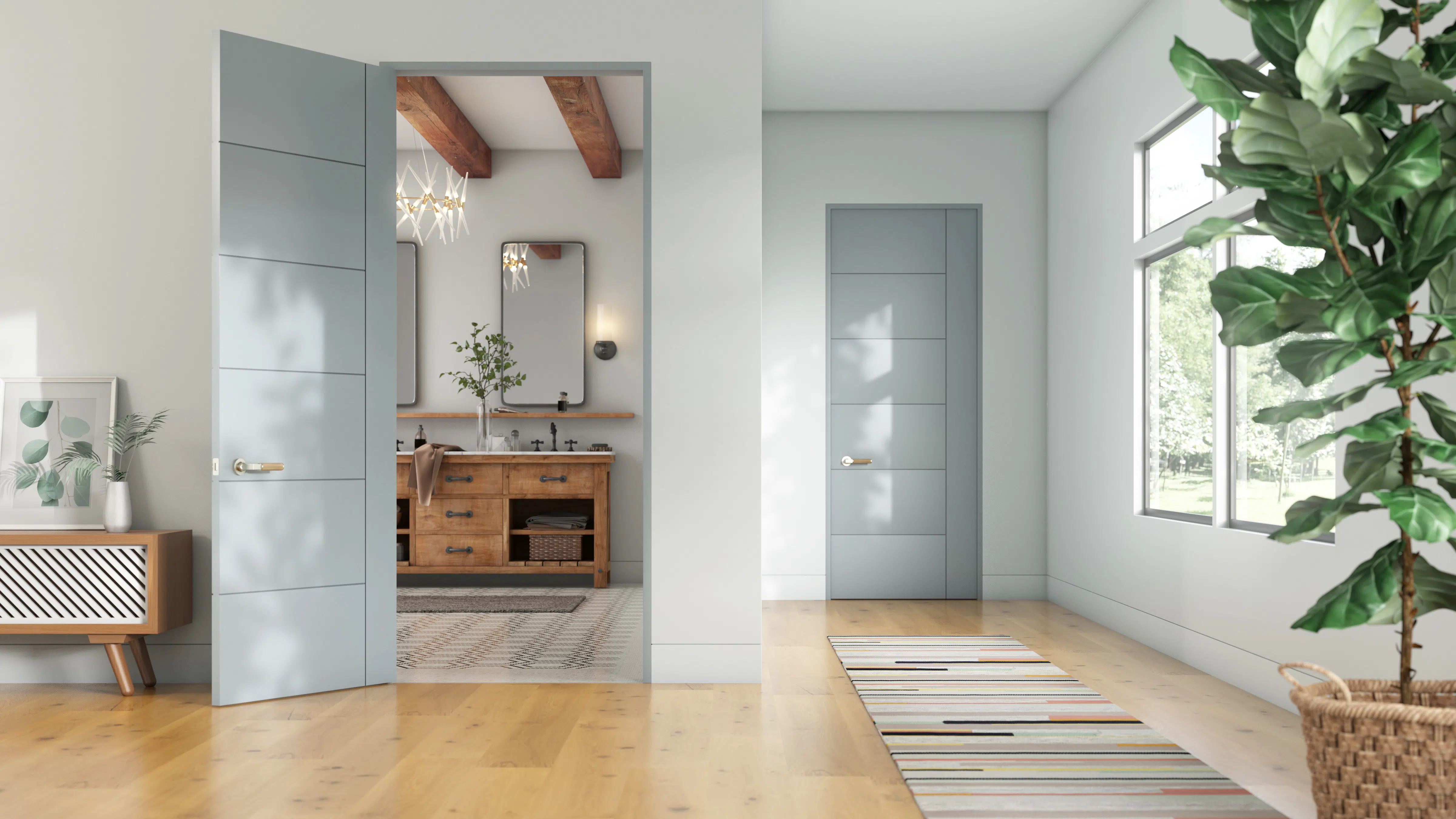 The modular retreat will feature two doors from TruStile's line of Tru&Modern interior doors. The Tru&Modern Infinite Rail TMR3001 has three kerf cuts or inlays horizontally and one vertically, drawing your eye to the sleek door.
Modular Home Standout
Transcend homes are precision engineered in a factory, allowing for optimized performance, quality control, and waste minimization. The homes are designed to be resilient,so that they can stand up to wildfires, superstorms, and earthquakes.
"Modular homes are more efficient and help builders adopt more sustainable building practices," says Chuck Tamblyn, Senior Vice President of Sales & Marketing at TruStile. "We always look forward to an opportunity to collaborate with Green Builder Media. We are excited to partner with a leading innovator in the building industry, Dvele, and work with them on their sustainable and smart prefab homes. This project allows us to showcase how TruStile doors can transform the whole home experience, elevating the look, feel, and flow of a space."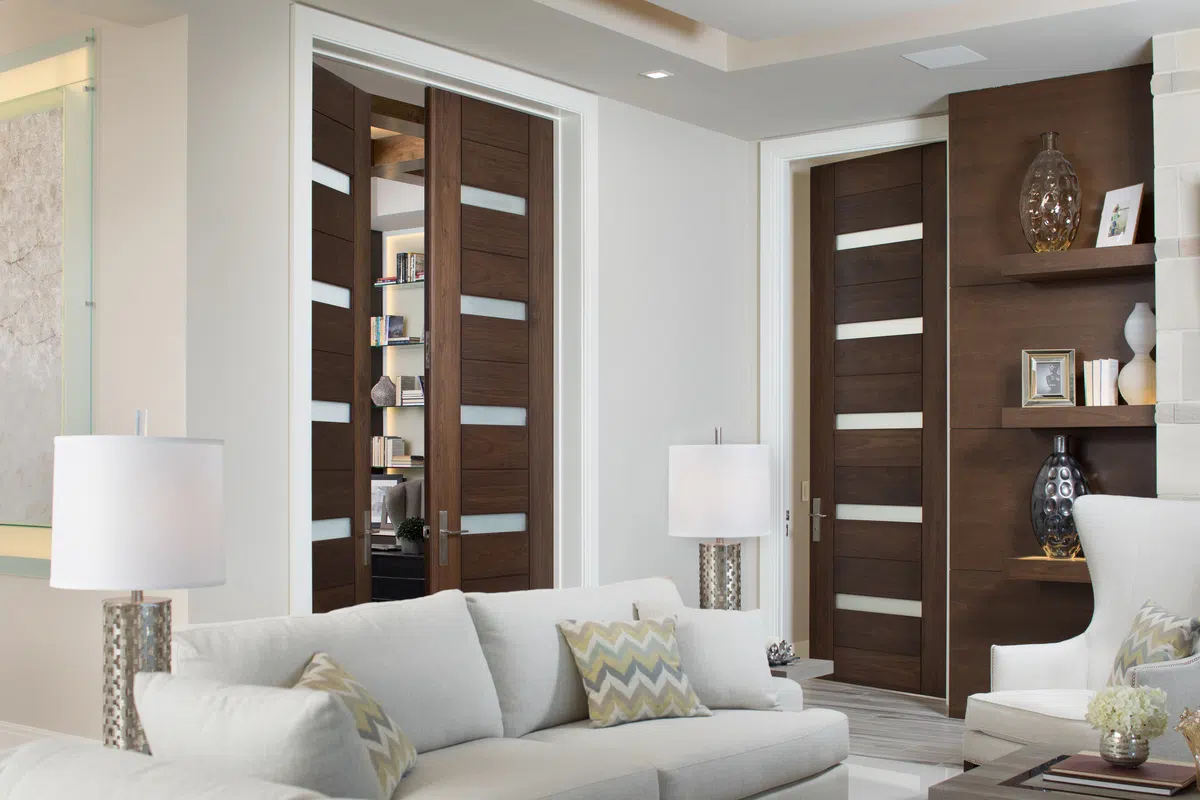 TruStile has designed a custom door for the Transcend demonstration project that has a stacked rail style with ¼" kerf cuts, some of which also have White Lami glass inserts. The clean, strong lines reflect the contemporary style of the interior, and the glass inserts allow light to flow through doors without compromising privacy.
What Is a Green Door?
TruStile interior medium density fiberboard (MDF) doors are third-party Scientific Certification Systems (SCS) certified to contain at least 69% pre-consumer recycled wood. The door style's no-added formaldehyde MDF material and low-VOC adhesives and primers contribute to better indoor air quality and a healthier home and environment.
Similarly, TruStile continuously searches for ways to reduce the environmental impact of its manufacturing. For example, the company makes efficient use of space and raw materials through the deployment of lean manufacturing techniques. TruStile also grinds up scrap into wood chips that are donated to agricultural partners to minimize the impact on landfills. This reclamation process has reduced landfill waste by 65%, resulting in fewer waste pick-ups.
"TruStile can help the Transcend project with its goal to create a home that is designed for both decarbonization and enhanced quality of life, without sacrificing style or aesthetic," Tamblyn concludes.
Sustainable Prefab With a Host of Benefits
Transcend, a line of prefab homes developed by Green Builder Media and prefab home builder Dvele, are not just net-zero, all electric, healthy, connected and resilient, they're eye-catching as well. All of the products specified for the homes are both durable and sustainable.
As we await the arrival of the home from Dvele's factory, subscribe to project updates, and learn more about TruStile's offerings and unique design tools.
---
Sep 9, 2022 9:43:51 AM · 2 min read
---

Samantha is able to express her passion for the environment -- both natural and built -- as the special projects manager at Green Builder Media. Prior to joining the Green Builder Media team, she worked as an order management specialist at C.A. Fortune, a consumer brands agency. She is a recent graduate of the Master in Environmental Management program at Western Colorado University with an emphasis on sustainable and resilient communities. Originally from the suburbs of Chicago, she is currently thriving in Gunnison, CO where she enjoys the surrounding geology, mountain biking, and skiing.