Do Energy-Efficient Appliances Belong in Your DIY Budget?

Michele Lerner, Associate Editor
5 min read
Over the long haul, more efficient washers, dryers, and cooktops tend to save enough on water and electricity use to validate their up-front costs.
Whether you're buying a home that needs an appliance upgrade, remodeling your kitchen, or just need to replace a failing washer and dryer, you probably want to do two important things at the same time: First, you want to do the right thing and buy an appliance that does less damage to the environment. Second (or maybe first) you need to stick to a budget.
Of course, reducing your energy consumption saves you money in the long run, but it may cost you more initially to purchase energy-efficient appliances. Reconciling the two competing instincts to find the right balance takes a little research.
"With constantly increasing energy costs and concerns about environmental impact, homeowners across the country are constantly seeking out options for conserving energy in their homes," says Bailey Carson, a home expert with Angi, the consumer review site formerly known as Angie's List. "With that, the U.S. Department of Energy established the ENERGY STAR label, which applies to everything from refrigerators and air conditioners to televisions and dishwashers."
Opting for an ENERGY STAR-certified appliance can increase the energy efficiency of your home, but once you start shopping for appliances you may find yourself overloaded with options.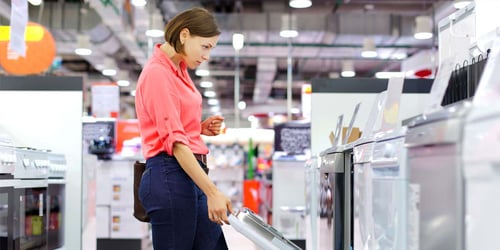 Replacing your energy-hogging old appliances can reduce your energy use and save money over time, especially if you're careful to avoid overspending at the appliance store. Credit: DOE
Out With the Old, In With the Efficient
The goal of the ENERGY STAR label is to make it easier for homeowners to shop for energy-efficient appliances, but the question remains as to whether these appliances are really worth their higher initial costs, says Carson.
"When considering what an ENERGY STAR appliance is going to cost or save the average homeowner, it's really a matter of perspective," says Carson. "Yes, you will pay more up front by choosing an ENERGY STAR-rated appliance. However, when you look at the long-term energy savings, the higher initial investment usually ends up paying for itself–and then some."
Most newly built homes, appliances, and heating and air conditioning systems manufactured today offer more energy efficiency than those built decades ago. Carson points out that replacing older appliances and systems will have a big impact on your energy use and utility bills.
"According to the National Resource Defense Council (NRDC), replacing a 1980s model refrigerator with a new ENERGY STAR-rated model can save you $100 per year in total energy costs," says Carson. "The NRDC's research also found that replacing a pre-1994 clothes washer with an ENERGY STAR washer can save you as much as $110 per year, and a new, ENERGY STAR dishwasher can save you an additional $25 per year on your utility bills. If you multiply those savings by the 10-to-20-year lifespan of most major appliances, it becomes clear that the upgrade is likely worth the investment."
Approximately one-third of American households have a refrigerator that's more than 10 years old, according to the NRDC. Replacing a 10-year-old refrigerator with an ENERGY STAR model could prevent more than 5,000 pounds of carbon pollution over five years, according to the NRDC's analysis.
Prioritize Your Energy Guzzlers
Replacing all your appliances at once may not be the most budget-friendly solution to a more energy-efficient household, so you may want to consider which of your appliances is the oldest or evaluate which one is using the most energy and contributing to your high utility bill.
Energy Saver, an office of the U.S. Department of Energy (DOE), which provides information about energy efficiency and renewable energy to consumers, has an online calculator that you can use to evaluate your appliances and how much energy they use.
Generally, your refrigerator and your clothes dryer are the household appliances–aside from bigger systems such as your water heater and heating and air conditioning system–that use the most energy. According to Spark Energy, a provider of green energy plans for consumers, refrigerators use an average of 205 kWh per month, compared to 75 kWh for a dryer, 58 kWh for a range, 30 kWh for a dishwasher, and 9 kWh for a washing machine.
If you're considering replacing appliances gradually rather than all at once, you may want to factor in both the age of your current appliances and the amount of energy each uses when choosing which one to buy first.
A Cost-Effective Approach
The simplest way to start comparing appliances is to look for the ENERGY STAR-certified label. According to the DOE, ENERGY STAR-qualified refrigerators use:
15 percent less energy than non-qualified models.
20 percent less energy than current federal standards.
40 percent less energy than non-certified refrigerators sold in 2001.
10 percent to 25 percent less energy if they have a top-mount freezer (versus side-by-side or bottom freezer).
ENERGY STAR-certified washing machines use 35 percent less water and 20 percent less energy than standard washers.
All that said, ENERGY STAR appliances typically cost more than standard appliances. Plus, there are degrees of energy efficiency and other features in appliances. Be a smart consumer and comparison shop based on several factors including energy efficiency.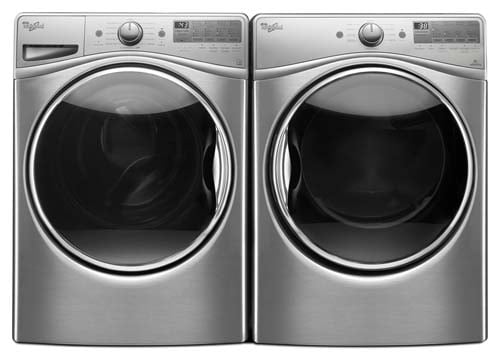 This Energy Star-certified dryer has advanced moisture sensing to end the cycle as soon as the clothes are dry. An EcoBoost option uses less heat and extended cycle times to use less energy. Credit: Whirlpool
Here's one example: Since a clothes dryer is among the appliances that use the most energy in your home, you may want to consider purchasing an ENERGY STAR-certified dryer, which uses 20 percent less energy than a standard model. ENERGY STAR dryers use improved sensors to stop the drying cycle when the clothes are dry. In addition to saving energy, this can save wear-and-tear on your clothes.
Some ENERGY STAR-certified dryers now use heat pump technology that heats and recirculates air to save more energy and therefore more money. According to ENERGY STAR, if all clothes dryers sold in the U.S. were ENERGY STAR-certified, Americans could save $1.5 billion each year on their utility bills.
But that statistic leaves out the cost to purchase highly efficient appliances. For example, Whirlpool's least expensive clothes dryer, one which is not ENERGY STAR-certified, sells for about $550. By comparison, Whirlpool's front-loading electric dryer with EcoBoost, which is ENERGY STAR-certified and includes additional energy-efficient features, costs about $1,400.
While your savings depends on the rate you pay for electricity in your area and how often you use your dryer, it could take years to make up that $900 difference. Depending on your budget, it may make more sense to choose a less costly clothes dryer that still provides better energy efficiency than your current model.
Appliance sales experts can help you make the decision that matches both of your goals: improved energy efficiency and a budget-friendly option.
---
Publisher's Note: This content is made possible by our Today's Home Buyer Campaign Sponsors: Panasonic, Whirlpool, Rockwool, and Lee Industries. These companies take sustainability seriously, in both their products and their operations. Learn more about building and buying homes that are more affordable and less resource-intensive on Today's Home Buyer.
Apr 14, 2021 3:20:36 PM · 5 min read
---

Michele Lerner is an award-winning freelance writer, editor, and author who writes about real estate, personal finance, and business.